A Comprehensive Tips for Planning Your Desert Safari in Dubai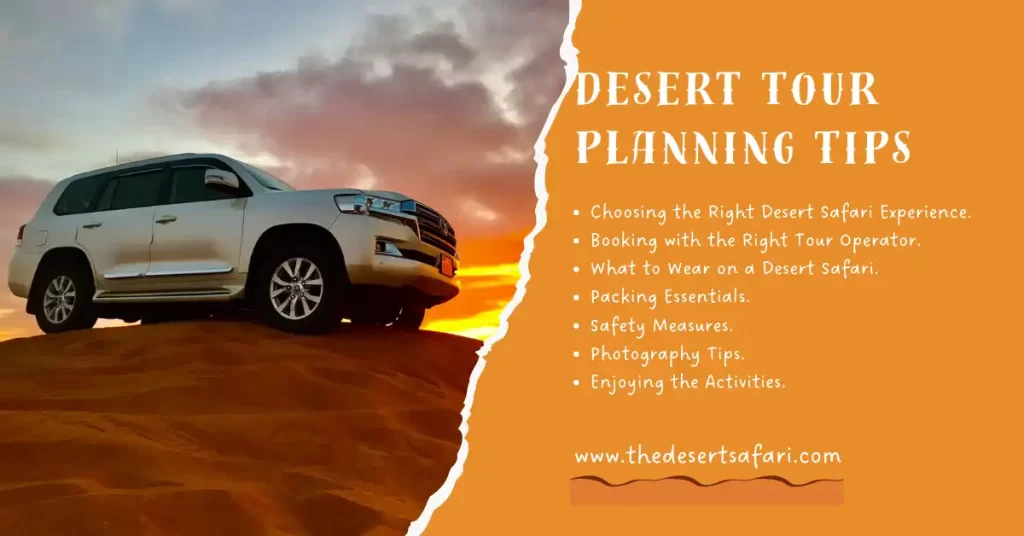 Visiting Dubai is complete with experiencing the thrill of a desert safari Dubai. The vast expanse of dunes, the exhilarating adventure activities, and the rich local culture make it an unforgettable adventure. This article aims to provide you with essential tips for planning the perfect desert safari in Dubai. Let's dive in!
Tips for Planning Your Tour Are:
1. Choosing the Right Desert Safari Experience
There are three main types of desert safaris: morning, evening, and overnight. Each offers a unique experience catering to different preferences. 
Ideal for early risers and those with a tight schedule, a morning desert safari begins at dawn and lasts for about 4 hours. This option lets you witness the breathtaking sunrise over the dunes and participate in adrenaline-pumping activities such as dune bashing, sandboarding, and camel riding. There are different tours in the morning desert safari. Some of the most demanded are:
Morning Desert Safari with Camel Ride

: This morning safari includes 30 minutes of camel ride, and 45 minutes of dune bashing, offering you an authentic and traditional desert experience.

Morning Desert Safari with Quad Bike

: Enjoy an adrenaline-pumping morning safari and a thrilling quad bike ride across the dunes. This tour includes 30 minutes of quad-riding and 45 minutes of dune bashing.

Morning Desert Safari with Dune Buggy

: This option combines the morning desert safari with an exciting dune buggy adventure. This tour includes 30 minutes of dune buggy ride and 45 minutes of dune bashing.

Early Morning Desert Safari Dubai

: Start your day with an early morning safari, allowing you to witness the stunning desert sunrise.

Morning Desert Safari with Breakfast

: Experience a morning safari and a delicious breakfast in a traditional Bedouin camp.

Morning Desert Safari with Lunch

: Enjoy a morning adventure followed by a sumptuous Arabic lunch in a desert camp.
The most popular choice, an evening desert safari, starts in the late afternoon and continues into the night. You'll enjoy a spectacular desert sunset, dinner, and traditional entertainment under the stars. The most demanding other evening safari tours are: 
For a truly immersive experience, consider an overnight desert safari. This option allows you to spend the night in a Bedouin-style camp, stargazing and experiencing the tranquillity of the desert.
2. Booking the Right Tour Operator
Another one of the important tips of planning the desert tour is selecting a reputable tour operator is crucial for a memorable desert safari experience. Research online reviews, compare packages, and ensure the operator is licensed and insured.
Dress comfortably and modestly for your desert adventure. Light, breathable fabrics and closed-toe shoes are recommended. Please remember to bring a hat, sunglasses, and sunscreen for protection against the sun.
Pack essentials such as a reusable water bottle, snacks, a light jacket for the evening, a small backpack, and any necessary medications. Also, consider bringing a portable phone charger to keep your devices charged throughout the day.
Ensure that you follow all safety guidelines provided by your tour operator. Wear seat belts during dune bashing, stay hydrated, and avoid venturing too far from your group.
For optimal lighting, capture stunning desert landscapes using the golden hour (just after sunrise or before sunset). Remember to take candid shots of your companions and the various activities you participate in.
7. Enjoying the Activities
Experience the thrill of dune bashing as you ride in a 4×4 vehicle driven by a skilled driver across the rolling dunes. Remember to buckle up and hold tight as you navigate the desert terrain.
Camel riding in Dubai offers a unique perspective of the desert landscape, allowing you to experience traditional modes of transportation. Always follow the instructions provided by your guide to ensure a safe and enjoyable ride.
Sandboarding in Dubai is a popular desert activity that lets you glide down the dunes on a specially designed board. Wear the appropriate safety gear and listen to your instructor's guidance to make the most of this exciting adventure.
7.4 Traditional Entertainment
As the evening progresses, you'll have the opportunity to enjoy various traditional entertainment performances, such as belly dancing, tanoura dancing, and live music. Sit back, relax, and immerse yourself in the rich cultural experience.
7.5 Embracing Local Cuisine
A highlight of any desert safari is the delicious local cuisine. Savour the flavours of a mouthwatering Arabic buffet, including grilled meats, salads, and desserts. Don't forget to try local specialties such as shawarma and falafel.
7.6 Respecting Local Culture
It's essential to be mindful of local customs and traditions while on a desert safari. Dress modestly, avoid public displays of affection, and be respectful when taking photos of locals or their surroundings.
8. Tips for Planning for Solo Travelers
Travelling solo? Don't worry! Desert safaris are an excellent opportunity to meet fellow travellers and make new friends. Book with a reputable tour operator and inform your guide if you have any specific concerns or requirements.
A desert safari in Dubai is an unforgettable experience that combines adventure, culture, and natural beauty. You can make the most of your desert adventure by following our tips for planning the desert tour. Most important tips for planning are choosing the right safari type, booking a reliable tour operator, and preparing adequately. Remember to respect local customs, engage in exciting activities, and embrace the unique culinary delights to create lasting memories.