Morning Quad Biking in Dubai Desert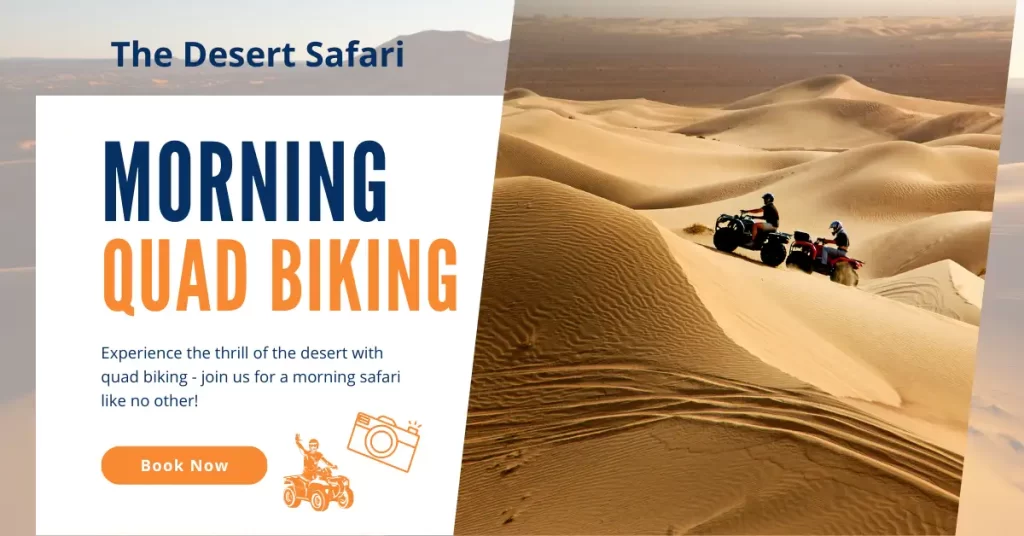 Are you looking for an exciting outdoor morning safari adventure that will take you off the beaten path and into the heart of the desert? Look no further than a morning desert safari with quad bike. This thrilling experience allows you to explore the lovely desert landscape in a way few others have experienced.
You'll ride your quad bike through the dunes with the wind in your hair and the sun on your face. But that's not all – quad biking has many benefits for your physical and mental health. Making it the perfect activity for anyone looking to improve their well-being while having fun. So let's dive in and discover everything you need about a morning desert safari with a quad bike!
What To Expect During a Morning Desert Safari With Quad Bike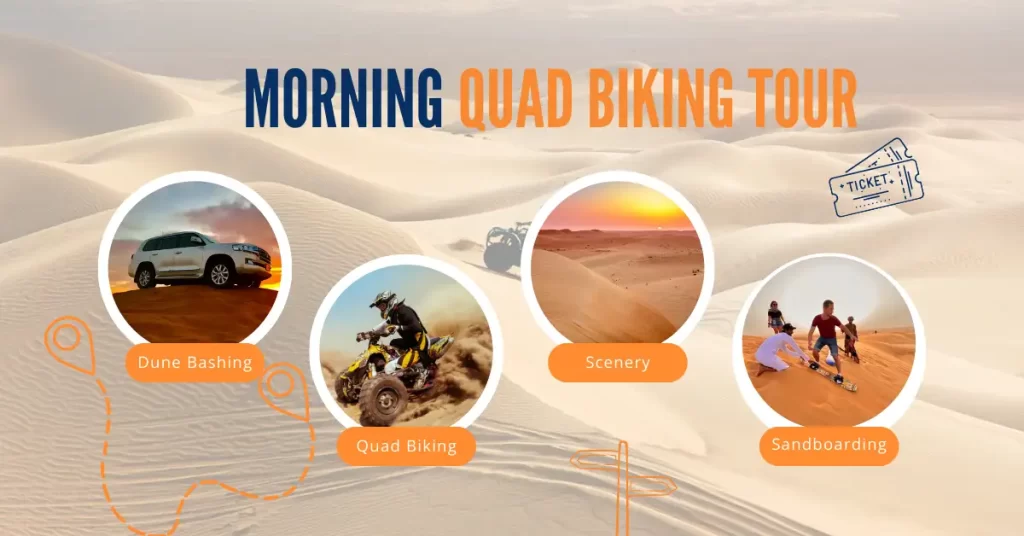 If you're planning a morning desert safari with a quad bike, knowing what to expect during this exciting adventure is important. Here's a breakdown of what you can expect:
Pickup: Our safari captain will pick you up from your location according to your selected time.

Dune Bashing: A thrilling ride is a part of this tour. It's around 30 minutes ride at the red dunes of Dubai.

Safety briefing: Once you reach the desert and before you hit the dunes. You'll receive a safety briefing from an experienced guide. This briefing will cover everything you need to know about operating the quad bike safely. It includes how to control the bike, navigate through the dunes, and handle any unexpected situations that may arise.

Quad bike tour: Once you're comfortable with the safety instructions, it's time to take to the desert on your quad bike. Your guide will lead you through the desert, showing you the most breathtaking views and the best spots for photo opportunities.

Riding time: Depending on your tour package, you can expect to ride the quad bike for anywhere from 30 minutes to an hour.

Stunning scenery: The desert landscape is a sight to behold, and a morning desert safari with a quad bike is one of the best ways to experience it. From the rolling dunes to the stunning rock formations, you'll be surrounded by natural beauty throughout your tour.

Refreshments: After your quad bike tour, you'll have a refreshing snack and a cold drink. This is the perfect way to cool off and refuel after an exciting morning in the desert.

Sandboarding: After the quad biking, we will provide sandboarding, so you can enjoy sandboarding on big dunes.

Drop off: Our safari captain will drop you back at your location once you finish your activities
Safety Measures For a Morning Quad Bike Tour
When it comes to any outdoor adventure, safety should always be a top priority. Morning quad biking is an exciting adventure. But taking precautions is important to ensure your safety throughout the tour. Here are some safety measures to keep in mind:
Safety briefing: Before you begin your tour, your guide will provide you with a safety briefing that covers the basics of operating a quad bike, navigating through desert terrain, and dealing with unexpected situations. Be sure to pay close attention to this briefing and follow your guide's safety instructions.

Protective gear: It's important to wear appropriate protective gear during your quad bike tour. This includes a helmet, goggles, gloves, and closed-toe shoes. Ensure your gear fits properly and is adjusted to your size before beginning your tour.

Stay with your group: It's important to stay with your group throughout the tour and to follow your guide's instructions at all times. Avoid going off on your own or taking risks that could endanger yourself or others.

Stay hydrated: The desert can be hot and dry, so it's important to drink plenty of water throughout your tour to avoid dehydration. 
Quad Biking Tips For Beginners
If you're new to quad biking, it's important to approach the activity with caution and care. Quad biking can be a fun and exhilarating experience, but it can also be dangerous if proper safety precautions are not taken. Here are some quad biking tips for beginners to help you get started safely:
Take a safety briefing: Taking a safety briefing before getting on the bike is important. This briefing will cover basic safety rules and how to operate the bike and handle any unexpected situations.

Start slow: If you're new to quad biking, it's important to start slow and get a feel for the bike before pushing yourself too hard. Begin by riding slowly and gradually increase your speed as you become more comfortable with the bike.

Keep your body relaxed: When riding a quad bike, it's important to keep your body relaxed and loose. This will help you maintain control of the bike and respond to any unexpected bumps or obstacles in the terrain.

Look ahead: When riding a quad bike, it's important to look ahead and anticipate any potential hazards in your path. Keep your eyes on the trail and look for obstacles, turns, and other hazards.

Use proper gear: Wearing appropriate gear is essential for quad biking safety. Always wear a helmet, gloves, and protective clothing to protect yourself from injury.

Stay in control: When riding a quad bike, it's important to always stay in control. Avoid sudden movements or jerky turns, and maintain a safe distance from other riders or obstacles.
No matter your budget or interests, we have tours that will make your trip unforgettable.
We have different morning desert safari tours, all mentioned below.
FAQS About Morning Quad Bike Tour​