Experiencing the Desert on Horseback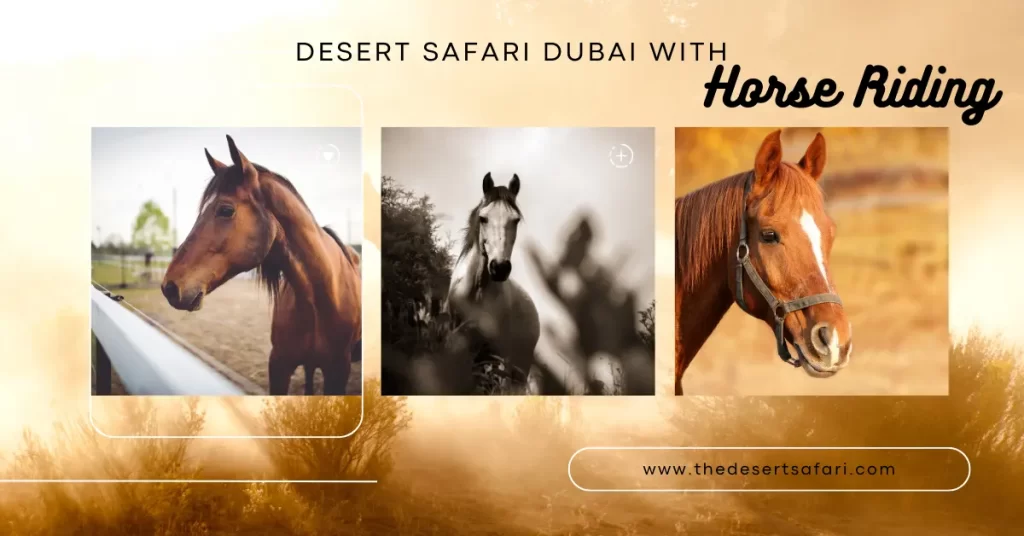 Embarking on desert safaris is a fantastic method to explore the picturesque desert landscapes, understand the Bedouin lifestyle, and have a blast in Dubai.
Riding horses across the expansive desert dunes under the unspoiled desert sky is a unique experience. It's also an opportunity to delve into the history of horse riding in the Middle East and how it's still practiced by the Bedouin tribes today.
If you're searching for a memorable Dubai experience, consider considering a desert safari with horse riding. The memory of this adventure is sure to be long-lasting.
The Best Activities on a Dubai Desert Safari
Horseback riding:

 

Saddle up for an unforgettable ride across the sweeping dunes, beneath the wide open desert sky. Horse riding on these safaris is a beloved pastime and a unique experience.

Dune bashing in Dubai:

 This high-adrenaline activity sees you riding in a 4×4 vehicle across the dunes, a thrilling way to get your heart racing!

Sandboarding in Dubai:

 Slide down the dunes on a sandboard for fun in the sun, a perfect way to cool down after horse riding and dune bashing.

Dinner in the Desert:

 Savour a traditional Bedouin dinner under the starlit sky. The feast typically includes delectable dishes like lamb, rice, and vegetables, accompanied by Arabic bread and tea.

Live entertainment:

 Immerse yourself in the vibrant Bedouin culture with live entertainment featuring belly dancing and henna tattooing.
Experience the Natural Beauty of the Desert on Horseback
Experience the natural beauty of the desert.

 The desert presents a breathtaking, awe-inspiring vista. By riding a horse, you're granted an intimate view of towering dunes and the diverse wildlife in the desert.

Learn about Bedouin culture.

 The Bedouins, as traditional desert dwellers, boast an intriguing, rich culture. Learn about their heritage, lifestyle, and customs during your trip.

Get some exercise.

 Horse riding is a fantastic way to keep fit. The low-impact nature of horse riding is kind on your joints but still provides a satisfying workout.

Have some fun.

 Horse riding in the desert is about enjoying yourself and seeking thrills. Ride through the desert, sandboard down the dunes, and relish a traditional Bedouin barbecue.
A Day in the Life of a Desert Rider
My buddy, Mansoor Cheema, had always yearned to venture on a desert safari but was slightly anxious about horse riding. Since he'd never ridden a horse before, he had his doubts. However, he mustered up the courage to give it a shot, and I couldn't be happier for him.
The desert surpassed his expectations with its majestic dunes and the rich blue sky. He confessed that it felt like standing at the summit of the world. His horse was a calm and accommodating creature, which reassured him.
After riding for an hour, he felt completely immersed in the landscape. He spotted gazelles, lizards, and even camels during his ride. Although he felt exhausted, his spirits were high. The desert safari turned out to be an enlightening journey, offering valuable insights into the desert and its inhabitants.
Additional benefits of horse riding in the desert
Improves your balance and coordination.
Strengthens your core muscles.
Reduces stress and anxiety.
Boosts your self-confidence.
Provides a sense of freedom and adventure.
Different Types of Horses
Arabian horses and Thoroughbred horses are the two main breeds you'll encounter on desert safaris. Arabian horses, known for their intellect, endurance, and nimbleness, are perfect for the desert terrain. 
On the other hand, Thoroughbred horses, celebrated for their speed and strength, are a top choice for seasoned riders looking for a more challenging safari.
In the desert, you can opt for either English or Western riding styles. English riding, originating in Europe, features a gentle hold on the reins and a relaxed seat.
Conversely, Western riding, popularized in the United States, focuses on a hands-on riding approach with a more upright seating position.
When horse riding in the desert, you should consider several safety measures:
Always ride under the guidance of a qualified guide.
Dress suitably for the desert, such as wearing long pants, a long-sleeved shirt, and a hat.
Carry sunscreen and sunglasses.
Keep yourself hydrated.
Stay alert and steer clear of dune areas or other potential hazards.
The best time of year to go on a Dubai Desert Safari With Horse Riding is during the winter when the weather is mild and the days are long. The summer months can be very hot and humid, so going on a desert safari during this time is not recommended.
Desert safaris with horse riding are a great way to experience the natural beauty of the Dubai desert, learn about Bedouin culture, and have some fun. If you want an unforgettable experience in Dubai, I highly recommend going on a desert safari with horse riding.