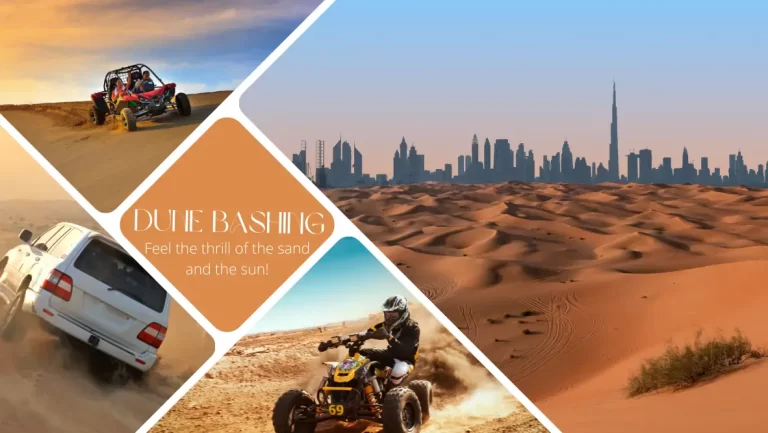 Dune bashing is a popular activity in Dubai where people drive off-road on dunes. Sand Bashing is a thrilling adventure. It allows people to explore the dramatic desert landscape and test their driving skills, balance, and fear of heights, as some dunes reach 300 feet high.
Different levels of experience can participate in dune bashing. Professional drivers are available to help those with little to no experience, and a range of vehicles are available, from 4x4s to quad bikes, ATVs, and buggies.
Dubai Dune bashing is a great way to combine an exciting experience with learning about the culture and heritage.
What Does Dune Bashing Means
It is off-roading that involves driving a vehicle over the dunes.It can be done for recreation or competition, requiring specialized skills. We can define dune bashing as involving driving a four-wheel-drive car up and down the dunes.
The meaning of dune bashing is the activity of driving a vehicle over dunes for pleasure in a desert.
The city's vast desert landscape provides the perfect setting for an adrenaline-pumping adventure. Whether you're a thrill seeker looking for a new challenge or want to enjoy the stunning desert views, dune bashing in Dubai is an experience you won't want to miss.
The Perfect Places for Dune Bashing
If you're looking for an adrenaline-pumping activity on your next vacation, look no further than dune bashing in Dubai. This famous desert activity is perfect for thrill seekers and adventure lovers. Dubbed the "playground of the rich and famous," Dubai is known for its luxury and excess.
But there's more to this city than just that. It is also home to some of the most beautiful deserts in the world.
The Al Badayer Desert is an excellent place for dune bashing. The sand is perfect for driving on, and the views are stunning. There are also plenty of places to stop and take in the scenery. If you're looking for an adrenaline-pumping experience, the Al Badayer Desert is definitely for you!
The term "fossil rocks" refers to a type of rock that contains fossils or the remains of plants and animals. A desert is ideal for off-road driving because of the ample open space and the lack of obstacles. The dunes provide drivers with challenging and exciting terrain; the fossil rocks add interest and intrigue.
The Al Madam Desert is an excellent place for dune bashing. The desert has a lot of dunes that are perfect for driving over and around. The sand is also great for traction, so you can feel how your car or truck handles in the sand.
The best place for dune bashing in Dubai is the Al Aweer Desert. It is located in the city's southeast and is an excellent spot for adrenaline junkies. The desert offers a wide range of dunes to bash, from small to large. There are also plenty of other activities in the area, such as camel riding and sandboarding.
There are a few things that you need to consider when choosing the best SUV for dune bashing in Dubai.
The first is the size of the vehicle. You want something big enough to seat all your passengers comfortably but not so big that it will get stuck in the sand.
The second is the power of the engine. You want something with enough power to get up the dunes without struggling.
The third is suspension. You want something that can handle the bumps and turns of dune bashing.
And the fourth is the tires. You want big, fat tires that can grip the sand and keep you moving.
Dune buggies are the best way to enjoy dune bashing in Dubai. There are many dune buggies available for rent in Dubai. Most dune buggies have automatic transmissions and are easy to drive. Dune buggies are the best option for driving across the dunes. These allow you to take your vehicle to any place you want to go.
Many companies offer dune buggy rental services in Dubai. The dune buggies are specially designed for off-road driving. They are equipped with powerful engines and four-wheel drive. This makes them perfect for driving across the dunes.
Some of the best Dune Buggies for dune bashing in Dubai are
Polaris RZR RS1 1000 Single Seater
The 2019 Yamaha YXZ1000R SS SE
Can-Am Maverick X3 Max X RS Turbo R
Polaris RZR Pro R
Riding a quad bike across the sandy dunes of Dubai has become one of the most popular activities for tourists and residents. What's not to love? The thrill of riding across the sand, the wind on your face, and the magnificent views of the desert make it an exciting experience.
Some of the best quad bikes for dune bashing in Dubai are
Yamaha Raptor
Suzuki Quad Racer
Honda TRX420
Kawasaki KFX450
Polaris Sportsman
What You Need To Go Dune Bashing
To go for dune bashing, you will need a few things. You can go by yourself, but you will need a vehicle capable of traversing the dunes, like a 4×4 SUV, Dune Buggy, or Quad Bike. Or you can book a dune bashing tour from the desert safari service providers.
The best time to go for dune bashing is during the daytime when the sun is shining. If you are looking to go only for the thrilling ride, the best time is in the morning, when the sand is cool and firm. The sun is not too hot, and there is enough light to see the obstacles.
What Do You Wear on a Dune Bashing in Dubai?
When going for the off rode drive in Dubai, it is important to dress appropriately. One should consider the following:
the temperature (it is generally hot and humid)

the terrain (sandy and potentially rough)

the activities (driving and possibly hiking)
With these factors in mind, it is recommended to wear light, loose-fitting clothing made of breathable fabrics such as cotton. It is also advisable to wear closed-toe shoes for protection from the sand and sun. It is also important to wear googles, use sunscreen and bring a hat. For more detail you can check our blog post regarding best outfit for the desert safari.
How To Stay Safe While dune Bashing?
It is safe if you take precautions and use safety gear. Always wear a seatbelt and be aware of your surroundings. If you are not comfortable with the activity, do not participate.
There are a few things you can do to stay safe while dune bashing:
Wear a seatbelt at all times.
Be aware of your surroundings.
Do not participate if you are not comfortable with the activity.
Use safety gear such as a helmet and goggles.
If you doing sand bashing on a dune buggy or quad bike, always follow your guide.
Who Should Avoid Dubai Dune Bashing?
There are a few groups of people who should avoid dune bashing:
Pregnant women
People with back or neck problems
Infants
The elderly
Dune Bashing While Pregnant
The dune bashing is not recommended and also not allowed for pregnant ladies. You can avoid the off-road ride and goes directly to the desert camp, or just sit on the big dune and watch your loved ones enjoy. We also offer desert safari without dune bashing. You can book that tour.
People with back or neck problems
It's not recommended for the people having back or neck problems, dune bashing is a bumpy ride, and it's not safe for them.
Infants and Elderly People
This thrilling ride is not allowed for infants and older adults; If you go for the dune bashing desert safari.
Other than infants and older adults, desert safari has no age limit. Even toddlers can go for the dune bashing on 4×4 SUVs. We offer two different desert tours, one desert tour with infants and 2nd is desert safari with family. You can check both for further details.
Best Dune Bashing Tours in Dubai
The best dune bashing tours in Dubai offer an exhilarating and unique experience that is not to be missed. These tours provide an opportunity to explore the amazing desert landscapes of Dubai and get an adrenaline-pumping thrill ride. If you are looking for an adventure in Dubai, check out one of these dune bashing tours.
Morning Dune Bashing Safari
Evening Desert Safari
Arabian Night Safari
Dune Buggy Tour "Morning & Evening"
Quad Biking Tour "Morning & Evening"
What is The Dune Bashing Cost
The dune bashing price is the amount of money that a person must pay in order to participate in the activity of dune bashing. This cost can vary depending on the location, tour, and the number of people.
Morning Dune Bashing costs 650 AED / 177 $ for up to 6 people.
Evening Dune Bashing cost is 130 AED / 36 $ per person.
Arabian Night Dune Bashing cost is 250 AED / 68 $ per person.
Quad Bike Ride cost is 250 AED / 68 $ per person.
Dune Buggy Ride cost is 600 AED / 164 $ per person.