Desert Safari Outfit Ideas for Girls
Almost all the tourist ask what to wear during the desert safari tour. So here is the detailed post regarding what to wear during the Dubai desert safari and why.
Summer Clothes to Wear in Dubai Desert
During the summer season, the temperature in the desert is very high even you spend most of your time in an air-conditioned 4×4 and air conditioned desert tent but still, when you come out of your 4×4 to do a camel ride, quad biking, or sandboarding; you feel boiling. So we suggest Outfit for desert safari should be breathable and adjustable for evening and morning tours.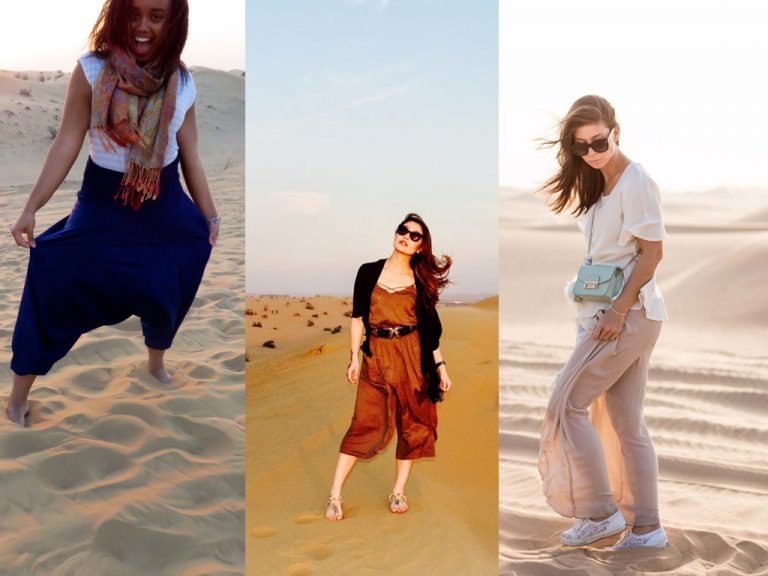 Dubai Desert Outfit During winter
During the winter season, the desert gets cold in the evening, and early morning, so the suggested Dubai desert outfit will be full selves with causal cotton pants and bring a shawl with you.
What color to wear during the desert tour.
Wear something with bold prints or the same color from top to bottom. So your dress will pop out against all the brown background "Desert." So we decided what color we were going to wear. The next step is what to wear or what do people wear in the desert; there are so many options like wearing a jumpsuit, causal cotton pants, Loose or stretchy pants, or even leggings, Bermuda Shorts, Or high-rise long shorts.
The shorts idea is best for summer. But during winter, "November to February the weather gets cold in the middle of the desert after sunset and early morning.
For the tops, I will recommend at least half sleeve shirts. Half sleeve shirts work in both winter & summer as you have to follow the rules of the UAE dress code. So if you are wearing a jumpsuit, wear a blouse on it. So here our dress issue gets resolved; now come to the point, wear sneakers, sandals, or flip-flops. According to our experience, sandals and flip-flop are the best options. If you wear sneakers, you will be bringing a lot of sand back to the hotel as a souvenir. As well as you get irritated while removing sand from your sneakers as your feet remain in the sand all the time during your desert trip.
Camel ride in the Dubai desert is one the most demanding and thrilling activities; wear some stretchable clothes if you go for a camel trekking tour, which is around 30 minutes. Bring a scarf, wear your shades, and must use sunscreen. The best way to protect yourself from sunburns during a camel ride is by covering yourself with sunscreen. Make sure your sunscreen is not greasy and tacky. You must bring and use the lip balm; lip balm will protect your lips from cracking as the desert is dusty and dry.
What to wear on a camel ride in Dubai?
Comfortable Clothes:

 Wear loose, comfortable clothing that covers your arms and legs to protect you from the sun and rubbing against the camel's fur.

Zipper pockets clothes: 

Always wear zipper clothes to secure your belongings easily. On daily bases, tourists say they lost their Sunglasses, Cell phone, Credit cards or paper money during the camel ride in Dubai. Wearing clothes with zipper pockets can help keep your belongings secure and prevent them from falling out during the camel ride.

A scarf or tight-fitting cap or hat: 

A scarf or cap can help protect your head and neck from the sun and wind and keep your hair out of your face. We recommend using a scarf so you can cover your nose and mouth. It helps to stop the sand from entering your mouth. 

Sunscreen:

 It is important to protect your skin from the intense sun in Dubai, so make sure to apply sunscreen with a high SPF before your camel ride.

Sunglasses:

 Sunglasses will protect your eyes from the sun and also the blowing sand.

Moisturizer: 

The desert air can be very dry, so applying moisturizer will help keep your skin hydrated.

Female Hygiene Items:

 Female riders should consider bringing feminine hygiene items as restroom facilities may be limited during the camel trekking.

Wet Wipes:

 Wet wipes can come in handy for cleaning off sand or dust from your face or hands during the ride.

Camera: 

You will want to capture the beautiful scenery and your camel ride, so bring a camera or smartphone with you.
Conclusion
Wear something somewhat loose-fitted, so they're comfortable to be in. As you have to sit in a land cruiser for at least an hour, you have to enjoy a camel ride, sandboarding, and quad biking. You can also buy an Arabian headscarf from the desert.
A final thought about what to wear during the desert tour, A hoodie or a bulky pullover, half-sleeved tops & comfortable trousers, bring Sunglasses, Hat & Light Shawl use Sunscreen and Lip balm during camel ride and quad biking and at end wear sandals or flip-flops. Last, don't bring your valuable accessories to the desert.
What to Wear During Desert Trip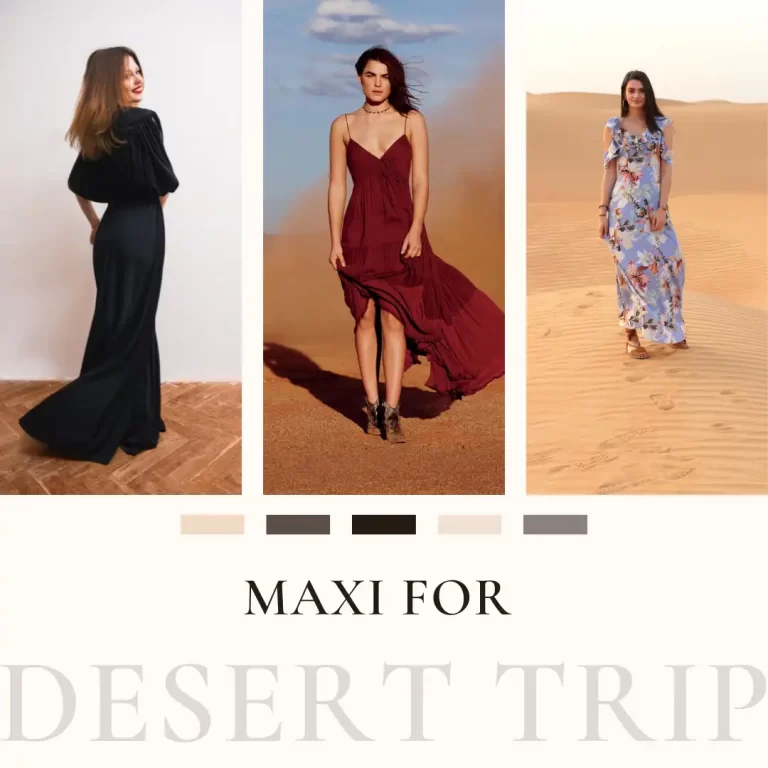 Light and Flowy Maxi Dresses for the Desert Safari Dubai Tour
Suppose you're heading to the Dubai desert for a safari tour. In that case, you want to ensure you're dressed comfortably and appropriately.
Light and flowy maxi dress is an excellent option for this adventure. Here's why maxi dresses are perfect for a desert safari and what you should keep in mind when choosing one.
Why Maxi Dresses are a Perfect Choice for a Desert Safari
Maxi dresses are ideal for a desert safari because they are comfortable, stylish, and appropriate for the environment. A maxi dress's light and flowy silhouette will keep you cool in the hot desert sun, and the long length will protect you from the elements. 
Additionally, the relaxed fit of a maxi dress allows plenty of room to move around and explore the desert, making it an ideal choice for an active day.
Recommendation for Light, Breathable Fabrics
When choosing a maxi dress for a desert safari, selecting a dress made from a light and breathable fabric is important.Cotton or linen are great options because they are soft, lightweight, and allow air to circulate around your skin, helping to keep you cool. Avoid heavy fabrics like denim or thick synthetic materials, as they will be hot and uncomfortable in the desert heat.
Tips for Choosing a Dress with a Flowy Silhouette
A dress with a flowy silhouette will help keep you cool and comfortable in the desert heat. Look for dresses with a loose fit, plenty of gathers or pleats, or an A-line shape.
Avoid tight-fitting dresses, as they will not provide enough ventilation to keep you cool in the desert sun.
Suggestions for Accessorizing the Maxi Dress
To make your maxi dress suitable for a desert safari, you'll want to accessorize with practical and stylish items.
A wide-brimmed hat or a scarf can provide protection from the sun and keep you cool.
Sunglasses are a must to protect your eyes from the bright desert sun.
Closed-toe shoes will protect your feet and support you in walking on uneven terrain.
A lightweight bag, such as a backpack or cross body bag, is a good idea to carry water, snacks, and any other essentials you might need during the day.
In conclusion, a light and flowy maxi dress is an excellent choice for a desert safari in Dubai. Choose a dress made from breathable fabrics and a flowy silhouette, and accessorize with practical and stylish items to complete the look.
With these tips in mind, you'll be dressed and ready for an unforgettable adventure in the Dubai desert.
Wide-Leg Pants for the Desert Safari
Regarding dressing for a desert safari, comfort and style are both important. Wide-leg pants are a great option that offers both.
Here's why wide-leg pants are comfortable and stylish the choice for a desert safari and what you should keep in mind when choosing a pair.
Why Wide-Leg Pants are a Comfortable and Stylish Choice for a Desert Safari
Wide-leg pants are an excellent choice for a desert safari because they offer comfort and style. The relaxed fit of wide-leg pants provides plenty of room to move around, making them ideal for an active day in the desert.
Tips for Choosing a Pair with an Adjustable Waistband
Choose a pair of wide-leg pants with an adjustable waistband to ensure the most comfortable fit during your desert safari. An adjustable waistband will allow you to customize the fit of your pants, ensuring a comfortable fit throughout the day.
Additionally, an adjustable waistband will make it easy to adjust your pants as needed, whether you need to tighten or loosen the waistband for added comfort.
Looking for more tips on what to wear for your next adventure?
Be sure to check out our other comprehensive guides at TheDesertSafari.com!
What to wear on horseback riding in desert
FAQS About Desert Safari Outfit