Quad Biking Dubai What To Wear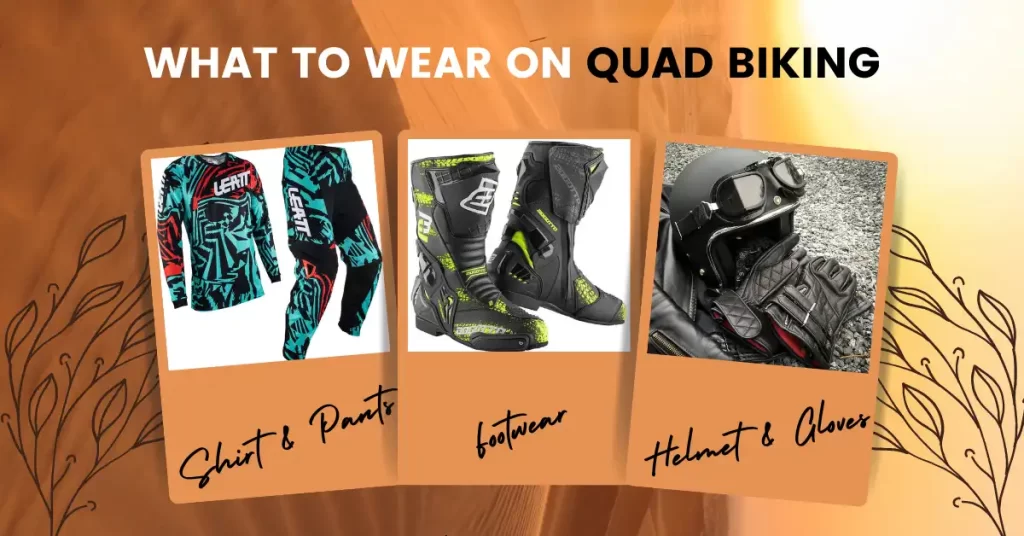 Are you planning on going quad biking in Dubai? Exciting! The dunes and panoramic desert make for a thrilling adventure. But before you hit the accelerator and start exploring the desert, there is something you need to consider: What To Wear on Quad Biking in Dubai.
Quad biking in Dubai is a thrilling experience, but at the same, it is also challenging, especially when it comes to dressing appropriately. The scorching heat of the desert and rough terrain can pose serious risks to your safety and comfort if you're not wearing the right clothing. But don't worry; we've got you covered.
In this post, we'll guide you on what to wear for quad biking in Dubai, so you can stay comfortable, safe, and stylish during your adventure.
Dressing for the Quad Biking
The weather in Dubai and the whole gulf region remains hot and dry from April to September. It often reaches 48 degrees Celsius in the summer months. So climate plays a vital role in deciding what to wear for quad biking.
The intense heat can cause discomfort, dehydration, and even heatstroke if the proper clothing is not worn.
To dress appropriately for the climate in Dubai while quad biking, it is recommended to wear loose-fitting, breathable clothing made from lightweight fabrics such as cotton or linen. Avoid wearing synthetic materials, as they can trap sweat and heat against your skin.
If you go for the quad biking tour, select early morning safari or afternoon desert safari slots. Going for a quad tour in the afternoon is not a good idea.
Dressing for Safety and Comfort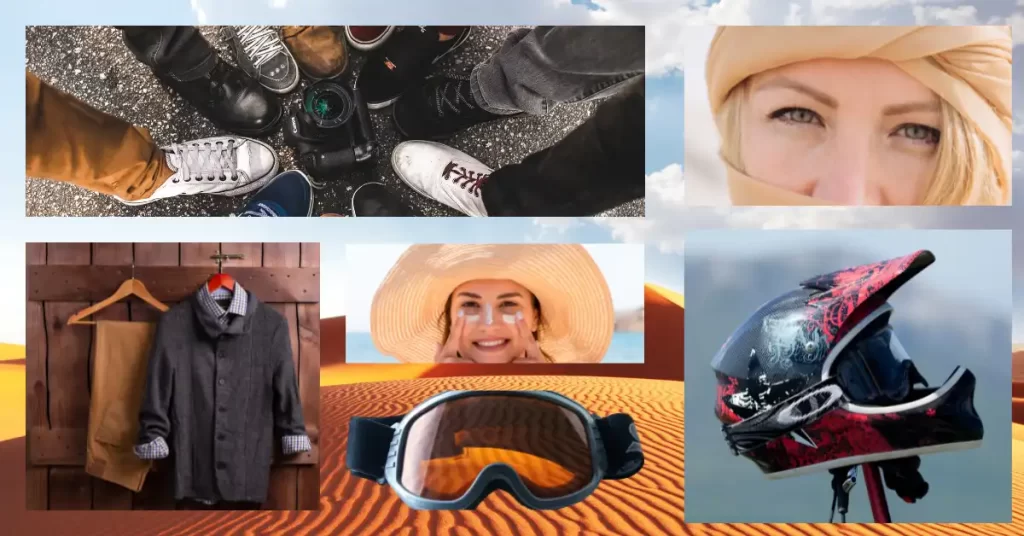 When it comes to choosing the proper clothing for quad biking in Dubai, there are a few key items to consider:
Long-sleeved shirt

Long pants

Bandana or scarf

Gloves

Quad Bike Helmets

Goggles

Protectors

Sunscreen
Each of the above clothing items serves a specific purpose in keeping you safe and comfortable while quad biking.
Long-sleeved shirt & Pants: A long-sleeved shirt and long pants protect from the sun, potential scratches, and cuts from the desert terrain.
Bandana or scarf: A bandana or scarf can be worn around the face and neck to protect against dust and sand.
Gloves, Helmets, Body Protectors & Goggles: These items offer additional protection for your hands, head, eyes, and body. During your quad biking tour, we will provide you with all the protective things mentioned above.
Tips for Choosing the Best Shirt and Pants for Comfort, Protection, and Breathability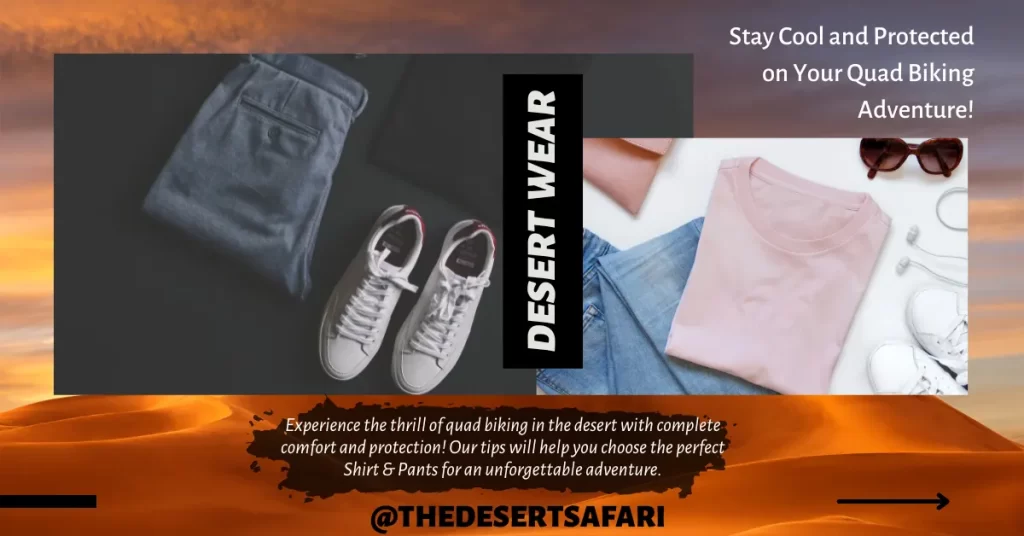 When it comes to selecting the best shirt and pants for quad biking in the desert, it's important to consider comfort, protection, and breathability. Here are some recommendations:
Shirt: A moisture-wicking t-shirt or a lightweight, long-sleeved shirt made of breathable cotton or polyester is ideal. Avoid heavy fabrics that can trap heat and cause discomfort.

Pants: Opt for comfortable, breathable pants that offer protection from the sun and sand. Cargo, hiking, or athletic pants made of quick-dry material are all great options.
Additionally, it's important to choose appropriate clothing for the weather conditions. In the cooler months, a lightweight jacket or hoodie may be necessary. In the warmer months, lighter and more breathable fabrics are essential to keep you cool and comfortable.
Step Up Your Shoe Game: The Importance of Proper Footwear for Quad Biking in Dubai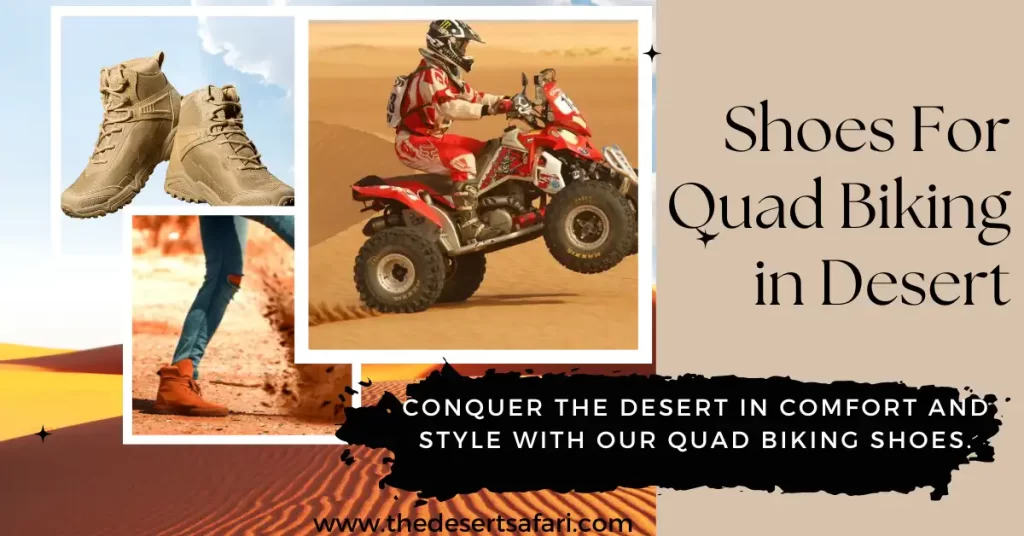 Proper footwear is crucial for quad biking in Dubai's desert terrain. The right shoes can provide support and protection to ensure a safe and comfortable ride.
Regarding appropriate footwear for quad biking in Dubai, closed-toe shoes with good traction are essential. Examples include hiking boots, trail running shoes, or closed-toe sneakers.
Looking for more tips on what to wear for your next adventure?
Be sure to check out our other comprehensive guides at TheDesertSafari.com!
FAQs about What To Wear on Quad Biking