Most Reliable Off Road Vehicles Used in UAE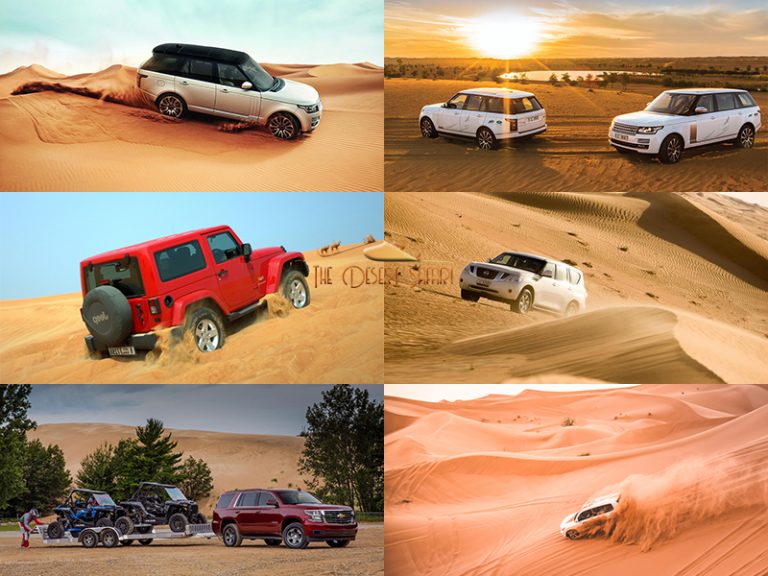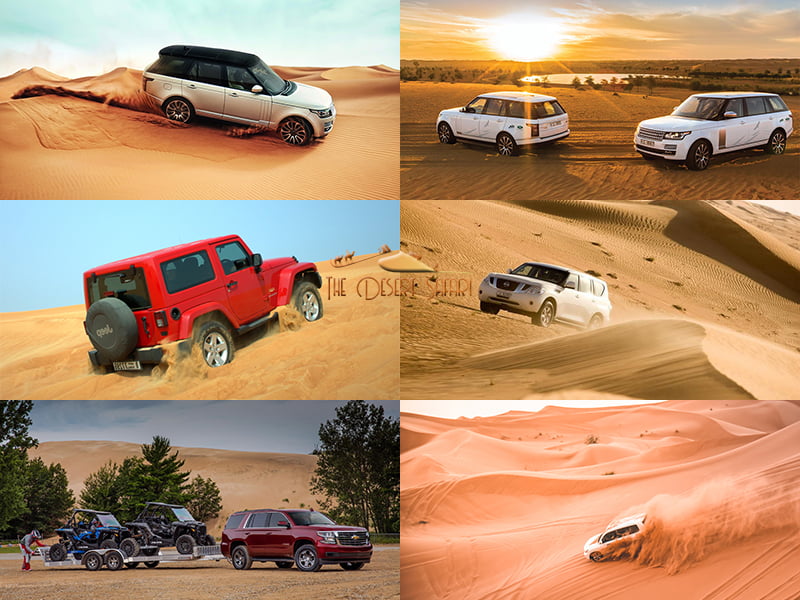 When choosing a vehicle to have an excursion in the desert, the following points need to be considered.
Always be safe, risky approaches to a sand dune can be very dangerous when not equipped with a skilled driver and a suitable vehicle. Remember there is a soft and hard side of every sand dune, train your eye to notice which is which before attempting to drive on the dunes.
Think of snowshoes when deciding which tires are best for the dunes, wide tyres limit the vehicle from sinking in the sand.
Always remember to lower the pressure in the tyres to 18-20 psi  when driving in sand. Refilling it as soon as you hit the road again.
The lighter the vehicle the less chances it's tyres will sink in the sand and get stuck. When stuck empty the vehicle from all heavy objects to get out of the sand.
The choice of vehicle depends on how extreme off-road skills you will perform with it. Some luxury cars have powerful engines but are too heavy for the sand.
Luxury vehicles are great for driving around the big dunes. Less luxurious vehicles are better for actually climbing the sand dunes.
When ever stuck in the sand remember to stop and lower the tyre pressure to 16psi before sinking the tyres further.
Only drive up or down a sand dune never slide sideways, the risk is the car rolling.
Keep speeds moderate, remember momentum is necessary in lowlands, go as slow as possible but as fast as necessary.
Watch out for other drivers not visible behind cliffs or corners.
Go easy on the brakes, a wrongly positioned hard break on a downhill can easily flip a car.
Don't drive on vegetation you risk damaging the inferior of the vehicle and getting stuck.
Don't make sharp turns.
Call for help when low on water or gasoline.
Stay oriented and have a navigation system when going to remote areas.
The land rover discovery has incredible off-road abilities, a high-tech dashboard,spacious and luxurious interior. The land rover is an excellent family car,providing a comfort cabin and supreme safety features.
Technical:
335 bhp 6-cylinder engine.
9-speed automatic transmission.
Weighs 2,230 kg.
5 star EURO NCAP rating Safety test.
Terrain Response system  that selects best driving mode for different landscape.
Torque Vectoring by Braking System.
Hill Descent Control.
Advantages:
good off-road experience/ on road comfort.
Seven forward facing seats.
One of the Safest SUVs.
StrongV8 Engine.
Luxurious and quiet ride.
Beautiful design.
Disadvantages:
Better on solid rock off-roads than sand dunes.
2tonne vehicles sink in the sand when dragged by a 6 cylinder engine.
The Discovery is a quasi-military class vehicle and historically used by the british in exploring foreign lands. Safe and spacey interior makes it ideal for family light excursions. However sand is not its best terrain.
The Range Rover is a luxury SUV where one has the feeling of sitting in a luxury sedan while riding over the dunes. The range rover is a favorite of the elites for its city luxurious looks and comfort combined with a powerful V8 and off-road capabilities.
Technical:
5.0V8 engine producing 370 horsepower.
8-speedautomatic transmission.
Weighs 2144 kg.
Electronic cross-linked air suspension.
Second generation Terrain Response system.
5 star EURO NCAP rating Safety test.
Controlled Acceleration Control prevents excessive speeds downhill.
Hill Start Assist prevents the vehicle from inadvertently rolling backwards.
Advantages:
Incomparable off-road Luxury and comfort.
High-tech off-road features.
Powerful engine.
Swift acceleration.
Luxurious and quiet interior.
Beautiful design.
Very safe vehicle.
Disadvantages:
Large rims resonate the off-roads vibrations.
Low chassis risks getting stuck on edges.
While having a silent cabin and a luxury touch the range rover is a safe and powerful off-road vehicle. However if considering doing extreme off-road stunts, this rover is better for the entourage.
One of the most powerful and lightest vehicles that roams the Arabian deserts. The Nissan Patrol is an ideal sand dune bashing machine. The single true competitor of the Toyota Land cruiser, it has been the choice of many Bedouins and dune basher.
Technical:
5.6L V8 engine.
7-speedautomatic transmission.
Weighs2795 kg.
Variable4×4 mode: sand, on-road, rock and snow.
Hydraulic Body Motion Control System.
Electronic-locking rear differential.
Hill start and hill descent control.
Computer assisted braking.
 
Advantages:
Monster 5.6L V8 engine.
Smooth transmission.
Room for people and luggage.
Smooth and quiet ride.
Capable towing machine.
Rugged design.
Multi-purpose cabin.
Disadvantages:
Bulky dimensions and in-city maneuvering.
Fuel thirsty.
Spacious interior great for big families and an engine and transmission that does not fail climbing the largest of dunes. Nissan Patrol remains one of the most reliable sand dune bashing vehicles in the market. The combination of a powerful engine, a rapid transmission and 4×4 options makes it one of the best choices for a serious Desert safari trip.
The US military car made specifically and introduced during the gulf war. A war zone heavy duty vehicle that is generous in both interior space and engine power.
Technical:
6.2 L V8 Engine.
6 speed transmission.
Weighs 3000 kgs.
 
Advantages:
Heavy duty and rugged design.
Spacious interior.
Big tires for rough landscapes.
Powerful V8 engine.
Capable towing machine.
Multi-purpose cabin.
Disadvantages:
Very heavy in the sand.
Slow transmission unresponsive for maneuvering the sand dunes curves.
Too bulky for the city parking and driving.
The hummer is a great heavy duty vehicle but the weight and transmission on it, makes it move clumsily in the sand dunes. Would perform better on rock terrain or flat dirt.
Simple and spacious with a strong engine capable of towing and pushing through the sand dunes the Sequoia is a milder version of the land cruiser. Great for road trips with minimal off-road challenges.
Technical:
4WD 5.7L V8.
6-Speed transmission.
Multi mode 4×4.
Weighs 2700 kgs.
 
Advantages:
Smooth handling.
Room for up-to 8 passengers.
Strong V8 engine.
Capable towing machine.
Rugged design.
Multi-purpose cabin with spacious luggage space.
Disadvantages:
Limited tech.
Bulky size.
Thirsty for Fuel.
The Sequoia has weight to engine power balance that allows it to be a basic candidate to drive off road with a bunch of friends or family when not needing additional perks or luxury.
Number one family SUV in the middle east for its wide 3 seater interior and still large space for luggage, excellent road cruiser and reliable off road. The Tahoe is a car made for the off roads.
Technical:
5.3 LV8 Engine.
355hp.
6-speed automatic transmission.
4-wheel ABS.
 
Advantages:
7 seater spacious vehicle.
Comfortable seats in a multi-purpose cabin.
High chassis avoids hitting obstacles.
Smooth and comfortable ride.
Capable towing machine.
Strong performance.
Rugged design.
 
Disadvantages:
Slow transmission reaction off road can be troublesome maneuvering thru the sand dunes.
Not many off-road mode options.
 
World's favorite family car the Tahoe provide a spacious interior with comfortable seats. The large tires allows it to be soft on the off-road bumps and crawl on the sand effortlessly. If you would like to enjoy a comfortable road trip with limited off-road, then the Tahoe will be perfect.
The wrangle popular in pop culture as the sports utility vehicle iconic for being the 4×4 convertible. Excellent basic city car and light on the dunes the Wrangler with flattened tires and a skilled driver should be an "OK" car for the dunes.
Technical:
3.6L Engine.
6-speed Manual transmission.
1759kg.
 
Advantages:
Short chassis allows it to maneuver sharp corners and steep edges.
Lightweight.
Photogenic.
Rugged design.
 
Disadvantages:
Not suitable for large groups or excessive luggage.
Small engine.
Bad safety test results.
Not the most comfortable.
While a fun vehicle to bash dunes with, the wrangler is easy and simple to drive in the dunes, but lacks space and engine power. Excellent choice for a short trip of a small group to take selfies and enjoy the breeze on a topless vehicle.
The Toyota land Cruiser has always been known for durability and reliability having a strong V8 engine with powerful transmission that will not fail at the last metres running up a high sand dune. Its light body allows it to float over the dunes unchallenged.
Technical:
5.7LV8 engine.
5 gear automatic transmissio.
Weighs 2615kg.
CRAWL Mode, a four-wheel drive control system that operates like an off-road cruise control, automatically maintaining a low uniform vehicle speed using brakes and throttle.
Down hill Assist Control.
Multi-terrain anti-lock braking system (ABS).
Kinetic Dynamic Suspension System (KDSS).
Advantages include:
Roaring V8 engine.
Smooth and quiet ride.
capable towing machine.
Strong performance.
Rugged design.
Multi-purpose cabin.
The downside of this model are:
Thirsty for Fuel
Lack of Room in its Third-Row Seat
If you prefer performance, durability and reliability. The land cruiser is your choice to have a worry less trip in the desert. The most sold SUV in the Middle East, It is the Bedouins favorite vehicle.