Dune Bashing Dubai Locations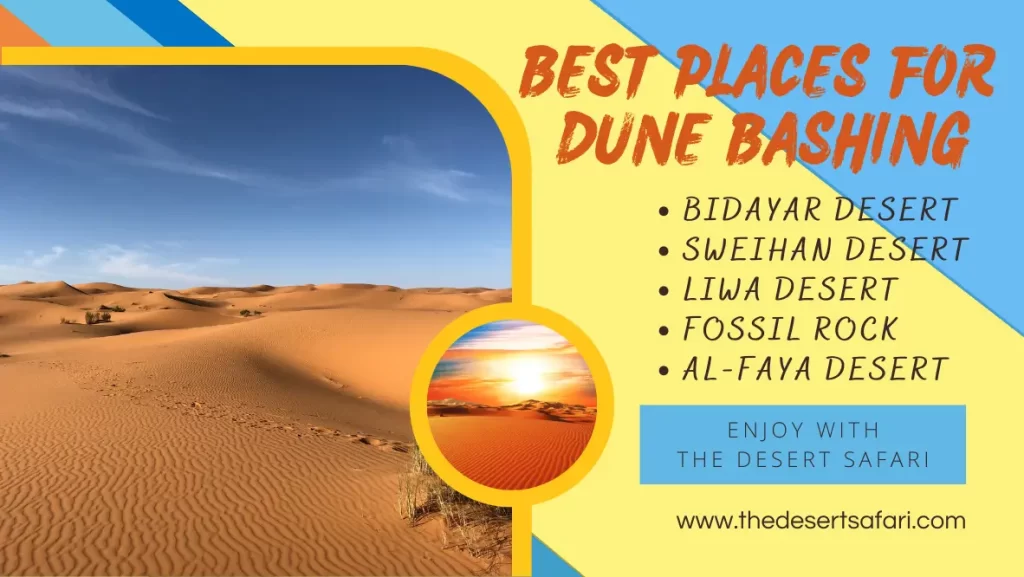 Welcome to our guide on the best dune bashing Dubai locations! If you're looking for an adrenaline-pumping adventure amidst the golden sands of Dubai, you've come to the right place. Dune bashing is a thrilling activity that lets you conquer the desert landscape in a powerful 4×4 vehicle. This article will introduce you to the top dune bashing Dubai locations, ensuring you have an unforgettable experience. So buckle up, and let's explore the majestic dunes of this enchanting city!

Dune bashing is an off-road activity that involves driving specially modified 4×4 vehicles over dunes at high speeds. The 4×4 vehicles have powerful engines, reinforced suspension systems, and large tires to handle the challenging terrain. It combines the thrill of off-roading with the breathtaking beauty of the desert landscape.
Why Dubai for Dune Bashing?
Dubai is known for its magnificent desert landscapes, which provide the perfect setting for dune bashing adventures. The city's strategic location, advanced infrastructure, and world-class tourist facilities make it an ideal destination for adventure seekers.
Best Time to Go for Dune Bashing
The ideal time for dune bashing in Dubai is during the cooler months, from November to March. During this period, the temperatures are pleasant, making the activity more enjoyable. Avoid the scorching summer months, as the desert heat can be unbearable, even for the most experienced adventurers.
Top 7 Dune Bashing Dubai Locations
If you want to go for dune bashing by yourself instead of booking a tour, the spots below are among the best.
Al Awir Desert

Lahbab Desert


Sweihan Desert

Liwa Desert
All the dune bashing Dubai locations mentioned above offer a unique and incredible experience so that you can find the best spot for dune bashing. Ensure to follow all the instructions and safety guidelines in the desert to enjoy a smooth ride.
1. Bidayer Desert Sharjah
The desert on the Hatta/Oman highway (E44) in Sharjah is approximately 45 minutes from Dubai. This vast dune, known as "Big Red" due to its enormous size and dark red-colored sand, is among the UAE's most renowned and famous dune bashing locations.
Al Bidayer Desert is an emerging tourist destination characterized by vast expanses of rolling dunes, an oasis, and a desert landscape. This area boasts a rich archaeological heritage, with numerous ancient sites to explore. Al Bidayer features relatively simple dunes that professionals and amateurs can navigate compared to other deserts. During holidays and weekends, the desert attracts motorists eager to showcase their skills on quad bikes, jeeps, and buggies.
Al Awir is a popular destination for dune bashing in Dubai. Al Aweer desert is located approximately 40 minutes from the city center. This vast desert area offers stunning red dunes and thrilling driving experiences. The dunes in Al Awir are suitable for both beginners and experienced drivers.
Lahbab Desert, also known as the Red Dunes, is about 50 minutes from the city. This desert offers towering dunes that provide a more challenging dune bashing experience. Lahbab is ideal for those looking for an adrenaline rush and exceptional views of the desert landscape.
This desert is located 50 minutes away from Dubai and is located in Sharjah, Al Malaiha road. This fantastic desert contains Ruby sand. Because of its dunes, which are more extensive than Al Bidayer, skilled drivers and amateurs like it. One can find the biggest dunes to ride, so it is also known as "Big Fall."
This desert has some giant dunes and requires some more technical experience. You must only avoid it if you have yet to learn what you are doing. Sweihan desert is 1 hr. Fifteen minutes from Dubai and is located on Al Hayer Road, Abu Dhabi.
The desert borders three cities: Al Ain, Abu Dhabi, and Dubai. Since it is the practicing ground of Liwa enthusiasts, the desert is also known as Little Liwa. This desert is only specified for experienced drivers, as it has soft sands and big dunes. With GPS and proper guidance, one can see a large number of camels and lone Emiratis.
The Liwa Desert is almost 3 hours away from Dubai and is located in Rub Al Khali, Abu Dhabi. The desert is also famous as "The Empty Quarter," Only the most expert and experienced dune bashers enjoy it here. The desert is renowned for all its annual challenges and festivals.
The Arabian Peninsula is the largest desert, covering a wide area with soft sand and sharing the boundary with Saudi Arabia. The festival, Liwa festival, lasts for a week, and the main challenge is tackling the terrifying mountain, Moreeb Dune.
This is located in Sharjah, Kalba road, 50 mins. Drive from Dubai. This incredible spot is known as Jebel Maleihah. It is more popularly known as fossil rock. 
In this desert, there are remains of marine fossils. Yes, in the center of the desert, there resides marine life. Many years ago, Arabia was under the ocean. The spot is also liked by people interested in camping, hiking, fossil hunting, and photography enthusiast.
What to expect when going for dune bashing?
The Dune bashing is an excellent part of a desert safari trip. The trip begins by picking you up from your location, and it takes almost 45 minutes to reach your destination.
As soon as you reach the Desert of Dubai, you are in another world with no tall buildings or noises, and you can only see red dunes. There is no age limit; however, it is advisable not to take kids below two years on dune bashing. If you want to take your child for around 1-3 years, let us know during booking so we can arrange a child booster.
Safety Tips For Dune Bashing

1. Vehicle Selection and Preparation
Ensure your vehicle for dune bashing is well-maintained and equipped with essential safety features, such as a roll cage, seat belts, and fire extinguishers. Properly inflated tires and a reliable communication system are crucial for a safe dune bashing experience.
2. Travel with an Expert Guide
Always go dune bashing with a professional and experienced guide, especially if you're a beginner. Expert guides are well-versed in navigating the desert terrain. They can provide valuable safety tips and techniques for a fun and secure adventure.
3. Wear Appropriate Safety Gear
Appropriate safety gear, such as helmets, goggles, and gloves, is essential for a safe dune bashing experience. Additionally, dress in comfortable, weather-appropriate clothing and bring plenty of water to stay hydrated during your adventure.
The Dune Bashing Packages and Experiences
Morning dune bashing packages are perfect for those who prefer to start their day with an adrenaline rush. These experiences typically include a thrilling dune bashing session and a traditional Arabian breakfast.
Evening dune bashing packages offer a memorable way to end your day in the desert. This option often includes a dune bashing session, a stunning desert sunset, and a traditional Arabian dinner under the stars.
For a complete desert experience, opt for an overnight dune bashing package. These trips usually include dune bashing, dinner, and overnight accommodation in a desert camp. You'll have the opportunity to sleep under the stars and experience the tranquility of the desert at night.
Private dune bashing experiences are ideal for those seeking a personalized and exclusive adventure. These packages can be tailored to suit your preferences and often include additional activities, such as camel riding, sandboarding, or hot air ballooning.
How long does a dune-bashing trip last?
The trip lasts for almost 2-4 hours. Longer trips include other activities so that you can enjoy a full day, whereas on shorter trips, the main focus is on the dune bashing experience.
Evening Desert Safari last for 6 – 7 hours with 30 minutes of dune bashing.
Overnight camp stays last for 18 long hours with 30 – 40 minutes of dune bashing.
Morning desert safari last 4 hours with 45 minutes of dune bashing.
Which other outdoor activities can be done in Dubai?
Things to remember while going on dune bashing
Make sure to keep your emergency contact information on the dashboard if your vehicle
Air compressor
Make sure that the vehicle is in good condition and filled with fuel
Carry all main recovery and off-road equipment
Enough water, rehydration drinks, and refreshments
Always travel in a group
Respect the place
Make sure to know all the limitations of a desert adventure according to a specific place
How much does dune bashing in Dubai cost?
The cost of dune bashing totally depends on the adventure you select for your leisure time. Like any other dubai tour, different thrilling activities are added to a package, for example, a morning desert safari with a camel ride and dune bashing. Another example is here overnight desert safari with camp activities like dance and henna painting.
Normally prices vary according to the inclusions, but an approximate idea of a normal package is €150
Is dune bashing in Dubai worth it?
Yes, Of course! No Dubai tour journey would be complete without diving in the dunes of the Dubai.
This adventure suitable for every preference and skill level. By following safety guidelines and choosing the right package, you can ensure a thrilling and memorable experience in the magnificent deserts of Dubai. Don't forget to explore other exciting desert activities, such as camel riding, sandboarding, and hot air ballooning, to make your trip even more unforgettable.