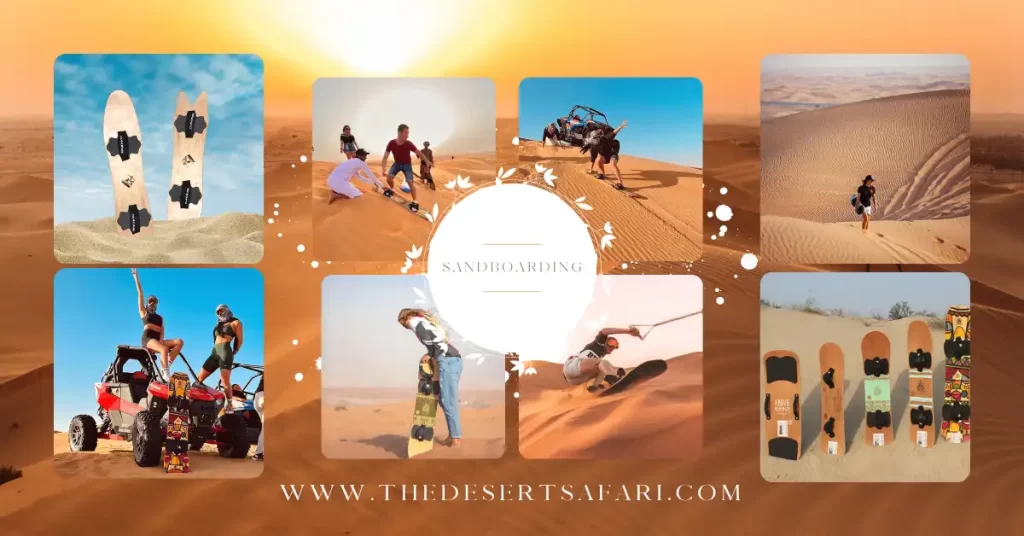 When most people think of Dubai, they automatically think of the world's tallest building, the Burj Khalifa. However, there is so much more to this fascinating city located in the United Arab Emirates. For thrill-seekers, one of the best experiences Dubai has to offer is sandboarding in Dubai down the largest dunes in the world.
Sandboarding is an activity that can be enjoyed by people of all ages and is the perfect way to experience the desert. 
There are a few different ways to experience sandboarding in Dubai. One of the most popular is booking a trip with one of the many tour operators operating in the city.
The History of Sandboarding
The sport of sandboarding has a long and textured history. You can find it back in the early days of surfing when Hawaiian natives would lie on their boards and paddle out to catch waves.
However, the modern version of sandboarding emerged in the deserts of California and Arizona in the late 1970s. Here, locals began using small pieces of plywood or fibreglass to slide down dunes. Sandboarding has grown in popularity over the past few decades and is now a global activity.
The sport has been included in national and international sporting events, showcased on TV, and even featured in movies.
To sandboard, you will need a sandboard, which is a specialized board for riding on sand. You will also need wax to help you glide on the sand. Apply the wax to your board thinly, then rub it on its surface.
You can find sandboarding lessons on some desert safari tours or go out on your own and find a good spot to sandboard. You will have to climb a dune, so choose an easy one to go up.
Best Places To Sandboard in Dubai
Dubai has some of the best places to sandboard in the world.
Al Qudra desert: At al qudra desert, massive dunes are perfect for sandboarding. You can also try other desert activities like a dune buggy and camel riding.

The Dubai Desert Conservation Reserve: Here you can sandboard down dunes that are part of a protected area, and you might even spot some wildlife like gazelles and oryxes.

Al Aweer desert: At al aweer desert you'll find dunes perfect for sand boarding and many other activities.

Bidayar desert: sandboarding is a popular activity in the Bidayar desert in Dubai. The sand is very fine and provides an excellent surface for boarding. Many companies offer sandboarding lessons and tours. The activity is suitable for all ages and abilities.

Sweihan Desert: Sandboarding in the Sweihan desert in Dubai is a thrilling experience. The desert is located approximately 90 minutes from downtown Dubai, making it a convenient day trip. The dunes are the perfect place to let loose and have some fun. Just be sure to be careful not to fall off your board.

Fossil Rocks: 

Fossil Rocks

 is one of the best sandboarding locations in Sharjah. It is situated about 50 kilometers from the downtown area. The location is perfect for sandboarding because of the high dunes and the soft, powdery sand.
Sandboards are boards designed for riding on the dunes. There are two main types of sandboards: those with bindings and those without bindings.
Sandboards with bindings are like snowboards or wakeboards in that the rider's feet are attached to the board. This type of sandboarding is more similar to snowboarding and is often done on dunes that are too steep for beginners.
Sandboards without bindings are more similar to snow skis or water skis. The rider's feet are free to move, and the board is used as a stable "base."
Sandboards for the dunes and other sandy surfaces are called terrain boards. They are typically shorter and wider than traditional snowboards, with a concave or convex bottom that helps to keep the rider's feet in place.
The bindings are also different, usually featuring straps that go around the rider's ankles and toes rather than over the top of the foot.
Dune sleds typically have large, flat bottoms that help keep them from getting stuck in the sand, and they also often have special features that help make them more aerodynamic to handle uneven terrain better. You can either sit or lay down on dune sleds; they can accommodate more than one person simultaneously.
How To Choose a Sandboard?
The majority of the boards are designed to provide maximum stability, thanks to special, wide bindings. The boards can be ridden by anyone, regardless of their weight. The most important thing is to adjust the board's length, width and thickness to the rider's weight.
1. Dimensions of Sandboards
If you weigh up to 70 kg, you should choose a sandboard with a length of up to 170 cm. For the rider weighing 70 to 80 kg, the sandboard's length should be 170 to 180 cm. In case the rider's weight is above 80 kg, you should opt for a sandboard of 180 cm or longer.
The sandboard width is also important. For example, a board measuring 160 cm by 70 cm is suitable for a rider weighing up to 70 kg. If you weigh 70 to 80 kg, you should choose a board measuring 170 cm by 80 cm. If you weigh over 80 kg, you should opt for a board measuring 180 cm by 90 cm.
The thickness of the sandboard is also important. The thickness of the boards varies from 4.5 to 7.5 cm. If you weigh up to 70 kg, you should choose a sandboard with a thickness of 4.5 cm. If you weigh from 70 to 80 kg, you should opt for a sandboard with a thickness of 6 cm. If you weigh more than 80 kg, you should opt for a sandboard with a thickness of 7.5 cm.
The sandboards are made of different materials, such as wood, plastic, or composite materials. 
The most popular sandboards are those made of plastic. Plastic boards are the most durable and the most expensive. 
Wooden boards are cheaper than plastic one. They are also the least durable. 
Composite Laminate Sandboards
The composite boards are the most expensive. They are also the most durable. 
In the Dubai desert, you get sand boards that are made of a combination of a hardwood ply deck with a laminex-covered base, which ensures both durability of the board and reduces friction with sand with the aid of wax.
3. Shapes & Sizes of Sand boards
The sandboards are available in different shapes, sizes and colours. 
The most popular shapes are the square, the rectangle, and the oval. 
It comes in all sizes, small, medium and large. You can choose according to your need.
During your sandboarding tour in the Dubai desert, you get all sizes and shapes.
Dune Boards For Beginners
Small dune boards, which vary from 90 cm to 130 cm with a swallow tail, are a great choice for beginners or those who want a short ride.
Sand Boards For Professionals
SandBoards are an excellent choice for professionals, about 130 centimetres in width and 160 centimetres in length with twin tips (round).
Best Sandboarding Tours in Dubai & Timing
With the sun setting over the desert, there's no better time to go sandboarding in Dubai! This unique experience is perfect for thrill-seekers and adventure lovers.
Not only will you ride down huge sand dunes on a board, but you'll also experience the stunning desert landscape as the night falls. There's nothing quite like it!
If you're looking for an unforgettable evening activity, sandboarding in Dubai is definitely for you.
Timings: 
Pick-ups start at 3:30 PM 

Drop Off at 9:00 PM

Sandboarding Time: 30 Minutes.

Tour Length: 6 – 7 Hours
A morning desert safari with sandboarding is the perfect way to experience the unique landscape of the Arabian Desert.
The desert safari will take you on a journey through the sand dunes, giving you the opportunity to see the amazing views of the desert. You will also have the chance to sandboard down the dunes, an experience you will never forget.
The morning desert safari is a great way to explore the Arabian Desert and its many wonders. If you are looking for an adventure, then this is definitely the activity for you.
Timings: 
Pick-ups start at 8:00 AM

Drop Off at 12:30 PM

Sandboarding Time: 30 – 45 Minutes.
Tour Length: 4 – 5 Hours.
If you're looking for an exhilarating way to explore the desert, an overnight desert safari with sandboarding is the perfect activity. Sandboarding is a thrilling sport that anyone can enjoy, and it's a great way to see the desert in a whole new light.
Here's what you need to know about sandboarding in the desert:
The best time to go sandboarding is early in the morning or late at night when the sand is cool and firm. During the day, the sand gets too soft, making it difficult to board.
To get started:
Find a dune that's at least 200 feet tall.

Wax your board and lie down on it with your feet pointing downhill.

Use your hands to push yourself down the dune until you reach the bottom.
Timings:
Pick-ups start at 3:30 PM

Drop Off at 8:00 AM

Sandboarding Time: 30 – 45 Minutes.

Tour Length: 18 Hours.