Introduction to Dune Bashing and Quad Biking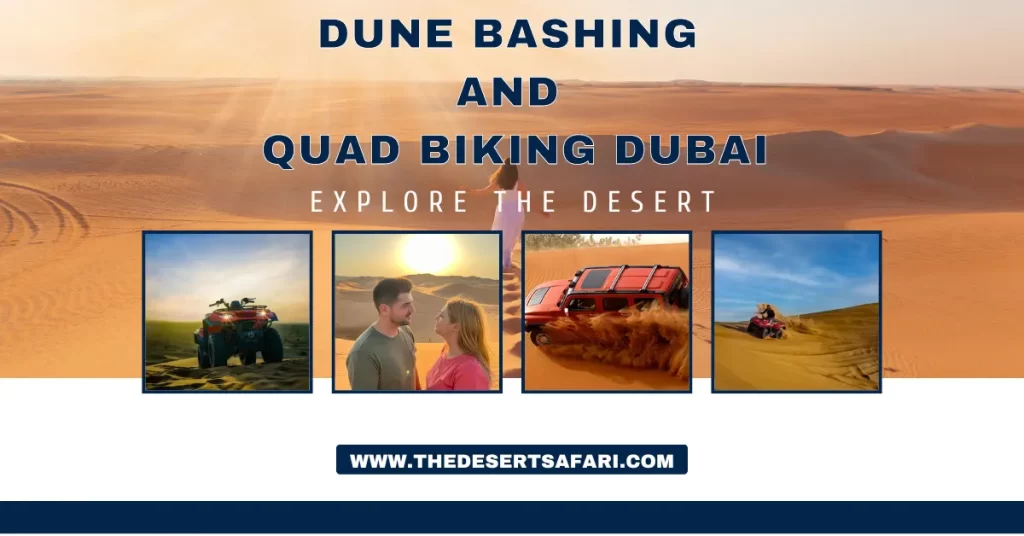 Dubai, known for its luxury shopping, ultramodern architecture, and lively nightlife scene, offers a thrilling experience for adventure enthusiasts. Two of the most popular activities are dune bashing and quad biking. This article will explore the exciting world of dune bashing and quad biking in Dubai, providing essential information, tips, and guidelines for your adventure.
Dune Bashing: A Thrilling Experience
The Basics of Dune Bashing
Dune bashing is an adrenaline-pumping activity that involves driving a 4×4 vehicle, such as a Land Cruiser or a Hummer, at high speeds over the dunes in the desert. Skilled drivers navigate the dunes, creating a rollercoaster-like experience for passengers. The activity lasts an hour or 30 minutes and is part of a desert safari tour.
Dune bashing packages usually include hotel pickup, an exciting dune bashing session, and additional activities such as sandboarding, camel riding, and a traditional Arabian dinner. Choosing a reputable tour operator in Dubai is essential to ensure a safe and enjoyable experience.
Quad Biking: An Exciting Adventure
Quad biking, or ATV (all-terrain vehicle) riding, is another popular desert activity in Dubai. Participants ride a four-wheeled vehicle through the dunes, navigating the terrain at their own pace. Quad biking in Dubai offers a more hands-on experience than dune bashing, as riders have control over their vehicles.
Quad bikes come in various sizes and engine capacities, ranging from 50cc for beginners to 700cc for experienced riders. We typically provide a selection of bikes suitable for different skill levels and ages, ensuring a fun and challenging experience for everyone.
Quad biking tour packages include a safety briefing, equipment rental, and an instructor-led ride through the desert. For a complete desert adventure, some tours combine quad biking with other activities, such as dune bashing, camel riding, or sandboarding.
Safety Tips and Guidelines
Safety Measures for Dune Bashing
To ensure a safe dune bashing experience, it's crucial to follow these guidelines:
Choose a reputable tour operator with experienced drivers and well-maintained vehicles.
Always wear a seatbelt while inside the vehicle.
Avoid eating a heavy meal before the activity to prevent motion sickness.
Always follow your driver and tour guide's instructions.
Pregnant women, individuals with back or neck issues, and infants are not recommended for this tour.
Safety Measures for Quad Biking
To ensure a safe quad biking experience, follow these guidelines:
Choose a reputable tour operator that provides proper safety equipment, such as helmets and gloves.
Attend the safety briefing and follow the instructor's guidelines.
Select a quad bike suitable for your skill level and age.
Maintain a safe distance from other riders and avoid speeding.
In case of difficulty, signal the instructor for assistance.
Best Time to Visit Dubai for Dune Bashing and Quad Biking
The ideal time to visit Dubai desert for dune bashing and quad biking is during the cooler months, from November to March. During this period, temperatures are more pleasant, making outdoor activities more enjoyable. Remember that December and January are peak tourist seasons, so booking in advance is recommended.
The Cost of Dune Bashing and Quad Biking in Dubai
The cost of dune bashing and quad biking in Dubai varies depending on the tour operator and package selected. A basic dune bashing tour can range from AED 100 to AED 300 per person, while a quad biking tour can cost between AED 200 to AED 500 per person. Luxury packages and private tours are also available at a higher price point.
Other Activities to Enjoy in Dubai
In addition to dune bashing and ATV ride, Dubai offers a wide range of exciting activities and attractions, such as:
Skydiving over the Palm Jumeirah.

Hot air balloon rides over the desert.

Indoor skiing at Ski Dubai.

Visiting the Burj Khalifa, the world's tallest building.

Shopping at the famous Mall of the Emirates and The Dubai Mall
Dune bashing Dubai and quad biking are exhilarating experiences that should not be missed when visiting the city. With the proper safety precautions and guidelines, these activities offer a thrilling and unforgettable adventure in the heart of the desert. So, buckle up and get ready for a wild ride!