What to expect during a morning desert safari with breakfast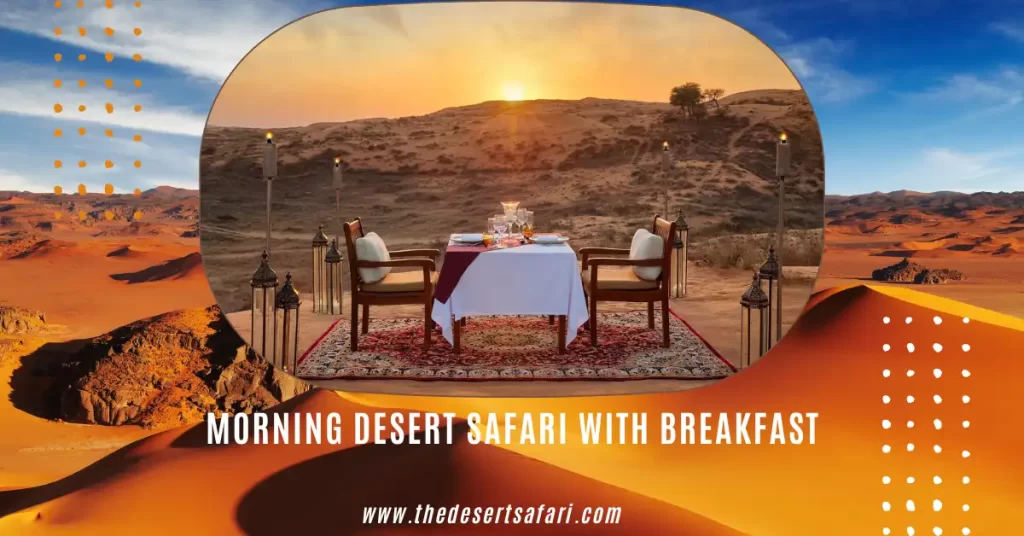 A morning desert safari with breakfast is a popular adventure activity that takes place in the vast and serene deserts of the Middle East. Here are the things that you can expect during a morning desert safari: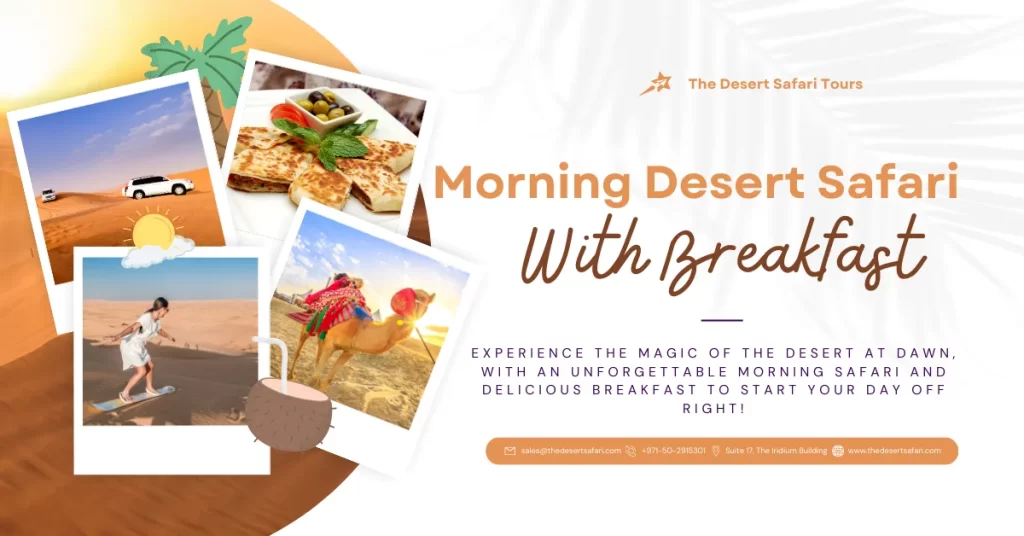 Pickup and transportation:

 You will be picked up from your hotel or designated meeting point by a 4×4 vehicle and driven to the desert. The pickup time is flexible; you can select any time between 5:00 AM to 10:00 AM because this is a private tour.

Dune bashing experience:

 Dune bashing is one of the main highlights of a desert safari. You will experience a thrilling ride as your skilled driver navigates the steep dunes. If you feel uncomfortable during the dune bashing ride, ask your safari captain to slow down, as this is a private tour so he will follow your instructions. 

Camel ride:

 You will have the opportunity to ride a camel and experience the traditional mode of transportation used by the Bedouin people. We also offer camel trekking safari. You can add it by paying extra. The camel trekking tour is about 30 minutes to 1 hour.

Sandboarding:

 If you're feeling adventurous, you can try sandboarding, which involves sliding down the dunes on a board. We have sandboards for beginners and experts. At the start of the tour, inform your safari captain which sandboard you need according to your expertise.

Falconry demonstration:

 You will witness a spectacular display of falconry, an ancient art of hunting using trained birds of prey.

Breakfast in the desert:

 You will be served a traditional breakfast at a Bedouin-style campsite. This includes Arabic coffee, tea, dates, and a variety of Arabic bread, cheese, and eggs. Breakfast will be in the middle of the desert.

Drop-Off:

 Our driver will drop you back at your hotel at the end of the tour. You can select any drop-off location in Dubai or Sharjah.
Tips For a Successful Morning Dubai Safari With Breakfast Experience
To ensure that you have a successful and enjoyable morning desert safari experience, here are some tips to keep in mind:
If you are going for the morning desert tour, try to go early and witness the sunrise from the Dubai desert. The sunrise looks awesome from the dune of the Dubai desert. While booking the morning safari tour, inform us that you want to see the sunrise, and we will pick you up around 5:00 AM.
Wear loose, comfortable clothing that covers your arms and legs to protect you from the sun and sand.

Avoid wearing jewellery or accessories that may get caught in the sand.

Click here to read more about 

what to wear during the desert tour

.
Bring Sunscreen & Sunglasses:
The desert sun can be intense, so protect your skin and eyes with sunscreen and sunglasses because after 9:00 AM desert starts heating up, so it's best to use sunscreen at that time.
Bring a Hat or Headscarf:
A hat or headscarf can help protect your head and face from the sun and sand.
Drink plenty of water throughout the safari to stay hydrated. Water is included in your tour. Just ask your safari captain, and he will provide you the water.
Respect The Environment and Wildlife:
The desert is a delicate ecosystem, so leaving no trace and respecting the natural environment and wildlife is important. Avoid littering and disturbing any wildlife you may encounter.
A morning desert safari with breakfast is a unique and worthwhile experience that offers a glimpse into the traditional Bedouin way of life and allows you to explore the natural beauty of the desert.
You can expect to enjoy an adventurous dune bashing experience, camel rides, sandboarding, and a spectacular falconry display. The breakfast served in a Bedouin-style campsite is a tour highlight, providing a taste of traditional Arabic cuisine and hospitality.
It's important to dress appropriately, bring sunscreen and sunglasses, and stay hydrated, to enjoy your morning desert safari,
Overall, a morning desert safari with breakfast is a unique and unforgettable experience that allows you to immerse yourself in the desert's rich culture and natural beauty. It's a must-do activity for anyone visiting the Middle East and seeking an adventure off the beaten path.
Have an unforgettable adventure with our tours that fit your interests and budget.
We have different morning desert safari tours, all mentioned below.
FAQs About Morning Desert Safari With Breakfast