Morning Camel Ride in Dubai Desert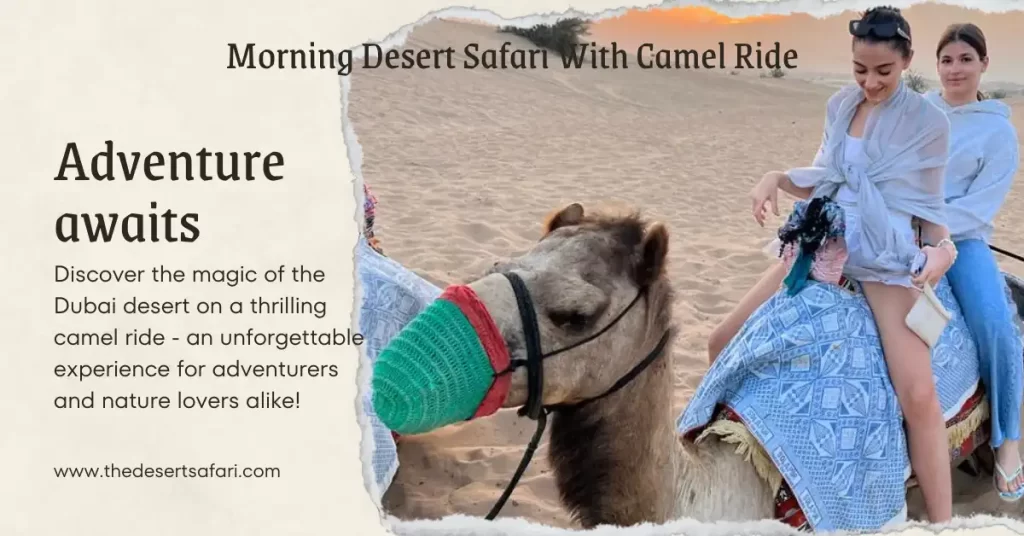 Imagine waking up at dawn. Feeling the cool desert breeze on your skin and the sun slowly rising above the horizon as you step into the vast expanse of the Dubai desert. You're greeted by a majestic camel, ready to take you on a lifetime journey. It's not just a ride. It's an experience that will stay with you forever – a morning desert safari with a camel ride. Are you ready to join us for an adventure like no other?
Camel riding has been integral to the Dubai culture for centuries. These gentle giants have been the primary mode of transportation for locals and nomads alike. In the past, camels enabled them to cross the desert easily and gracefully. Today, you can experience this ancient tradition for yourself and discover the magic of the desert in a way that few others have.
This blog post will guide you through everything you need about the morning desert safari with a camel ride. From the best time to go and what to wear, we will provide you with all the tips and tricks you need to make the most of your adventure.
The Benefits of a Morning Desert Safari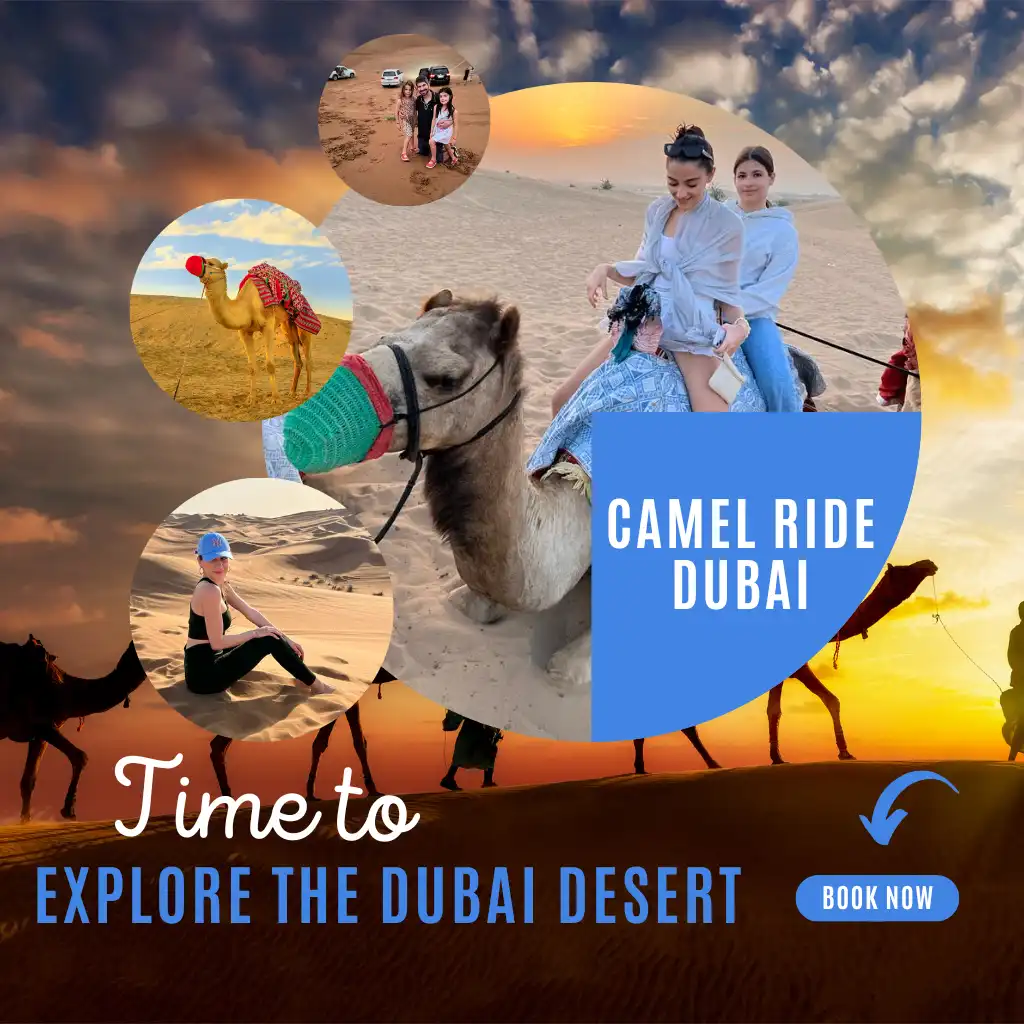 A morning desert safari is a unique and unforgettable experience that offers a variety of benefits, including:
As the sun rises, the temperature in the desert is still relatively cool, making it a more comfortable time to explore. Additionally, the early morning light provides a stunning backdrop for photography, with soft and warm hues casting a beautiful glow over the landscape.
2. Quieter & Less Crowded
A desert is peaceful, and the morning hours are especially quiet. With fewer people around, you'll be able to fully engage yourself in the beauty and serenity of the desert while riding a camel in the Dubai desert.
3. The Ideal Time For Wildlife Sightings
Many desert animals are active during the cooler morning hours. Making it an ideal time to spot wildlife. From falcons and eagles to Arabian oryx and gazelles. There's always a chance to glimpse some amazing creatures.
4. Early Morning Exercise & Fresh Air
A morning desert safari with a camel ride is a great way to get some exercise and fresh air while enjoying the stunning scenery. Riding a camel is a low-impact exercise that engages your core muscles and promotes better posture.
You can take advantage of these benefits and make lasting memories of your adventure in the Dubai desert.
Preparing for a Morning Desert Safari
It is important to be well-prepared to ensure a comfortable and safe experience, Before going on a safari. Here are some tips for getting ready:
Choosing the right clothing and footwear: Loose-fitting, lightweight clothing made of breathable fabrics is recommended. Wear closed-toe shoes to protect your feet from the hot sand and rough terrain.
Applying sunscreen and staying hydrated: Protecting your skin from the sun's harmful rays with a high SPF is important. Drinking plenty of water to stay hydrated would be best. The desert heat can quickly dehydrate your body.
Packing essential items and snacks: You'll want to bring some essentials. Such as a hat or scarf to protect your head and face from the sun, sunglasses to reduce glare, and a camera. 
The Experience of a Morning Desert Safari with Camel Ride
A morning desert safari with a camel ride is a truly unique and unforgettable experience. Here's what you can expect:
Pick up: Our safari captain will pick you up from your location, according to the selected time.
Camel ride: Your safari will begin with a camel ride through the desert, guided by experienced and friendly camel handlers. 
Desert sunrise: As you ride on the camel's back, you'll be able to witness the breathtaking beauty of the desert as the sun rises slowly over the horizon. The changing colours of the sky and the warm glow of the sun create an unforgettable and truly mesmerizing experience.
Activities: Depending on the tour package, you can experience other activities in the desert, such as sandboarding, quad biking, or dune bashing. 
Drop off: Our safari captain will drop you back at your location after all the activities.
Other Activities and Experiences
In addition to camel riding, a morning desert safari offers a range of other activities and experiences that you can enjoy. Here are some of the most popular options:
Morning Dune bashing: 

Dune bashing is a thrilling experience that involves driving a 4×4 vehicle over the dunes.

Sandboarding: Similar to snowboarding, sandboarding involves riding down the dunes on a board. This activity is perfect for those who enjoy a bit of excitement and want to try something new.
Quad biking: Quad biking is another thrilling activity that involves driving a quad bike through the desert.
A morning safari with a camel ride is an incredible experience that offers a unique perspective on the Dubai desert's natural beauty, from the camel's peaceful swaying to the stunning sunrise over the dunes. This experience is sure to create memories that will last a lifetime.
But beyond the adventure's thrill and the scenery's beauty, a morning camel ride offers a deeper connection to the land and its history. For centuries, camels were the primary mode of transportation for the locals. By riding a camel through the desert, you are participating in a tradition that has deep roots in the history and culture of the UAE.
Whether you're a first-time visitor to Dubai or a long-time resident, a morning desert tour with camel ride is an experience that should not be missed.
With our tours, you can choose from a variety of options to suit your budget and interests and make your trip unforgettable.
We have different morning desert safari tours, all mentioned below.
FAQs About Desert Safari With Camel Ride