The Perfect Blend of Adventure and Luxury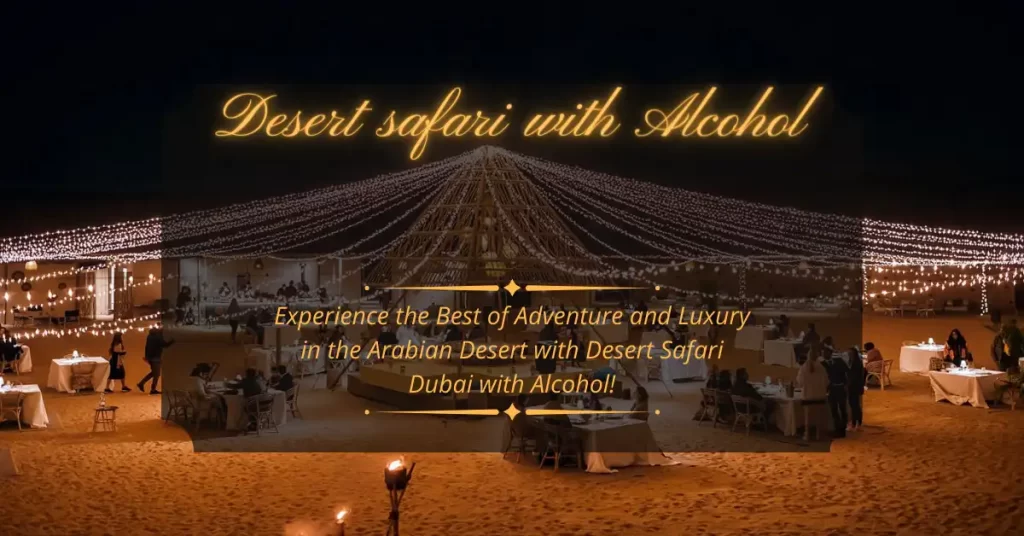 People usually ask can we can get alcohol in the Dubai desert during the desert safari, and the simple and straightforward answer is yes. We have a minibar in our desert camp from where you can buy alcoholic beverages of your own choice. You can get alcoholic beverages in the evening & overnight desert safari tours. But alcohol is not included in any of these tours, and you have to pay extra for that. So due to the high demand, we started a special desert safari with alcohol tour.
Discovering the Thrill of Desert Safari Dubai with Alcohol
Desert Safari Dubai with Alcohol is a unique experience that combines the thrill of exploring the Dubai Desert with the luxury of indulging in local alcoholic beverages. This tour offers a perfect blend of adventure and relaxation, making it a popular attraction for tourists visiting Dubai.
The tour begins with a thrilling dune bashing ride in a 4×4 vehicle, followed by activities such as sandboarding, quad biking, and camel riding. Along the way, guests can enjoy the panoramic sunset views while sipping on their favorite alcoholic beverages.
Afterward, Our traditional entertainment starts, and two belly dancers perform along with a delicious BBQ dinner served. Desert Safari Dubai with Alcohol is an excellent opportunity for visitors to experience the beauty of the desert uniquely and luxuriously.
Tour Iternanry Dubai Desert Safari With Alcohol
Transportation to the desert

Dune bashing 

Camel riding 

Sandboarding 

Quad biking 

Sunset photography With Alcholic Beverages

Belly Dance Shows

Tanoura Dance Show

Fire Show

BBQ Dinner and drinks

Drop off at your place
Tour Packages Featuring Alcohol Beverages
During two tours, we serve you alcoholic beverages: the evening desert safari and the overnight desert safari. During the evening & overnight tour, you get a chance to enjoy your favorite drink during sunset and afterward, and during the overnight tour, after all the shows, you can get it for your night also.
Imagine sitting in the open desert, under the stars, with your loved ones and your favorite drink. It's a perfect combo to enjoy.
FAQs About Desert Safari With Alcohol