What Clothes To Wear in Dubai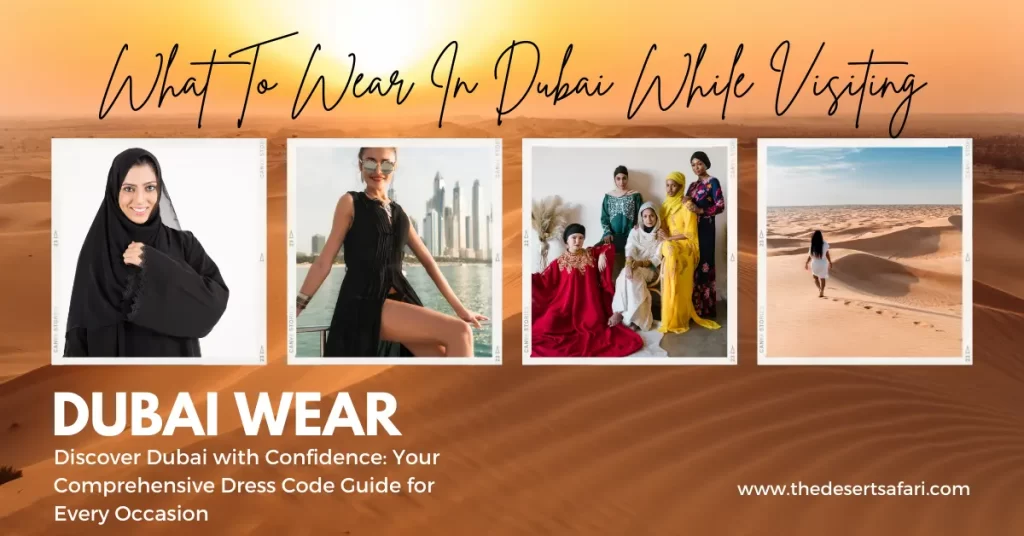 When it comes to deciding what to wear in Dubai while visiting, it's a matter of balancing respect for the local culture and traditions, understanding the weather conditions, and meeting your personal comfort needs. Dubai is known for its rich culture, modern architecture, and glamorous lifestyle, and your attire should be able to accommodate these aspects.
Understanding Dubai's Culture
It's important to remember that while Dubai is one of the most liberal cities in the Middle East, it is still a Muslim city. This means there's an emphasis on modesty, particularly in public areas. Although you'll find people dressed in various ways, respecting the local customs is essential.
Dubai's climate is predominantly hot. So, breathable fabrics like cotton and linen can be a good choice for you. But remember, the air conditioning can be powerful indoors, so you might want to carry a light jacket or shawl.
Planning a Dubai visit between November to March is much more comfortable. These are rather colder months when many tourists arrive at this land because it is much easier to get out in the sun and have fun. The temperatures in these months may be between 30 to 35 degrees Celsius. From the months of April to October, it may be sticky and hot.
The hottest months are from May to September. This is when the temperature may go beyond 33 to 55 degrees Celsius. Dubai is one of the most liberal cities in the United Arab Emirates. It isn't like Saudi Arabia; hence, you don't have to wear full-coverage dresses.
1. Daytime Attire in Dubai
During the day, your clothing should be practical yet modest. Casual attire like shorts and T-shirts is acceptable. However, avoid revealing too much skin, particularly in public places like malls, restaurants, and markets.
Lightweight, breathable fabrics are your friends for a desert safari or daytime adventure. A wide-brimmed hat and sunglasses are also recommended to protect from the sun. We have different guides for dressing during the desert safari activities; all of them are mentioned below for your reference. 
Nighttime is when Dubai comes alive, and your attire should reflect this. Feel free to dress up a little more, but remember to maintain modesty.
Dressing for Dining and Entertainment
Opt for smart casual or formal wear at upscale dining establishments and entertainment venues.
Swimwear is acceptable at Dubai's beaches, private pools, and designated hotel areas. However, wearing such clothing elsewhere is inappropriate, so make sure you bring a change of clothes for after your swim.
4. Women's Clothing in Dubai
Women in Dubai are not required to cover their heads. However, out of respect for the local culture, women should aim to dress modestly. Clothes that cover shoulders and knees are recommended, especially in public places.
Dressing for Shopping and Sightseeing
Lightweight dresses, pants, and skirts are ideal choices. Pair them with comfortable shoes, as you will likely walk a lot!
5. Men's Clothing in Dubai
For men, dressing in Dubai is relatively straightforward. Shorts and T-shirts are generally acceptable, especially during the hot summer months. However, long pants might be more appropriate for visiting public places like malls or restaurants.
Dressing for Shopping and Sightseeing
For shopping trips and sightseeing, comfortable clothing is key. Light pants and polo shirts are both practical and appropriate for most public settings.
6. Clothing Tips for Children
For children, the same general principles of modesty apply. Comfortable, loose clothing is advisable, particularly given the hot climate.
7. Shopping for Clothes in Dubai
Dubai is a shopper's paradise, and you can find a wide range of clothing options. Consider purchasing some traditional wear, like an 'abaya' for women or a 'kandora' for men, as a unique souvenir of your trip.
There are plenty of shopping centers where you can find modern styles, designer brands, and the latest trends if you forget something or simply want to enhance your travel wardrobe.
8. What to Wear in Dubai by Month
January is one of the cooler months in Dubai, with temperatures ranging between 14°C and 24°C. Opt for light layers to handle the cooler evenings and warmer days. A light sweater or jacket may be required for nighttime.
February is slightly warmer but still comfortable. Light layers are still advisable, emphasizing breathable fabrics like cotton or linen during the day.
The temperatures begin to rise in March. You can comfortably wear shorts and T-shirts during the day but keep a light sweater for cooler evenings.
April sees the onset of the hotter months. Lightweight, breathable clothing is crucial. Opt for comfortable footwear if you plan sightseeing, as this might involve much walking.
May is characterized by high heat. Light fabrics and colors are best to reflect sunlight and keep cool. Remember to carry a shawl or a scarf to cover up when entering air-conditioned spaces.
June is among the hottest months in Dubai. Lightweight, loose-fitting clothing is a must. Hats and sunglasses will provide necessary protection from the sun.
The intense heat continues into July. Dress comfortably in lightweight and loose clothing. Always carry water with you to stay hydrated.
August is the peak of summer. It's crucial to protect yourself from the sun and heat. Wear light colors, wear a hat and sunglasses, and use plenty of sunscreens.
By October, the weather starts to cool down, but it's still warm enough for light clothing. Enjoy the sun and sea by dressing comfortably in beachwear when appropriate.
In November, the weather becomes much more comfortable. Light layers may be required as the temperature varies daily and at night.
December is one of the best months to visit Dubai, with temperatures averaging between 16°C and 26°C. Light clothing during the day and an added layer for cooler evenings would be perfect.
9. What to Wear in Dubai During Ramadan
During the holy month of Ramadan, it's especially important to dress conservatively in Dubai as a mark of respect for this religious period. Although the city is generally quite tolerant, local customs and traditions are more strictly observed during Ramadan.
During Ramadan, men and women are advised to keep their shoulders, upper arms, and knees covered in public spaces. This isn't limited to religious sites or times of prayer but extends to malls, restaurants, and the streets.
For women, loose-fitting clothing is recommended. Dresses, skirts, or pants should at least reach the knee, while tops should have sleeves. Avoid clothing that is transparent or tight-fitting. A shawl or pashmina is a versatile piece that can be useful to cover up when needed.
For men, long pants and shirts or T-shirts are appropriate. Shorts can be worn but should be of a respectable length, ideally reaching the knee.
If you're visiting Dubai for work during Ramadan, the dress code becomes a little more conservative. Business attire should be modest. For women, it's best to wear business suits or long-sleeved blouses with long skirts or pants. Men should opt for business suits or long-sleeved shirts with ties and full-length trousers.
Iftar is a meal taken at sunset to break the day's fast and is often a social event. If you're attending an Iftar gathering, it's an opportunity to dress up, but modesty should still be maintained. An ankle-length dress with a shawl would be a good choice for women. Men can opt for a long-sleeved shirt and trousers.
Remember, the intention during Ramadan is not to restrict your wardrobe but to respect the customs and traditions of the place and its people. When in doubt, it's best to err on modesty.
10. Burj Khalifa Dress Code
Visiting the Burj Khalifa, the tallest building in the world, is a highlight for many tourists in Dubai. While there isn't a strict dress code enforced for visiting the Burj Khalifa, there are a few guidelines you should keep in mind to ensure a comfortable and respectful visit.
Dubai is generally quite cosmopolitan, but it is still a conservative city that values modesty. As such, clothing that covers the shoulders and knees is recommended, especially for women. This isn't strictly enforced in the Burj Khalifa, but it's a good rule to follow to respect the local customs.
For men, shorts and T-shirts are generally acceptable. However, avoiding clothing with potentially offensive language or images is a good idea.
At The Top - Burj Khalifa SKY
The dress code is smart casual if you are visiting the premium lounge 'At The Top – Burj Khalifa SKY' on levels 148, 125, and 124. This could mean a collared shirt with trousers or smart jeans for men. A dress or blouse with trousers or a modest skirt would be suitable for women. Avoid wearing flip flops or athletic attire.
Restaurants in Burj Khalifa
If you plan to dine in a restaurant in the Burj Khalifa, like At.mosphere, the dress code will be stricter. At.mosphere, for example, has a smart, elegant dress code. Gentlemen are required to wear a collared shirt, full-length trousers or elegant jeans, and closed shoes. Ladies must wear a suit or dress, a long or short skirt, or dress jeans and a top. UAE national dress is welcomed.
Remember that the Burj Khalifa is an iconic structure, and many visitors take this opportunity to take memorable photos. Dressing smartly will only add to these moments.
11. What to wear in dubai airport
While one of the world's most cosmopolitan cities, Dubai still holds strong to its conservative roots. When considering what to wear in Dubai airport, opt for something modest yet comfortable. Loose-fitted clothing in breathable fabrics like cotton or linen will serve you well. Whether you're a man or woman, it's ideal to cover your shoulders; clothing to knees is preferred for women. Think light sweaters, comfy jeans or breathable linen trousers, and always carry a scarf or shawl.
12. What to wear in dubai clubs
Dubai's vibrant nightlife is not to be missed, but remember, first impressions count. When figuring out what to wear in Dubai clubs, dress chic and sophisticated. Most clubs do not have a strict dress code, but universally, gentlemen are expected in smart-casual wear – think stylish chinos paired with button down shirts. Ladies, your options are more versatile – cocktail dresses, nice blouses with dress pants or long skirts are appropriate. Avoid anything too revealing to respect local customs and traditions.
13. What to wear in dubai opera
A night at the Dubai Opera promises elegance and grandeur. The attire thus leans towards smart-casual. Ladies, a classy dress or an elegant top with a skirt or dress pants is appropriate. Gents, don a blazer and pair it with dark jeans or dress pants. Traditionally, Emiratis wear National dress, and visitors can too.
14. What to wear in dubai miracle garden
You're off to Dubai Miracle Garden for a day in the great outdoors! When wondering what to wear in Dubai Miracle Garden, opt for light, breathable clothes as the temperature can rise quite a bit. Cover your shoulders and knees, and you're good to go. Also, remember to carry a hat, sunscreen, and sunglasses.
15. What to wear in dubai mosque
For an immersive cultural experience, visiting a Dubai mosque is a must. Remember, mosques are sacred places, so dressing modestly is not negotiable. Cover your body fully, including your head, arms, and legs – an Abaya and a headscarf for women and a Kandura for men – is preferred. Most mosques provide clothing for tourists if needed.
16. What to wear in dubai marina
A hub of glamour and sophistication is the Dubai Marina. When deciding what to wear in Dubai Marina, comfort meets style is the dress code. Women can wear sundresses, mid-length shorts or skirts, paired with a top that covers the shoulders for exploring or dining out. For men, tailored shorts and polo shirts or short-sleeved shirts are fitting options.
17. What to wear in dubai souks female
Exploring the traditional markets or souks; is an enriching experience. Women wondering what to wear in Dubai souks might gravitate towards more conservative outfits – Long sundresses, tunics with leggings or maxi skirts, and lightweight long sleeve tops will keep you cool yet culturally appropriate.
18. What to Wear in Malls of Dubai
Dubai malls are a shopper's paradise but remember, they are also family-oriented areas. Generally, your attire should be something comfortable, casual, and modest. Jeans, trousers, or skirts that cover the knees, along with tops that cover the shoulders, are ideal. Enjoy your shopping spree!
19. What to Wear During Marina Dhow Cruise Dinner
For your marina dhow cruise dinner, smart-casual wear is your best bet. Ladies, accessorize your favorite dress or pair a glamourous top with skirts or pants. Gents, trousers with a nice shirt or a suit work well. As these cruises are outside, a light shawl or jacket can be handy.
What not to wear in Dubai as a tourist
Remember to avoid overly revealing clothing. Beachwear should be restricted to the beach or pool, and tops should cover your shoulders, especially in public places. Lastly, very short shorts or skirts may not be appreciated in more traditional areas.