[vc_row][vc_column][vc_column_text]
What To Wear In Dubai While Visiting?
A place that is mostly happening and fun deserves to be dressed properly for. Many people who visit Dubai for the first time often wonder what this land's dress code is. Well, if you are a first-timer and want to dress according to the natives, we are here to help you out.
Following is a detailed guide on picking the best items you should pack with you if heading to Dubai. You will get to know the rules of what to wear in Dubai and how to carry it.
Weather in Dubai:
It is much more comfortable to plan a Dubai visit between November and March. These are rather colder months when many tourists arrive at this land because it is much easier to step out in the sun and have some fun.
The temperatures in these months may be between 30 to 35 degrees celsius. From the months of April to October, it may be sticky and hot. The hottest months are from May to September. This is when the temperature may go beyond 33 to 55 degrees Celsius. It is important to find the exact balance between modesty and being dressed comfortably, mainly in the hotter summer months.
Dubai is one of the most liberal cities in the United Arab Emirates. It isn't like Saudi Arabia; hence, you don't have to wear full coverage dresses.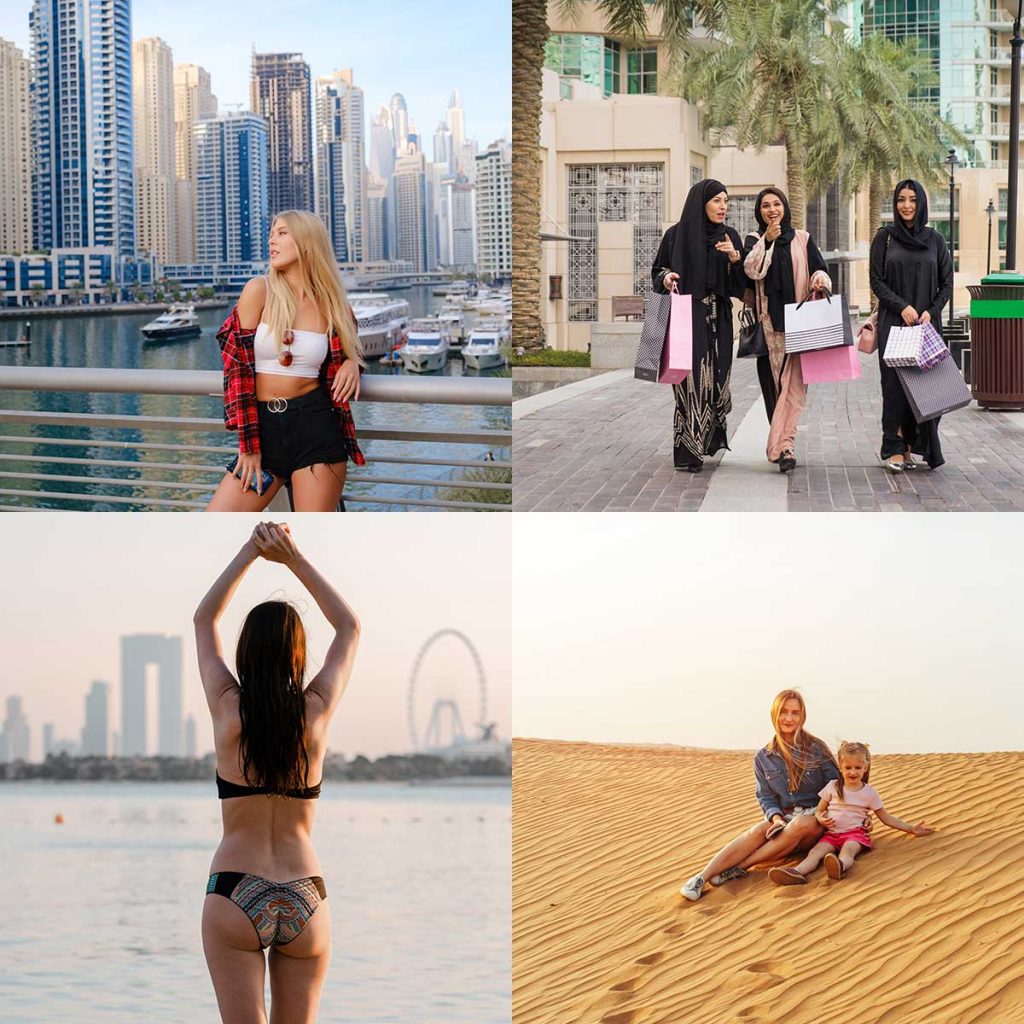 [/vc_column_text][/vc_column][/vc_row][vc_row][vc_column][vc_column_text]
What To Wear In Dubai?
It depends on where you are heading to. Some parts of Dubai are a lot more conservative than the rest. In Downtown or Jumeirah Dubai, you will see many people dressed very casually. Going to older Dubai, such as the Spice Souk, is better to dress more modestly.
Due to rising heat, it will be better to wear more lightweight outfits made of airy cotton as you will be sweating a lot in the summer months.
Shopping In The Mall:
Local families are mostly in the Malls all over Dubai. You are allowed to dress casually as you want, as long as your outfit is appropriate. You are also allowed to wear shorts and skirts if they are knee-length and aren't shorter than that.
Going To The Beach:
There are some private and public beaches in Dubai. Most popular hotels also have their very own private beaches and pools. They are open to allowing tourists to wear whatever they need. Families and kids in hotels are mostly on holiday themselves hence the atmosphere are a lot different. Public beaches are where many locals would go to. Hence you will have to dress modestly.
Women Clothes Dubai For Dinner Or Brunch:
The restaurant that offers all-you-can-eat buffets in Dubai is mostly present in hotels as they are licensed venues and allowed to serve alcohol. Every hotel has its dress code; hence it is always best to go through their website when booking your table. As brunch is mostly on Friday afternoons, the dress is always casual. Men and women can wear comfortable clothes as they would in malls.
Make sure you wear your shoes as they won't accept you barefoot. A few branches can also have themes such as Halloween. On these themes, hotels in Dubai may host brunch and encourage you to wear some scary costumes.[/vc_column_text][/vc_column][/vc_row][vc_row][vc_column][vc_column_text]
Dinner In Dubai:
Dubai women's dress code and men's dress code change according to the location you are wearing it. If you are thinking of having dinner in restaurants that are not only in hotels, females' and males' dress code is mostly casual. You can wear dresses, tops, pants, t-shirts, skirts or shorts.
And any shoes are allowed as long as you have some shoes. Make sure you are not at all wearing anything see-through that may ruin someone else's dinner. If you go to places like Skyview Bar or Atmosphere in Burj Khalifa, the dress code will be smart casual or more formal attire.
The Nightlife:
Apart from the Barasti Bar, many clubs are in hotels. What to wear in Dubai bars is smart casual to glam. Clubbing in Dubai is rather very expensive. Having only a pint of beer may cost $20 each unless they give you ladies nights where women can have free drinks.
Dubai dress code for females at clubs is such that the more rich you look, the higher chances you have of getting in. both men and women are all expected to be glammed up and always look like social media influencers to be accepted.
Many women also wear bandage dresses along with heels. Although heels are highly uncomfortable to club and dance in, many women get turned away if they aren't wearing them. This is the same in Dubai to Abu Dhabi route, and you will have to dress accordingly to fit in.
Heading To Tours In Dubai:
Dubai visit can never be complete without having Dubai tours. As all tourist hotspots are in more family-friendly areas, it is very important to dress more semi-conservatively. The safest thing is to wear such outfits that you would wear to Dubai Mall. This is because new parts of Dubai will have fewer conservative people.
Dubai's dress code for females in newer parts of Dubai is having shorts, skirts, t-shirts, jeans, pants, tops, etc., while men can wear shirts, pants, t-shirts, jeans, etc.
Dress Code For The Safari In Dubai:
When heading out for a desert safari in Dubai, it is always important to dress comfortably. It is because you will be spending a whole day out there in the sun and it will get very hot. You will be covered wholly in the sand; always make sure you wear loose clothes to move around easily.
Dubai tourist should be aware that he is getting into the sun for the most part if he has a safari planned. This is all about what to wear in Dubai that is enough to let you enjoy your time in Dubai and cherish every moment you spend in this sunny land.[/vc_column_text][/vc_column][/vc_row]