Dubai's Desert Adventures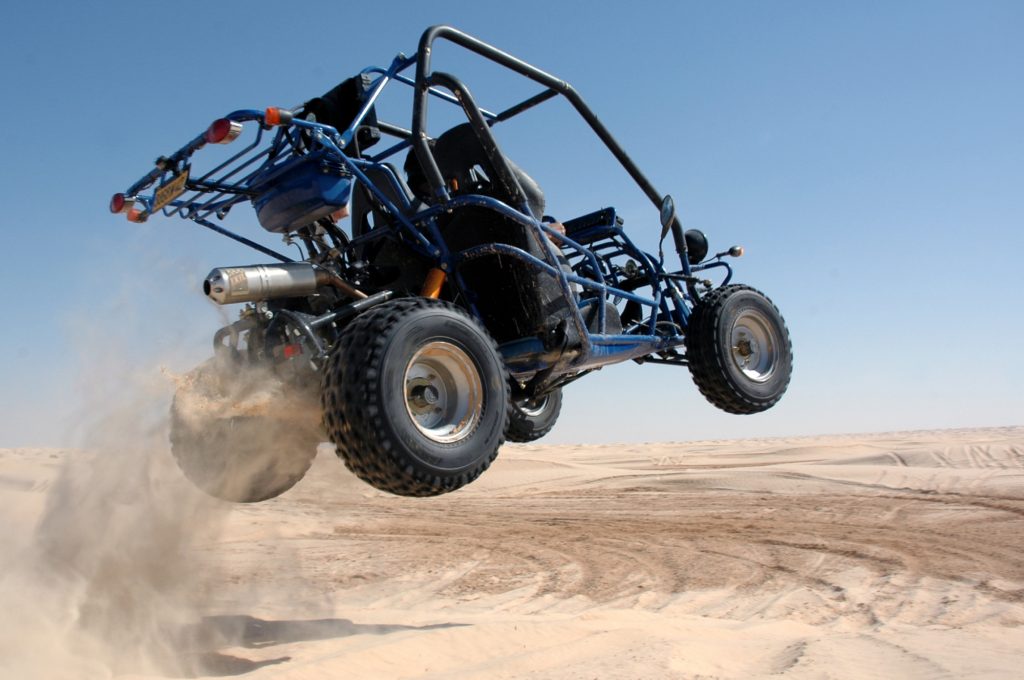 Dubai isn't just about glitz and glamour. Beneath its modern facade lies a heart that beats with desert rhythms. Stepping into the desert around Dubai, it's like being transported into another world. The vast landscapes, rolling dunes, and tranquil ambiance offer a stark contrast to the bustling city.
Sand Buggies Are The Ultimate Desert Vehicle
The best way to explore this majestic wilderness? A sand buggy. These powerful vehicles, designed to tackle the challenging desert terrain, are your ticket to an unparalleled desert experience.
Top Reasons to Experience a Sand Buggy in Dubai
1. An Authentic Desert Experience
Driving through the desert in a sand buggy lets you connect with the land. Feel the wind on your face and the thrill of navigating the dunes!
2. Thrilling Speed and Adrenaline
Are you an adrenaline junkie? Sand buggies provide an exhilarating ride, giving you the chance to test your driving skills against the shifting sands.
3. Access to Remote Desert Landscapes
Many of Dubai's most breathtaking desert views are inaccessible by traditional vehicles. But with a sand buggy, you can reach these hidden gems with ease.
4. Bonding Over Adventure
There's something about sharing an adventure that brings people together. Whether you're with friends or family, a sand buggy ride in Dubai is an experience you'll treasure forever.
How to Make the Most of Your Sand Buggy Adventure
1. Picking the Right Tour Operator
Do your research! Choose operators with excellent reviews, and ensure they prioritize safety and environmental sustainability.
Always wear a helmet, follow the guidelines provided by the operator, and respect the desert's natural environment.
3. Essential Items to Bring
Don't forget sunscreen, sunglasses, a hat, and plenty of water. The desert can be deceptively harsh, so come prepared!
Experiences Shared by Sand Buggy Enthusiasts
1. Breathtaking Views at Sunset
Imagine watching the sun set over the dunes, painting the sky in shades of orange and pink. That's a moment you'll never forget.
2. Close Encounters with Desert Wildlife
From graceful gazelles to elusive desert foxes, sand buggy rides can offer unique wildlife viewing opportunities.
Sand Buggy and Other Activities
| Addon Name | Description |
| --- | --- |
| Desert BBQ Dinner | Enjoy a traditional BBQ dinner under the stars after your ride. |
| Camel Ride | Experience the desert in a more traditional way with a short camel ride. |
| Overnight Desert Camp | Camp out in the desert, with tents, dinner, and breakfast included. |
| Sandboarding | Try sliding down the dunes on a sandboard. |
| Professional Photo Package | Capture your adventure with professional photos. |
| Traditional Falconry Show | Witness the beauty and skill of falconry, a key part of Emirati heritage. |
| Bedouin Cultural Experience | Dive deep into Bedouin traditions, including storytelling, music, and tanoura dance, belly dance and fire show. |
| Refreshment Package | Stay hydrated and energized with drinks and snacks during your tour. |
| Extended Ride Time | Extend your buggy ride for an even longer adventure across the desert. |
| VIP Pickup and Drop-off Service | Enjoy convenient transportation from and to your accommodation in a luxury vehicle. |
| Group Packages | Special packages for larger groups or corporate outings. |
| Sunset or Sunrise Viewpoint | A guided stop at the best locations to view the stunning desert sunrise or sunset. |
Dubai, with its blend of modernity and tradition, offers numerous adventures. But if you want an experience that connects you with its desert soul, nothing compares to a sand buggy ride. Feel the thrill, embrace the beauty, and create memories that'll last a lifetime.