Discover Dubai in December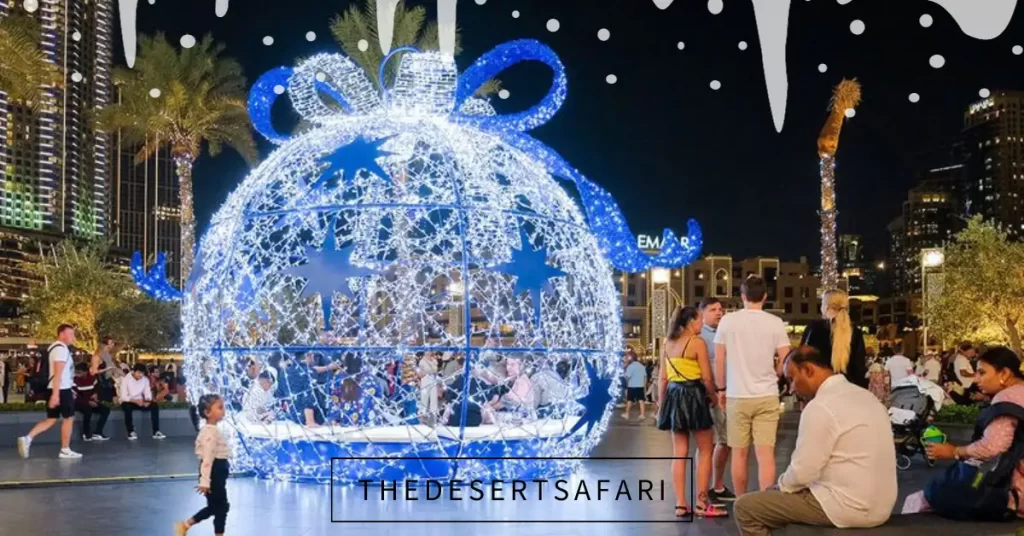 December is a magical time to visit Dubai. With its festive atmosphere, pleasant weather, and abundance of activities, the city has something to offer everyone.
In this blog post, we will share everything you need to know to plan a fun and unforgettable trip to Dubai in December. We will cover everything from saving money and avoiding the crowds to experiencing the best of what the city has to offer.
So, get ready to discover the wonders of Dubai in December! Book your trip today and start planning your adventure!
Weather in Dubai
Dubai
8:09 pm,
November 30, 2023
26
°C
clear sky
December is the perfect time to escape the winter chills and experience the pleasant weather of Dubai. With mild temperatures and clear skies, you can enjoy all that this city has to offer without having to worry about the heat.
Average temperatures in Dubai in December range from 16°C (61°F) at night to 26°C (79°F) during the day. Rainfall is rare, but there is a slight chance of light showers.
Pack light layers so that you can adjust to the changing temperatures. Short sleeves and breathable fabrics are ideal for the daytime, while a light sweater or jacket is recommended for the evenings. Be sure to pack sunglasses, sunscreen, a hat, and a reusable water bottle.
If you plan on experiencing Dubai's vibrant nightlife or enjoying a desert safari, pack comfortable shoes and appropriate clothing. For those indulging in the city's luxurious dining scene, a smart-casual outfit would be appropriate.
Sunglasses and sunscreen are essential year-round in Dubai, where the sun is strong. A hat and reusable water bottle will also come in handy.
Dubai is a multicultural city, but it is important to respect local customs and dress modestly. When packing, include clothing that covers your shoulders and knees, especially if you plan to visit religious sites or older parts of the city. A scarf can be useful for covering up if needed.
Pack a swimsuit and cover-up for the beach or pool.

If you are planning on visiting any mosques, bring a long scarf or hijab to cover your head.

If you are short on space, roll your clothes instead of folding them to save space.

Bring a small backpack or handbag to carry your essentials during the day.

Leave any valuables at your hotel or Airbnb.
Top Attractions to Visit in Dubai in December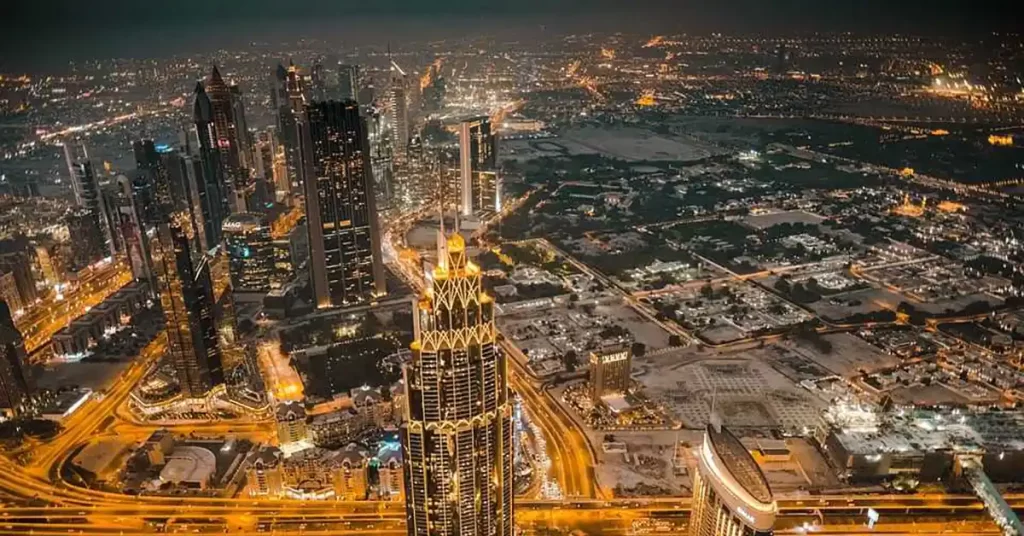 With its dazzling skyline and luxurious lifestyle, Dubai is a city that never fails to captivate visitors. But in December, when the weather is mild and sunny, the town comes alive with a treasure trove of attractions, making it a truly special time to visit.
The Dubai Shopping Festival is one of the city's biggest and most popular events, and it's easy to see why. With incredible deals on everything from high-end fashion to traditional souvenirs, there's something for everyone at this shopper's paradise. Plus, the festival offers a variety of entertainment and activities to keep visitors entertained, such as concerts, fashion shows, and fireworks displays.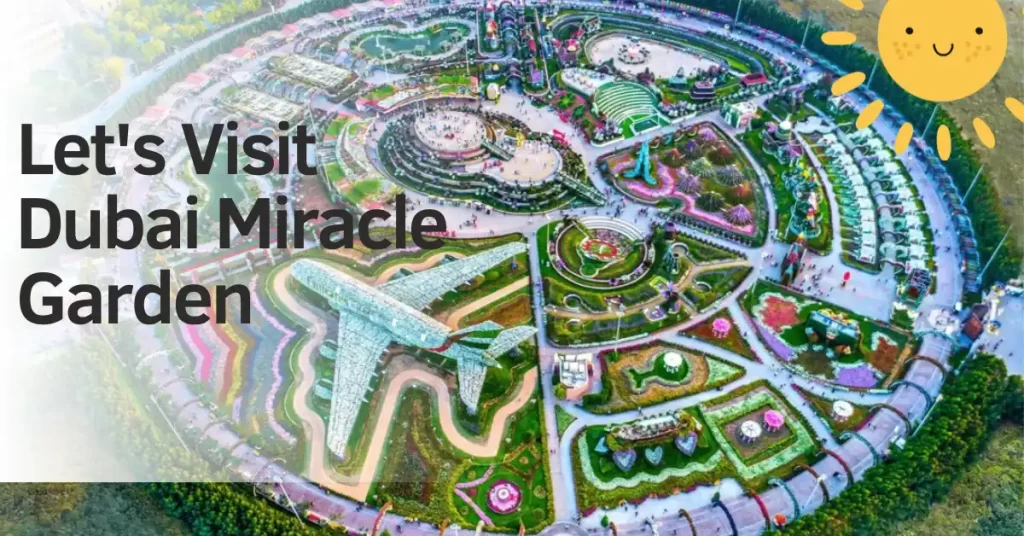 If you're looking for a feast for the eyes, be sure to visit the Dubai Miracle Garden, a stunning floral wonderland that blooms in full splendor in December. With over 150 million flowers arranged in intricate designs, the garden is a sight to behold.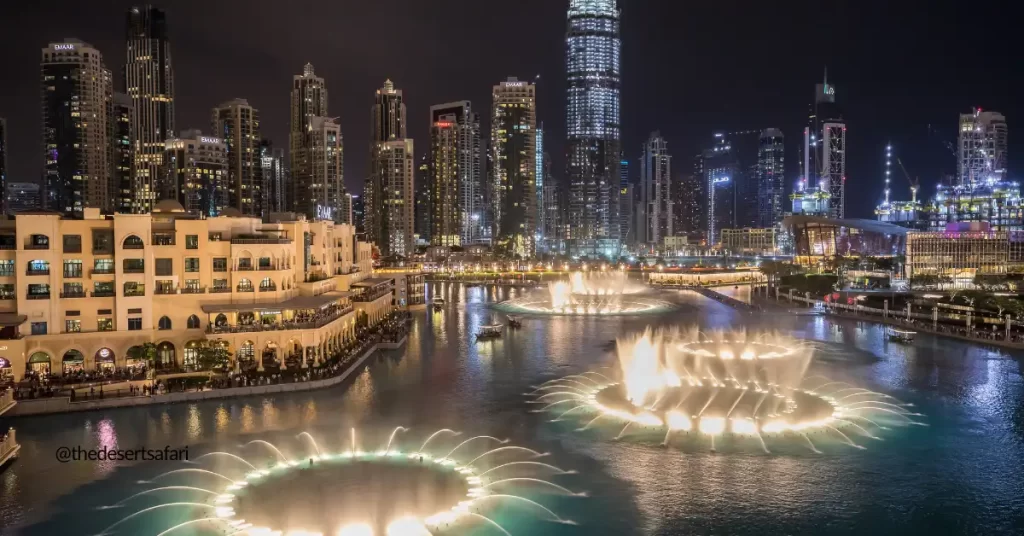 The Dubai Fountain is another must-see attraction in December. Set against the backdrop of the Burj Khalifa, the world's tallest building, the fountain puts on a spectacular show of water, music, and light every evening. It's a truly mesmerizing experience that you won't want to miss.
If you're looking to experience the world in one place, be sure to visit Global Village, a cultural festival park that features pavilions from over 70 countries. Here you can sample cuisine from around the world, shop for souvenirs, and enjoy cultural performances.
No visit to Dubai is complete without seeing the Burj Khalifa, the world's tallest building. Take a ride to the observation deck on the 124th floor for stunning panoramic views of the city and beyond.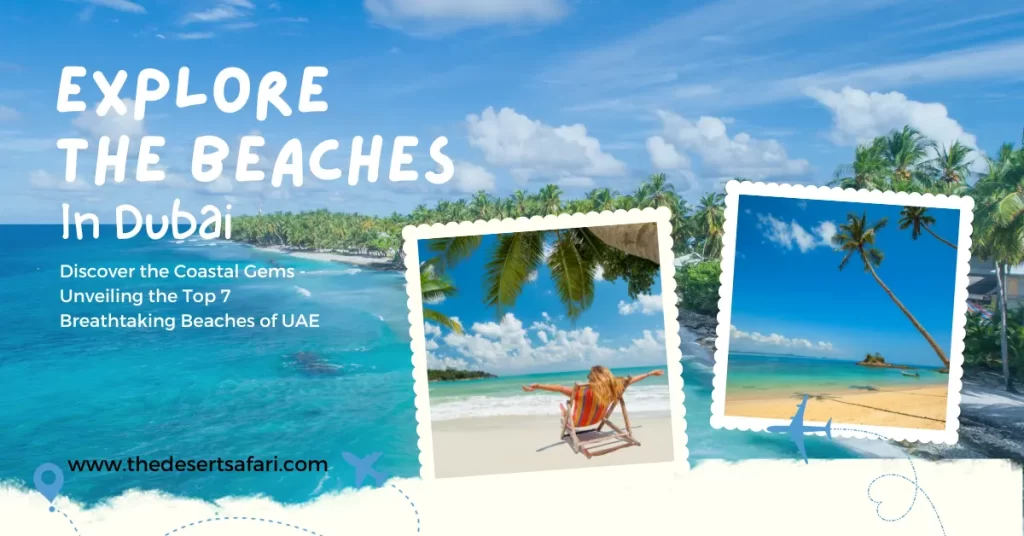 Dubai has some of the most beautiful beaches in the world, and December is a great time to enjoy them. With mild temperatures and clear skies, you can spend your days swimming, sunbathing, and trying out water sports such as jet skiing and parasailing.
For a truly unforgettable experience, embark on a desert safari. Dune bashing across the vast desert in a 4×4 vehicle, go sandboarding and enjoy a traditional barbecue dinner under the stars.
For a truly unforgettable experience, take a helicopter tour over Dubai. Soar above the Palm Jumeirah, the Burj Khalifa, and other architectural marvels, and marvel at the city's layout from a bird's-eye view.
Float peacefully over the Arabian desert on a hot air balloon ride, especially in December's mild mornings. Watch the sunrise paint the dunes in warm hues and soak up the serene atmosphere. This tour often includes a traditional Bedouin breakfast, making it a truly unique experience.
A Dhow cruise tour is a quintessential Dubai experience. Glide along the Dubai Creek or the Marina in a traditional wooden vessel, often accompanied by a sumptuous dinner and live entertainment. December's cool evenings provide the perfect ambiance for a romantic or reflective journey along the water.
Embark on a food tour to sample the rich tapestry of flavors that Dubai offers. From traditional Emirati dishes to the explosion of international cuisines, December's cooler climate is perfect for a culinary exploration of the city's eateries and street food stalls.
City Tours and Cultural Events
Dubai has a rich history and culture, and there's no better way to learn about it than by taking a city tour or attending a cultural event. In December, there are a variety of events taking place, such as the Dubai Opera Festival and the Alserkal Avenue Art Festival.
Dubai Accommodation Guide - Where to Stay in Dubai During Winter
Dubai's diverse accommodation options offer something for every budget and preference, from lavish luxury hotels to budget-friendly hostels. Here are some of the best places to stay in Dubai in December, based on your needs and interests:
A Home Away from Home - Serviced Apartments
Serviced apartments are a great option for travelers who want the flexibility of self-catering accommodation with the added convenience of hotel services such as housekeeping and laundry. Many serviced apartments are located in central areas, making it easy to explore the city's attractions.
Dubai is home to some of the world's most luxurious hotels, offering guests an unforgettable experience. From the iconic Burj Al Arab to the opulent Atlantis, The Palm, these hotels offer everything from stunning views and world-class dining to private beaches and lavish spas.
Dubai Budget Friendly Hotels
Dubai also has a range of budget-friendly accommodation options, such as hostels and guesthouses. These options are ideal for travelers on a tight budget, offering comfortable and affordable accommodation in central locations.
Dubai Al Fahidi Historical District
If you're looking for an authentic cultural experience, consider staying in the Al Fahidi Historical District. This atmospheric neighborhood is home to traditional Emirati houses, art galleries, and museums. It's also a great place to sample traditional Emirati cuisine.
Downtown Dubai and Dubai Marina
Downtown Dubai and Dubai Marina are two of Dubai's most popular tourist destinations. These areas are home to some of the city's most iconic landmarks, such as the Burj Khalifa, the Dubai Mall, and the Dubai Fountain. They also offer a wide range of hotels, restaurants, and shops.
Family-Friendly Stays - Beach Resorts
Dubai's many beach resorts are perfect for families. These resorts offer a variety of activities and amenities for children of all ages, such as swimming pools, kids' clubs, and playgrounds. Many also have direct access to the beach, making it easy for families to enjoy the sand and sea.
Tips for Choosing Your December Den
When choosing accommodation in Dubai in December, there are a few things to keep in mind:
Book early:

 December is a popular time to visit Dubai, so it's important to book your accommodation well in advance, especially if you're staying at a popular hotel or resort.

Consider your budget:

 Dubai has a wide range of accommodation options to suit all budgets. Be sure to set a budget before you start booking so that you don't overspend.

Think about your location:

 Dubai is a large city, so it's important to consider where you want to stay. If you're planning on doing a lot of sightseeing, it's best to stay in a central location. If you're looking for a more relaxing experience, you may want to stay in a beach resort or other outlying area.

Read reviews:

 Before you book your accommodation, be sure to read reviews from other guests. This can help you get a better idea of what to expect and avoid any potential surprises.
With its diverse accommodation options and mild December weather, Dubai is the perfect place to enjoy a winter vacation. By following these tips, you can choose the best place to stay for your needs and budget.
Local Cuisine and Where to Eat in Dubai
Savoring the Flavors of Dubai
Dubai is a melting pot of cultures, and its cuisine reflects this diversity. From traditional Emirati dishes to international fare, there's something to tantalize every taste bud in Dubai.
The Essence of Emirati Cuisine
Emirati cuisine is influenced by the country's Arabian heritage and Bedouin traditions. Popular dishes include machboos (spiced rice with meat or fish), harees (wheat porridge with meat), and salona (a meat and vegetable stew). Emiratis also enjoy a variety of sweets, such as baklava, luqaimat (fried dough dumplings), and chebab (pancakes).
Fine Dining: A Symphony of Flavors
Dubai is also home to a world-class fine dining scene. Michelin-starred restaurants offer innovative and creative dishes that showcase the city's diverse culinary landscape. From modern Emirati cuisine to international fusion fare, there's a fine dining restaurant in Dubai to suit every taste and budget.
Street Food: A Taste of Authenticity
For a more authentic dining experience, head to one of Dubai's many street food stalls. These stalls offer a variety of delicious and affordable dishes, such as shawarma (grilled meat), falafel (fried chickpea fritters), and manakish (flatbread with toppings). Street food is a great way to sample the local cuisine and experience the city's vibrant culture.
Beachside Dining: Alfresco Bliss
Dubai's many beachside restaurants offer stunning views and a relaxed atmosphere. Enjoy a leisurely meal while watching the sunset over the Arabian Gulf. Beachside restaurants serve a variety of cuisines, from Emirati to international, so there's something for everyone.
Global Village: A World of Flavors
Global Village is a multicultural festival park that features pavilions from over 70 countries. This is the perfect place to sample cuisines from all over the world without having to leave Dubai. From Indian curries to Chinese dumplings to Mexican tacos, there's something to satisfy every craving at Global Village.
Family-friendly Eateries: Joyful Meals for All Ages
Dubai has a variety of family-friendly eateries that offer delicious food and fun activities for kids of all ages. From restaurants with play areas to buffets with a wide range of options, there's a family-friendly eatery in Dubai to suit every need.
Dubai is a Muslim-majority city, so halal food options are readily available. Most restaurants in Dubai offer halal dishes, and there are also many dedicated halal restaurants. You can easily find halal options at all price points, from street food stalls to fine dining restaurants.
No matter what your budget or taste preferences, you're sure to find a delicious meal in Dubai. With its diverse cuisine and vibrant dining scene, Dubai is a foodie's paradise.
Navigating the City of Gold
Effortless Transits: Dubai's Public Transportation
Dubai has a comprehensive and efficient public transportation system that makes it easy to get around the city. The Dubai Metro is a popular option, with two lines that cover most of the city's major attractions. Buses are also a convenient and affordable way to travel, and there are dedicated bus lanes on major roads to help keep traffic flowing.
Taxis and Ride-Hailing Apps: Personalized Journeys
Taxis and ride-hailing apps are also popular ways to get around Dubai. Taxis are readily available, and ride-hailing apps such as Careem and Uber offer convenient and affordable on-demand transportation.
Renting a Car: Freedom on Four Wheels
If you prefer the flexibility of renting a car, there are many car rental companies in Dubai. However, keep in mind that traffic can be heavy, especially during peak hours.
Water Taxis and Abras: A Charming Glide
Water taxis and abras are traditional wooden boats that offer a unique way to get around Dubai Creek and the Dubai Marina. This is a great way to see the city from a different perspective and experience its traditional culture.
Cycling Paths: Eco-friendly Exploration
Dubai has a growing network of cycling paths, making it a great way to explore the city in a sustainable and eco-friendly way. There are dedicated cycling paths in many popular areas, such as the Dubai Marina and the Palm Jumeirah.
Walking: A Pleasant Stroll
Dubai is also a very walkable city, especially in the cooler winter months. Many of the city's major attractions are within walking distance of each other, and there are many pedestrian-friendly areas, such as the Dubai Marina Walk and Downtown Dubai.
Cycling Paths: Eco-friendly Exploration
Dubai has a growing network of cycling paths, making it a great way to explore the city in a sustainable and eco-friendly way. There are dedicated cycling paths in many popular areas, such as the Dubai Marina and the Palm Jumeirah.
Accessibility: Ease of Movement
Dubai is committed to providing accessible transportation for all. The Dubai Metro and buses are equipped with ramps and lifts, and there are many accessible taxis and ride-hailing vehicles available.
Getting around Dubai is easy and convenient, with a variety of transportation options to choose from. Whether you prefer public transportation, taxis, ride-hailing apps, renting a car, or exploring on foot or by bicycle, you're sure to find the perfect way to navigate the City of Gold.
Here are some additional tips for getting around Dubai:
If you're using public transportation, be sure to purchase a Nol card. This rechargeable card can be used on the Dubai Metro, buses, and water taxis.

If you're taking a taxi, make sure the meter is running before you start your journey.

If you're using a ride-hailing app, be sure to check the fare estimate before you book your ride.

If you're renting a car, be sure to familiarize yourself with the local traffic laws.

If you're walking, be aware of the hot weather and dress appropriately.

If you have any accessibility needs, be sure to contact the transportation company in advance to make arrangements.
Tips and Tricks for a Smooth Trip to Dubai
Booking your accommodations and top attractions in advance, especially if you're traveling during peak season, is key to securing the best deals and avoiding disappointment. Dubai offers a wide range of accommodation options, from budget-friendly guesthouses to luxurious hotels. When choosing your accommodation, consider your budget, location preferences, and amenities.
Dubai is a multicultural city with a rich heritage. It's important to dress modestly and respect local customs. Here are a few dos and don'ts:
Do dress modestly when visiting public places, such as mosques and government buildings.

Do greet people with a handshake or a nod.

Do avoid public displays of affection.

Do not consume alcohol in public.

Do not take photographs of people without their permission.
Purchasing a local SIM card is a convenient way to stay in touch with friends and family back home. You can also use free Wi-Fi at most hotels, restaurants, and cafes.
Credit cards are widely accepted in Dubai, but it's always a good idea to have some cash on hand for smaller purchases. The official currency of Dubai is the UAE dirham (AED).
English is widely spoken in Dubai, so you're unlikely to encounter any major language barriers. However, it's always appreciated if you can learn a few basic Arabic phrases.
Dubai is a safe city, but it's always important to be aware of your surroundings and take precautions against petty theft. Tap water in Dubai is safe to drink, but many people prefer to drink bottled water.
There are a number of travel apps that can be useful when visiting Dubai. These apps can help you with everything from finding your way around to booking tours and activities.
Dubai is a popular tourist destination, so it's important to choose your travel times carefully to avoid the crowds. The cooler winter months are the ideal time to visit Dubai, as the weather is mild and pleasant. If you're visiting during the summer months, be sure to plan your activities for the early morning or evening hours to avoid the heat.
Fast-track tickets are also a great way to avoid the crowds at popular attractions.
Dubai's pleasant winter weather makes it the perfect time to enjoy outdoor activities. From beach days to desert safaris, there's something for everyone to enjoy.
Here are a few additional tips:
Pack sunscreen, sunglasses, and a hat to protect yourself from the sun.

Wear comfortable shoes, as you'll likely be doing a lot of walking.

Stay hydrated, especially if you're spending time outdoors.

Be aware of the cultural differences and respect local customs.

Have fun and enjoy your time in Dubai!
Embracing the Winter Wonders of Dubai
As we conclude our comprehensive guide to visiting Dubai in December, we reflect on a city that transforms into a winter wonderland, albeit with its unique desert twist. This is a time when the city not only opens its arms to cooler breezes, but also to travelers from all corners of the globe, offering a blend of traditional charm and contemporary splendor.
Dubai in December is an experience like no other. The streets are aglow with festive lights, the aroma of exotic spices fills the air in souks, and the sound of waves gently crashing on pristine beaches provides a serene soundtrack to a perfect winter holiday. From the architectural prowess displayed by the towering Burj Khalifa to the cultural heartbeat echoing through the alleys of Al Fahidi Historical Neighborhood, each facet of Dubai offers a story, a new adventure, a memory to cherish.
Whether you're bargaining in the bustling markets, savoring the flavors of sumptuous Emirati cuisine, exploring the vastness of the desert, or simply soaking in the sun by the Arabian Gulf, December is a month that brings out the very best in Dubai. The city is not just a place to visit, but a world to experience, a destination that caters to every age, every interest, and every desire.
We hope that this guide serves not only as a roadmap to your December travels, but also as an inspiration to explore the depths and heights of this vibrant city. As the year winds down, let Dubai be the highlight, the grand finale, or the fresh start to new beginnings.
Dubai awaits you with open skies and endless possibilities. Welcome to a December to remember.