The Dubai Metro and Dubai Tram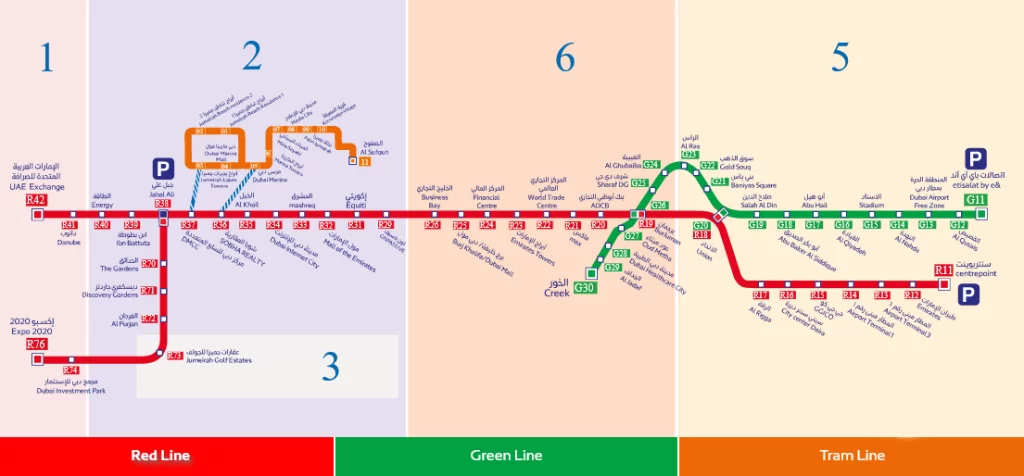 Dubai has an excellent public transport system, which includes the metro and tram. These are the best ways to get around Dubai because they are cheap, fast, and easy to use.
You can use the metro and tram to get to all of the major tourist attractions in Dubai, such as the Burj Khalifa, Dubai Mall, The Desert Safari Dubai Office, and Palm Jumeirah. You can also use them to get to the airport and other parts of the city.
The metro and tram are much better than taxis and buses for tourists because they are more reliable and don't get stuck in traffic. They are also more environmentally friendly.
This blog post will teach you everything you need to know about using the Dubai metro and tram, including:
How to buy tickets

How to use the metro and tram map

How to plan your journey

Popular routes and attractions

Safety and accessibility tips
Understanding the Dubai Metro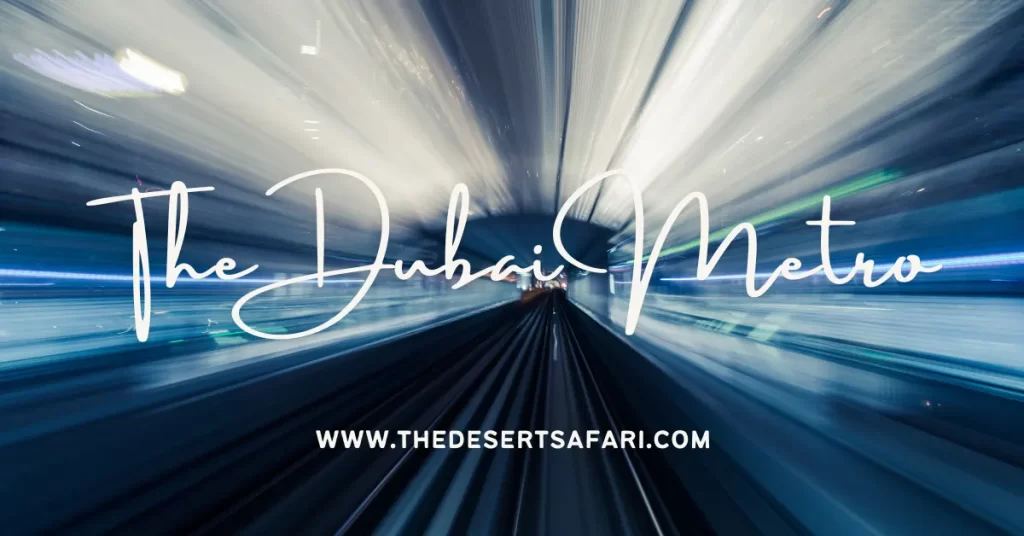 The Dubai Metro is the heart of Dubai's public transportation system. It is an essential part of the city, designed to meet the needs of residents and tourists.
The Metro started operating in 2009 and has been a huge success ever since. It is a very efficient way to get around the city, and it is also very reliable. Trains run on time and at regular intervals, so you won't have to wait long for a train.
The Metro has stations all over the city and is connected to many other modes of transportation, such as buses and taxis. This makes it easy to get to wherever you need to go.
The Metro stations are clean and well-maintained. They have clear signs and helpful staff to guide you. The trains are also very comfortable, and they have air conditioning.
Here are some tips for using the Dubai Metro:
Buy a Nol card.This is a rechargeable card to pay for your fares on the Metro and other public transportation in Dubai.

Plan your journey. You can use the Metro map to plan your route and see how long it will take to reach your destination.

Be aware of the different zones. The Metro is divided into different zones, and the fare depends on how many zones you travel through.
Dubai Metro Red Line Stations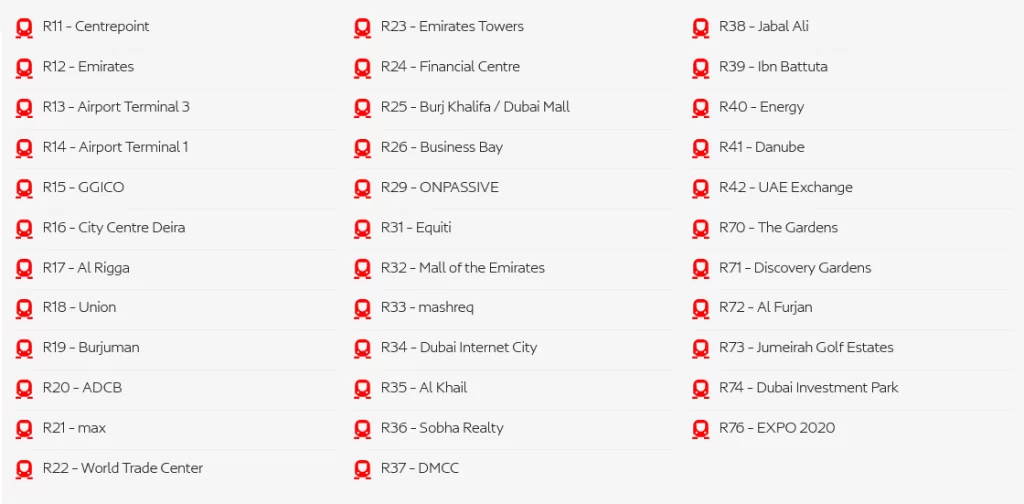 Metro Green Line Stations

Blue Line Metro Extension to Connect Existing Red and Green Lines
Dubai is building a new metro line called the Blue Line, which will be 30 kilometers long and have 14 stations. It will connect the existing Red and Green metro lines, and will be built by an international contractor who must work with a local partner. Companies interested in building the Blue Line should submit their interest by November 24, 2023.
The Blue Line is part of Dubai's plan to improve the quality of life for its residents by making it easier for them to get around. The Dubai 2040 Urban Master Plan aims to have 80% of residents' daily needs within a 20-minute journey time of their homes, and the Blue Line will help to achieve this goal by making it easier for people to get to work, school, and other important places.
The Blue Line will be a major infrastructure project for Dubai, and it is expected to cost several billion dollars to develop. The project will create jobs and boost the local economy, and it will also make Dubai a more attractive place to live and work.
The Blue Line is scheduled to be completed by 2028, and it will be a significant addition to Dubai's public transportation system. It will make it easier for people to get around the city and will help to reduce traffic congestion. The Blue Line is also a sign of Dubai's commitment to sustainability and its plans to become a leading smart city.
Getting Around with Dubai Tram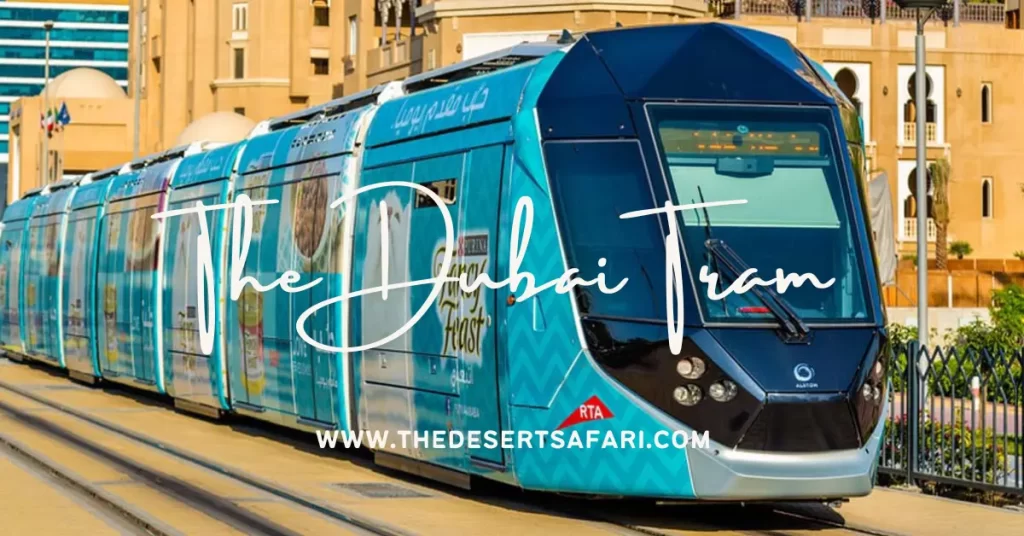 Next stop, the Dubai Tram! Another brilliant piece in Dubai's transport puzzle, the Tram is like the Metro's sibling, offering smooth rides around specific parts of the city. It's another way Dubai makes sure everyone can get around easily and comfortably.
How Dubai Tram Serves the City
Launched in 2014, the Dubai Tram is another stride in Dubai's relentless progress. It weaves through the bustling streets of Dubai, making stops at some of the most lively and attractive spots in the city. It's your go-to if you're looking to explore Dubai's vibrant neighborhoods.
Operational Hours:

 The Tram runs from early morning to late at night, letting you explore the city at your own pace.

Routes & Frequency:

 The Tram follows specific routes and arrives frequently, so there's barely any waiting.

Connection with Other Transports:

 It's integrated with other transport modes, including the Metro, to make your journey seamless.
Comfort and Accessibility
Riding the Tram is a breeze! It's designed with everyone in mind. The stations and trams themselves are accessible and easy to use, featuring clear signs and announcements. The friendly staff are always ready to lend a helping hand, ensuring your journeys are hitch-free.
Tourist Hotspots on the Go
The Tram connects you to a world of excitement. It's your ticket to Dubai's stunning beaches, fantastic eateries, and chic neighborhoods. If you fancy a day at the Marina or a stroll in JBR, just hop on the Tram!
In essence, Dubai Tram is not just a mode of transport; it's your companion in exploring the city's soul. It opens up a panorama of experiences, from the serene beaches to the bustling streets, making every journey an adventure in itself.
With the Dubai Tram, exploring the unseen facets of Dubai becomes an easy and enjoyable task, and it stands as a symbol of convenience and comfort in the dynamic landscape of this mesmerizing city.

Purchasing and Using Nol Cards
Ready to start your journey on Dubai's public transport? Meet the Nol Card! This smart card is your ticket to ride the Metro, Tram, and even buses in Dubai. It's like your travel wallet, keeping your trips smooth and easy.
Getting a Nol Card is straightforward. Just head to any ticket vending machine available at all Metro and Tram stations or visit any authorized sales agents across the city. All you need is some cash or a credit/debit card, and voila, your travel companion is in your hands!
Choosing the Right Nol Card
There are different types of Nol Cards to suit your travel needs. Whether you're here for a short visit or a long stay, there's a card for you. Here's a quick guide:
Red Ticket:

 Best for tourists and occasional users.

Silver Card:

 Ideal for regular users.

Gold Card:

 Offers access to the Gold Class cabins.

Blue Card:

 Personalized card with added features.
Nol Card Type
Benefits
Nol Red Ticket

Affordable single-journey ticket.
Pay only for the specific trip.
Available at all ticket vending machines.
Universal – usable on Metro, Tram, and Buses.

Nol Silver Card

Auto fare calculation and deduction.
Accessible and instantly usable.
Multi-functional – valid for transport, parks, museums, and 2000+ shops in Dubai.
5-year validity period.

Nol Gold Card

Exclusive access to Gold Class cabins on Metro and Tram.
Universal utility – valid for various services and venues across Dubai.
Efficient – auto fare calculation and immediate usability.
Standard fare charged for regular transport usage.

Nol Blue Card

Secure balance protection.
Extensive validity across services and venues in Dubai.
Convenient online services and real-time notifications.
Special fares available for students, senior citizens, and persons of determination.
Loading and Managing Your Nol Card
Once you've got your card, it's time to add some credit. Top-up is easy—just use the ticket vending machines or visit a ticket office. And don't worry about running low; you can check your balance at any time at the machines or online.
Navigating the City with Your Nol Card
Using your Nol Card is a breeze! Simply tap it at the entry and exit gates of the Metro, Tram, or Bus. The fare will be automatically deducted, and you can focus on enjoying your journey around the dynamic city of Dubai. And remember, the card is not just for transport; you can also use it to pay for parking and even make purchases at selected retail stores!
Ensuring a Smooth Journey
Having a Nol Card ensures that exploring the city is hassle-free and convenient. It eliminates the need to purchase tickets every time you travel, allowing you to delve deeper into the city's wonders without any worries. It's all about making your Dubai adventure as smooth and enjoyable as possible!
When using the Dubai Metro and Tram, it's essential to know about their fares and schedules to plan your journey efficiently. Dubai's public transport system is designed to be affordable and convenient for all, ensuring you can reach your destination on time without any hassle.
Dubai's public transport fares are reasonable and tailored to suit different needs. Your Nol Card acts as your ticket, and the fare is calculated based on the distance traveled. Here are some key points:
Zone-Based:

 The city is divided into zones, and the fare increases with the number of zones crossed.

Card Type Matters:

 Different Nol Cards may have different fare structures. For example, traveling in the Gold Class will cost more than in the standard class.
Getting Acquainted with Schedules
Knowing the operational hours and frequency of the Metro and Tram is crucial to streamline your travel plans. Here's a snapshot:
Dubai Metro:

 It usually operates from early morning until midnight, with trains running at regular intervals.

Dubai Tram:

 The Tram has similar operational hours, making stops at frequent intervals, ensuring you don't have to wait long.
You can easily find the schedules and plan your journey using the RTA's official website or app. They provide real-time updates and helpful information to assist you in mapping out your trips and ensuring you reach your destinations with ease.
Make the Most of Your Time
With a clear understanding of fares and schedules, you can optimize your travel time in Dubai. It allows you to explore more and spend less time waiting. Plus, the straightforward fare system ensures you can travel stress-free, knowing exactly what to expect.
What are the timings of Dubai Metro?
Wondering about the operational hours of the Dubai Metro and Tram? Here's a quick guide:
| Day | Dubai Metro | Dubai Tram |
| --- | --- | --- |
| Monday – Thursday | 5am – 12am (midnight) | 6am – 1am (next day) |
| Friday | 5am – 1am (next day) | 6am – 1am (next day) |
| Saturday | 5am – 12am (midnight) | 6am – 1am (next day) |
| Sunday | 8am – 12am (midnight) | 9am – 1am (next day) |
Do note, the opening and closing times might slightly vary for each station and during public holidays. Additionally, trains are frequent, arriving every four minutes during peak times, and approximately every seven minutes during off-peak times.
Practical Tips and Information
Dubai's public transit system is meticulously designed to provide utmost convenience and comfort. However, knowing some practical tips and crucial information can significantly enhance your travel experience, letting you navigate the city like a pro!
Peak Hours:

 Try to avoid traveling during peak hours if you can, usually mornings and evenings during weekdays, to enjoy a more relaxed journey.

Nol Card Balance:

 Regularly check and maintain a sufficient balance in your Nol Card to avoid any inconvenience.

Map It Out:

 Familiarize yourself with the route maps and station locations beforehand to streamline your journey and save time.
Being Informed about Rules and Regulations
Etiquette Matters:

 Respect fellow passengers by maintaining decorum and follow the seating rules and priority seats for those who need them.

Stay Informed:

 Know the regulations like no eating, drinking, or smoking in the trains and stations to avoid fines.
Adapting to the Environment
Dress Appropriately:

 While Dubai is modern and cosmopolitan, it's essential to dress modestly in public places, including Metro and Tram.

Be Mindful of the Climate:

 Dubai can be extremely hot, especially in the summer. Stay hydrated and avoid prolonged exposure to the sun.
Stay Vigilant:

 Always be aware of your surroundings, and keep an eye on your belongings.

Emergency Protocols:

 Know the emergency exits and procedures in the unlikely event of an emergency.
Customer Support:

 For any queries or assistance, contact the customer service available at the stations or call the RTA hotline.

Information Desks:

 Utilize the information desks at the stations for any immediate information or guidance.
Accessibility and Amenities
Dubai's Metro and Tram make sure everyone can travel easily, no matter their age or ability. It's all about making the journey smooth for every passenger.
For Wheelchair Users:

 Both the Metro and the Tram have room for wheelchairs, making travel comfortable.

Help for the Visually Impaired:

 There are special floors and Braille to help visually impaired people at stations and inside the transport.

Lifts and Moving Stairs:

 Every station has lifts and escalators, making it easy for all, especially those who find moving around tough.
Cool Inside:

 All areas are air-conditioned to escape Dubai's heat.

Stay Connected:

 There's free Wi-Fi for everyone, so you can browse or chat while you travel.

Quick Bites on the Go:

 Many stations have small shops for snacks and drinks, perfect for a quick stop.
There are information desks and helpful staff at every station to answer your questions and guide you, making your journey stress-free.
The easy access and comfort show Dubai's care in making travel friendly and open for everyone. It ensures everyone can enjoy what the city has to offer.
Attractions and Things to Do Near Stations
Taking the Dubai Metro and Tram? You're in for a treat! Each stop is close to some cool places in the city, making it easy for you to see and enjoy what Dubai has to offer.
Burj Khalifa/Dubai Mall Station:

 Get off here to see the amazing Burj Khalifa and explore Dubai Mall with its endless shops, food places, and fun activities.

Al Fahidi Station:

 This stop is your ticket to the old part of Dubai, Al Fahidi, where you can learn about the city's history and traditions.

Desert Safari in Dubai: Experience the thrill and cultural richness of The Desert Safari Dubai, a journey through the enchanting dunes and landscapes of the Arabian Desert. We are located very near to the Mall of metro station.
Mall of the Emirates Station:

 Here, you find the Mall of the Emirates with Ski Dubai and lots of shops and restaurants to choose from.

Jumeirah Beach Residence (JBR) Station:

 Want some beach time? This station is your stop! It's right next to the lovely Jumeirah Beach.
Near every station, you'll find places to eat. From quick bites to delicious meals, there's something for every taste.
Near every station, you'll find places to eat. From quick bites to delicious meals, there's something for every taste.
Don't just stick to the known spots; explore around the stations. You might find cool cafes, art spots, or local markets.
Dubai Metro and Dubai Tram serve as easy, quick, and cost-effective ways to explore the marvelous city of Dubai. With their extensive networks, they connect you to various attractions, entertainment spots, and cultural sites, allowing you to experience the diverse and vibrant atmosphere of the city.
Use these convenient transit services to make the most of your time in Dubai. Whether it's shopping at the sprawling malls, soaking up the sun at pristine beaches, or diving into the rich history at heritage sites, the Metro and Tram ensure you don't miss out on anything. And remember, exploring the neighborhoods around the stations can lead you to hidden gems and local treasures.
The simplicity and efficiency of purchasing and using Nol Cards add to the ease of travel, and the availability of various classes and discounts caters to everyone's needs. Moreover, the focus on accessibility and amenities ensures that people of all abilities can comfortably use the services.
Staying Informed and Safe
Be mindful of the rules, and follow the guidelines and tips shared in this post to have a safe and enjoyable journey. Keep exploring, and don't hesitate to ask for help or information when needed. The friendly staff and the locals are always willing to assist.