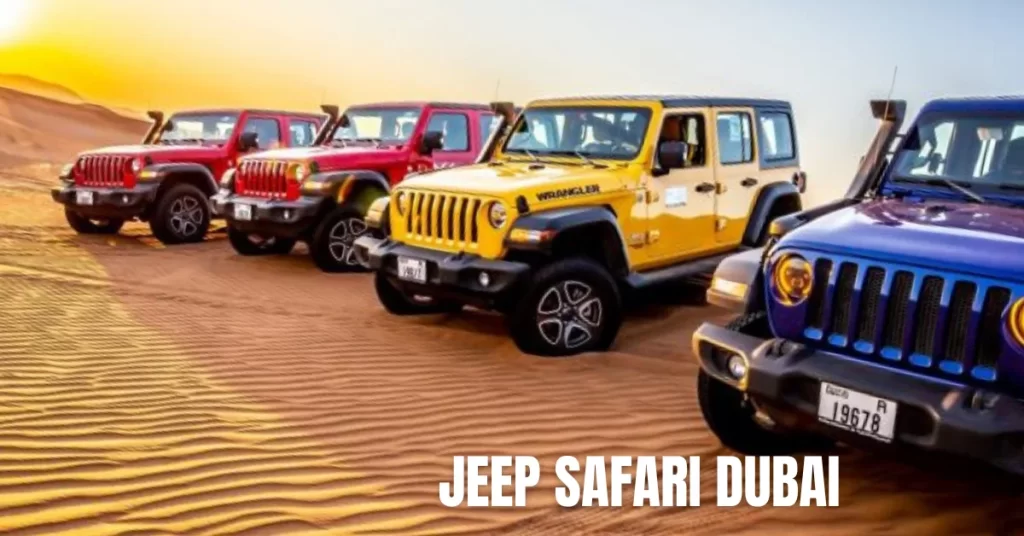 Dubai is not just about its sky-kissing buildings and luxurious shopping centers. It's also home to a captivating desert landscape that promises adventure and thrills. One of the most popular ways to explore this arid wilderness is on a Jeep Safari Dubai. But what can one expect from such an expedition? Let's buckle up and find out!
What to Expect on a Jeep Safari in Dubai
Dubai desert safaris are an amalgamation of culture, adventure, and the raw beauty of nature. The golden sands stretch as far as the eye can see, occasionally interrupted by an oasis or a camel caravan.
Breathtaking Dune Bashing
Hold on tight as your Jeep ventures into the heart of the desert, tackling dunes with sheer prowess. The expert drivers navigate these shifting terrains with a blend of skill and thrill, ensuring a roller-coaster experience.
A Dive into Bedouin Culture
Ever wondered about life in the desert? The safari offers a glimpse into the traditional Bedouin lifestyle. Witness traditional dance forms, savor mouth-watering Arabic cuisines, and experience warm hospitality in the vastness of the desert.
One of the main draws is the golden hour. The sight of the sun setting, casting a warm golden hue over the desert, is nothing short of spectacular
Starlit Desert Camp Nights
After an adventurous day, relax under a blanket of stars at the desert camp. Enjoy live entertainment, succulent BBQ dinners, and traditional shisha.
As amazing as dune bashing can be, you'll have to stop and rest at some point. After a day in the desert, the evening is the perfect time for dinner and a show. Most jeep safari tour in Dubai includes buffet meals or a BBQ in a traditional desert camp. Relaxing evening activities may include shisha smoking, traditional dancing, and other activities.
By the end of your jeep safari tour, you'll leave with so much more than sand in your shoes. You'll have had a taste of historic desert culture.
While the desert may seem lifeless, it's home to a variety of wildlife. With a bit of luck, you might spot desert foxes, oryx, or even the majestic falcons soaring above.
Essential Tips for a Memorable Safari
1. Choosing the Right Time
The best time for a Jeep Safari in Dubai is during the cooler months, from October to March. The temperatures are bearable, and the overall experience is enhanced.
2. Dressing Appropriately
Opt for light, breathable clothes. Don't forget your sunglasses, hats, and sunscreen. And, oh, leave those heels behind; sandals or trainers are your best bet.
The desert is unpredictable. Always carry water with you and sip it at regular intervals.
The Broader Picture: Why Choose a Jeep Safari?
It's not just about the thrill. It's about understanding the contrast that is Dubai – from its glittering skyline to its rustic desert landscapes. It's about connecting with a culture and an environment so beautifully raw and untouched.
Absolutely! Jeep Safaris in Dubai are designed to be family-friendly. Kids are sure to love the camel rides, sandboarding, and the open desert ambience.
A Jeep Safari in Dubai is more than just an adventure; it's an experience that imprints on your memory. From the adrenalin-pumping dune bashing to serene moments under the starlit sky, every moment promises something unique. So, when in Dubai, don't miss this golden opportunity to delve deep into its heart – its magnificent desert. And remember, as they say in the Emirates, "The desert is a treasure, and adventures are its key."