Solo Female Traveling to Dubai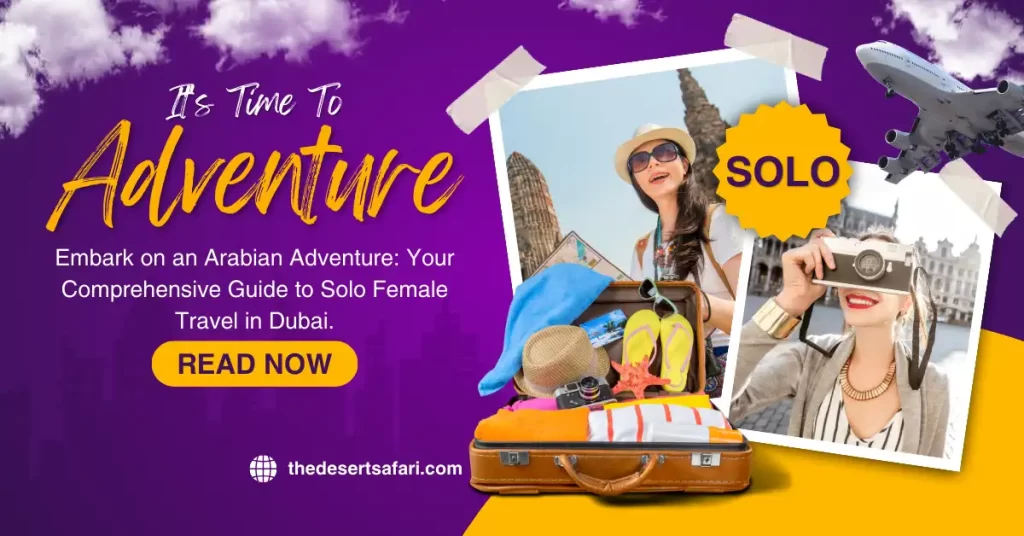 Are you thinking of the next stop for your solo female travel adventure? Dubai beckons with an irresistible allure! A city where old meets new, Dubai is a glittering crown jewel of the United Arab Emirates with a repertoire of experiences that promise to make your trip unforgettable.
1. A Blend of Tradition, Modernity, and Safety
Dubai is a city of superlatives: tallest, most prominent, and most extravagant. But it's also a city deeply rooted in Arabic culture and traditions. As a female traveler exploring this dynamic city alone, safety should be a top concern. Let us assure you Dubai ranks as one of the safest cities in the world, making it a great choice for solo female travel.
2. Budgeting Your Solo Female Travel Dubai Adventure
Dubai is often perceived as a playground for the wealthy. While it boasts a luxurious lifestyle, planning your budget astutely can ensure a memorable time without breaking the bank. Stay in affordable yet comfortable hotels, enjoy the local street food or dine at cost-efficient restaurants, use public transportation, and seek free or economical activities.
Respecting the host country's dress code is part of being a responsible traveller. In Dubai, it's all about modesty. Whilst you are not expected to adhere strictly to traditional Emirati attire, keeping shoulders and knees covered outside your hotel or resort is advisable.
4. Experiencing Dubai Cuisine
Dubai's food scene is as diverse as its population. From aromatic Arabic coffee to succulent grills, tasting the city's cuisine should be high on your agenda. Restaurants in Dubai cater not just to a lavish spender but also to a traveler on a budget, offering a wide range of options.
5. Dubai Nightlife - From Tranquil to Transcendent
The nightlife in Dubai is a spectrum of experiences. Choose from calm evenings on a Dhow cruise in Dubai Creek, soulful Sufi performances, or energetic beach clubs and rooftop bars with breathtaking cityscape views.
6. Sightseeing in Dubai - Wonders Around Every Corner
Dubai's sightseeing spots are aplenty. The Burj Al Arab, Palm Jumeirah, and Dubai Mall are iconic locations, but don't miss out on visiting the lesser-known gems like the Al Fahidi Historic District or the Dubai Miracle Garden.
7. Shopping in Dubai - From Gold Souks to Modern Malls
Famous as a shopper's paradise, Dubai encompasses everything from traditional souks selling spices and gold to state-of-the-art malls housing international brands. Shopping in Dubai also means haggling and bagging great deals at local markets.
8. Desert Safari - Discover an Unforgettable Landscape
9. Solo Female Travel Dubai Safety Tips
Contrary to common misbeliefs, Dubai is extremely safe with a very low crime rate. However, groping and staring can happen (although they are rare), and it's essential to be vigilant. Stay in well-populated areas, especially during the night. Always keep your hotel address and a reliable taxi service number handy.
10. Things to Do in Dubai for Solo Female Travelers
Visit the astonishing Burj Khalifa and take in the panoramic views of the city, stop by the Dubai Mall for a shopping extravaganza, or relish the tranquility of the Dubai Miracle Garden. Further, seize the chance to explore the Traditional Gold and Spice Souks in Old Dubai.
11. Best Hotels for Solo Female Travelers in Dubai
Properties like Rove Downtown, Jumeirah Emirates Towers, or Marina Bay Suites by Jannah are great options with their central location, top-notch safety measures, and excellent services; perfect for a solo female sojourn.
12. How to Get Around Dubai as a Solo Female Traveler
Dubai's public transportation system is reliable, efficient, and highly interconnected. The Dubai Metro is not only economical but also gender-segregated for female passengers. Metered taxis are everywhere and can be a more comfortable option, although a tad costlier.
13. Solo Female Travel Dubai Budget
While it's known for luxury, Dubai can also be a budget-friendly destination if properly planned. Choose less extravagant accommodation, eat at cheaper food chains, and make the most of free or lower-priced activities. You might end up spending AED 200-300 per day on a shoestring budget.
14. What to Wear in Dubai as a Solo Female Traveler
Emirati culture appreciates modesty. Opt for clothes that cover your shoulders and knees, especially when visiting traditional spaces. Beachwear at beaches, and night dresses at nightclubs are acceptable.
15. Best Restaurants for Solo Female Travelers in Dubai
Solo dining in Dubai is a delightful experience. Explore Pierchic for seafood, Nobu for Japanese, and Al Ustad Special Kabab for affordable Iranian dishes. The city also hosts several solo-dining events that you can be a part of.
16. Solo Female Travel Dubai Nightlife Tips
When it comes to nightlife, Dubai is vibrant and vivacious. Always have a secure transportation mode to get back to your hotel. It's also helpful to know that public drunkenness and disorderly conduct can result in strict fines.
17. Solo Female Travel Dubai Sightseeing Tips
An organized city tour can be convenient for solo travelers. Yet, venturing out on your own can lead to exciting discoveries. Just make sure to wear plenty of sunblock and stay hydrated!
18. Solo Female Travel Dubai Shopping Tips
Dubai's shopping scene is grand. Grab unique souvenirs from traditional souks or shop for international brands in sophisticated malls. Bargaining is an unspoken norm in souks but not in malls.
Dubai is a riveting blend of luxury, adventure, and cultural immersion. It's a city that warmly welcomes all and goes out of its way to ensure a memorable stay. As a solo female traveler, it guarantees not only safety and respect but also thrilling experiences and a chance to embrace a culture that amalgamates tradition with modernity. So pack your bags and take that leap of adventure, Dubai awaits! After all, as Saint Augustine famously said, "The world is a book and those who do not travel read only one page."