Desert Safari Dubai for Couples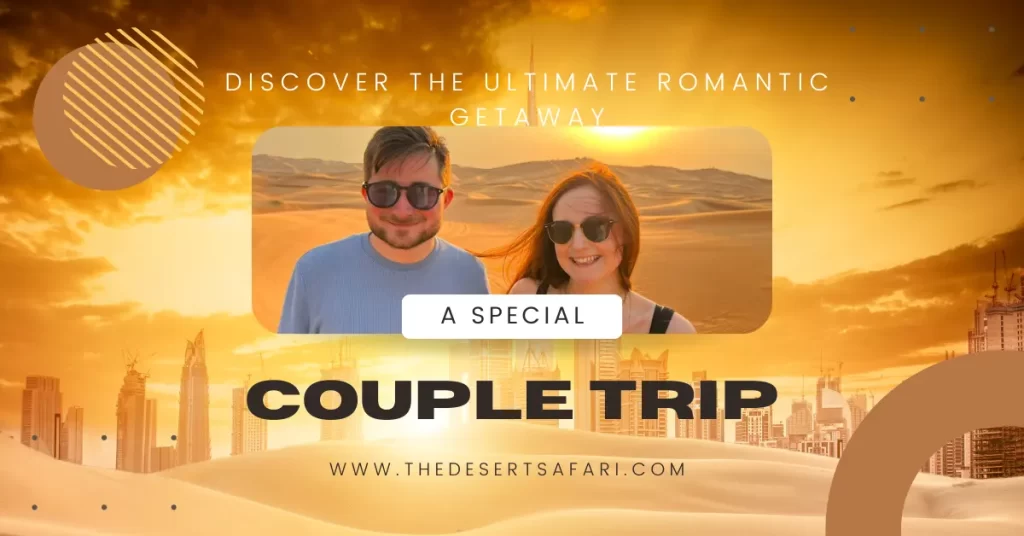 Escape the hustle and bustle of city life and embark on an adventure with your significant other. Experience the ultimate romantic getaway with Desert Safari Dubai for Couples. This experience will leave you in awe and take your breath away.
Close your eyes and picture yourself and your loved one on a camel ride, smoothly gliding down the dunes and taking in the breathtaking sunset over the mesmerizing landscape of the desert. With thrilling activities and unforgettable experiences, Desert Safari Dubai is the perfect spot for couples to create special memories that will last a lifetime.
In this blog post, we'll take you through the desert safari experience, highlighting why it's the ultimate romantic getaway, what to expect, tips for a perfect trip, and more. Whether planning a honeymoon, anniversary celebration, or just a romantic weekend away, this guide will help you plan the ideal desert safari adventure for you and your loved one. So, get ready to pack your bags and explore the desert safari offers for couples in Dubai!
Why Desert Safari Dubai is Ideal for Couples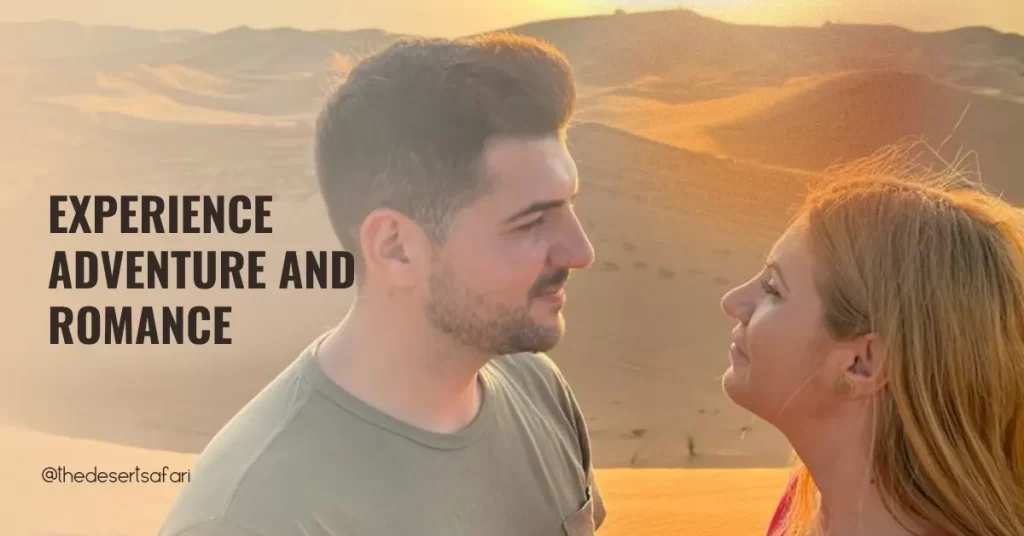 Desert Safari Dubai is a perfect destination for couples seeking a unique and unforgettable experience. The desert safari offers a range of exciting, thrilling, and romantic activities. From the adrenaline-pumping dune bashing to the peaceful camel ride, couples can enjoy an array of unique experiences in the breathtaking desert landscape.
The romantic aspects of the safari, such as sunset watching, stargazing, and belly dancing shows, create an intimate and romantic ambiance for couples to cherish. With its unique blend of adventure and romance, it's no wonder that desert safari in Dubai is an unforgettable experience for couples.
What to Expect on a Desert Safari Dubai for Couples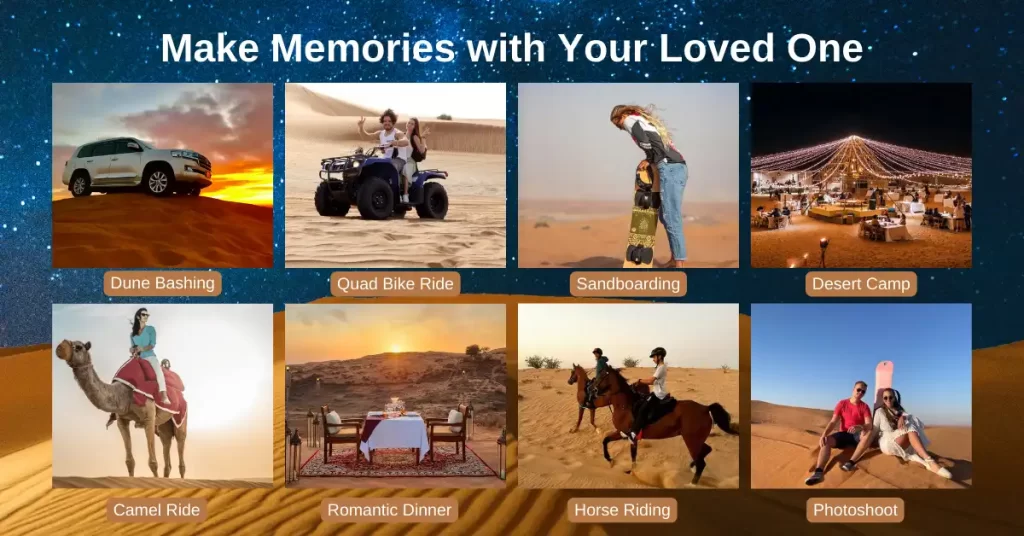 A desert safari in Dubai offers various activities for couples seeking adventure and romance. The safari begins with a thrilling dune bashing ride in a 4×4 vehicle, followed by a peaceful camel ride through the desert.
Sandboarding, a popular activity among thrill-seekers, is also included in the itinerary. As the day comes to a close, couples can experience the magic of sunset watching and stargazing while enjoying a delicious BBQ dinner.
The evening's entertainment includes a mesmerizing belly dancing show, creating a romantic ambiance for couples to cherish. Private desert safaris and VIP options are available for those looking for an extra touch of luxury and exclusivity. 
Overall, a desert safari in Dubai offers couples an unforgettable adventure and romantic experience.
Tips for a Perfect Desert Safari Tour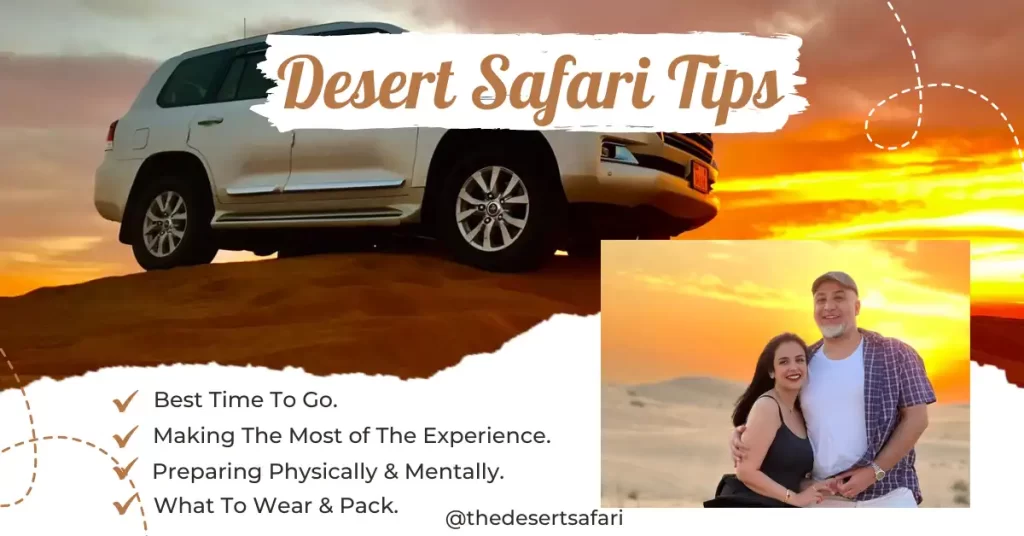 Going on a desert safari in Dubai can be an unforgettable experience for couples. Here are some tips to help you prepare for the perfect adventure:
Best time to go:

 The best time to go on a desert safari in Dubai is during the cooler months, from November to March.

What to wear and pack:

 It's recommended to wear loose, comfortable clothing that covers your skin from the sun. Pack sunglasses, sunscreen, a hat, and a camera to capture your memories.

Preparing physically and mentally:

 Dune bashing can be an intense experience, so eat light meals and hydrate well before the safari. Additionally, being mentally prepared for the adventure and having an open mind are essential.

Making the most of the experience:

 Embrace the moment and fully immerse yourself in the experience. Take in the stunning scenery, try new activities, and enjoy the romantic ambiance with your partner. Remember to capture the special moments to cherish forever.
Top Activities for Couples on a Desert Safari Dubai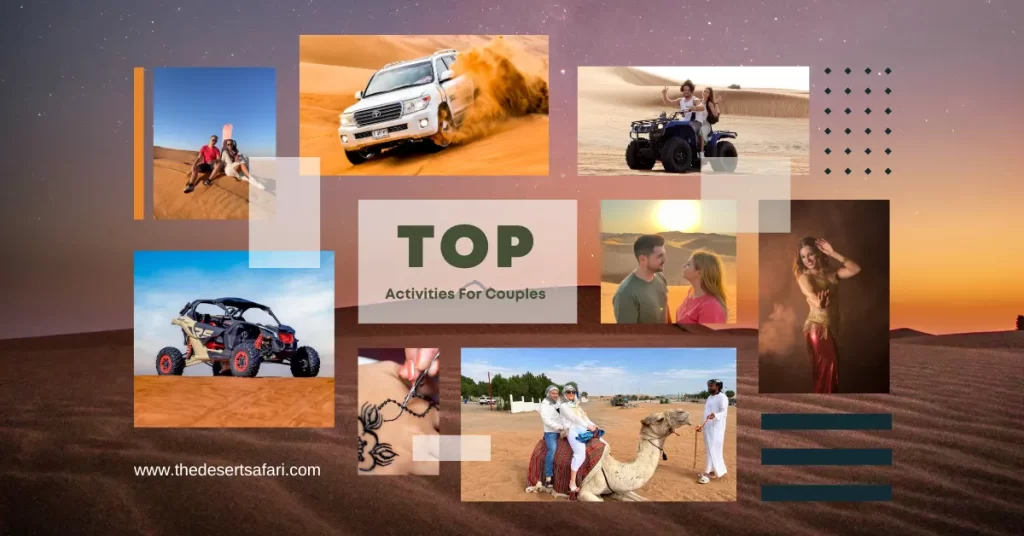 There are plenty of activities for couples to enjoy during a desert safari in Dubai. Some of the popular activities include:
Dune bashing is a thrilling activity where a skilled driver will take you on a ride through the dunes in a 4×4 vehicle. The ride is bumpy and exciting but can be scary for some. It is recommended to book a sharing basis ride rather than a private one to enjoy it with other couples.
Camel ride in Dubai or trekking is a peaceful and calming activity where you can spend time with your loved one in the tranquil desert landscape. You can ride on a single camel or take a longer trek with a group of camels.
If you want a more thrilling activity, quad biking is a great option. You can book a single quad bike and enjoy a self-drive in the open desert. It is a perfect activity for adventure-seeking couples.
A two-seater dune buggy ride is another fun and exciting way to explore the desert landscape together. You can enjoy a self-drive with your partner and experience the thrill of driving on the dunes.
Watching the sunset in the desert is a romantic experience that you will never forget. You can sit on the top of a dune with your loved one and watch the sun slowly disappear below the horizon.
After sunset, you can enjoy the clear night sky and stargaze together. The desert offers a perfect environment for stargazing, and you can see a lot of stars in the sky.
Sandboarding is a fun activity where you can slide down the dunes on a board. It is a perfect activity for adventurous couples who enjoy trying new things.
Henna painting is a traditional activity that is popular in the Middle East. You can get henna tattoos on your hands or feet and enjoy this cultural experience together.
Finally, watching a belly dance show is a great way to end your evening in the desert. You can watch a professional belly dancer perform while enjoying traditional Arabic music and food. It is a great way to experience the local culture and entertainment.
Factors to Consider Before Booking a Desert Safari Dubai
Before booking a desert safari in Dubai, there are a few essential factors to consider to ensure that you have an enjoyable and safe experience:
Budget and cost:

 The cost of a desert safari can vary depending on the type of safari. Determining your budget and finding a tour that fits within it is important.

Types of safari available:

 There are different types of safaris available, including morning, afternoon, and evening safaris. Each safari offers a unique experience, so choosing the one that suits your preferences and schedule is important.

Choosing a reputable tour operator:

 Choosing a reputable tour operator that is licensed and follows safety regulations is crucial. Reading reviews and checking the operator's credentials can help you make an informed decision.

Addressing concerns and questions:

 Couples may have concerns or questions about the safari, such as safety, accessibility, or dietary requirements. It's important to address these concerns with the tour operator beforehand to ensure your needs are met and you have a stress-free experience.
A desert safari in Dubai is the ultimate romantic getaway for couples looking to create special memories together. With many exciting activities and unforgettable experiences, a desert safari offers a unique adventure in a breathtaking landscape.
Yes, a desert safari in Dubai is safe for couples as long as they book with a reputable tour operator and follow the safety guidelines provided by the operator.
Yes, couples can request a private vehicle for the desert safari instead of sharing it with others. Private vehicles provide more privacy and a personalized experience.
It is recommended that couples to wear loose and comfortable clothing made from breathable fabrics during the desert safari. Light-colored clothing is also preferable to reflect the heat.