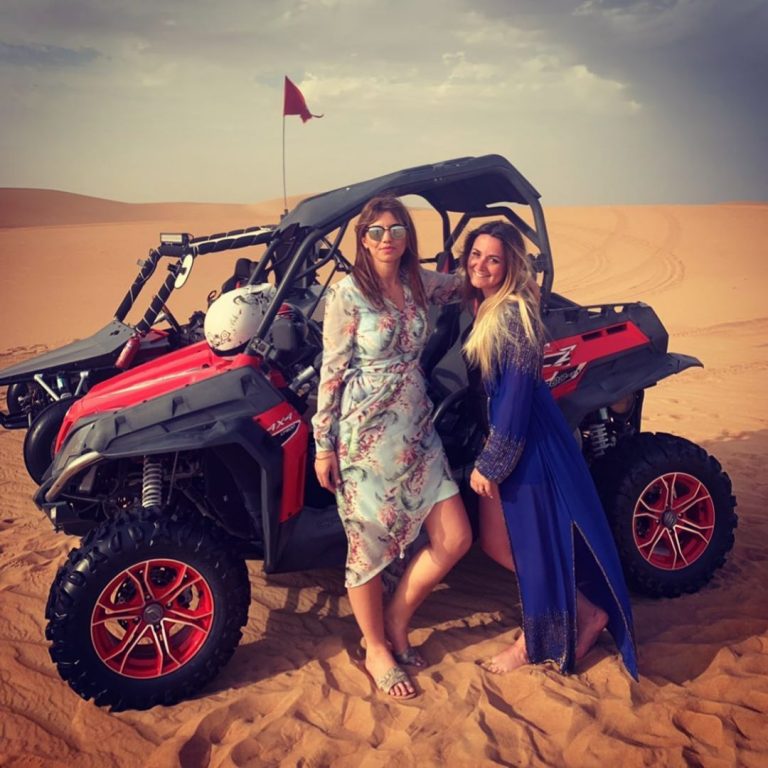 Dubai is a destination for tourists and a land of opportunities. It provides tourists with a fantastic blend of locations. You can find modern buildings on one side and the desert on the other. Enjoy sunbath at the beach. And don't forget to travel across the dunes. Dunes cannot be crossed with casual vehicles. A particular type of vehicle is known as a dune buggy, which runs smoothly on dunes. In this blog post, we will talk about different types of dune buggies.
These buggies are all made up of three or four wheels and are lightweight. If you are adventurous and want to know how to complete your desert adventure, you are at the right place. All you need is the best travel partner, a Dubai dune buggy. Pack your bag to have an experience with dune buggy Dubai.
History of dune buggies in the UAE
Did you know that dune buggies have been a popular form of off-road entertainment in the UAE for decades? Given the region's expansive deserts and exhilarating terrains, it's no wonder. Let's take a trip down memory lane to learn more about the origin of these fun machines and different types of dune buggies.
Popularity of Dune Buggy in The UAE
Dune buggy has become increasingly popular over the years, thanks to the country's stunning landscapes and adrenaline-pumping potential. Whether you're a local or just visiting, there's no better way to explore the UAE's breathtaking desert vistas than by hopping onto a dune buggy and zipping through the sands.
Essential Dune Buggy Components
Before diving into the different types of dune buggies, let's quickly examine the essential components that make these vehicles so versatile and fun to drive.
The chassis and frame form the backbone of a dune buggy, providing the necessary support and structure for all other components. These elements need to be lightweight yet strong to handle the harsh conditions of off-roading in the desert.
A dune buggy's suspension system is critical for absorbing impacts and maintaining stability on uneven terrain. The more advanced the suspension, the smoother and more comfortable the ride.
3. Engine and transmission
Dune buggies require powerful engines to tackle the challenging desert environment. The engine and transmission work together to provide torque and horsepower for climbing dunes and maneuvering through the sand.
Specialized tires are essential for dune buggies, providing traction and flotation on the soft desert sands. Wide, knobby tires with deep treads are commonly used for this purpose.
Safety is paramount when it comes to dune bugging. Roll cages, harnesses, and helmets are just a few of the essential safety features to look for in a dune buggy.
Types of Dune Buggies in Dubai
There are different types of dune buggies used in the Dubai desert safari. They are available in various sizes, shapes, and designs.
Most rental dune buggies in Dubai have four wheels, but you can also find tri-wheeler buggies. These dune buggies are owned by tour companies that provide them to tourists during their dune buggy tours. Let's look at the types of dune buggies used for desert adventures in Dubai.
1. Single Seater Dune Buggy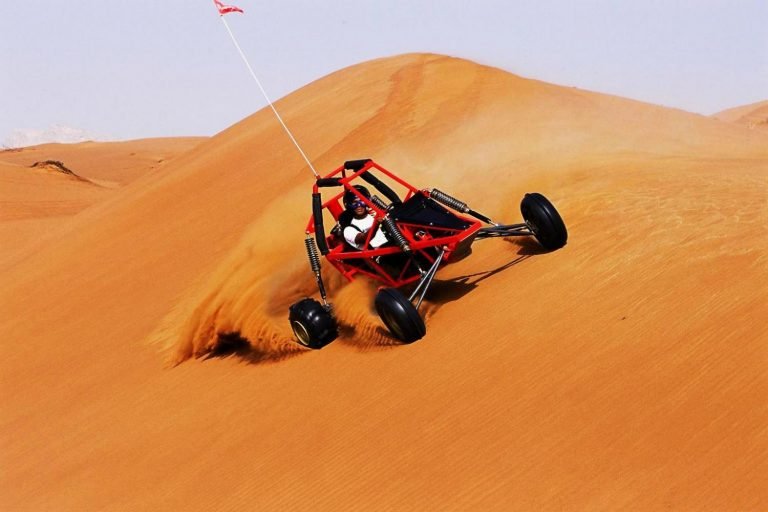 You are an adventure and thrill-loving person and like to face danger and thrill.
A single-seater dune buggy is a perfect vehicle for you to fill your desire for action. Several travel companies provide their clients with these vehicles for dune bashing in Dubai.
1.1 AEON Dune Buggy For Safari in Dubai
AEON, a manufacturer of automobiles and vehicles, has introduced various models of single-seater dune buggies to use in desert adventures. 
AEON dune buggy is a single-seater with electronic power steering. This vehicle is designed to move on any surface with low-pressure tires. With style and strength, you can find a fantastic model of these dune buggies in Dubai.
1.2 Polaris Single Seater Dune Buggy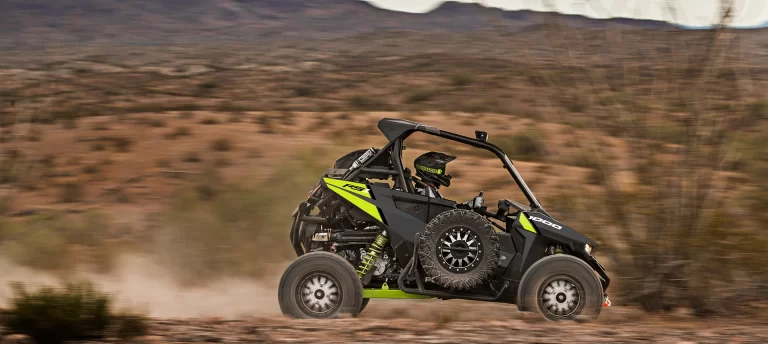 Polaris is also among the manufacturer of dune buggies. Polaris RS1 is a single-seater dune buggy with one thousand CCs.
Off-roaders love to play with this buggy on the red dunes of the Dubai desert.
Polaris RS1 comes stroke DOHC twin-cylinder, electronic fuel injection, and 4-stroke DOHC twin-cylinder, which generates enough power to climb in any big dune in UAE.
If you like to travel alone, this one-seater dune buggy is perfect for your desert adventure with full safety measures.
They are expensive, and a single ride may cost you a lot. But what is a better feeling than to fulfill your desires if you can?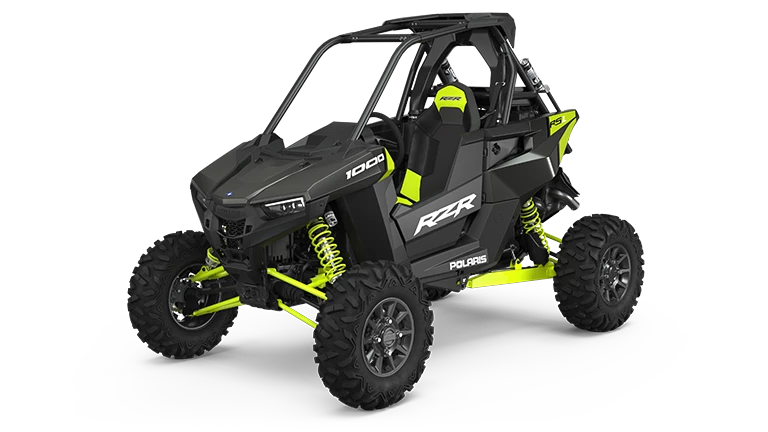 2. Double Seater Dune Buggy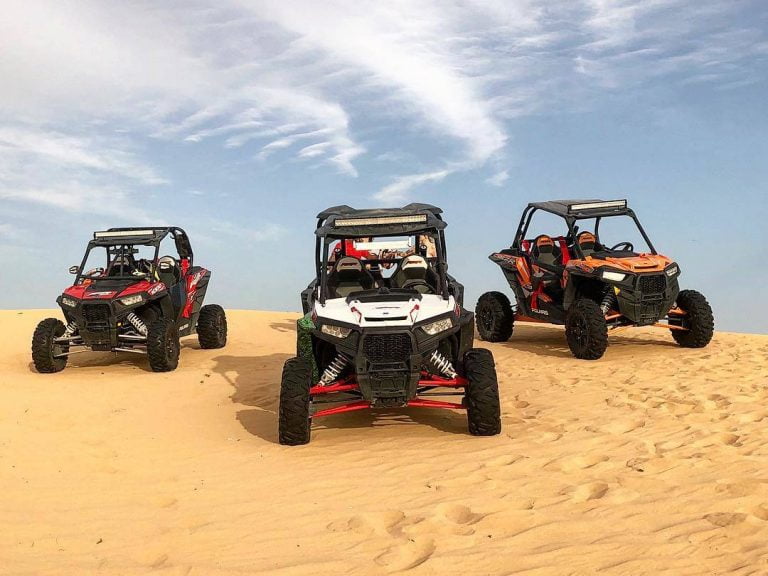 There is a quad-wheel motor vehicle with seats for two passengers. This dune buggy in the Dubai desert comes with a removable rooftop for an open-air adventure.
These dune buggies are automatic. They are an all-terrain runner and come with a powerful engine. 
2.1 Polaris Double Seater Dune Buggy
Polaris RZR XP 1000 is one of the most potent double seater dune buggy available in the Dubai desert. 
The RZR XP 1000 is engineered for unwavering performance with an ideal blend of power, suspension, and agility in a perfectly-balanced chassis that provide the ultimate in confidence and control.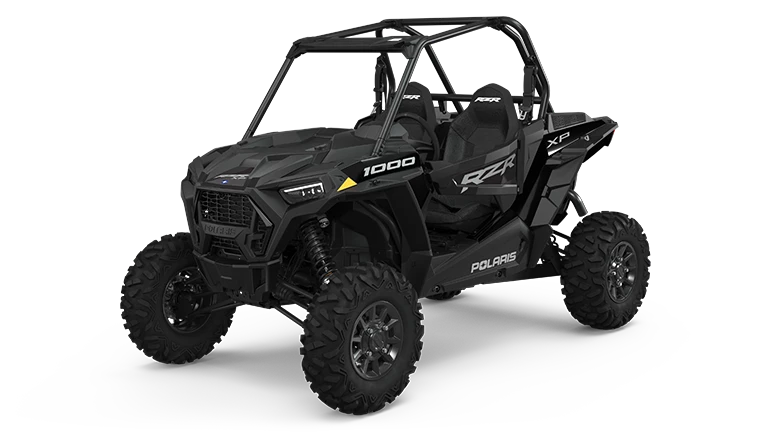 Take a quick trip through the desert sands in the mind-blowing 2-seater dune buggy Maverick X3 X RS Turbo RR. X3 RS Turbo is one of the powerful buggy available in the Dubai desert; it comes with 200 hp, Rotax ACE (Advanced Combustion Efficiency) 900 cc Turbocharged Triple-cylinder engine.
The suspension of this beautiful buggy is incredible. Can-am is one of the leading manufacturers of these dune buggies, providing a fantastic experience with their vehicles.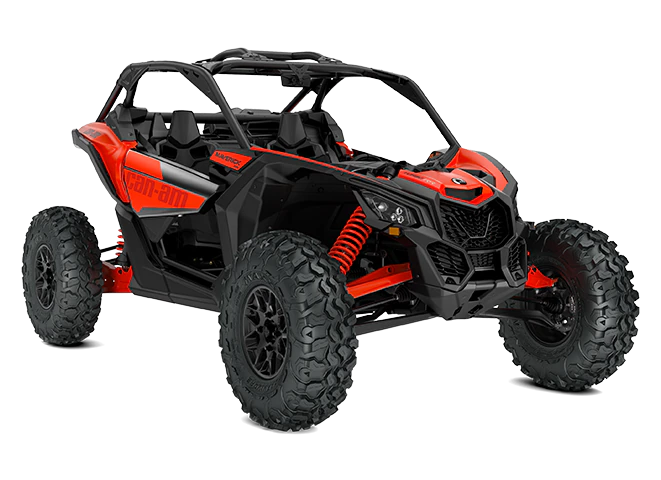 Another type of dune buggy in Dubai desert available for tourist adventures is four wheeler dune buggy with three seats. Enjoy your ride through the desert with your group in these open-air, strong engine, and metallic body buggy. It is easy to drive. You can drive the dune buggy by yourself or enjoy the desert safari as a passenger while the driver is handling the carriage. Take photos with your friends and of the desert too.
Tri seated dune buggies have the advantage that you can use them to carry luggage in the Dubai desert. Maximum three people can ride as the name suggests. Several companies are manufacturing these dune buggies.
4. Four Seater Dune Buggy
Enjoy a desert ride in a fully automatic four-seater dune buggy in Dubai. The vehicle comes with a robust working engine and a strong body. 
Apart from one, two, and three-seater buggy, companies are also moving another step ahead with the four-seater vehicle. For a group of four people, dune buggies are available at a reasonable price. 
You can also share the carriage with someone else to reduce the expense with other members. That will be a cheap and economic off-road experience.
4.1 Can-Am X 4 Seater Dune Buggy
Take a ride in a 4-seater buggy through our desert playground. Fast enough for Dad to be thrilled, safe enough for Mom to relax, our buggy roller-coaster will have Brother wanting more, and of course, the absolute beauty of the magnificent dunes and landscape will have Sister in Wonderland.
These dune buggies come with all safety measures for an off-road ride. You can have these buggies without rooftop or covered rooftop. The choice is yours. Drive your buggy by yourself or enjoy the ride by sitting as a passenger while the driver can give you a ride.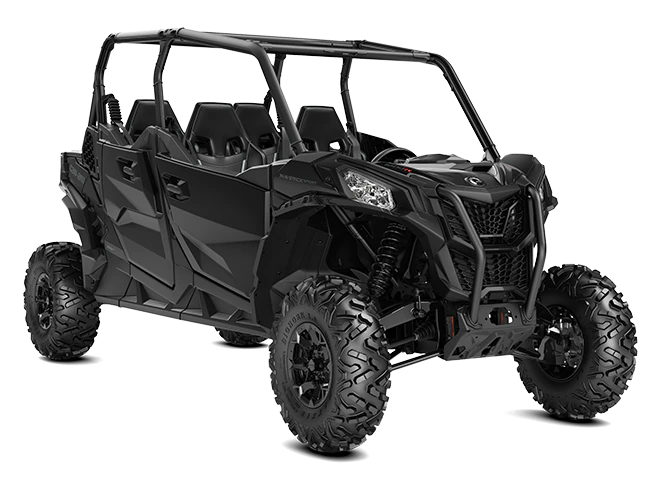 How much does dune buggy tour cost in the desert in Dubai?
The rental price of these dune buggies varies. Dune buggy driving in Dubai also depends on which type of dune buggy you are renting in the Dubai desert and how long you want to go on this beautiful beast in the Dubai desert. Here is the list of prices for dune buggy in Dubai.
Type of Dune Buggy
Duration
Price Per Buggy
Tour Type
Single Seater RS1
1 Hour Drive
AED 800
Morning Safari With Dune Buggy
Single Seater RS1
2 Hours' Drive
AED 1000
Early Morning
Single Seater RS1
1 Hour Drive
AED 1600
Desert Safari With Dune Buggy
Single Seater RS1
2 Hours' Drive
AED 1900
With Dinner
Single Seater RS1
1 Hour Drive
AED 800
Night Raid
Single Seater RS1
2 Hours' Drive
AED 1000
Night Raid
2 Seater Can-Am X3
1 Hour Drive
AED 1100
Early Morning
2 Seater Can-Am X3
2 Hours' Drive
AED 1600
Early Morning
2 Seater Can-Am X3
1 Hour Drive
AED 2800
With Dinner
2 Seater Can-Am X3
2 Hours' Drive
AED 3400
With Dinner
2 Seater Can-Am X3
1 Hour Drive
AED 1100
Early Morning
2 Seater Can-Am X3
2 Hours' Drive
AED 1600
Early Morning
4 Seater Can-Am X4
1 Hour Drive
AED 1400
With Dinner
4 Seater Can-Am X4
2 Hours' Drive
AED 1800
With Dinner
4 Seater Can-Am X4
1 Hour Drive
AED 3800
Night Raid
4 Seater Can-Am X4
2 Hours' Drive
AED 4600
Night Raid
4 Seater Can-Am X4
1 Hour Drive
AED 1400
Night Raid
4 Seater Can-Am X4
2 Hours' Drive
AED 1800
Night Raid