Places to Visit in Dubai At Night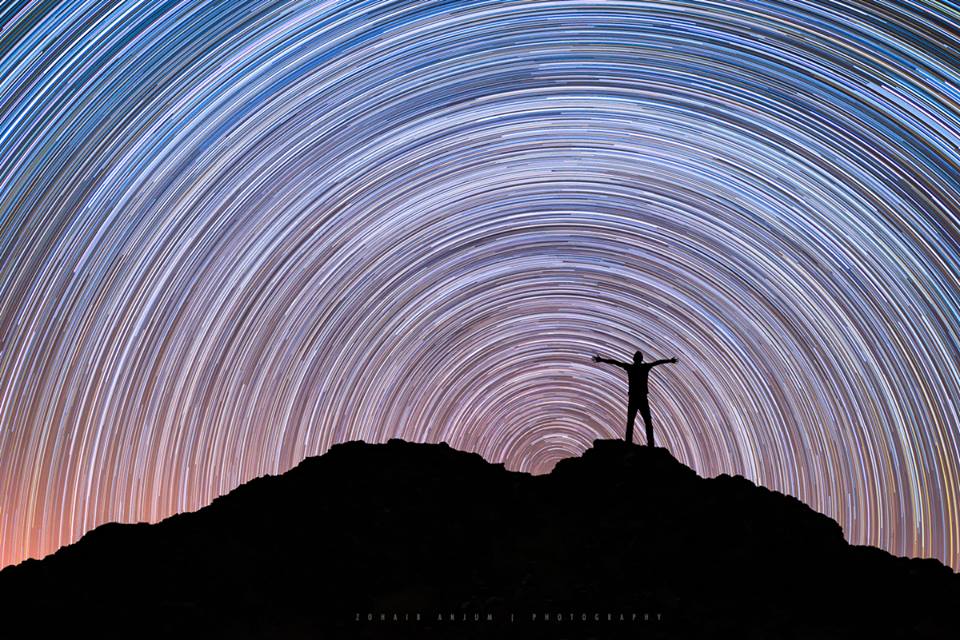 Dubai is a cosmopolitan, diverse city with lots to offer to both its tourists and its inhabitants. An unmissable destination in the Middle East.The city offers a wide variety of experiences from crazy shopping opportunities to historical landmarks, and is sure to make unforgettable memories to any lucky traveler able to visit it.
There are so many things to do in Dubai that the list would never end. So we've decided to go in specifics.! While there are plenty of places to explore during the day in Dubai. Here are the top fifteen things that you might have missed, and are best visited during the exciting hours of the dark.
1. After Dark golfing at Tee & Putt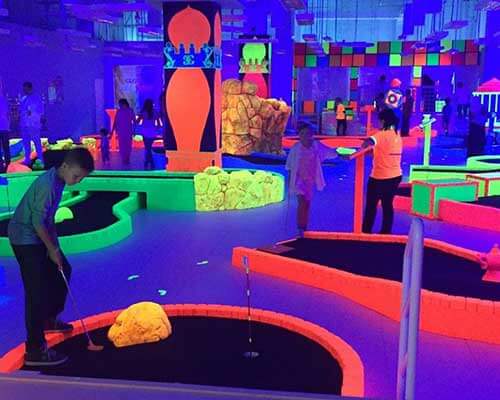 For a chill start to your evening, gather some friends and family and enjoy a round of mini golf at Tee & Putt. Open until late inside the Wafi Mall. This extra terrestrial themed golf course is sure to bring a lot of fun to your night. Everything glows in the dark, and the atmosphere is meant to have you travel all the way to unknown corners of space Don't hesitate to visit if the weather outside isn't so good. It's the best place to spend a few hours indoors.
If you can't get enough of glowing neon and want to keep this theme throughout the night. You should then visit the Glow Garden: these glowing installations are put up in a huge garden that just awaits night owls, and is best visited at night in order to enjoy all the beautiful colors brought by over 150 artists.
And just because the glowing never seems to stop in the city, why not add a third activity to your neon evening? Urban Yoga's Glow and Flow offer after sunset sessions in full black light so you can rock your most fluorescent gym outfit in the dark of this innovative yoga session.
2. Rooftops Bars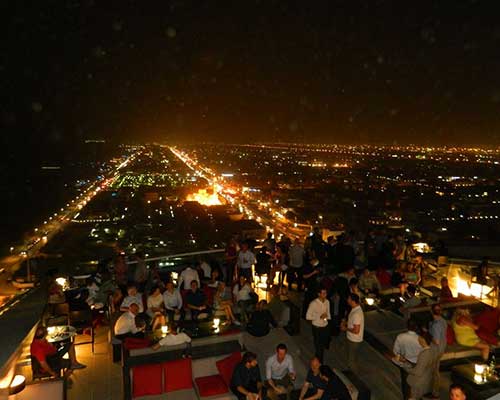 What better way to enjoy a good skyline than from a comfy couch up a skyscraper? If the night isn't cloudy, take your pick among the several rooftop bars that the city offers, and relax with a cocktail as you admire the water and the city. Among the most well-known and appreciated sight seeing bars, the Uptown Bar up Jumeirah Beach Hotel which will serve you food and drinks on the 24th floor.
The 360 Lounge offers a panoramic view of the city and its coastline, and also has an indoor club for the wildest parties that end late in the morning. There are plenty of choices for the party-goers, so all there is left to do is pick a bar and have fun from sunset to dawn.
3. Dubai Fountains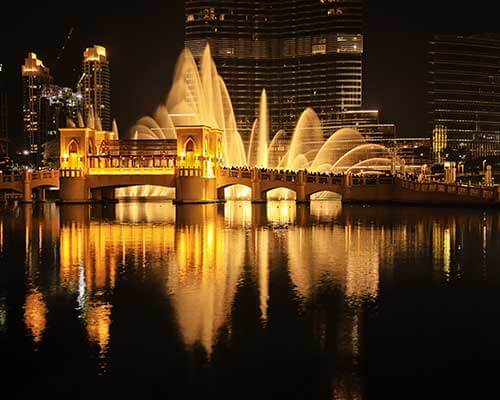 A well known attraction and one no visitor should miss, the daily Dubai Fountain show is a music and light spectacle that runs through 6pm to 11pm every 30 minutes and will delight everyone in the family. The water show is famous worldwide for being an exceptional and unique moment. While free, it is best enjoyed while seated at a bar or restaurant nearby for the full experience and true relaxation. Wait until the sun has set to witness it, as it will be made more beautiful by the dark sky and shiny lights of the city.
4. Ride in a Helicopter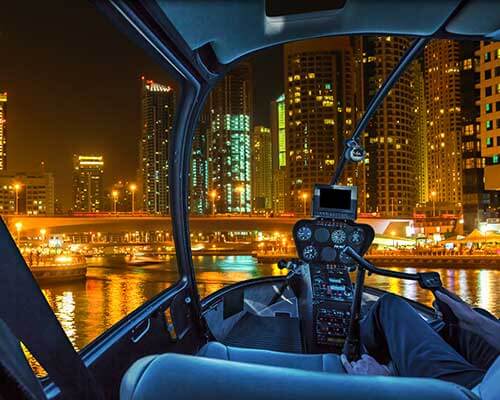 Dubai gives everyone many different choices to take in its impressive skyline! One of them is a rather unique opportunity: it can be either a more romantic option or just plain fun to anyone that likes heights. Yes, you guessed it: helicopter rides of a bit less than 30 minutes are available to anyone interested. They will give a never-seen-before view of Dubai Creek, the huge golf club as well as various monuments to passengers, and are definitely worth your business.
5. After-dark shopping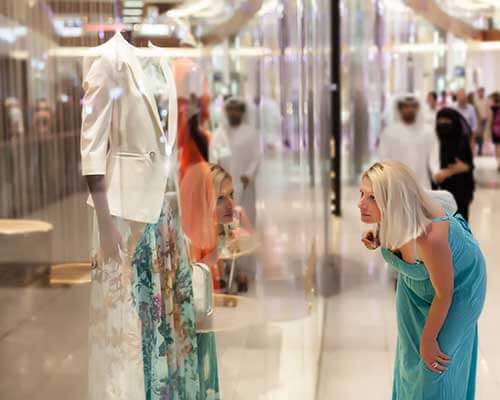 As previously mentioned, Dubai is heaven for anyone who likes to shop. After a busy day at work or a packed day of visiting, bring you and your credit card to one of the malls that are open for your shopping pleasure until midnight. Here, Dubai offers a rare chance of buying a car well past your bedtime. This might be the opportunity you were looking for, or just a lot of fun!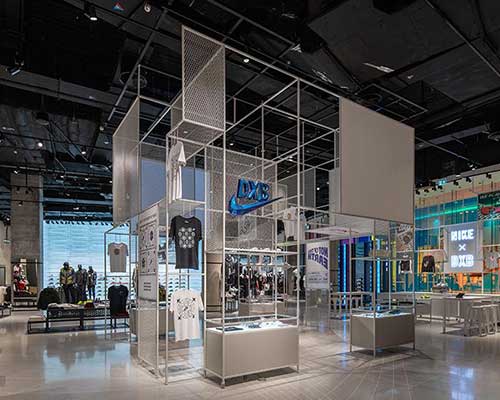 6. Arabian Night Safari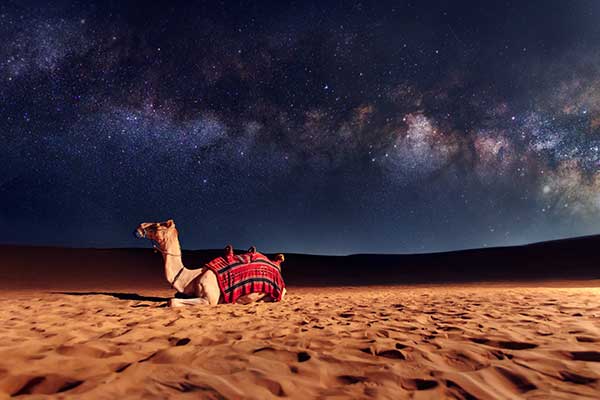 The city of Dubai is filled with a lot of organized tours of various attractions and places, but one no one should miss is a desert safari. Best done at night in order to escape the busy city and enjoy the starry night of the Arabian desert, these tours offer many different activities and are the perfect romantic gateway. Between discovering the Bedouin culture and riding a camel in the sand, those safaris are unique opportunities that shouldn't be missed.
7. Outdoor cinema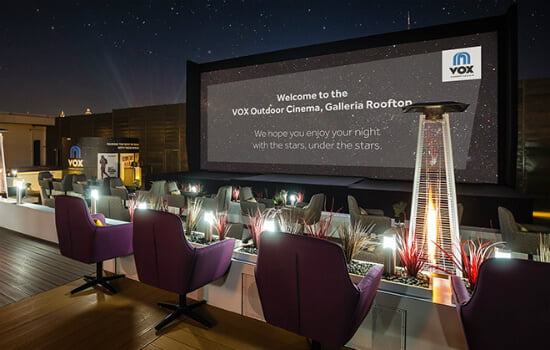 The film lovers of the world know that there are few things like an outdoor cinema screening at night. Located on a rooftop, the Galleria Mall outdoor screen provides two-people cabanas as well as blankets, all the needed snacks, and of course the latest movie you were waiting to see under the stars.
8. Gastronomy Tour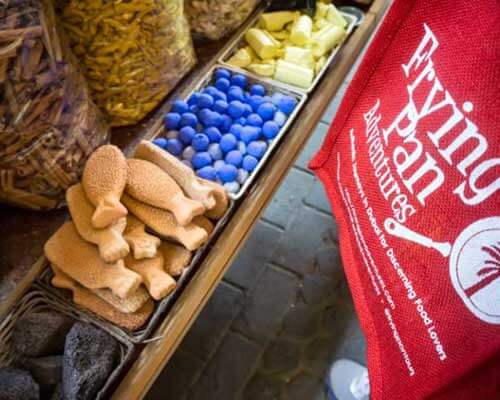 The Frying Pan Adventures organize night tours of the city for the food lovers among us. This evening tour will let you enjoy two of the best things in Dubai: authentic night life, and authentic food. From the snacks you can eat in the streets to cafés you would never have noticed if it wasn't for the guide, this is an adventure you don't want to miss.
For a true nightlife experience, you could also get a reservation at the Fairmont Dubai, that has guests eat in pitch black darkness. You'll know what you've eaten at the end of your meal when they turn the light back on and end a once in a lifetime experience to rediscover your senses. After all, why not start a night out with the lights out?
9. Scuba Diving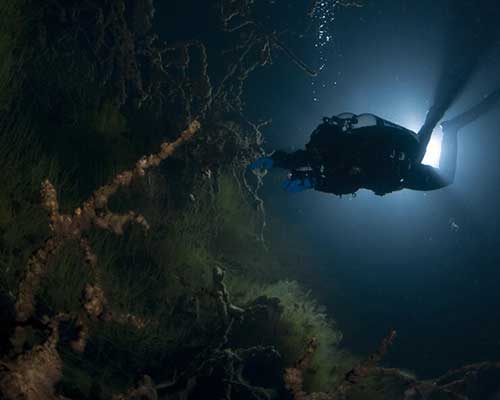 Yes, you read that right. Dubai lets the most adventurous people take a deep dive in the ocean when the sun has set in order to see the water come to life after dark. Al Boom Diving has a lot of different options when it comes to post sunset fun around the water, including boat tours, shark dives and the infamous night dives.
10. Night at the Spa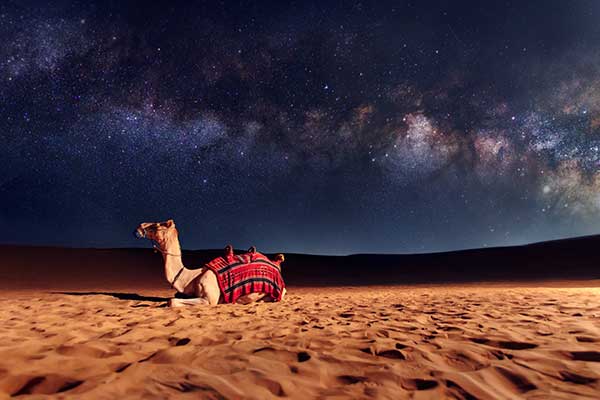 If all this adventure between the desert and the ocean is a bit too much for you, why don't you go and spend your night like you were meant to be: relaxing. The Mall of the Emirates offers a 24 hour spa service so you can unwind before, during or after an exhausting day or night out. The amazing staff will guarantee your skin and body will be taken care of whenever you need to and however you need whether it's a facial, massages or all kind of beneficial services at their facility.
11. Authentic Markets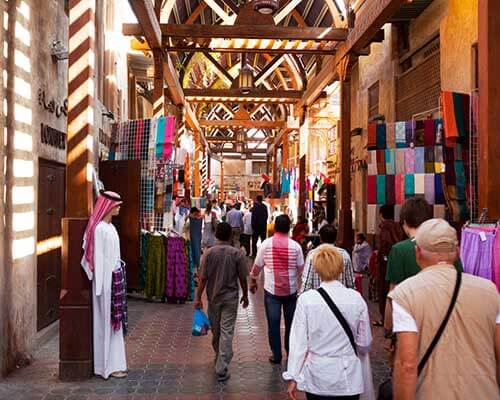 If shopping malls aren't your thing but you enjoy the atmosphere of markets, wait until the sun is down to enjoy the gold souks and the spice markets. An explosion of colors, sound and smells, these will surely have a lasting impression on visitors and deserve your attention. If you're a buyer, get ready to spend your money on all sorts of jewelry or spices, and if you're not planning to buy anything then just enjoy the walk through markets you won't see anywhere else in the world.
12. Climb higher than Everything Else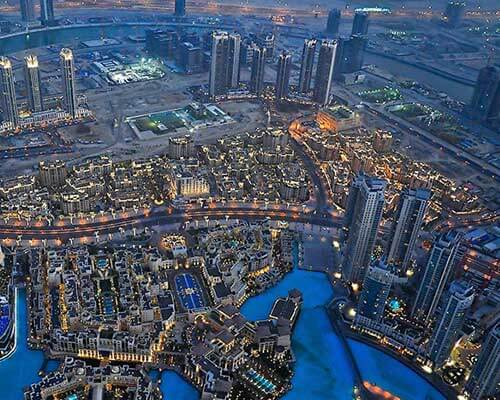 Dubai is the place where the world's tallest building is located: the world famous Burj Khalifa. You can't miss it by day, but you can't miss it by night either! It stands straight all the way to the sky, and an award winning restaurant on the 122nd floor will be the highest you've ever eaten something delicious. At night, the landscape glimmers between the stars and the city lights, and it's a breathtaking sight you can't miss.
13. Aquarium and underwater Zoo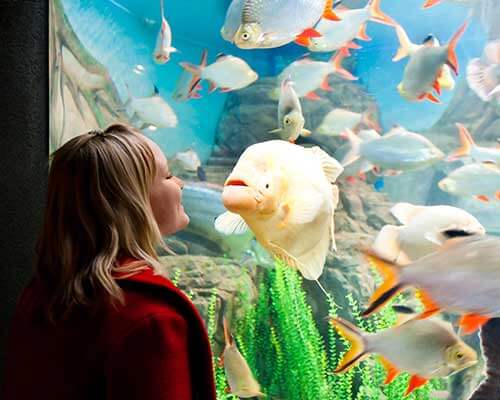 For a night out with children or for any animal fan, Dubai lets visitors enjoy one of the most beautiful aquarium and underwater zoo in the region until 12am on the week-ends. The only place where you'll be able to walk underneath an almost 50 meter long tunnel and face all sorts of fishes and sharks, don't miss this incredible experience at the Dubai Mall.
14. Walk on the Beach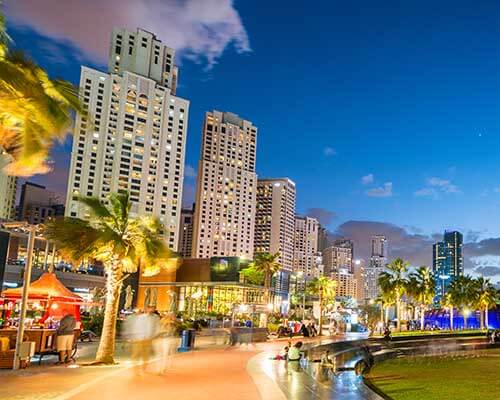 Another quieter activity to start, end or take a break during your night, the Jumeirah Beach has never looked more beautiful after dark. Known to be a very classy beach, you'll be able to enjoy the sand and the water at any hour of the night. A romantic setting or just a nice place to chill out, the sandy paradise has everything you need to have a perfect moment under the stars.
15. Night skiing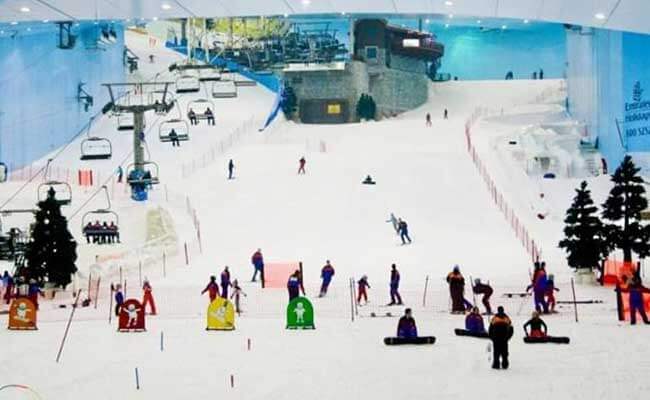 Last but not least, why not end this list with something you wouldn't expect to do in Dubai at all? Aside from sand skying in the desert. Mall of the Emirates offers a unique and fun experience for the whole family by having a full ski slope within the city. Nothing is impossible in Dubai, and this man built mountain will allow the adventure seekers to be deep in the winter for an evening and until midnight on the weekends.
All in all, Dubai is a city that has something for everyone. This list isn't the be all and end all of after dark activities, but you have a myriad of choices depending on your taste, your mood, your company and your bank account. What's guaranteed is only one thing: Dubai is there to make sure you won't forget a single evening you spent in the beautiful city.