Things to Do in Dubai: The Ultimate Guide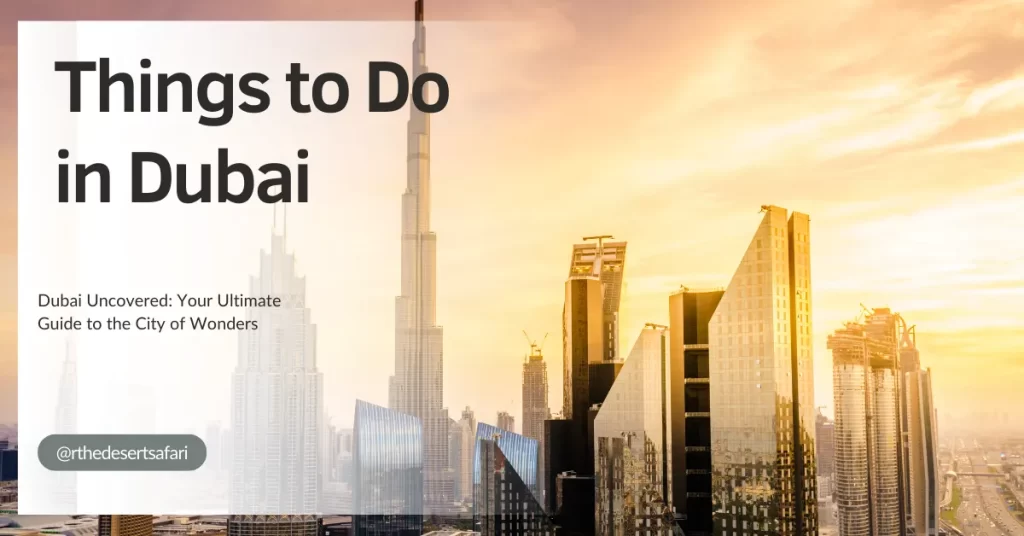 Are you on the hunt for the perfect Dubai experience? Well, you're in the right place! This city of wonders has everything from shimmering skyscrapers to undulating desert dunes. Let's dive headfirst into the excitement and glamor that is Dubai. In this blog post, we discuss the best things to do in Dubai.
Dubai, the most populous city in the United Arab Emirates (UAE), is a cocktail of cultures, a paradise for shoppers, and a marvel of modern architecture. But where do you start? What are the must-do things in Dubai? Let's unravel the charm of this Arabian city together.
Best Places to Visit in Dubai
1. The Skyscrapers: Touching the Sky in Dubai
You can't think of Dubai without imagining its dazzling skyline. With a skyline that seems to be in a constant race to the heavens, it's no wonder that tourists flock to these modern-day pyramids.
The Burj Khalifa: More Than Just A Tall Building
Standing at an astounding 828 meters, [Burj Khalifa] is a true architectural marvel. This skyscraper isn't just tall—it's the tallest structure and building in the world! Why gaze at it from afar when you can ascend to its observation deck and drink in a bird's eye view of the city?
Did you know?
The Burj Khalifa has the longest single-running elevator, which covers a distance of 140 floors.
2. Old Dubai: Walk Down the Memory Lane
While the city is known for its glitz and glamor, it still has its roots. Uncover the history of Dubai in the narrow, winding alleys of Old Dubai.
Al Fahidi Historic District: A Stroll Through Time
Every trip to Dubai is complete with visiting the Al Fahidi Historic District, where the city's past comes alive. Get lost in its labyrinthine streets and be transported back to when Dubai was a humble fishing village.
3. Dubai's Delights: A Gastronomic Adventure
Let's shift gears. Did you know Dubai is a paradise for food lovers? With cuisine from every corner of the world, this city is every foodie's dream come true.
Food Tours: Tasting Dubai One Bite at a Time
Want to savor the flavors of the city? Consider a guided food tour that'll take you to hidden gems only locals know about. What's on the menu, you ask? Everything from Arabic coffee and dates to falafels and kebabs.
4. Golden Sands: The Call of the Desert
Let's shift gears. Did you know Dubai is a paradise for food lovers? With cuisine from every corner of the world, this city is every foodie's dream come true.
Desert Safari: An Unforgettable Arabian Experience
Fancy an adrenaline-fueled dune bashing experience or a quiet night under the stars in a Bedouin-style camp? A desert safari offers both and more. It's a must-do in Dubai, with unforgettable experiences waiting at every turn.
5. Retail Therapy: The Allure of Dubai's Shopping Malls
Dubai isn't known as a shopping paradise without reason. There's something for everyone here, from world-renowned fashion brands to local markets.
Dubai Mall: Shopper's Paradise
There's more to Dubai Mall than just shopping. With an array of entertainment options, including an aquarium, an underwater zoo, and an indoor theme park, the Dubai Mall is a world unto itself. Talk about retail therapy!
6. Dubai Marina: The Sophisticated Side of Dubai
Experience the more relaxed and sophisticated side of Dubai at the Marina. With an array of waterfront dining options and a mesmerizing skyline, this is the perfect place to unwind after a day of sightseeing.
Yacht Tour: Cruise the Marina in Style
Why not take a yacht tour for a different perspective of the city? A leisurely cruise around the Marina, especially at sunset, is an experience not to be missed. Get your camera ready for some spectacular shots.
7. Dubai's Nightlife: The City That Never Sleeps
When the sun sets, Dubai truly comes alive. Its nightlife is renowned worldwide, with an array of options that cater to every taste.
Clubs and Lounges: Dance the Night Away
Dubai's club scene is hot, with international DJs often gracing the decks. Want a quieter night out? Try one of the city's lounges where you can relax with a drink and enjoy the city lights.
8. Dubai Parks And Gardens
Dubai is well-known in the world for its beautiful and attractive parks. Well, the famous Dubai miracle garden gives the view of Eden for its colorful flowers. There are loads of water parks where you can enjoy swimming and boating. Lego Land is the best place to amuse your kids. It is full of different rides and swings.
Wild Wadi Park locates in the area of Jumeirah. It finds in front of Burj Al Arab. This park has a cooled wave pool, water slides, and two artificial surfing machines. The park had the largest water slide. Now it is removed to make space for two other rides. The important feature of this park is an 18-meter waterfall that goes off every ten minutes. It has three restaurants, two gift shops, and two snack stands.
Things to do in Dubai When Alone
Traveling solo allows you the freedom to immerse yourself in a new culture fully, and Dubai is the perfect playground.
Solo Adventure Activities
Embark on an adventurous desert safari, or try your hand at sandboarding. For a birds-eye view of the city, nothing beats skydiving over Palm Jumeirah.
For those seeking relaxation, the traditional Hammams offer a unique wellness experience. Alternatively, you could explore the diverse art scene at Alserkal Avenue.
Join a guided tour of the Dubai Museum to delve into the city's history or a food tour to savor authentic Emirati cuisine.
Things to do in Dubai for Bachelor
For those seeking a vibrant bachelor's life, Dubai is an oasis of vibrant nightlife and adventure.
Nightlife and Entertainment
Enjoy the pulsating Dubai nightlife by visiting trendy nightclubs, or go on a dhow cruise for dinner under the stars.
Bachelor Adventure Activities
Venture into deep-sea fishing or tackle Ski Dubai's largest indoor snow park.
Embark on a tour to Dubai Autodrome for an exhilarating go-karting experience, or explore the underwater world at the Dubai Aquarium & Underwater Zoo.
Things to do in Dubai for Elderly
Dubai is a city that caters to all ages, providing opportunities for a serene and enriching visit for the elderly.
Cultural and Historical Sites
A visit to the Al Fahidi Historical Neighbourhood allows a glimpse into the city's past, while Jumeirah Mosque offers insights into Islamic culture.
Spend a peaceful day at the Miracle Garden, or take a relaxed sunset dhow cruise along Dubai Creek.
Join a guided tour of the Dubai Opera or the Etihad Museum for an enlightening and enjoyable day.
Things to do in Dubai with a Newborn
Navigating Dubai with a newborn can be seamless and enjoyable, thanks to the city's family-friendly infrastructure.
Family-Friendly Activities
Visit the Dubai Aquarium and Underwater Zoo or picnic at the lush Zabeel Park.
Child-Friendly Restaurants and Cafes
The city offers many kid-friendly dining options, like Rainforest Cafe and The Cheesecake Factory.
Consider a fun-filled tour of the IMG Worlds of Adventure, the world's largest indoor theme park.
Things to do in Dubai When It Rains
Rainy days in Dubai bring a unique charm to the city. Here are some of the best things to do in Dubai when it rains.
Visit the Green Planet, a tropical rainforest in the city's heart, or challenge yourself at Phobia Dubai, a thrilling escape room game.
Explore the fascinating exhibits at the Museum of Illusions or catch a movie at the luxurious VOX Cinemas.
Join an indoor city tour covering attractions like the Dubai Frame and the Dubai Mall.
Things to do in Dubai for Date Night
Dubai's glamorous cityscape offers endless options for a magical date night.
Enjoy a romantic dinner at Pierchic, offering stunning views of the Burj Al Arab, or savor delicious food at Atmosphere, the world's highest restaurant located in Burj Khalifa.
Unique Experiences for Couples
Try a hot air balloon ride over the Arabian desert at dawn, or a relaxing couples massage at one of the city's top spas.
Consider a moonlit desert safari or a private yacht tour for an unforgettable experience.
Things to do in Dubai When Pregnant
Even when you're expecting, Dubai ensures you can have a comfortable and enjoyable time.
Wellness and Spa Experiences
Indulge in prenatal spa treatments available at several wellness centers. Enjoy a walk along the Dubai Canal or shopping at the Dubai Mall.
Visit the various baby boutiques in the city or attend prenatal classes at maternity wellness centers.
Take a tour of the Dubai Butterfly Garden, a tranquil and beautiful experience, or take a leisurely dhow cruise.
Things to do in Dubai for Disabled
Dubai is committed to becoming a disability-friendly city by 2020, with many facilities and attractions designed for accessibility.
Accessible Tourist Attractions
Visit the Dubai Mall, which offers wheelchairs and electric carts. Explore the Miracle Garden that provides pathways wide enough for wheelchairs.
Disabled-Friendly Activities
Watch a movie at VOX Cinemas with special needs facilities or take a stroll at the Dubai Creek, equipped with ramps for easy access.
Most city tours in Dubai are equipped to cater to people with disabilities, making sure everyone has a chance to enjoy the city's marvels.
Things to do in Dubai for Car Lovers
Dubai's love affair with cars is well-known, making it a dream destination for car enthusiasts.
Dubai Autodrome offers exciting motor racing experiences. For an off-road experience, you can opt for a desert dune buggy ride.
The Emirates National Auto Museum displays an impressive car collection. In addition, Dubai hosts the annual International Motor Show, a must-visit for car lovers.
Consider a tour to the Dubai Grand Prix Circuit or a visit to the world's largest Lamborghini showroom.
No matter your interests, Dubai offers many experiences that cater to all. This bustling metropolis offers a melting pot of cultures and unforgettable adventures, making every visit an enthralling experience.