Shisha in the Dubai Desert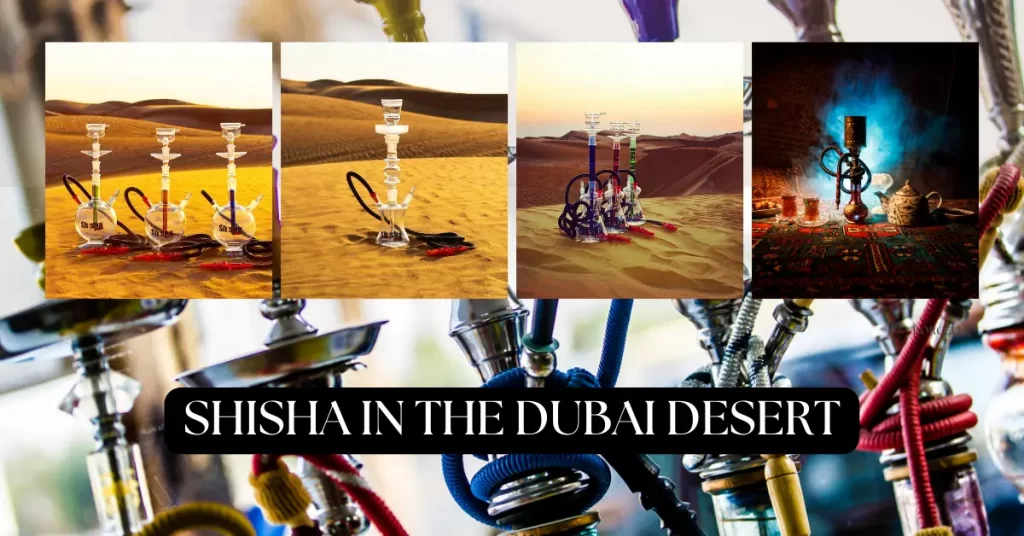 Dubai is known for its stunning buildings and beautiful deserts. But another thing that makes Dubai unique is the experience of enjoying Shisha in Dubai desert under the stars.
Desert Nights and Shisha Delights
When the sun sets, the desert comes alive in a unique way. Imagine sitting on soft sand, looking at the stars, and trying traditional shisha. It's a mix of Dubai's rich history and the beauty of nature all in one.
The Traditional Shisha Experience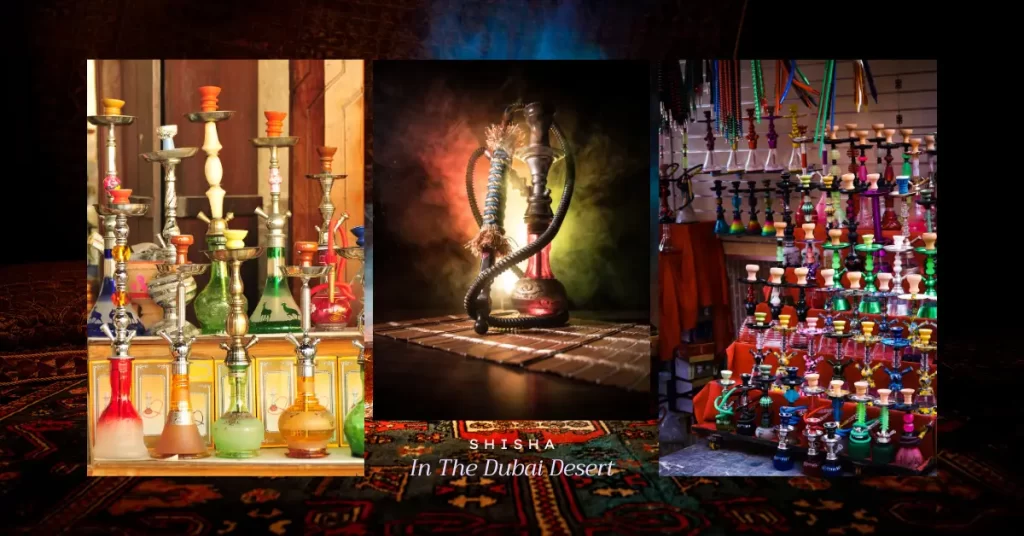 Shisha is a particular part of Middle Eastern culture. It's been enjoyed by people for many years. It's more than just smoking; it's a time for friends and family to come together and share stories.
Shisha is a water pipe used to smoke flavored tobacco. The tobacco is often sweet, with flavors like apple, mint, or cherry. When you take a puff, the smoke goes through water first, which cools it down.
Shisha's Place in Culture
In many Middle Eastern countries, including Dubai, shisha is a favorite pastime. People often gather in cafes or lounges to enjoy shisha together. It's a way to relax, chat, and spend quality time with loved ones. It's not just about the taste or the smoke but the memories and bonds formed around it.
An Adventure Beyond Sand Dunes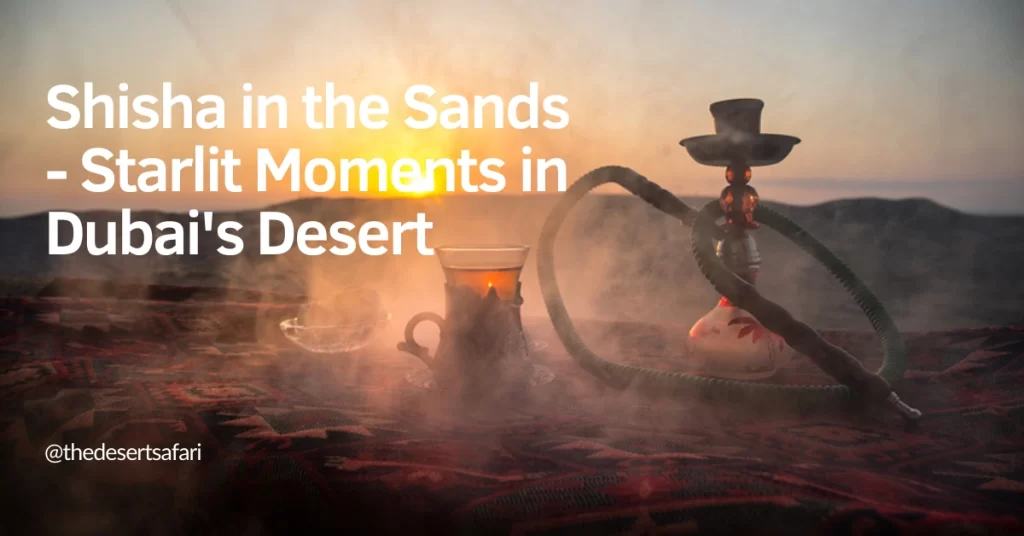 Dubai's desert is a world of adventure waiting for you to discover. But it's more than just sand and dunes. Let's see what makes it so unique.
When you think of a desert, you might picture endless sand. But the Dubai desert is full of life and surprises. From unique plants and animals to breathtaking sunsets, there's always something new to see.
A safari ride is one of the best things to do in the desert. Imagine cruising over tall dunes, feeling the thrill as you go up and down. It's like a natural roller coaster!
But the real magic starts when the sun goes down. The sky fills with stars, and the desert becomes calm and peaceful. And what better way to enjoy this than with shisha in your hand? With "desert safari with shisha," you get to experience the beauty of nature while enjoying a traditional pastime.
Flavors of the Shisha in the Desert
Shisha is loved by many for its rich flavors. Just like the desert has many wonders, shisha has a variety of tastes. Let's explore some popular ones!
Many people love fruity shisha. Flavors like apple, grape, and berry are top picks. They are sweet and make the smoke smell nice.
Mint shisha is like a breath of fresh air. It's cool and gives a tingle. Many enjoy it on a hot day in the desert.
Some shisha flavors take you back in time. Flavors like rose or jasmine remind many of old Dubai. They are soft and floral.
The best part about shisha? You can mix flavors! Many people like to combine two or more to make a new taste. For example, apple and mint together can be refreshing.
Complimentary Shisha Lounge Experience
Everyone loves getting something extra, right? In our desert safari, we have a special treat for you: a shisha lounge where you can enjoy shisha for free!
After all the fun in the desert, our shisha lounge is the perfect place to sit back and relax. You'll feel at home with comfy seats and a cozy setting. The best part? Watching the stars as you enjoy your shisha.
It's simple. If you join us for the Evening or Overnight desert safari, you get to try shisha for free in our lounge. But remember, this is a special area just for shisha. If you want to have shisha at your own table, there will be an extra cost.
Personalized Shisha Experience on Your Table
While our shisha lounge is great, some people like more privacy. And we get it! So, we have an offer for those who want their shisha served right at their table.
Shisha, Just the Way You Like It
Do you want to enjoy shisha without moving from your spot? We've got you covered. Choose your favorite flavor, and we'll bring the shisha right to your table. It's like having your very own shisha service.
This personalized service comes with a small extra cost. But for the comfort and special feeling of having shisha at your table under the stars, many find it worth the price.
Great for Special Moments
Are you celebrating something? Maybe a birthday or an anniversary? Having shisha at your table makes the moment even more special. It's also perfect for romantic evenings in the desert.
Shisha Smoke Price in Dubai Desert Safari
Dubai offers many experiences, and shisha in the desert is one of the highlights. But how much does it cost? Let's break down the prices for you.
Complimentary Lounge Offer
First things first, if you're in our dedicated shisha lounge during the Evening or Overnight safari, enjoying shisha won't cost you a thing. That's right! It's on the house, letting you enjoy the traditional experience without any extra charge.
Personalized Table Service
If you prefer the comfort of your own table, there's a small fee. This ensures you get a personalized experience. The price can vary based on the flavor and the size of the shisha. It's always best to ask our staff for the current rates.
Planning a bigger gathering or a corporate event? We offer special packages for groups. These can include multiple shisha setups and a variety of flavours. Again, prices can differ based on your needs, so it's a good idea to get in touch with us for a detailed quote.
Group and Event Arrangements
Dubai's desert is more than just a place for solo adventures. It's also perfect for groups and events. And when it comes to shisha, we ensure every guest has an unforgettable experience.
Whether you're with friends, family, or colleagues, we arrange everything to fit your group's size and preferences. Want multiple shisha setups? Different flavors for everyone? Just let us know, and we'll handle the rest.
Special Events Shine Brighter
Celebrating a special occasion in the desert? Maybe it's a birthday, a corporate gathering, or even a wedding. Adding shisha to the mix can make the event even more memorable. Our team ensures timely setup and efficient service, so your event runs smoothly.
For group arrangements, it's always a good idea to book in advance. This helps us prepare better and offer you the best. And don't worry about the details. Our team will guide you through the options and help you pick what's best for your group.
Safety and Health Considerations
Enjoying shisha in the desert is a wonderful experience. But like all things, it's essential to be aware of safety and health. Here's what you need to know to have a safe and enjoyable time.
Shisha is delightful, but it's good to enjoy it in moderation. A typical session can last an hour. So, take breaks, especially if you're new to shisha.
Your health is our priority. We ensure every shisha pipe is cleaned and sanitized. We also use disposable mouthpieces, ensuring each guest has a fresh and clean experience.
Smoking shisha can make you feel thirsty. It's crucial, especially in the desert, to drink plenty of water. Always keep a bottle handy and take sips regularly.
Dubai's desert tells a captivating story of adventure, stars, and unforgettable moments. Introducing shisha to this narrative elevates it, turning the experience into something even more magical. It's not just about smoking; it's about embracing a rich tradition while making memories under the vast starry sky.
As you plan your journey to Dubai, carve out time for this exceptional desert escapade. Whether it's your first venture or you're a seasoned shisha enthusiast, the desert always has a fresh experience in store. Relish it responsibly, savor each puff and let the combination of golden sands and aromatic shisha flavors create a lasting impression.