Two-Seater Dune Buggy Rides in Dubai for Couples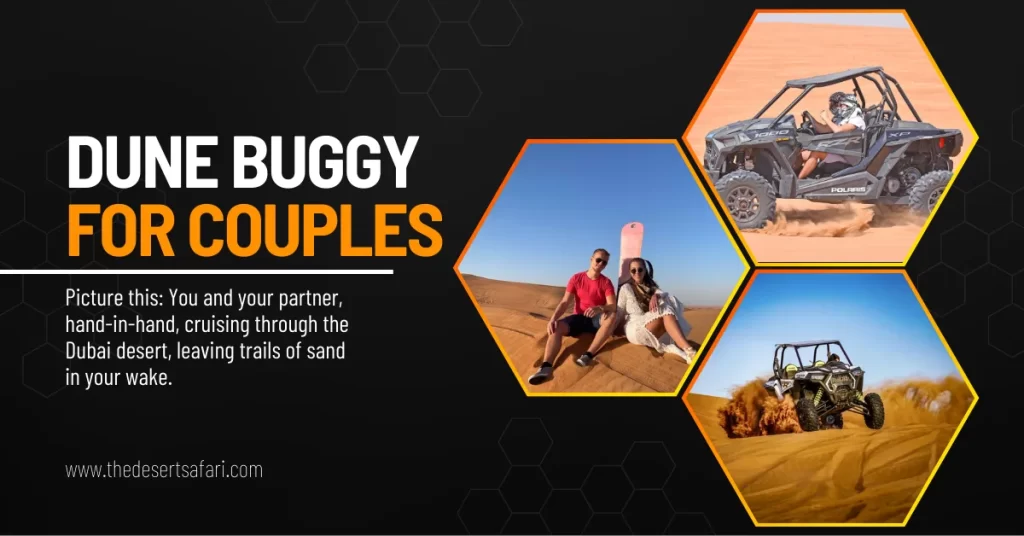 Picture this: You and your partner, hand-in-hand, cruising through the Dubai desert, leaving trails of sand in your wake. Sounds exciting. This is the thrill and romance we offer on our two-seater dune buggy rides in Dubai for couples.
Why Choose Dune Buggy Rides in Dubai
Why settle for mundane dates when you can inject adrenaline into your romantic escapades? Dune buggy rides offer an exhilarating rush that will get your hearts racing—both from the speed and the excitement of being together in such a unique setting. 
Unforgettable Romantic Experience
Dune buggy rides for couples also provide an unforgettable experience. Whether it's the excitement of the ride, the beautiful desert scenery, or the shared adventure, these memories will be ones you and your partner cherish forever.
Preparing for Your Dune Buggy Experience
To ensure maximum comfort and safety, dress in light, breathable clothing. Consider wearing closed shoes to protect your feet from the hot sand. Remember your sunglasses and sunscreen!
Your safety is paramount. We will provide safety briefings and necessary safety gear like helmets. Listen carefully and follow all instructions.
Tailoring Your Experience
Consider whether you want a day or night ride. Daytime offers excellent visibility and photo opportunities, while nighttime rides offer a unique, enchanting experience under the stars.
Rides can vary from a quick hour-long thrill to a 2-3 hours experience. Choose the duration that fits your schedule and energy levels best.
Remember to capture this extraordinary experience. Whether a selfie mid-ride or a professional photo shoot, these pictures will be a perfect memento of your adventure.
Dune buggy for couples in Dubai offers a unique, exciting date idea for couples. From the thrill of the ride to the shared adventure, this experience promises to be unforgettable. So why wait? Start planning your dune buggy adventure today!