Desert Safari Dubai For Senior Citizens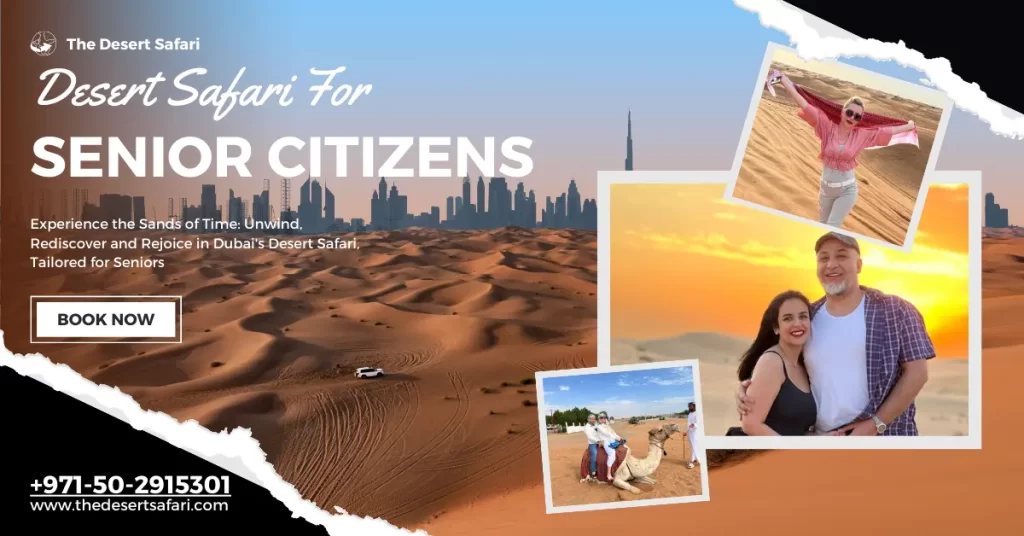 Many tourists want to go on a desert safari for senior citizens, and they always ask if it is possible to enjoy a desert tour with senior citizens. The answer is yes. We have a unique desert tour for senior citizens. This article highlights why a desert safari is a worthwhile adventure for seniors and how to prepare and stay safe.
Understanding Desert Safari
Desert Safari is a popular outdoor activity typically involving a thrilling drive through the desert dunes, camel rides, and cultural experiences like local cuisine, traditional music, and dance.
Key Features of Desert Safari
Some key features of a desert safari include dune bashing, sandboarding, camel riding, and a taste of the Bedouin lifestyle. The experience also includes a hearty feast under the starlit desert sky, making it a truly unique experience.
What included in Desert Safari For Citizens
Pick up & Drop off at your location.

Drop off to our desert camp without dune bashing

Camel ride "It's a short trip of maximum 5 minutes".

Traditional desert camp with many activities.

Unlimited soft drinks.

Shisha smoking in a beautiful open lounge.

Two belly dance shows.

Tanura dance show.

Fire show.

Arabic costumes are available to wear & take pictures.

BBQ dinner with vegetarian and non-vegetarian options.

A small tattoo of Henna, for women.

Falcon to take pictures.

Friendly staff to help.
Why Desert Safari For Senior Citizens?
Believe it or not, desert safari can be good for your health! For instance, camel riding can be a great, low-impact exercise that improves core strength and balance. Furthermore, the fresh desert air can be a refreshing break from the polluted city air.
Emotional and Mental Benefits
The serene desert landscape can offer a calming effect, providing a stress-free environment for seniors. This can significantly benefit emotional and mental health. Plus, the thrill of a new adventure can bring joy and excitement, enhancing overall well-being.
Preparing for Desert Safari: A Guide for Seniors
The best time for a desert safari is during the cooler months, from October to March. The temperatures are more bearable, and the evenings are pleasant, making the experience enjoyable.
Packing right is crucial for a desert safari. Some essential items include sunblock, a hat, comfortable clothing and footwear, and any necessary medication.
Safety Measures for Senior Citizens
Safety should always come first, especially for seniors. Stay hydrated, wear a hat and sunscreen, and avoid strenuous activities during the hottest part of the day. It's also important to inform your guide of your health conditions.
FAQs About Desert Safari For Senior Citizens