Dubai Desert Safari Morning or Evening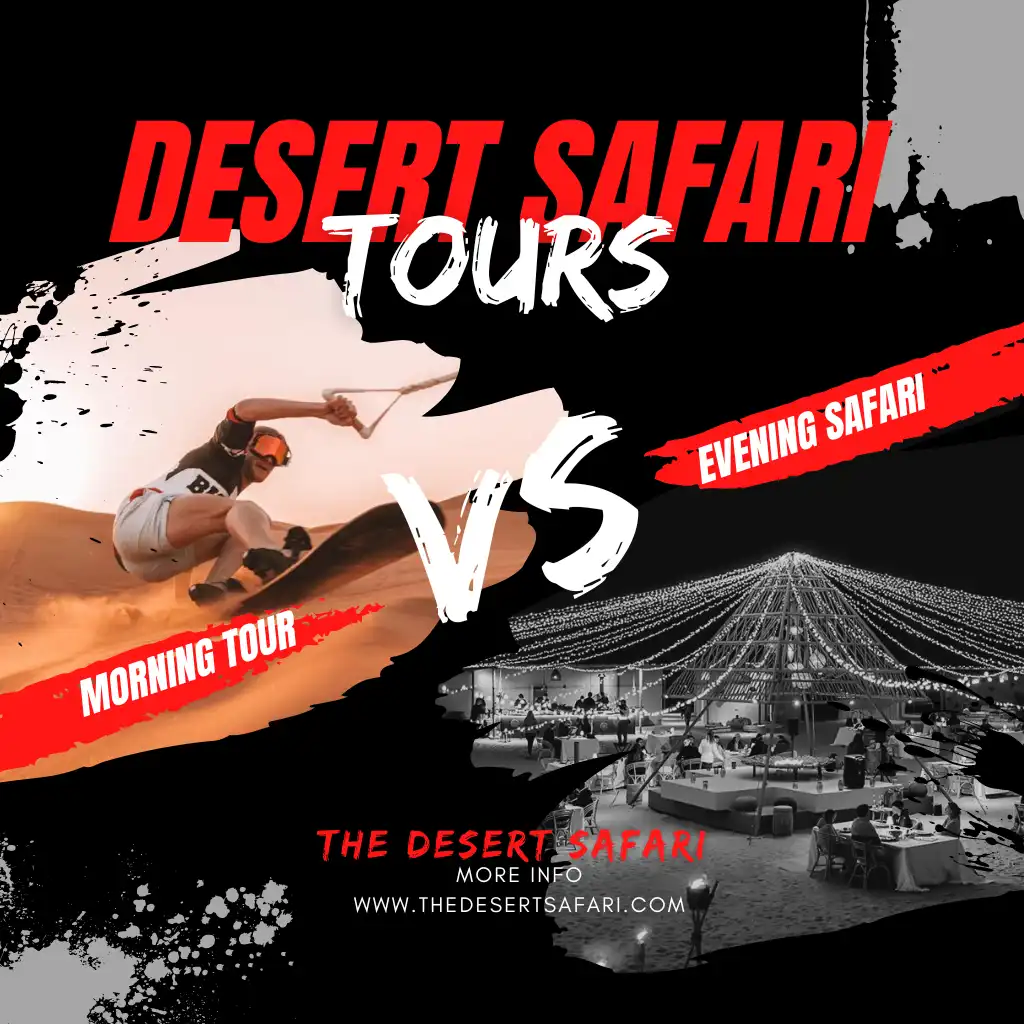 Are you planning a desert safari but need clarification about whether to choose a Dubai desert safari morning or evening? If so, you're not alone! Deciding between these options can take time, as both offer unique advantages and experiences. 
But fear not, as we've got you covered! In this blog post, we'll delve into the pros and cons of morning and evening desert safaris and help you decide which one is best suited for you.
Whether you're a nature lover, adventure seeker, or cultural enthusiast, we'll provide you with all the information you need to make an informed choice. So please sit back, grab a cup of coffee, and join us on this journey to discover the magic of the desert!
Benefits of Morning Desert Safaris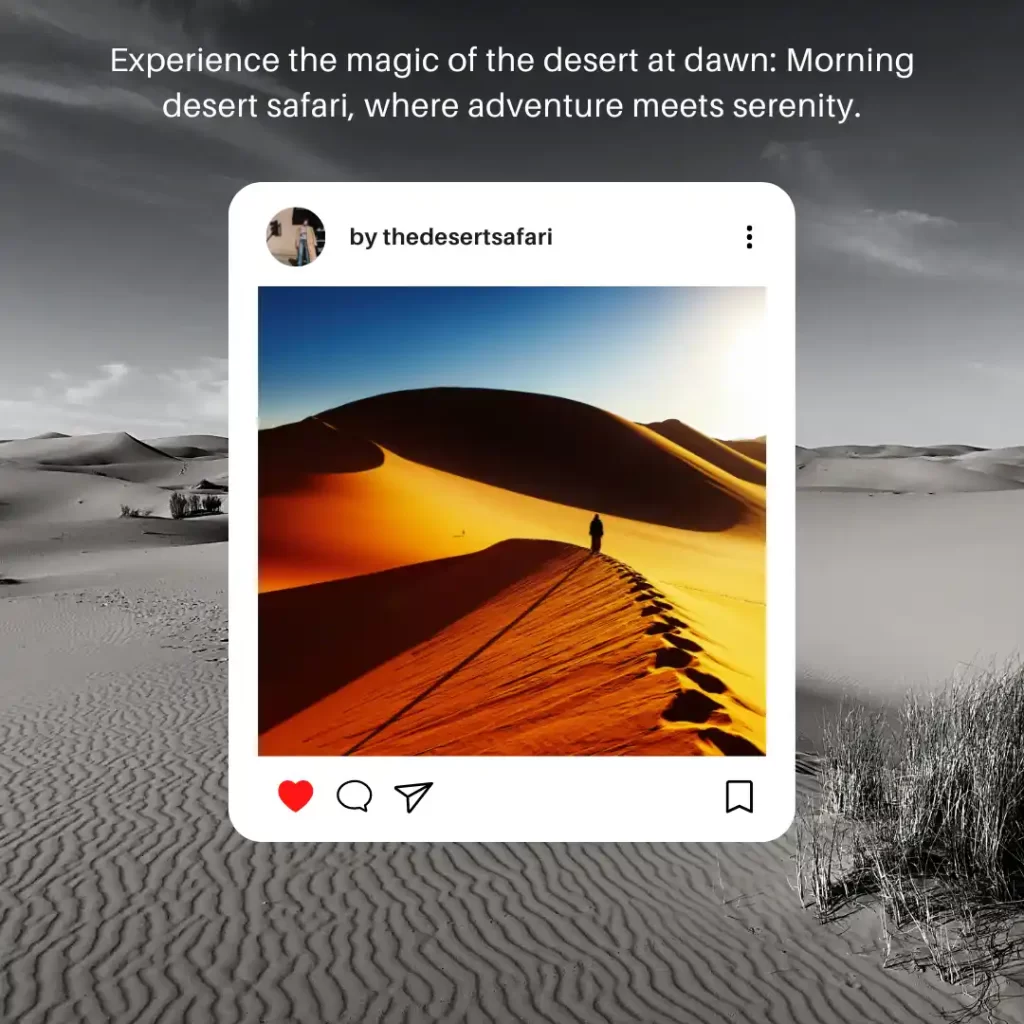 Morning desert safaris offer a unique and unforgettable experience. This tour is perfect for adventure seekers, nature lovers, and families. The cooler temperatures, stunning sunrise views, and exciting activities make it an ideal way to kick-start your day in the Dubai desert.
Cooler Temperature and Comfortable Weather:

 The mornings in the desert are much cooler compared to the scorching heat of the afternoon and evening. So morning desert tour makes it a perfect time to enjoy outdoor activities without feeling too hot or sweaty.

Great Views of Sunrise:

 The morning sky in the desert is breathtaking, and watching the sunrise over the dunes is a once-in-a-lifetime experience. You'll get to witness the colors of the sky change from shades of pink and orange to blue and gold as the sun rises.

Thrilling Rides:

 The morning desert safaris include thrilling rides such as dune bashing, quad biking, and sandboarding. These activities are best enjoyed in the morning when the sand is not too hot and the wind is calmer.

Ideal for Families with Kids and the Elderly:

 

If you're traveling with family members who are elderly or have young children, morning desert safaris are a great option. The cooler temperatures and gentle morning breeze make it easier for kids and elderly family members to enjoy the experience. Morning tours are private tours, so dune bashing is in your hand. You can ask the safari captain to go slow or go faster.
Plenty of Time for Other Activities:

 The morning desert tour lasts 4 hours. So you have plenty of time to explore Dubai city, go shopping, or relax by the pool. It is a perfect option for those wanting to make the most of their day.
Advantages of Evening Desert Safaris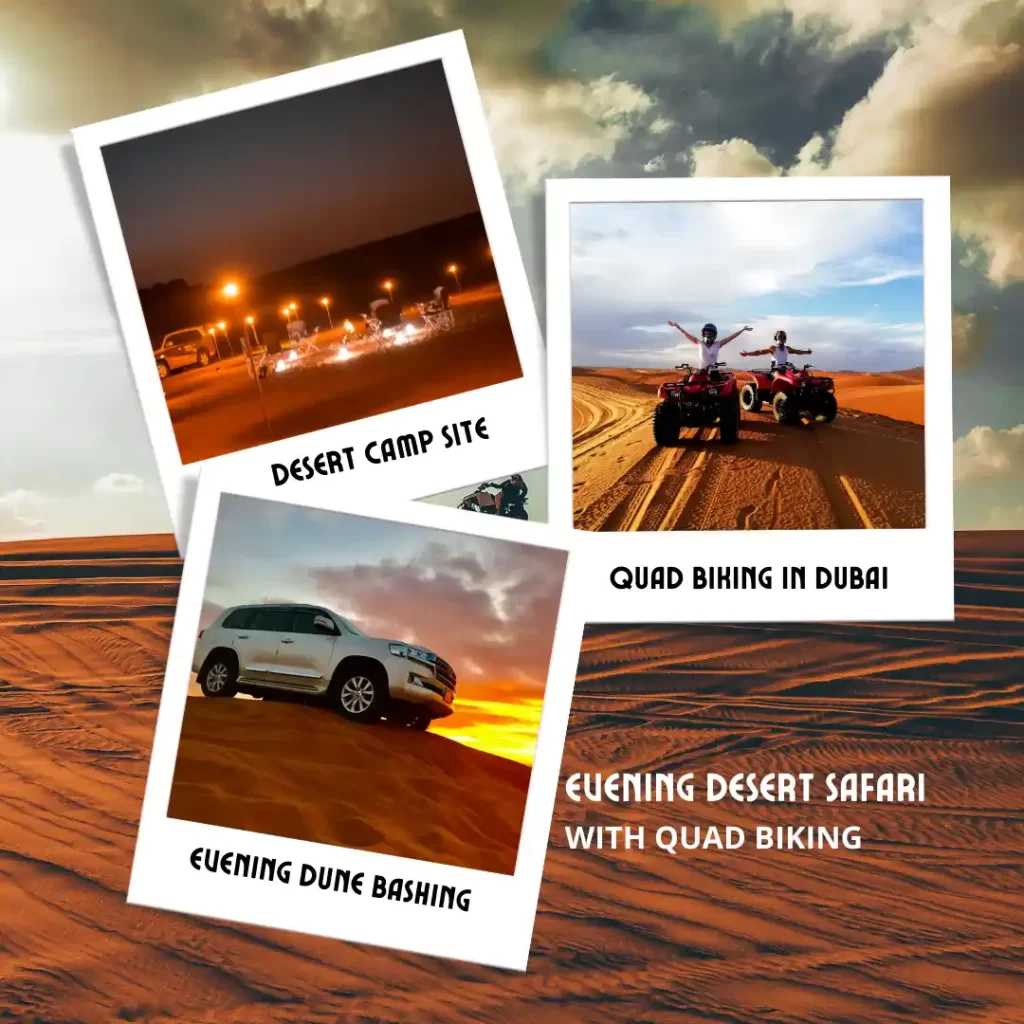 Evening safari is a unique and unforgettable experience. The tour offers a beautiful sunset view, a belly dance show, and a BBQ dinner. It's a great way to unwind after a busy day and immerse yourself in the beauty and culture of the desert.
Thrilling Rides:

 In this tour, you get a chance to enjoy dune bashing, camel ride, and sand boarding, along with an ATV ride in the open desert of Dubai.

Magical Sunset Views:

 You can witness the magical sunset view after the thrilling ride. We are sure that this magical experience will remember.

Entertainment Shows: 

Two belly dancers perform live dance shows. On this tour, a tanoura dancer also performs along the Fire show.

Delicious BBQ Dinner: 

Enjoy Veg & Non-Veg BBQ dinner under the stars.

Stargazing Opportunities:

 Since the desert has little to no light pollution, it's ideal for stargazing. Evening desert safaris offer the perfect opportunity to witness the stars and constellations in the clear night sky.
How to Choose the Best Desert Safari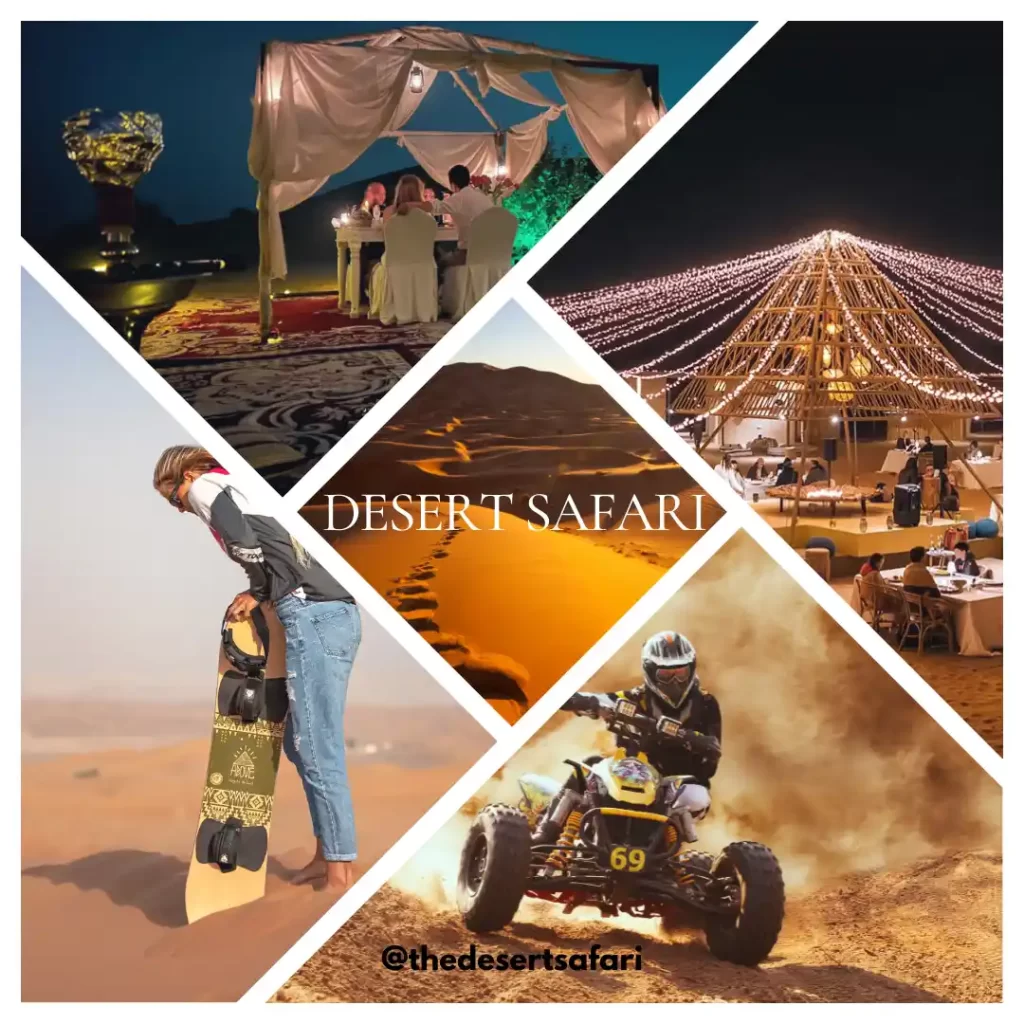 Desert safaris are a popular tourist activity in Dubai. We offer visitors an opportunity to experience the beauty and adventure of the desert landscape. However, with so many different tour options, choosing the best one for your needs can take time and effort. Here are two important factors to consider when selecting a desert safari.
1. Consider Your Preferences and Schedule
When choosing a desert safari, it's important to consider your preferences and schedule. Think about the type of experience you want to have. Do you want a more adventurous or relaxing safari? Are you interested in a morning, afternoon, or evening safari? Do you want to go on a group or private tour? These questions can help you narrow your options and find a tour that meets your needs.
| Morning Safari Preferences & Schedule | Evening Safari Preferences & Schedule |
| --- | --- |
| Adventurous  | Adventurous  & Relaxing |
| Early Morning "5:00 -10:00 AM" | Afternoon to Evening "3:00 – 9:00 PM" |
| Private Tour | Private or Group |
2. Compare Prices and Inclusions
When comparing desert safari tours, looking beyond just the price is important. Ensure you understand what's included in the tour package, such as transportation, food and drink, activities, and equipment rental.
Some tours have more activities or longer duration for a higher price. At the same time, others have a lower price but fewer inclusions. By comparing the prices and inclusions of different tours, you can find one that fits your budget and offers the experiences you're looking for.
Morning Safari Price & Inclusions
Evening Safari Price & Inclusions
Pick Up From Your Location

Pick Up From Your Location

700 AED

130 AED per person / 700 AED Private

3 – 4 Hours Tour

6 – 6:30 Hours Tour

Dune Bashing
Dune Bashing
Camel Ride
Camel Ride
Sand Boarding
Sand Boarding
Quad Biking "Optional" 
Henna Tattoos
Dune Buggy Ride "

Optional

" 

Welcome Drinks
Horse Ride "

Optional 

Sheesha Lounge
Dirt Bike "

Optional 

Two Belly Dance Show
Welcome Drinks
Tanoura Dance Show
Drop Back
Fire Show
 
BBQ Dinner Veg & Non-Veg
 

Quad Biking "

Optional

" 

 

Dune Buggy Ride "

Optional

" 

 

Horse Ride "

Optional 

 

Dirt Bike "

Optional 

 
Drop Back
Tips for Making the Most of Your Desert Safari
Whether you opt for a morning desert safari dubai or evening desert safari, you can do several things to make the most of your experience, from wearing appropriate clothing to staying hydrated and following safety guidelines. These tips can help you stay comfortable and safe during the tour. Additionally, respecting the local culture and being mindful of the environment can help you fully appreciate the desert's unique cultural and natural features.
1. Wear Appropriate Clothing and Footwear
During the early morning tour, the desert is cool & during the evening tour, mostly the desert is hot, so dress accordingly. So the question is what to wear during a desert tour?
Loose-fitting clothes made of breathable fabrics like cotton or linen are ideal. Wear a hat or a scarf for the daytime to protect your head and face from the sun. Closed-toe shoes are a must to protect your feet from the hot sand, and comfortable footwear is recommended.
2. Bring Essential Items and Accessories
Carry a small backpack or a bag to store your essentials, such as sunscreen, sunglasses, and a camera.
3. Stay Hydrated and Avoid Overeating
The desert is dehydrating, especially during the afternoon, so drink plenty of water throughout the tour. Avoid heavy meals or overeating before the dune bashing, as it can make you uncomfortable during the bumpy ride. If you have any dietary restrictions or allergies, inform us beforehand.
4. Be Respectful to Nature and Local Culture
The desert is a delicate ecosystem, so avoid littering or damaging the environment. Do not disturb the wildlife or touch any plants or animals. Respect the local culture and traditions of the Bedouin people, who have lived in the desert for centuries.
FAQs About Morning & Evening Safari Tour