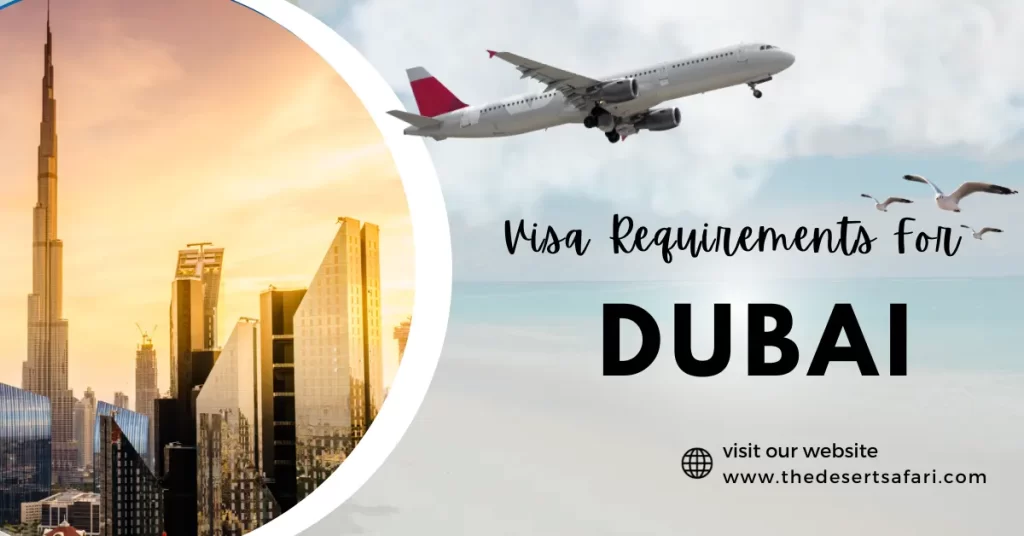 Dubai and the United Arab Emirates (UAE) are popular tourist destinations, and for good reason. They offer stunning architecture, luxurious hotels, world-class shopping, and a variety of cultural attractions. However, before you can visit Dubai or the UAE, you will need to obtain a visa.
Why is it important to understand the visa process?
Obtaining a Dubai visa is an important step in planning your trip. By understanding the visa process, you can ensure that you have all the necessary documentation and that you are eligible for the type of visa you need. This will help you avoid any delays or problems at the border.
What is the aim of this blog post?
This blog post aims to provide you with a comprehensive guide to the Dubai visa application process. We will cover the different types of visas available, the eligibility requirements, and the steps involved in applying for a visa. We will also provide some helpful tips to make the process as smooth as possible.
What to expect in the following sections
In the following sections, we will discuss the following topics:
Different types of Dubai visas

Eligibility requirements for each type of visa

How to apply for a Dubai visa

Online vs. offline visa application

Tips for a successful visa application
Different types of Dubai visas are available, depending on your purpose of visit. Here is a simplified overview of the most common types of visas:
| Visa Type | Eligibility | Duration | Application Process |
| --- | --- | --- | --- |
| Tourist Visa | For leisure, sightseeing, or experiencing Dubai's luxuries. | 30 to 90 days. | Submit required documents and await approval. |
| Visit Visa | To stay with relatives or friends residing in the UAE. | 30 to 90 days. | Akin to the tourist visa. |
| Work Visa | Professionals with a job offer from a UAE-based employer. | Typically spans a few years, contingent on the employment contract. | More intricate, requiring employer sponsorship and a thorough documentation review. |
| Transit Visa | For travelers with a brief layover in Dubai en route to another destination. | Short-term visa, providing a brief glimpse into the Emirati lifestyle. | Relatively simple, requiring minimal documentation and a short processing time. |
| Student Visa | Students enrolled in a recognized UAE educational institution. | Aligns with the course length. | Involves academic verification and document submission. |
The Visa Application Process
Transitioning from the contemplation stage to the actual plunge of applying for a Dubai visa entails a set of steps. This section aims to provide a clear roadmap to navigate through the visa application process, ensuring you're well-prepared for what lies ahead. By understanding the requisites and the journey from initiation to approval, you're setting a solid foundation for a stress-free voyage to the UAE.
Embarking on the Dubai visa application process begins with gathering the essential documents. Here's a glance at the generic documentation required, although it might slightly vary based on the visa type:
Valid Passport: Your passport should have a minimum validity of six months from the date of entry into the UAE.

Passport-sized Photographs: Recent photographs adhering to the specified dimensions.

Visa Application Form: A fully filled and signed visa application form.

Proof of Residence: If applicable, based on your nationality or the visa type.

Flight Itinerary: Details of your flight arrangements.

Hotel Booking: Confirmation of your accommodation in the UAE.

Travel Insurance: A coverage plan for the duration of your stay.

Additional Documents: Any other documents stipulated by the UAE embassy or consulate.
The anticipation of approval begins once your application is in the pipeline.
Tourist and Visit Visas

: Generally processed within 3 to 5 working days.

Work Visa

: The processing time might extend from 2 to 8 weeks, contingent on various factors including your employer's credentials and the completeness of your submitted documents.

Transit and Student Visas

: Usually have a shorter processing span, often within a week.
The financial aspect of the visa application process is a pivotal one.
Tourist and Visit Visas

: The cost usually ranges between AED 200 to AED 800, hinging on the duration and type.

Work Visa

: The fee structure is more complex, often borne by the employing company, and can vary widely.

Transit and Student Visas

: Generally are on the lower fee spectrum, making them accessible.
Common Issues and How to Avoid Them
Despite meticulous preparations, hiccups in the visa application process are not uncommon. Here are some issues and tips to sidestep them:
Incomplete Documentation

: Ensure all required documents are complete and up-to-date.

Misinformation

: Double-check all the information provided in the application to avoid discrepancies.

Last-minute Applications

: It's prudent to apply well in advance to cushion any unforeseen delays.
Countries with On-Arrival Visa
Stepping onto the Arabian soil of Dubai and the UAE could be made easier for citizens of certain countries thanks to the on-arrival visa facility. This provision is a testament to the strong diplomatic ties between the UAE and these nations, simplifying the entry process significantly.
Understanding On-Arrival Visa
The on-arrival visa is a boon for travelers, making the journey to the UAE more spontaneous and less bogged down by lengthy visa application procedures. Upon landing in Dubai or any other Emirate, citizens of eligible countries are granted a visa at the airport itself. This visa typically has a validity of 30 to 90 days, depending on the country of origin.
Here's a breakdown of countries whose citizens are greeted with an on-arrival visa, making their voyage to the UAE a breeze:
GCC Countries

: Citizens of Gulf Cooperation Council countries have an open invitation to enter the UAE without prior visa arrangements.

European Countries

: Many European nations, including but not limited to the UK, France, Germany, and Italy, enjoy this privilege.

Other Countries

: Nations like the USA, Canada, Australia, and New Zealand are also on the list, promoting a seamless transition from the aircraft to the Arabian wonders.
Advantages of On-Arrival Visa
The perks of on-arrival visas are numerous:
Simplicity

: Bypassing the traditional visa application process, this provision simplifies entry into the UAE.

Time-saving

: It's a time-saver, especially for last-minute travelers.

Cost-effective

: Often, the on-arrival visa turns out to be a more cost-effective alternative.
Other countries with Visa on Arrival
Lithuania
Andorra
Luxembourg
Argentina
Malaysia
Australia
Malta
Austria
Monaco
Behamas
Montenegro
Bahrain
Nauru
Barbados
New Zealand
Belgium
Norway
Bulgaria
Oman
Brazil
Poland
Brunei
Portugal
Canada
Qatar
Chile
Romania
China
Russia
Cost Rica
San Marino
Croatia
Saudi Arabia
Cyprus
Seychelles
Czech Republic
Slovakia
Denmark
Slovenia
Estonia
Singapore
Finland
Solomon Island
France
South Korea
Germany
Spain
Greece
Honduras
Hong Kong
Sweden
Switzerland
Hungary
The Netherlands
Kazakhstan
Kuwait
Ukraine
Iceland
The United Kingdom and Northern Ireland
Ireland
Italy
Uruguay
Vatican
Japan
Latvia
Liechtenstein