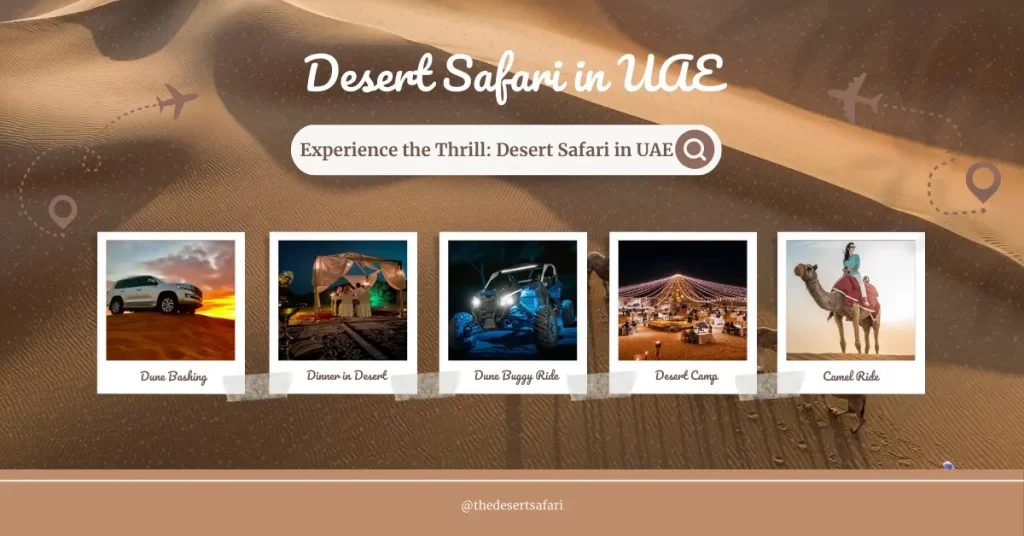 Imagine big dunes – golden sun. Adventures are waiting for you. This is a desert safari. It's a trip into the desert. You get to see nature, culture, and adventure. This post will discuss different types of desert safari available in Dubai.
Why is a desert safari a must-do in Dubai?
Dubai has tall buildings. But it also has a beautiful desert. This desert is special. It tells stories of old times. It has adventures like dune rides. It shows Dubai's soul. So, visiting Dubai? A desert trip is a must!
Why are these trips popular?
People love new experiences. In the desert, they find it. There's thrill. There's culture. There's peace. It's like a big, sandy playground. And everyone wants to play.
Different Types of Desert Safari in Dubai
Imagine starting your day in the desert. The sun is rising. The world feels fresh.
Activities? Ride over sand dunes. Ride a camel. Slide down sand hills on a board. It's all fun!
Best time? Go in the early morning. When the sun's not too hot.
The evening is special. The desert turns gold. The sun sets. The stars come out.
Activities? Do fun dune rides. Ride camels. Watch cool dances in the evening. Like the Tanura dance. Hungry? Have a BBQ dinner.
What's magical? The sunset. It's like the desert says goodnight.
Ever slept under stars? Here's your chance. The desert is quiet. It's peaceful.
Activities? Do all the evening stuff. Plus, sleep in a tent. Wake up to a yummy breakfast.
What's so cool? The night. Hear desert sounds. See millions of stars.
Got kids? No problem! This trip is for all.
Activities? Camels? Yes! Fun shows? Yes! Safe fun for kids? Totally.
Romantic Desert Safari
Just two of you? Perfect! This trip is for lovebirds.
What's special? Private tent. Dinner for two. A desert date.
Love thrills? This is for you. It's all about big fun.
Activities? Ride fast bikes. Slide down big sand dunes. It's wild!
Luxury Desert Safari
Want to feel royal? Choose this. It's the desert, but super fancy.
What's different? Ride in luxury cars. Stay in big tents. Eat gourmet food. It's all VIP.
Traveling light on cash? This one's for you.
What's in it? All the fun. Less cost. No compromise on joy.
Comparison of Desert Safari Tours in Dubai
Want to know which desert safari is best for you? Let's compare them side by side!
| Type of Tour | Duration | Activities Included | Price | Pros | Cons |
| --- | --- | --- | --- | --- | --- |
| Early Morning Desert Safari | 3-4 hours | Dune rides, camel ride, sandboarding | $$$ | Fresh start, cool temperatures | Shorter duration |
| Afternoon Desert Safari | 5-6 hours | Dune rides, camel ride, Tanura dance, BBQ dinner | $$ | Sunset views, more activities | Can get a bit cooler in the evening |
| Overnight Desert Safari | Overnight (15-18 hours) | All evening activities + sleeping under stars, breakfast | $$$ | Full desert experience, star gazing | Longer duration |
| Adventure Desert Safari | 3-4 hours | Fast bikes, sandboarding | $$$ | Thrills and adrenaline | Not for everyone |
Which Desert Safari Tour is Best for You?
| Your Preference | Best Desert Safari Options | Why? |
| --- | --- | --- |
| Morning person | Morning Desert Safari | Experience the desert in the cool morning air. |
| Love sunsets | Evening Desert Safari | Watch the desert glow with the setting sun. |
| Stargazer | Overnight Desert Safari | Sleep under a shimmering blanket of stars. |
| Short on time | Morning or Adventure Safari | Embark on a quick 3-4 hour thrill. |
| Thrill-seeker | Adventure Desert Safari | Quad biking, sandboarding, and more! |
| Crave luxury | Luxury Desert Safari | Premium services and a posh experience. |
| Family outing | Family Desert Safari | Fun-filled and kid-friendly activities for all. |
| Romantic getaway | Romantic Desert Safari | Special moments tailored for couples. |
| Budget-conscious | Budget Desert Safari | Experience the desert without breaking the bank. |
Tips for Having the Best Desert Safari Experience in Dubai
Excited for your desert adventure? Great! Let's make it even better. Here are some easy-to-follow tips:
Check the Weather

Why?

 The desert can be hot. Really hot. But sometimes, it's cold. Especially at night.

What to do?

 Bring a hat and sunscreen for the day. A light jacket for the evening might be a good idea.

Book in Advance

Why?

 Popular safaris fill up fast. Don't miss out.

What to do?

 Plan ahead. Book early. Get the date and time you want.

Dress Comfortably

Why?

 You'll be active. Dune bashing. Camel riding. Maybe sandboarding.

What to do?

 Wear comfy shoes. Loose clothing is best. It lets you move and keeps you cool.

Respect Local Customs

Why?

 It's about respect. The desert is a special place for locals.

What to do?

 If you're unsure about something, ask. Your guides are there to help.

Stay Hydrated

Why?

 The desert is dry. You'll need water.

What to do?

 Always carry a water bottle. Drink often.

Bring Cash

Why?

 Some desert spots don't take cards. Especially for small purchases.

What to do?

 Keep some cash on hand. Just in case.

Capture the Moments

Why?

 The desert is beautiful. You'll want memories.

What to do?

 Charge your camera or phone. Snap lots of pics. But also, take a moment to just enjoy.
Your Dubai trip is incomplete without the mesmerizing experience of a desert safari. Whether it's watching the golden hues of a desert sunset, feeling the adrenaline rush of dune bashing, or enjoying the traditional dances of the region, there's a desert safari waiting to make your Dubai journey unforgettable. Dive in, feel the desert sands, and take home memories that will last a lifetime.