[vc_row][vc_column][vc_column_text]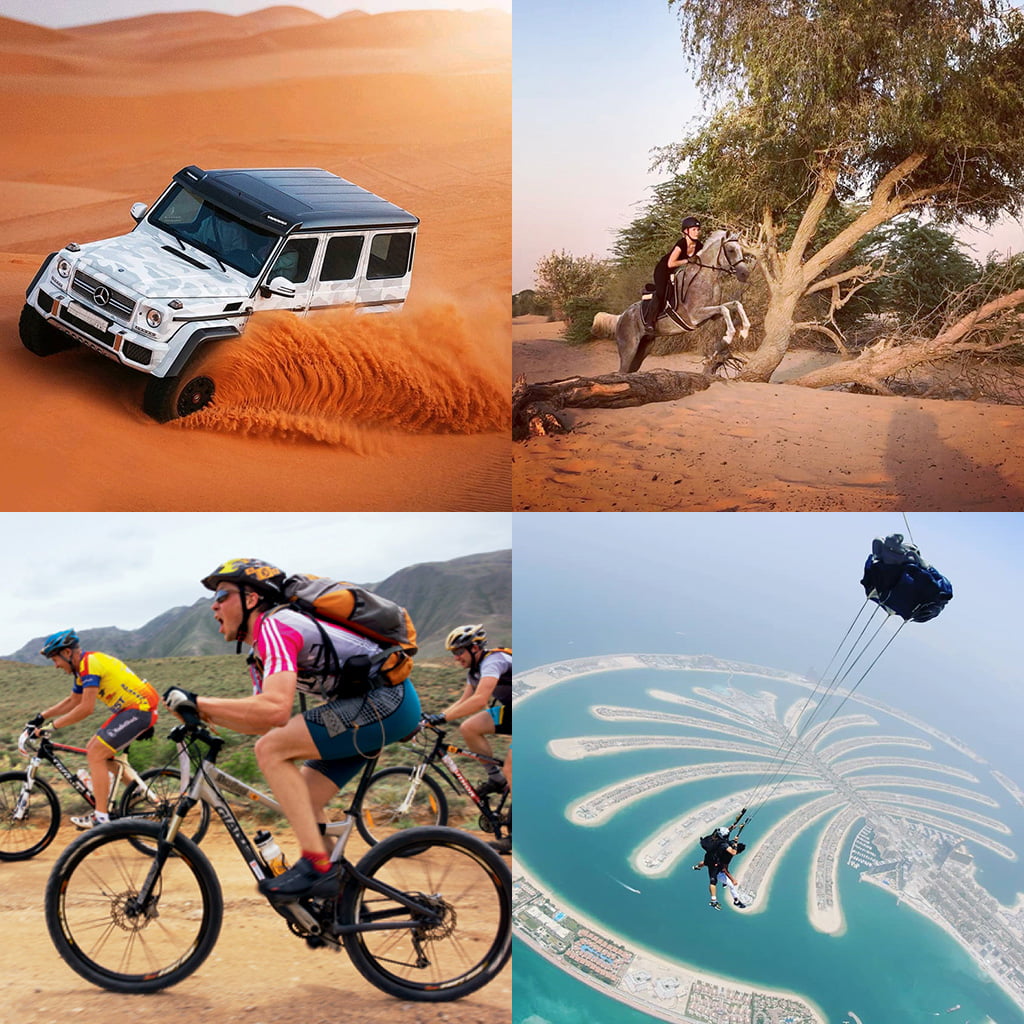 Adventure in UAE
The United Arab Emirates is known for its luxurious architectural buildings and first-rate shopping malls. However, there is much more than that meets the eye. UAE is also a common destination for outdoor adventure lovers. There are several adrenaline-pumping sports and adventurous things to do in Dubai for outdoors people seeking an adventurous experience. Adventure in UAE offers everything from traveling, hiking, racing, shooting, scuba diving to skiing and wildlife exploration.
Despite the overwhelming heat, UAE has long been a stopping spot for outdoor travelers from all around the world. But, from October to April, the weather stays cold and, therefore, is the perfect time to explore the adventurous activities in UAE. So, for a memorable experience, go through the top 20 UAE adventurous activities list.[/vc_column_text][/vc_column][/vc_row][vc_row][vc_column][vc_column_text]
1: Ski Dubai Snow Park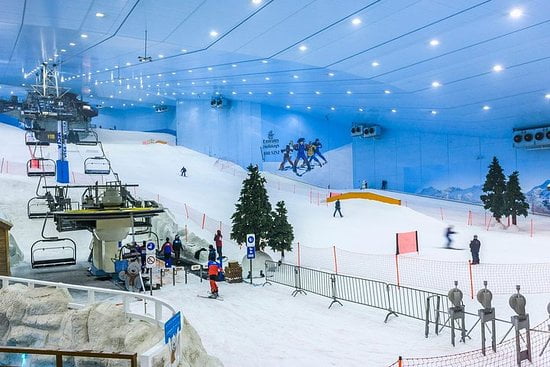 Dubai offers an exciting gateway to snow skiing for adventure lovers. Ski Dubai, the first indoor ski resort in UAE, opens its door to ski lovers. You will have the option to either snow boat or ski. There are five distinct slopes carved according to the different difficulty levels. Thus, whether you are a beginner or pro, you can choose a slope matching your style.
Furthermore, you will also be provided with all the necessary clothing and equipment for skiing on rent by the resort. So head to the Ski Dubai and enjoy skiing straightway. The Ski Dubai is an indoor ski resort with 22,500 square meters of indoor ski area. This Ski Snow Park is located in the Mall of the Emirates. The Middle East's first indoor ski resort, Ski Dubai, Snow Park. A perfect place for fun with your friends and family in the world's largest indoor snow park houses an amazing 3,000 square meters of snow.
The Activates of Ski Dubai Park
The ski slope at Ski Dubai Park is the most popular spot for all ages. While gliding through fresh snow, you carry the unforgettable experience.
Snowboarding or Snow-surfing
Snowboarding or Snow-surfing is one of the most popular outdoor activities around the globe. In UAE, Ski Dubai Park brings this opportunity for you to do snow-surfing in Dubai.
Chairlift at Ski Dubai Park
At Ski Dubai park, the best option is to view the entire 22,500 square meters park chairlift. There is no age limit for chairlift rides at Ski Dubai park.
Snow Bullet – Sub Zero Zip Line
At this park, you also find the one hundred fifty meters long zip line at 16 meters height available at Ski park. Sub Zero Zip Line is the world's first indoor zip line with a temperature under zero.
You can also enjoy the grand presentation of the 'MARCH OF THE PENGUINS' daily and for free.
This cafe is located at ski slopes; you can reach it by taking the chairlift or hiking. The most famous dish of this café is Avalanche hot chocolate.
[divider][/vc_column_text][/vc_column][/vc_row][vc_row][vc_column][vc_column_text]
2: Cycling along the Coast
To relieve the daily stress, UAE provides you the pleasure to cycle along the shoreline. Abu Dhabi offers a beautiful 10-mile cycling course close to the coast. This bike path, accompanied by the attractive city heights and refreshing ocean breeze, really enhances the cycling experience. This trait makes it the perfect spot for city dwellers to enjoy their time in the city.[/vc_column_text][/vc_column][/vc_row][vc_row][vc_column][vc_column_text]
3: Horse Riding
Mushrif Equestrian and Polo Club, Dubai lets you enjoy a thrilling horse riding experience. You can schedule your ride either at day or night time. At daytime, you'll have a better view of the beautiful green oasis around and might cross your paths with a herd of camels passing by. Nighttime lets you feel the sensation of horse riding in chilly nights under the Arabian moonlight. Moreover, you'll love the swiftness of energetic and fast Arabic horses.[/vc_column_text][/vc_column][/vc_row][vc_row][vc_column][vc_column_text]
4: Off-Road Racing
The terrain of UAE consists of vast dunes and hills which are perfectly suitable for off-road racing. The Rub' Al Khali desert, one of the world's largest, is home to the most famous track location for off-road racing due to its big dunes. So, get behind the steering wheel for a thrilling and heart-stopping experience. Moreover, for beginners, all-terrain vehicles are available with experienced drivers on rent. Thus, you can explore the desert beauty in a wild and electrifying adventure riding.[/vc_column_text][/vc_column][/vc_row][vc_row][vc_column][vc_column_text]
5: Mountain Biking
Mountain bikers are required to possess some necessary skills such as strength, stamina, and flexibility to counter the gritty terrains. UAE offers some of the toughest yet suitable terrains for mountain bikers to test their skills. Therefore, mountain biking is among the most popular outdoor sports in the UAE. The Al-Hajar mountain in Dubai consists of a 70-kilometer track that is frequently occupied by mountain bikers. The bikers try their best to conqueror the rough and tough terrains which are itself a challenge for the adventurous and daring.[/vc_column_text][/vc_column][/vc_row][vc_row][vc_column][vc_column_text]
6: Kayaking
Abu Dhabi welcomes its visitors with an amazing kayaking option in the Eastern Mangroves Lagoon National Park. The waterways are stretched out to 5-miles and provide a soothing kayak expedition. As a kayaker, you can spend time gliding through the waterways and filming the surrounding beauty along with the beautiful birds on the way. You will also be accompanied by the local guides to enlighten you about this Park, its route, and animals that reside here. In short, it will be truly a refreshing experience for the outdoorsmen who love kayaking.[/vc_column_text][/vc_column][/vc_row][vc_row][vc_column][vc_column_text]
7: Rock Climbing
Rock climbing is among the preferable activities by outdoorsmen in UAE. The rock climbers seek to conquer the ridges of the Hajar mountain which rises to the height of 3000 feet. The beautiful rock formation is mostly composed of limestone. It inspires the rock climbers to explore its various routes and craves new paths for an enhanced adventure experience. Rock climbing is gradually becoming a popular sport in the UAE. It compels young climbers from all over the world to try the adventurous expeditions of its high-peaked mountains and hills.[/vc_column_text][/vc_column][/vc_row][vc_row][vc_column][vc_column_text]
8: Circuit Racing
Now speed fanatics can enjoy the thrill of auto-racing in UAE. Abu Dhabi's Yas Marina Circuit Race Track opens its door to the formula one car racing. You can get into the cockpit of one of the car and complete the race track. Also, for beginners who don't feel comfortable driving solo can hire a professional driver that can help you enjoy some laps around the course. Moreover, every year, Abu Dhabi hosts the Formula One Grand Prix where you get to see your favorite drivers from all around the world. You get every required necessity to enjoy the racing experience.[/vc_column_text][/vc_column][/vc_row][vc_row][vc_column][vc_column_text]
9: Scuba Diving
UAE is sandwiched between the Persian Gulf to the west and the Indian Ocean to the east. Therefore, it is an ideal location for scuba diving. The Sandy Beach Diving Center, Fujairah offers various scuba diving courses. The courses range from beginners level to advanced level. You can choose a course according to your caliber and explored the inner water beauty with the trained faculty of the diving center. You will be provided with all the necessary equipment and training required.[/vc_column_text][/vc_column][/vc_row][vc_row][vc_column][vc_column_text]
10: Skydiving
UAE is well-known for its high-topped buildings and tall skyscrapers, which attract millions of tourists worldwide. Skydivers seek to jump-off from these tall structures to feel the sensation and thrill of plummeting in high speed towards the ground. You'll find many daredevils and even professional skydivers in UAE to record another chapter of thrilling experience in their books. In this regard, first-time divers can hire instructors to strap to their back to enjoy the adrenaline rush. You'll find various skydiving centers in Dubai and Abu Dhabi that can fulfill your wildest temptations.[/vc_column_text][/vc_column][/vc_row][vc_row][vc_column][vc_column_text]
11: Dirt Biking
Dirt biking is a must-try sport in UAE. You can either rent a bike to ride solo or sign up for a ride with an instructor that guides you about it thoroughly. The bike riding adventure varies from half a day and could extend to the four-day trip. You get to experience a thrilling dirt biking experience across the remote areas and deserts in UAE. Also, there are off-road lessons available for the beginners who wish to the daring sport.[/vc_column_text][/vc_column][/vc_row][vc_row][vc_column][vc_column_text]
12: Hot Air Balloon
The feeling of flying over the beautiful blend of desert and futuristic architecture of UAE cannot be described in words. One of the most exotic adventures in the UAE involves hot air balloons expeditions. You'll love floating over the skyscrapers, desert, and glowing road lights. Furthermore, you'll have a clear view of the entire city, dunes, and landmark buildings. Therefore, we recommend you to at least once experience the hot air balloon adventure in a lifetime. The best place to try it out in the UAE. Various hot air balloon centers in Dubai offer you ballooning experience. The best time for ballooning is morning when you can spectate the rising sun and feel the fresh morning breeze on your face.[/vc_column_text][/vc_column][/vc_row][vc_row][vc_column][vc_column_text]
13: Zip lining
Dubai is home to one of the longest and steepest zip lining in the world. The zip lining is 1 km long and at a height if 1800 feet above the fountains of Dubai. It lets the daredevils an heart-pumping ride at a rate of 80 kilometers per hour, making among the fastest zip lining in the world. Starting from Emaar Boulevard, which is a 90-meter long building, the zip lining halts at the top of the famous Dubai Mall. On your way, you can spectate the breathtaking views of the city and ultramodern structures. Don't worry; you'll be given detailed instructions before by an instructor before trying it.[/vc_column_text][/vc_column][/vc_row][vc_row][vc_column][vc_column_text]
14: Flyboard
Flyboard, more commonly known as hydro flying, is among the latest technology infested extreme sport. It is common among only a few outdoorsmen who are interested in the latest innovations like such. However, Dubai rightly understands the desires of modern sportsmen and therefore, offer several flyboarding sites in the city. Flyboarding sites will provide you with the necessary equipment and trained instructors to guide you through the process. Hydro flying fifteen-meters above the water is an exciting sensation for anyone. Flyboarding will be a thrilling adventure and a unique experience for you. It is a must-to-do activity when in Dubai.[/vc_column_text][/vc_column][/vc_row][vc_row][vc_column][vc_column_text]
15: Arabian Wildlife Park
250 km southwest to Abu Dhabi is the Arabian Wildlife Park. It is the largest UAE's largest nature island. It has a diverse animal life with more than 13000 distinct species. Moreover, there are millions of various trees and plants as well. You can now have a close, eye-level look at the roaming animals from a dedicated viewing-platform. Conservation efforts are timely undertaken for Park's development. Therefore, you'll find a lot of beautiful scenery to capture with a camera. Thus, you can enjoy an adventurous expedition among distinct animals, including predators like leopards and cheetahs. Apart from Abu Dhabi, wildlife parks are also located in Dubai, which offers the somewhat same experience.[/vc_column_text][/vc_column][/vc_row][vc_row][vc_column][vc_column_text]
16: Hiking
UAE is home to some of the largest 'Wadis' and hills. The Hajar mountains offer the chance to explore its vast landscape. Thus, it is a great attraction for hikers who wish to conquer the heights in a battle against the hills. Make sure to wear rugged shoes and carry enough water bottles. Battling the hot Arabian Sun in nothing less than a challenge.[/vc_column_text][/vc_column][/vc_row][vc_row][vc_column][vc_column_text]
17: Indoor Sky Diving Simulator
Skydiving is a sport not familiar among only the outdoorsmen. Defying all laws of gravity, iFLY brings you the innovative skydiving simulator. Packed with the state of art technology, this simulator is the world's first double simulator. Hence, you get to live the real-life experience of sky diving. Its been never this much easy to skydive. Furthermore, you'll be constantly be guided by instructors to try distinct body positions. These lessons will give you a more detailed idea of how to fly inside the simulator. iFLY Dubai is open for visitors of all age group. It is safe for kids, teens, and adults. You can also manually increase the difficulty level if you feel up to the challenge.[/vc_column_text][/vc_column][/vc_row][vc_row][vc_column][vc_column_text]
18: Paintballing
If you prefer a combat type of sport, then there is no better option than paintballing. It is the most closely resembled sport to that actual gunfight. It would be more fun if you got some score to settle with your friends. Paintball is a sport where your shooting skills are tested. Two teams compete to defeat each other in the game. So, for a fun yet daring combat sport, head over to Dubai which offers various paintballs sites. You'll be provided with proper gear and armor as paintballs can often hurt at close distance.[/vc_column_text][/vc_column][/vc_row][vc_row][vc_column][vc_column_text]
19: Wall Climbing
To test your strength and climbing skills, head over to the Dorrel climbing center, Dubai. Climbing the wall could prove to be a challenger for beginners. It may require long-hours of training to do it casually. So, if you think you've got what it takes to climb the wall, give it a try.[/vc_column_text][/vc_column][/vc_row][vc_row][vc_column][vc_column_text]
20: Formula Rossa Roller coaster
Say hello to the world's fastest roller coaster, Formula Rossa by Ferrari's World. With a top speed of 240 kilometers per hour, this roller coaster will squeeze the air from your lungs. So, if you are ready for a thrilling roller coaster experience, get a ticket for Formula Rossa.[/vc_column_text][/vc_column][/vc_row][vc_row][vc_column][vc_column_text]
Final Words
The activities mentioned-above give us enough idea of the adventurous activities to do in the UAE. Fortunately for outdoorsmen, UAE has almost all the extreme sports and daring hobbies that you seek. So, it is undoubtedly the best place to visit for a memorable experience. In this regard, Dubai has long been creating a sensation among the audience due to its collection of extreme games. Whether it is sky diving with friends or beach surfing, Dubai covers it all for you. Therefore, for a land with a blend of vast deserts, tall skyscrapers, and warm seas is a perfect place to test your sense of adventure.[/vc_column_text][/vc_column][/vc_row]