Desert Safari Dubai For Solo Travelers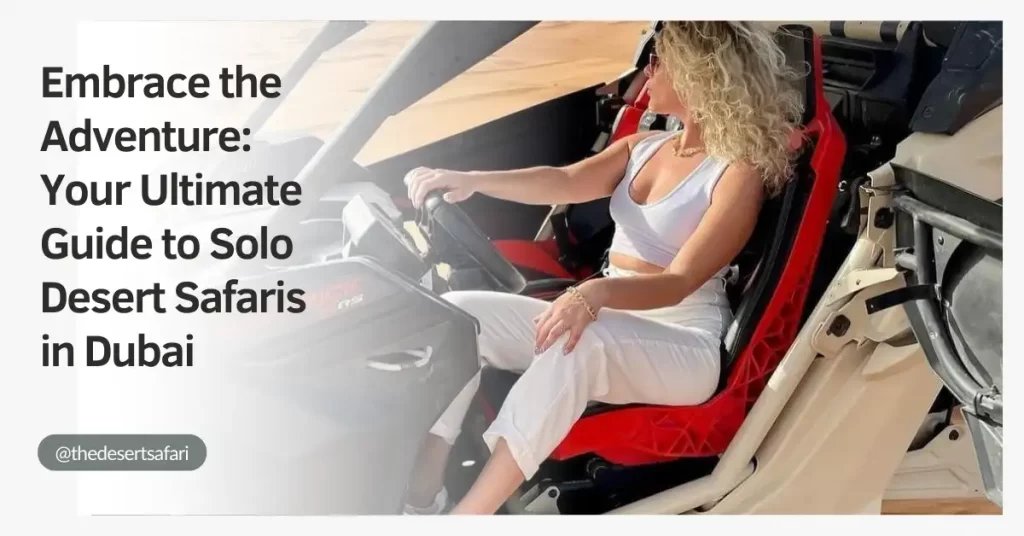 Travelling solo doesn't mean you're alone, especially not in Dubai, where adventure awaits at every corner. Dubai's mesmerizing beauty and exhilarating desert safaris have a unique allure for solo travellers. If you're a solo traveller eyeing a desert safari in Dubai, then you've landed at the right spot. This comprehensive guide will cover the best desert safari Dubai for solo travellers.
Why Choose Dubai for Your Solo Travel Adventure?
Dubai is a city that thrives on tourism. Not only is it rich in culture and history, but it also offers countless activities for adventure-seekers. From its grand skyscrapers to the golden dunes, every aspect of Dubai invites exploration. And for solo travellers, it's a safe and welcoming environment to immerse yourself in.
Embarking on a Solo Desert Safari in Dubai
There's no denying that Dubai desert tours stand out among the city's many attractions. The thrill of dune bashing, the beauty of the desert sunset, and the taste of traditional Emirati cuisine under the starlit sky make it an unforgettable experience. But what does a solo desert safari entail? Let's dive into the specifics.
Types of Desert Safaris in Dubai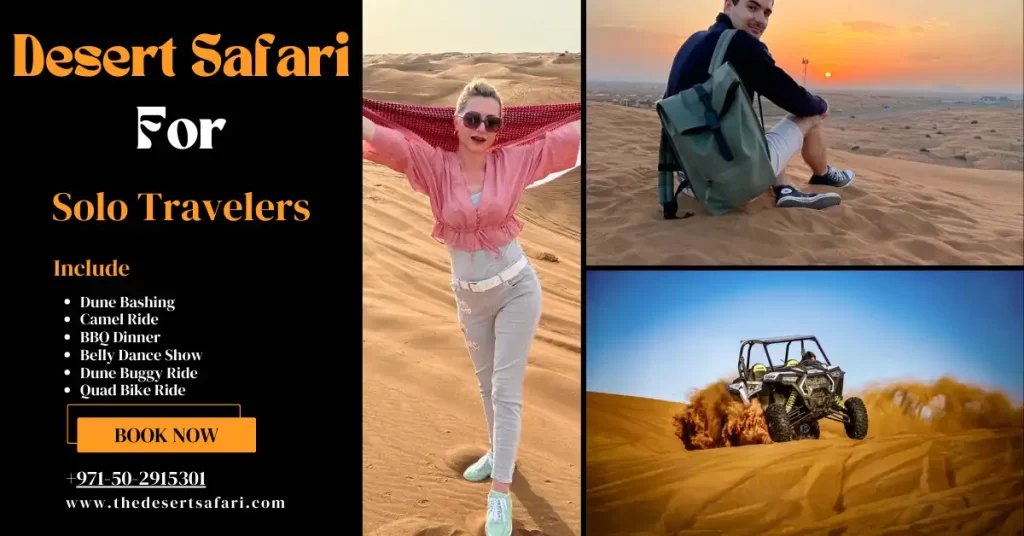 If you're an early bird, a morning desert safari could be your perfect start to the day. Imagine the beauty of the sun rising over the golden desert sands. With activities like dune bashing, sandboarding, and camel riding, it's a thrilling way to kickstart your day.
As an alternative, the evening desert safari begins in the late afternoon and extends into the night. It offers a fantastic blend of adventure and cultural experiences. From dune bashing to enjoying traditional Arabian music and dance, it's a complete package.
For a more immersive desert experience, an overnight safari is the ideal choice. Spending a night in the desert under the stars is an unmatched experience. The overnight desert safari includes all the activities of an evening safari, plus the opportunity to sleep in a traditional Bedouin tent.
Choosing the Best Desert Safari Dubai Tour as a Solo Traveler
Safety is paramount, especially for solo travellers. Choose a tour operator that has a track record of safety and positive reviews from other solo travellers. The Desert Safari Dubai ensure the safety of its guests as their number one priority.
Travelling solo often means keeping an eye on your budget. Many affordable desert safari Dubai tours don't compromise on excitement and adventure. You can find packages that include dune bashing, camel riding, and even a sumptuous traditional meal.
Unique and Memorable Experiences
Make sure your desert safari tour includes unique and memorable experiences. Whether it's a spectacular falconry display, a traditional henna painting session, or a starlit BBQ dinner, each moment should make your solo travel experience unforgettable.
Top Desert Safari Dubai Tours for Solo Travelers
Looking for the best options? Here are a few top-rated desert safari Dubai tours that solo travellers have loved:
| Tour | Features | Why it's Best for Solo Travelers |
| --- | --- | --- |
| Desert Safari Dubai with BBQ Dinner & Camel Ride | Dune bashing, camel ride, BBQ dinner | Offers a comprehensive experience with both adventure and cultural activities at an affordable price. |
| Dubai Red Dune Safari with BBQ Dinner and Transfers | Dune bashing, camel ride, sandboarding, BBQ dinner | Friendly and professional guides make it safe and fun for solo travelers. Transfers included, no need to worry about transportation. |
| Morning Dubai Desert Safari with Quad Biking and Sandboarding | Quad biking, sandboarding, breakfast | Great for thrill-seekers, with the addition of quad biking. Start the day with an adventure and have the rest of the day for other activities. |
| Dubai Overnight Desert Safari with Camel Trek and BBQ Dinner | Dune bashing, camel trekking, BBQ dinner, overnight stay | Provides a unique and immersive desert experience. Opportunity to socialize with other travelers in the Bedouin camp. |
| Hummer Desert Safari Dubai | Hummer ride, dune bashing, camel farm visit, gourmet dinner | A luxury experience that's worth the splurge. Great for solo travelers looking for a high-end, memorable desert safari. |
Safety Tips for Solo Travelers on Desert Safaris
As a solo traveller, venturing on a desert safari can be an exhilarating experience, but safety should always be your top priority. Here are some pointers:
Choose a reputable tour operator known for prioritising their guests' safety and well-being.
Stay hydrated and use sunscreen to protect yourself from the harsh desert sun.
In case of an emergency, ensure you have the contact details of local authorities.
Packing Tips for Solo Travelers on Desert Safaris
A little bit of planning goes a long way when packing for a desert safari. Here's what you should consider:
Wear comfortable, light, and loose clothing. Remember, the desert can be scorching during the day and chilly at night.
Remember your sunglasses, hat, and scarf to protect yourself from the sun and sand.
Carry essentials like water, snacks, sunscreen, and a portable charger.
Dubai's desert is enchanting all year round, but when is the best time to enjoy a desert safari?
The winter months from November to March are considered the best as the weather is cooler and more comfortable.
Avoid the summer months from June to August as the desert heat can be intense.
Remember that activities may vary based on the season, so plan accordingly.
Budgeting for a desert safari involves understanding the different components of the tour:
The cost of a desert safari can vary significantly based on the inclusions. Standard tours start from as low as AED 130, while luxury experiences can go up to AED 1000 or more.
Choosing the right tour operator can make a world of difference to your desert safari experience. Here are some tips:
Look for operators with high ratings and positive customer reviews.
Consider factors like the company's reputation, the quality of the tours, and the standard of customer service.
Dos and Don'ts of Desert Safaris
Lastly, to make the most of your desert safari, keep these tips in mind:
Do respect the local culture and traditions.
Do listen to your guide and follow all safety instructions.
Don't venture off alone into the desert.
Don't forget to take loads of pictures – but also take time to just enjoy the experience without the lens of a camera.
A Personal Solo Desert Safari Experience in Dubai
During my solo trip to Dubai, I embarked on an adventure that sparks joy whenever I remember it. The idea of a desert safari was initially intimidating. I was a solo traveller in a foreign land at that time, but the allure of the golden dunes was too compelling to resist.
I opted for an evening desert safari, and it was one of the most thrilling experiences of my life. Starting with a heart-pumping dune bashing ride in a 4×4 vehicle, the tour gave me an adrenaline rush I had never experienced before. The skilled driver manoeuvred through the desert as if we were sailing on an ocean of sand.
Sandboarding & Camel Ride
Post dune-bashing, I tried my hand at sandboarding. It was a bit tricky at first, but once I got the hang of it, it was exhilarating. The camel ride that followed was a contrastingly calm and serene experience. The sun was setting, casting an ethereal golden glow over the landscape.
Belly Dance Show & BBQ Dinner
As night fell, I found myself in a traditional Bedouin camp, surrounded by other excited tourists. We were served a delectable BBQ dinner while enjoying traditional belly dancing and Tanoura performances. Despite being a solo traveler, I never felt alone. The communal vibe of the camp was comforting and exciting.
My personal experience has shown me that desert safaris in Dubai are safe for solo travellers and an exceptional experience that should not be missed.
|   | Why | Why Not |
| --- | --- | --- |
| 1. | Freedom to plan your own itinerary | Possible feeling of loneliness |
| 2. | Meet like-minded solo travelers | Occasional safety concerns |
| 3. | Opportunity for self-discovery | No one to share costs with |
| 4. | Personalized attention from the tour guide | Not having someone to take photos |
| 5. | Empowering and confidence-boosting experience | Handling any potential issues alone |