Best Dirt Bikes for Desert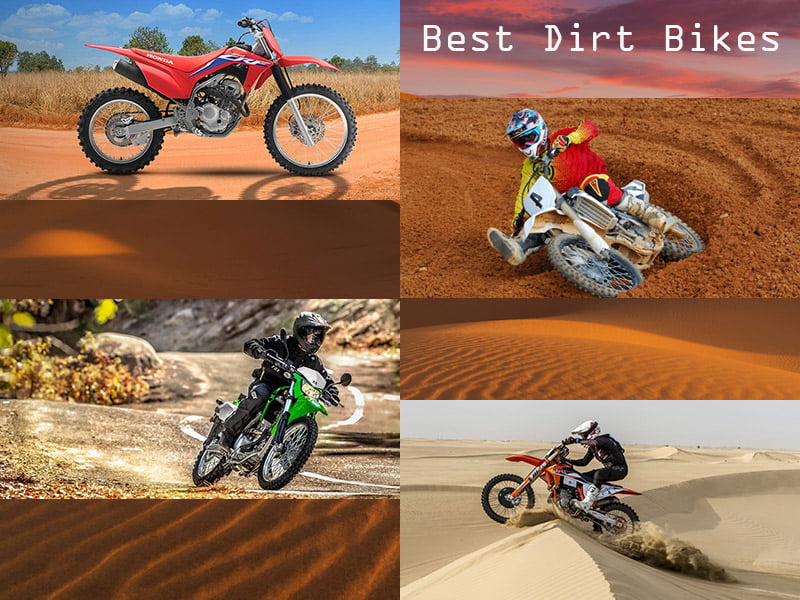 When picking the Best Dirt Bike in Dubai, you need to gather all the relevant information about dirt bikes, especially for the four-stroke dirt bikes. This blog will discuss the key points that are to be considered before you buy a dirt bike in Dubai. Further, we will discuss which dirt bikes are the most suitable for you in Dubai. First, let us look at the critical points that you should consider.
What kind of dirt riding are you doing? It is crucial to consider because many people have different purposes behind their dirt bikes. Some use their bikes for riding on mixed surfaces like sand and hard; some only ride on the sand. So depending upon what kind of dirt riding you are into, you should choose your dirt bike.
What is the level of your skill? Your skill level is also an important determinant of what kind of dirt bike you should buy. For instance, if you are an experienced fast racer, you should buy a 450 racer dirt bike. On the contrary, if you are a beginner, you should start with a bike that will give you a smooth experience with predictable power.
Your size also matters. When you are a beginner at dirt bike riding, the size of the dirt bike is essential for you. It is vital that you can touch the ground with one foot as it will prevent you from falling, and it can also boost your confidence. This is why different dirt bikes of different dirt sizes are available. It would be best if you chose whichever fits your requirements.
Should you choose a two-stroke or four-stroke dirt bike? Many people argue about which type of dirt bike is best, and we recommend that a four-stroke dirt bike will give you the advantage. This is because a four-stroke motorcycle will provide you with a more broad power curve with no mixing oil. They have the latest technology, are more comfortable for longer rides, and have longer rebuilt intervals.
Now, this article will discuss the Best Dirt Bike in Dubai that are most suitable for you to ride in the desert during the desert safari tour. These bikes have been listed here after thorough research and collecting essential facts and findings. Each of these bikes has splendid qualities, and each is brilliant.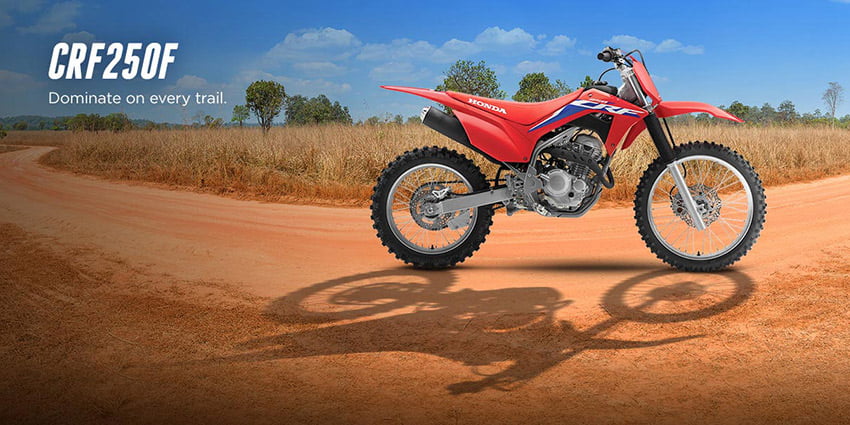 Honda has been famous globally for producing motorcycles for quite some time now, and they are continuing to grow. The CRF250F is one of the most confidence-inspiring dirt bikes there are in the market, where it provides an immense rear-wheel hookup while pushing the throttle. Even in the cold weather, the CR250 has a fuel injection system that does not affect the riding, even at high altitudes. This dirt bike is the best for the toughest of trails.
Key Features
Disc brakes front and rear
Fuel Injection
Electric Starter
Main Specifications
Power: 39 horsepower
Seat Height: 883 mm (34.8 in.) at the lowest point
Engine: 249cc air-cooled, single-cylinder, four-stroke
Wet Weight: 265 lbs (120 kg)
Front Suspension: 41mm telescopic fork; 8.5 inches of travel
Rear Suspension: Pro-Link® Showa single shock with spring-preload adjustability; 9.0 inches of travel
Fuel Tank Capacity: 1.6 gallons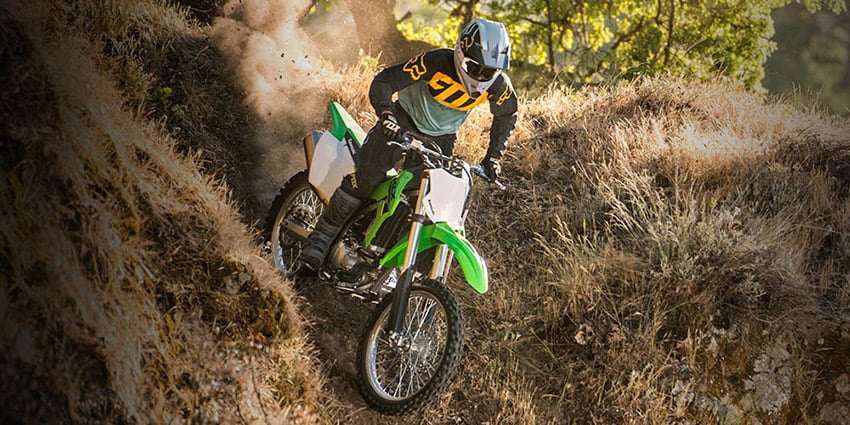 Kawasaki is a Japanese brand that has been manufacturing world-class motorbikes for a long time now, and the KLX 300 is one of the best in the world right now. Kawasaki has made the KLX 300 and has given the dirt bike a more street-friendly stance. This bike has the same 292cc liquid-cooled four-stroke engine with 33 horsepower and 21 lb-ft of torque. If you wish to buy Best Dirt Bike in Dubai, then the KLX 300 is one you should consider.
Key Features
This bike is street legal
Six-speed manual transmission
Electronic starter
Main Specifications
Engine Type: 292cc, liquid-cooled, 4-stroke, DOHC 4-valve single with around 21 lb-ft of torque and approximately 33 horsepower
Seat Height (inches): 35.2 (895 mm)
lbs. in wet weight (137 kg)
In the front suspension, there is a 43mm inverted cartridge fork with adjustable compression damping/10.0 inch travel.
1 in. Uni-Trak® gas-charged shock with piggyback reservoir and adjustable rebound damping and spring preload in the rear suspension.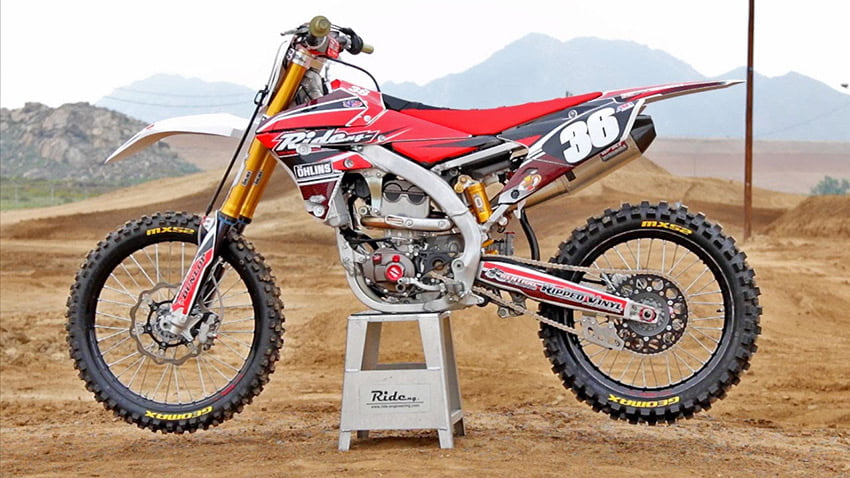 Regarded as one of the best desert bikes globally, the 2014 Yamaha YZ250F can be the Best Dirt Bike in Dubai. Yamaha completely revamped the YZ250F in 2014, where they installed a new engine that took the bike to new levels. A liquid-cooled engine was introduced in this bike with a DOHC 4-valve with a straight intake. According to Yamaha, in the mid to high rpm range, this bike can produce more power that comes in handy to dirt bike enthusiasts.
Key Features
A revolutionary exhaust pipe design is employed to promote weight centralization and optimize power development characteristics. This layout shifts the back end of the exhaust pipe forward, allowing the exhaust to be located closer to the machine's center of gravity as a result. The pipe diameter is varied in different parts, resulting in a powerful exhaust pulse effect that increases high-rpm power production while reducing fuel consumption.
New transmission and shift systems are being installed. Prevent the loss of drive-force during gear changes, resulting in smoother shifts and faster shift action.
Main Specifications
Front Brakes: Hydraulic single disc brake, 250mm
Front Suspension: KYB Speed-Sensitive System, inverted fork: fully adjustable, 12.2-in travel
Rear Suspension: KYB Speed-Sensitive System, inverted fork: fully adjustable, 12.2-in travel
Engine: 249cc liquid-cooled DOHC 4-stroke; 4 titanium valves It has a fully adjustable single shock with 12.4-in travel
Bore and stroke of 77.0 x 53.6mm.
It has a constant-mesh 5-speed transmission with a multiplate wet clutch.
It has a wet weight of 231 pounds and a fuel capacity of 2.1 gallons.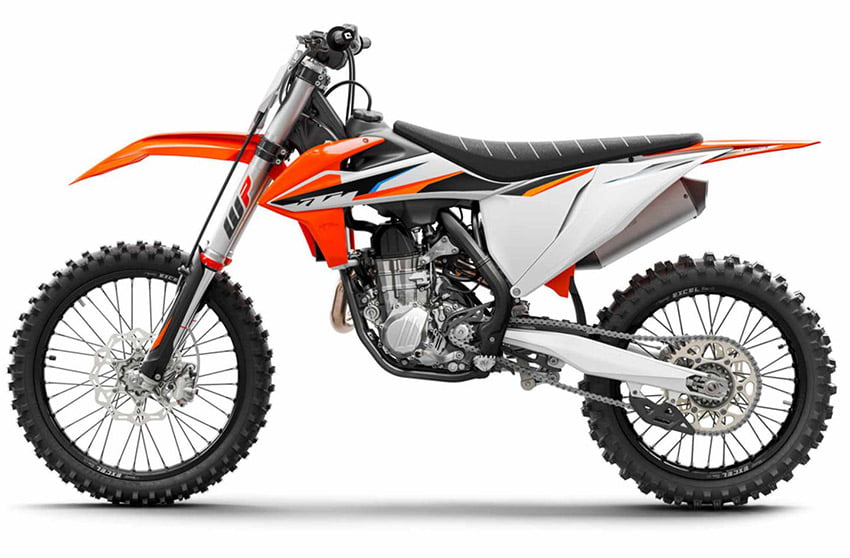 The KTM 450 SX-F is the Best Dirt Bike in Dubai for you if you want a robust bike that will last for an extended period in the deserts of Dubai and other desert environments. This motorcycle is equipped with a high-quality chassis that allows the rider to regulate the powerful engine and convert it into controllable traction when necessary. This bike's gear shifting is smooth enough to keep the speed and momentum flowing at any pace, no matter how high the altitude or how rough the terrain. The adoption of the most up-to-date technology in the exhaust system increases the versatility and usability of the motorcycle. When you purchase this bike, the frame is constructed of high-quality steel that contains chrome and molybdenum. This gives the 450 SX-F the appearance and feel of a top-tier dirt bike from around the world. With the 450 SX-F, you will have the most outstanding choice in Dubai when it comes to managing the desert conditions. This is because it is in a league of its own.
Key features
Because of twin overhead camshafts and four valves controlled by cam levers, the 450 SX-outstanding F's excellent four-stroke single-cylinder engine excels with a wide proper rpm range, enormous torque, and unequaled performance, making it the ideal motorcycle for off-roading.
In addition to being lightweight and torsional resistant, the 450 SX-cutting-edge F's frame is also quite sturdy, being constructed of high-quality chrome-molybdenum steel. It also boasts a well-balanced form that makes it easy to use while maintaining razor-sharp sharpness and precision.
Bodywork of the 450 SX-F, which incorporates very short seat and spoiler lines and excellent contact points, improves the ergonomics of the bike, making handling even more approachable and accurate
Main Specifications
A single-cylinder, four-stroke, spark-ignition engine with liquid cooling is used in this vehicle.
Volume of displacement: 449.3 cm3 (27.418 cu in)
Cooling system: liquid cooling system with a water pump that circulates cooling liquid continuously.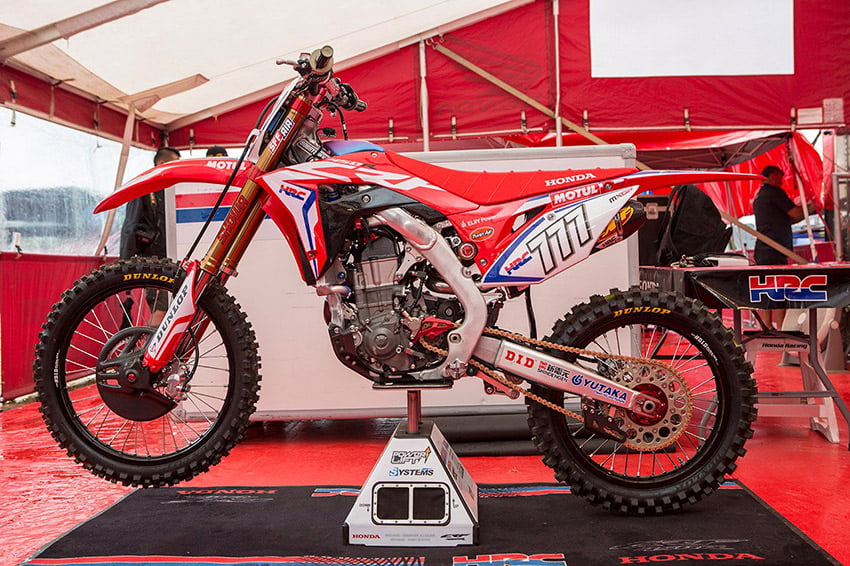 The CRF450R was first introduced in 2002 by Honda, and since then, it has been the benchmark for all the dirt bikes all around the world. The CRF450R has an immaculate art of balance. The power produced by this bike is hard-hitting owing to its state-of-the-art engine. The chassis is built so that the rider can experience all levels of powers and put them to good use. The unique thing about this bike is that it is perfect for every rider, whether amateur, pro-racer, or enthusiast; it has been built to give total control to the rider. This has been coupled with the longevity and durability that Honda has always been famous for.