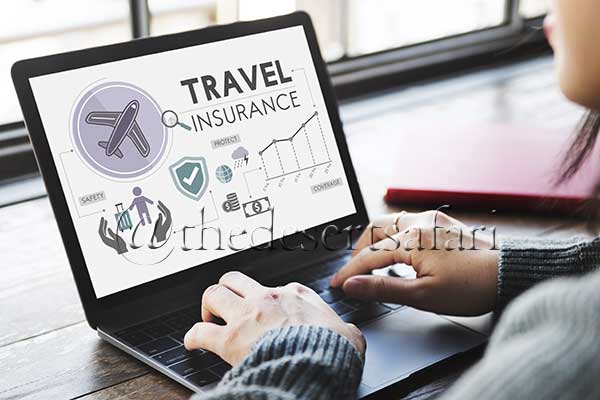 Travel insurance is a type of insurance designed to cover a variety of potential losses and expenses incurred while traveling, such as trip cancellation, medical bills, and lost or delayed luggage. It may also help cover emergency medical expenses, emergency evacuation, and even financial default of a travel supplier.

For example, the travel insurance for USA and Dubai is relatively high due to their costly health facilities. Nowadays, travel companies provide their customers with different travel insurance policies when the customers plan for a tour.
Traveling is a hobby for some but a few people; it is their passion. In the past, traveling was a smooth process in terms of paperwork. Almost all the countries used the same money for purchase and sale. With the changing time, currency, and current security situations, you need to go through lots of procedures to start traveling, and among these procedures travel insurance is one of them. Now, what travel insurance is, let's have a detailed overview and then go through the things covered in insurance.
Different types of coverage offered in Travel Insurance
Travel insurance typically covers various areas, including emergency medical expenses, trip cancellation, loss of baggage and personal items, emergency evacuation, and other medical and travel-related expenses.
Medical Coverage: Coverage for medical expenses, including emergency medical evacuation and repatriation, can provide peace of mind when traveling.
Trip Cancellation and Interruption Coverage: Trip cancellation and interruption coverage protect you in the event you need to cancel your trip or leave early due to an emergency.
Lost Baggage Coverage: Lost baggage coverage can help you replace the items you need while traveling.
Emergency Assistance: Emergency assistance coverage can help you access local medical care and other resources in the event of an emergency.
Personal Liability: Personal liability coverage can help protect you from legal action if you are responsible for an accident or injury.
24-Hour Assistance: 24-hour assistance can provide you with support and information when you need it most.
Travel Delay: Travel delay coverage can help you with the cost of accommodations and meals if your trip is delayed due to an unexpected event.
Accidental Death and Dismemberment: This coverage provides financial support to your family in the event of your death or dismemberment while traveling.
Importance of having travel insurance
Travel insurance can be a lifesaver for international and remote travel. It provides financial protection in the event of an emergency or unexpected expense. Knowing that you are covered if the worst should happen you peace of mind.
It can provide coverage for lost or stolen baggage, medical expenses, trip cancellation, emergency evacuations, and even natural disasters. It can also give you access to an extensive network of doctors, hospitals, and emergency services in case you need them.
Travel insurance can also protect you from potential international or remote travel risks, such as political instability, currency fluctuations, or extreme weather conditions.
Factors to consider when purchasing travel insurance
Trip Duration: Consider the length of your trip when purchasing a travel insurance policy. Depending on the policy, you can purchase coverage for a single trip or multiple trips throughout the year.
Destination: Where you are traveling can affect the type of coverage you need. If you are traveling to a country with higher medical costs or a higher risk of natural disasters, you may need additional coverage.
Activities: If you plan to participate in activities such as skiing, scuba diving, or bungee jumping, or dune buggy ride you may need additional coverage. Some activities may be excluded from standard policies, so make sure you check the details of your policy.
Pre-Existing Conditions: If you have a pre-existing medical condition, you should make sure that it is covered under your policy. In some cases, you may need to purchase additional coverage for conditions such as heart disease or diabetes.
Cost: Consider the cost of the policy. You should compare the cost of the policy with the coverage it offers to ensure you are getting the best value for your money.
The cost of travel insurance can vary depending on the type of coverage and the length of the trip. Generally, the longer the trip, the more expensive the insurance. The cost of coverage is based on the trip's total cost, the traveler's age and health, the type of coverage chosen, and the length of the trip.
For example, a traveler might pay more for a longer trip with higher coverage levels than for a shorter trip with lower levels of coverage. Travel insurance costs also depend on the destination, as some destinations may require additional coverage for specific risks.
Finally, the cost of a policy may be affected by any discounts or special offers available. Insurance companies may offer discounted rates for travelers who purchase policies for multiple trips or for longer durations.
Claims process for travel insurance
The claims process for travel insurance varies depending on the policy and the insurer, but typically involves the following steps:
Submit a claim form and supporting documentation: When making a claim, you will need to submit a claim form as well as supporting documentation, such as medical records, proof of purchase, and receipts.
Verify coverage: Once you've submitted your claim, your insurer will verify the coverage provided by your policy.
Process the claim: Your insurer will review the information provided and process your claim accordingly. Depending on the type of claim, this can take anywhere from a few days to a few weeks.
Receive payment: Once your claim is approved, you will receive the payment for the claim.
The documentation required for a travel insurance claim can vary depending on the type of claim you are making. Generally, you will need to provide proof of purchase, medical records, receipts, and any other relevant documentation to your claim.
What things does travel insurance not cover?
Pre-existing medical conditions.

Intentional self-injury.

Loss or damage to property caused by negligence.

Expenses incurred due to breaking the law.

Loss of income or business interruption.

War or terrorism-related losses.

Travel to obtain medical treatment.

Extreme sports, such as bungee jumping or skydiving.

Losses due to the use of drugs or alcohol.

Losses due to the failure to follow safety advice or warnings
Travel Insurance Vs Medical Insurance
Travel insurance is a unique form of insurance that provides coverage for travelers abroad. Unlike health insurance, which primarily covers medical expenses, travel insurance offers more comprehensive coverage, including protection for trip cancellations and interruptions, lost or damaged baggage, and emergency medical expenses while traveling.
Travel insurance also covers unforeseen events, such as flight delays and disruptions, that may arise while traveling. In addition, travel insurance can provide reimbursement for non-refundable expenses such as hotels, tour packages, and car rentals.
This type of insurance can also offer access to emergency medical evacuation services, which may be necessary for an unforeseen medical emergency while traveling abroad. Compared to health insurance, travel insurance provides more comprehensive coverage for travelers and the peace of mind that comes with knowing their trip is protected.
Tips for purchasing travel insurance
Purchase travel insurance early: When it comes to travel insurance, it's always best to purchase it as soon as you have made your travel plans. Insurance will ensure that you are covered for any unforeseen circumstances that may occur before you travel.
Know what's covered: Before purchasing travel insurance, ensure you know exactly what is and isn't covered by the policy. Different policies may have different coverage levels, so read the policy carefully and understand what you are getting for your money.
Get the right type of insurance: Depending on your travel type, you may require a different type of travel insurance. For example, if you are planning a cruise, you may need to purchase additional coverage for medical emergencies and lost luggage.
Check the fine print: Before you purchase a policy, make sure you read the fine print so you understand things such as any exclusions, limits, and pre-existing medical conditions that may not be covered.
Verify the policy with the provider: Once you have purchased the policy, make sure to contact the provider to verify that the policy has been issued and the coverage is correct.
Always ask questions: If you are ever unsure of anything, don't be afraid to ask questions. It's always better to be informed so that you can make the best decision for your specific needs.
How to find travel insurance provider.
It may be tiring to find a travel insurance company and then discuss the details you need with your travel insurance package. But with modern-day communication technology, it is no more a tedious task now. Just start internet surfing about travel insurance packages along with the details of the providing company. All the details and information will be available to you in just a few seconds. 
You can select the one best suited to your choice and need. Sometimes the information on the internet is not the same, so you should personally visit the company office and discuss the package's details.
Scam people are there in the market selling their products with the best features but trying them gives you the worst life experience. So try to get some reviews from other people who have any experience with them and then select your desired company.
What is the average cost of travel insurance?
The average cost of travel insurance can vary widely depending on the type of policy, coverage limits, and destination. Generally, travel insurance costs between 4%-8% of the total cost of the trip. For example, if the total cost of the trip is $2,000, the average cost of travel insurance would be between $80 and $160.
What are the benefits of travel insurance?
Financial Protection: Travel insurance covers you in case of unexpected losses or damage to your property. It can cover everything from medical expenses and trip cancellations to lost luggage and emergency evacuations.
Medical Coverage: Travel insurance can cover expenses related to unexpected illnesses or injuries while traveling. This coverage can include doctor visits, hospital stays, and medical evacuation.
Trip Cancellation/Interruption Coverage: Travel insurance can provide coverage if your trip is canceled or interrupted due to an unexpected event, such as a natural disaster or the death of a family member.
24/7 Assistance: Travel insurance often includes 24/7 assistance to help you in a medical or travel-related emergency. This service can assist with locating a doctor, arranging medical transportation, and coordinating with your insurance provider.
Lost/Delayed Baggage Coverage: Travel insurance can provide coverage for lost or delayed baggage. This can include reimbursement for replacing essential items, such as clothing, toiletries, and medications.
What is a free look period in travel insurance?
A free look period is a certain amount of time after purchasing a travel insurance policy during which the policyholder can review their policy and cancel it without any cost or penalty if they choose to do so. Generally, the free look period lasts between 10 and 14 days, depending on the insurer.
What is the difference between primary and secondary travel insurance?
Primary travel insurance covers medical expenses, trip cancellation or interruption, lost or delayed baggage, and other unexpected costs that may arise during a trip.
Secondary travel insurance is for those who already have existing coverage through a health insurance provider or other source and provides additional coverage for any gaps in existing coverage.
What is the difference between trip insurance and travel insurance?
Trip insurance provides coverage for pre-paid, non-refundable expenses due to unforeseen circumstances that may force a traveler to cancel or interrupt their trip.
Travel insurance covers medical expenses, lost or delayed luggage, trip cancellation, accidental death, and other unforeseen circumstances that may occur while traveling. Both types of insurance provide financial protection, but trip insurance typically only covers a single trip, while travel insurance covers multiple trips over a set period.
For example, if you were planning a two-week trip to Dubai and wanted to insure yourself against a wide range of losses, you would likely want to purchase travel insurance.
On the other hand, if you were only taking a short weekend trip to the Dubai desert safari and wanted to insure yourself against losses related to that specific trip, you would likely want to purchase a trip insurance policy.
The most popular travel insurance companies in the Middle East.
Allianz Global Assistance

AXA Gulf

Oman Insurance Company

Dubai Islamic Insurance and Reinsurance Company (AMAN)

Al Khalidia Takaful Insurance Company

Oman United Insurance Company

Takaful Emarat Insurance Company

Abu Dhabi National Insurance Company (ADNIC)

Orient Insurance

Noor Takaful
These are just some of the popular travel insurance companies in the Middle East and there may be other options available. It's important to compare the coverage, benefits, and costs of several travel insurance policies before purchasing one to ensure that you're getting the best option for your needs.
Travel insurance is an important part of any trip. It covers unexpected medical emergencies, trip cancellations, and delays, lost or stolen luggage and personal items, and more. 
It can help protect you financially in the event of an accident or illness while traveling and can provide peace of mind knowing that you have the necessary coverage in case the unexpected happens. 
Travel insurance benefits include:
Medical bills.

Trip cancellation or interruption.

Lost or stolen items.

Even legal assistance in case of an accident or injury.
With travel insurance, you can be sure that you are covered in any unexpected issues that may arise during your trip and can enjoy your vacation with peace of mind.