Plan a Five-Day Trip to Dubai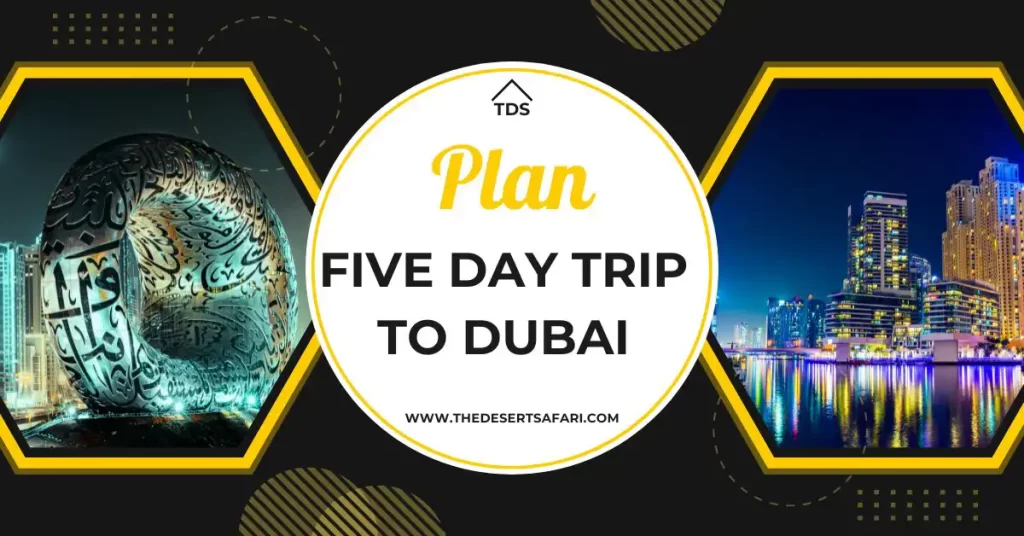 Dubai, the jewel of the Middle East, is a land of wonders that seamlessly blends traditional charm with modern luxury. Whether you're an adrenaline junkie or a cultural enthusiast, this guide will help you craft the perfect itinerary. Are you excited to plan a five-day trip to Dubai? Let's embark on this journey together!
When you think about Dubai, what springs to mind? Magnificent skyscrapers, golden sands, and the sparkling Arabian Sea, perhaps? But there's so much more to explore. Planning a trip here requires careful consideration, ensuring you make the most of your time.
Navigating the skies: Flights and Airlines
Dubai International Airport is a hub for many international airlines. Booking in advance, especially during peak tourist season, is advised. Ever flown Emirates? If not, this might be your chance for an unparalleled experience.
Getting that stamp: Visa Essentials
Depending on your nationality, you might need a visa. Luckily, Dubai's visa process is streamlined for tourists. Consider applying online or through your airline.
Smooth Transitions: Dubai Airport Transfers
Upon arrival, you'll find a range of transfer options. From luxurious limousines to the efficient metro system, choose what aligns with your style and budget.
Cruising through the city: Local Commute in Dubai
While taxis are ubiquitous, consider experiencing the sleek Dubai Metro or even the traditional "abras" for a water ride.
2. Accommodation Insights
Downtown Dubai offers proximity to major attractions. Prefer the beach? JBR or Marina might be your calling. Choose based on your itinerary.
Home away from Home: Types of Accommodations
Hotels, serviced apartments, or even traditional guest houses, Dubai offers a gamut of options.
Lavish or Economical: Budget-Friendly to Luxe Options
Dubai houses both the ultra-luxurious Burj Al Arab and budget-friendly stays. It's about finding your sweet spot.
3. Sightseeing and Must-Visit Attractions
Standing Tall: Dubai's Iconic Landmarks
No trip's complete without visiting the Burj Khalifa. But have you heard of the Dubai Frame? A picture there is worth a thousand likes!
History beckons: Delving into Dubai's Culture
Al Fahidi Historic District offers a nostalgic trip to old Dubai. Museums and art galleries also paint a picture of the Emirati past.
Embrace Nature: Nature's Beauty in Dubai
Desert safaris are a must. But don't forget the tranquil beaches and lush gardens.
4. Activities & Experiences
Heart Racing: Adrenaline Pumping Adventuresd
Skydiving over Palm Jumeirah or skiing at Mall of the Emirates? The city offers experiences that'll get your heart racing.
Shop till you Drop: Shopping Paradises
Gold Souk or Global Village, shopping in Dubai is an experience in itself.
For the Foodies: Savoring Dubai's Cuisine
From traditional Emirati dishes to international cuisines, the city's a gastronomic delight.
The Chill Pill: Unwind and Relax
After a hectic day, relax at a spa or just stroll along the beaches.
5. Budgeting & Managing Expenses
What's the Damage? Estimating Daily Costs
Having a daily budget helps. From meals to entrance fees, always have an estimate.
When in Dubai: Currency Exchange Tips
Exchange at authorized dealers and always keep some local currency handy.
Shop Smart: Allocating Shopping Bucks
Allocate a budget for shopping. Remember, it's easy to get carried away.
6. Local Etiquette & Customs
Dress to Impress: Dressing Right in Dubai
While Dubai's cosmopolitan, dressing modestly, especially in religious places, is appreciated.
Minding Manners: Behavioral Do's and Don'ts
Public displays of affection are best avoided. Always respect local customs and traditions.
7. Safety, Health & Weather
Better Safe than Sorry: Importance of Insurance
Always have travel insurance. It's a small price for peace of mind.
Stay Prepared: Emergency Protocols
Keep emergency numbers handy. Dubai's safety protocols are top-notch.
Dubai's Climate: Dressing for the Weather
Dubai can get hot. Light, breathable clothes are your best friends.