Dubai in September: The Ultimate Guide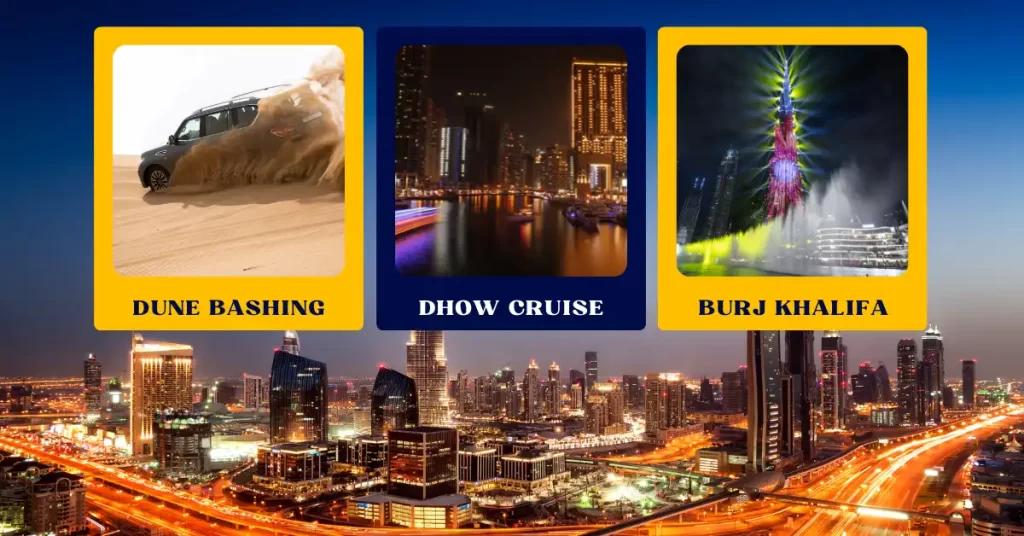 Dubai, the gleaming gem of the United Arab Emirates, offers a unique mix of traditional Arabian charm and futuristic dynamism. So, you're planning a trip to Dubai this September? Great choice! From thrilling desert safaris to luxurious stays, Dubai has something to suit every traveler's taste. Dubai in September can be a remarkable time to visit if you're prepared for what's in store. Let's embark on this journey together!
Best Time to Visit Dubai: Why Choose September?
Dubai, an ever-dazzling destination, can indeed be at its best in September. As the sweltering summer heat gradually eases, the weather becomes more bearable, opening many activities for travelers.
Weather in Dubai in September
The first thing you need to know is that even though the heat subsides slightly in September, it still remains quite warm. Average temperatures range from 25°C (77°F) to 39°C (102°F). So, while planning your itinerary, keep the weather in mind!
Coping with the September Heat in Dubai
Despite the high temperatures, don't let the heat dampen your adventurous spirit. Dubai in September is well-equipped to handle the heat, with air-conditioned facilities available almost everywhere, be it malls, museums, or taxis. Moreover, packing lightweight and breathable clothing can also make a big difference.
Highlight Events in Dubai in September
September brings with it a vibrant array of events and festivals. The city bursts into life with a mix of cultural, sports, and food events attracting global tourists and locals alike.
Music and Food Festivals in Dubai
Music lovers can look forward to several festivals like Dubai Music Week. For gastronomy enthusiasts, numerous food festivals serve a smorgasbord of local and international cuisines. Indeed, **September events in Dubai** have something for everyone!
Specific September Events to Look Out For
The Emirates Airline International Festival of Literature and the UAE National Sports Day stand out among the myriad events. The Literature Festival offers a fantastic opportunity for bibliophiles, while the National Sports Day promises fun-filled activities for all ages.
Experiencing Dubai: What to Do in September
Dubai in September brims with activity. From indoor entertainment to outdoor adventures, there's plenty of things to do and places to explore.
Family-friendly Activities in Dubai in September
Whether you're traveling with young kids or teenagers, Dubai has a host of family-friendly activities that are sure to keep everyone entertained.
Indoor Attractions for the Family
When the temperatures are high, retreat indoors to attractions like the Dubai Mall, where you'll find the Dubai Aquarium & Underwater Zoo, KidZania, and a huge cinema complex. Over at the Mall of the Emirates, Ski Dubai offers the chance to ski, snowboard, or just play in the snow – a remarkable experience considering the desert location!
Outdoor Experiences for the Family
As the heat subsides slightly, outdoor adventures become more enjoyable. A desert safari is a quintessential **Dubai** experience that should not be missed. The thrilling ride across the dunes, combined with a traditional Arabian camp experience, is sure to be a hit with the whole family.
Luxury Hotels in Dubai in September
The city is home to some of the world's most luxurious hotels, perfect for travelers looking for a taste of the high life. The iconic Burj Al Arab and the palatial Atlantis, The Palm, are both excellent choices for a lavish stay.
Budget-friendly Hotels in Dubai in September
For those traveling on a budget, there are plenty of options that offer excellent service and facilities without the hefty price tag. Rove Downtown and Citymax Hotel Bur Dubai are worth checking out.
Must-try Restaurants in Dubai in September
From fine dining to street food, Dubai's culinary scene is as diverse as it is delicious. Whether you're craving traditional Emirati dishes or international cuisines, the city's dining scene has got you covered.
I'll always remember my first visit to Al Hadheerah. Nestled within the dunes, this restaurant offers more than just a meal — it's a complete cultural immersion. I was treated to a traditional music performance as I savored my perfectly spiced lamb tagine under the stars. It felt as if I had stepped back in time to a more traditional Dubai, a stark contrast to the city's usual futuristic vibe.
Dining Options from Budget to Luxury
For the ultimate luxury dining experience, restaurants like Pierchic, set on a pier jutting into the Arabian Gulf, or Al Mahara, an underwater restaurant in the Burj Al Arab, are sure to impress. Budget travelers needn't worry, though, as the city is brimming with affordable yet delicious options, especially in areas like Al Karama and Deira.
Things to Do for Free in Dubai in September
Dubai may be synonymous with luxury, but you can still enjoy the city on a budget. In fact, there are many free or inexpensive activities you can enjoy.
Free Activities Worth Checking Out
Strolling along the Marina Walk, exploring the historic Al Fahidi district, watching the captivating Dubai Fountain Show, and enjoying a beach day at JBR or Kite Beach are all wonderful experiences that cost absolutely nothing. Make sure you make the most of **Dubai in September** without breaking the bank!
Getting to and Around Dubai in September
Getting to Dubai is straightforward, thanks to its status as a global aviation hub. Navigating the city is also easy due to its efficient public transportation network.
Dubai is served by two airports, Dubai International Airport (DXB) and Al Maktoum International Airport (DWC). Many international airlines have regular flights to Dubai, so finding a convenient option should be easy.
To get the best deals, book your flights well in advance and be flexible with your travel dates. Consider traveling on weekdays and during off-peak hours for cheaper tickets.
Once in Dubai, there are several ways to get around, including taxis, the metro, buses, and water taxis. Alternatively, you can rent a car if you're comfortable driving in a foreign city.
Navigating Public and Private Transport Options
While taxis are convenient for short distances, the Dubai Metro is a great way to travel longer distances quickly and cheaply. Buses cover areas not reached by the metro, and the water taxis, or abras, offer a unique way to travel between Deira and Bur Dubai.
What to Pack for Dubai in September
Packing for Dubai in September can be a balancing act. You want to be comfortable in the heat, yet respectful of the local customs.
Lightweight, breathable clothing is your best bet for the hot weather. Carry a scarf or shawl to cover your shoulders when visiting religious sites or traditional areas. Don't forget your swimwear for the fantastic beaches and hotel pools!
With all the picture-perfect moments you'll be capturing, don't forget your camera, charger, and an extra memory card. A power bank might come in handy too. Dubai uses the type G power socket, the same as the UK, so ensure you have the right adapter if coming from a different region.
Other Useful Items to Pack
A good sunscreen, sunglasses, and a hat are essential for protecting against the sun. Carry a reusable water bottle to stay hydrated. Also, a portable fan can provide some relief from the heat.
Valuable Tips for Visiting Dubai in September
Dubai can be overwhelming for first-time visitors, but with some insider tips and tricks, you can ensure a smooth and enjoyable trip.
Planning Ahead: Flights and Accommodations
To get the best deals and avoid last-minute hassles, book your flights and accommodations well in advance. Many hotels also offer shuttle services to major attractions, so check with your hotel when planning your itinerary.
Embracing the Heat: Staying Cool and Safe
Drink plenty of water to stay hydrated and avoid spending long hours outside during the peak heat of the day. Most indoor places are air-conditioned, so plan your day around indoor and evening activities.
Free Activities and Where to Find Them
Research free activities, like the Dubai Fountain show or visiting the Dubai Marina, before you arrive. These can provide excellent entertainment without adding to your budget.
Exploring Dubai's Vibrant Neighborhoods
Don't just stick to the glitz and glamour of downtown. Explore the old neighborhoods of Deira and Bur Dubai for a taste of traditional Dubai.
On my last visit, I made sure to set aside a day to explore Old Dubai. As I strolled through the bustling lanes of Deira and Bur Dubai, I was captivated by the fragrance of spices and the glint of gold jewelry in the souks. I chanced upon an old Emirati man brewing gahwa, traditional Arabic coffee, in his shop. With a welcoming smile, he offered me a cup. The rich, cardamom-infused coffee was unlike anything I'd tasted before — it was a flavor of history, culture, and the warm hospitality Dubai is known for.
The Unmissable Burj Khalifa Experience
Book your tickets for the Burj Khalifa observation deck online in advance to avoid long queues. Visit at sunset for a breathtaking view of the city transitioning from day to night.
Sampling the Local Cuisine
Dubai's culinary scene is as diverse as its population. Don't miss out on trying traditional dishes like shawarma, hummus, and camel milk ice cream. The local food markets are a great place to sample a variety of dishes.
Dubai is a shopper's paradise. From sprawling malls housing international brands to traditional markets (souks) offering gold, spices, and textiles, there's something for everyone. Remember, bargaining is customary in the souks!
Relaxing on Dubai's Stunning Beaches
Whether you prefer the bustling atmosphere of JBR Beach or the quieter Al Mamzar Beach Park, make sure to set aside a day to relax on the sandy shores and dip your toes in the Arabian Gulf.
Embarking on a Desert Safari
A desert safari offers an exciting mix of adventure and culture. From dune bashing and sandboarding to camel rides and traditional dance performances, it's an experience not to be missed.
Perhaps one of the most memorable experiences I had in Dubai was a desert safari. The journey started late in the afternoon, our 4×4 deftly maneuvering the dunes, the cityscape replaced by an endless expanse of golden sands – it was my first taste of dune bashing, and the adrenaline rush was absolutely exhilarating!
But the true magic began after sundown. As the sun sank, staining the sky with shades of crimson and gold, we were led to a traditional Bedouin camp. Set under a sky lit with a million stars, it was like stepping into a different world. The warm, inviting glow of the bonfire, the aromatic smell of BBQ, the soft melodies of Arabic music filling the air – it was enchanting.
I decided to try sandboarding, it was a fun, unique challenge! After working up an appetite, I joined others around the buffet, loaded with traditional Emirati dishes, the taste of succulent grilled meats, and the refreshing sweetness of Arabian dates still lingers in my memory.
And then there was the Tanoura dance. As the dancer twirled in his colorful skirt, telling stories through his movements, I felt myself getting lost in the rhythm, the culture, the beauty of it all. As the evening wound down with a session of star-gazing, I remember feeling a sense of calm and contentment.
The desert safari wasn't just a tour, it was a journey, a captivating tale of Dubai's past and present, and an experience that touched my soul.
Visiting Dubai in September might come with some heat, but the vibrant city life, stunning attractions, and range of activities more than make up for it. Plan ahead, pack right, and get ready to explore everything this dynamic city has to offer!