Dubai in November A Complete Guide to the Desert Oasis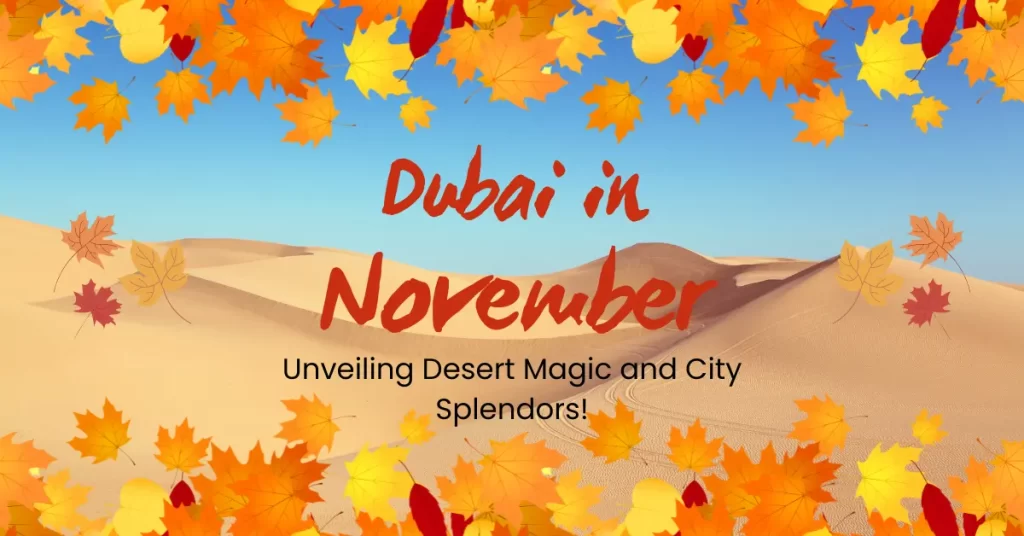 When one thinks of an oasis, a vision of a small fertile spot in the desert comes to mind. But imagine an oasis of luxury, culture, and unparalleled experiences. That, dear reader, is Dubai in November. As the rest of the world begins to bundle up, Dubai gracefully transitions into its most comfortable and energetic.
From its skyline that challenges the heavens to its bustling streets and festivals, there's no other place like Dubai in November. Whether you're a seasoned traveler or planning your first escapade to the city of gold, this guide will unveil why November is the month to fall in love with Dubai again.
Weather in Dubai in November
1. A Symphony of Comfort and Elegance
As the fiery heat of the summer months gives way to the gentle embrace of autumn, November marks a delightful transition in Dubai's weather narrative. It's when the desert city starts flirting with the idea of winter.
Morning temperatures in November often start at a pleasant 20°C (68°F), gradually rising to a peak at around 30°C (86°F) in the afternoon. A gentle coolness descends as dusk approaches, making evenings particularly enjoyable, hovering in the mid to low 20s.
The skies during this month maintain a consistent theme of clear blue, adorned occasionally by wispy clouds. Rain is a rare guest in November, but when it does appear, it's usually a light drizzle, adding a refreshing touch to the ambiance.
While the preceding months can be quite humid, November sees a drop in humidity levels. This drop ensures that even though temperatures might seem high on paper, the actual feel is far more comfortable, devoid of that sticky, oppressive sensation that high humidity can bring.
For those tempted by the azure waters of the Arabian Gulf, November is a treat. The sea temperature typically lingers around a warm 27°C (81°F), making it perfect for a relaxing swim, water sports, or just a tranquil wade by the shoreline.
Weather Aspect
Details in November
Temperature Rundown
Morning: ~20°C (68°F)
Afternoon Peak: ~30°C (86°F)
Evening: Mid to low 20s°C
Skies and Rainfall
Predominantly clear blue with occasional wispy clouds. Rare light drizzles.
Humidity and Comfort
Reduced humidity, leading to comfortable temperatures without the oppressive sticky sensation.
Sea Temperatures
Around 27°C (81°F) – ideal for swimming and water activities.
Dressing Recommendations
Light layers for morning and evening. Light jacket or pashmina for chilly moments. Summer essentials for the day.
Why November is a Special Time to Visit Dubai
Dubai in November is not just a location; it's an event. The city seems to wake up from its summer slumber. Streets buzz with energy, cafes spill with conversations, and a distinct festive vibe is in the air.
2. More Than Just Weather
Sure, the comfortable temperatures play a part. But there's more. November marks the onset of many festivals and events in Dubai. From shopping to food, lights to arts, there's an event for every passion and every age.
This is the time when outdoor attractions are at their prime. The climate is your best companion whether you're soaring the skies in a hot air balloon or enjoying a desert safari.
7 Best Places to Visit in Dubai in November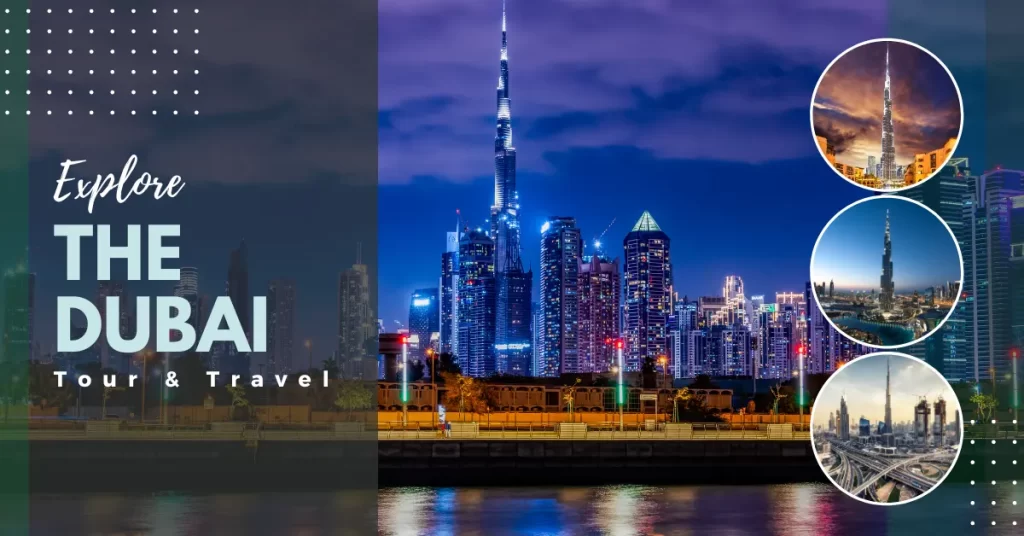 It's not just the world's tallest building; it's a symbol of Dubai's audacious ambitions. In November, the skies are clear, and the panoramic views from the observation deck are nothing short of breathtaking. Watch the cityscape shimmer in the mellow sun, with the azure Arabian Gulf forming a picturesque backdrop. It's also the best time to visit Dubai in November for family outings, with the temperatures making your sky-high adventure comfortable. We also have a tour of the morning desert safari With Burj Khalifa please check out that also.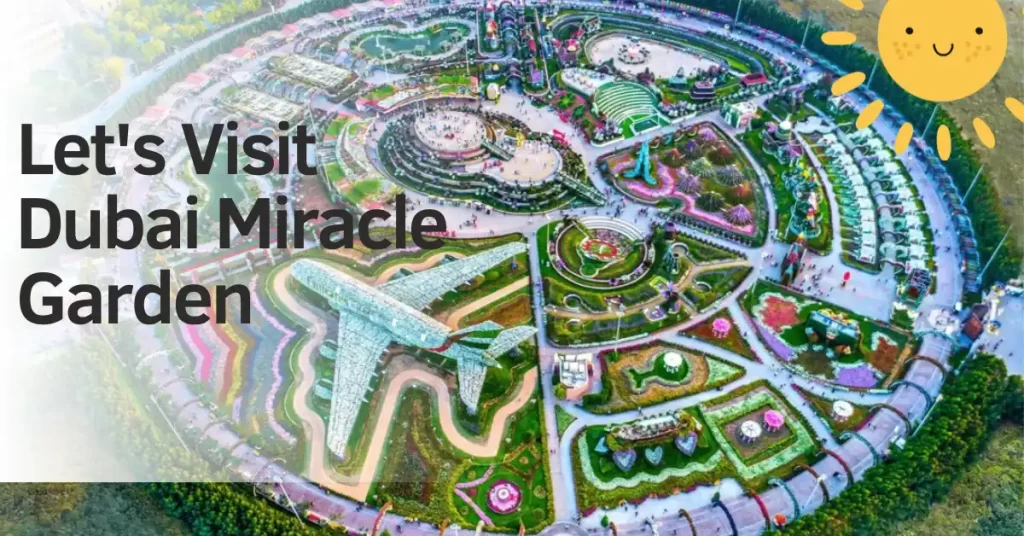 November marks the reopening of this garden, and there's a reason it's called a 'miracle.' Over 150 million blooming flowers spread across 72,000 sqm, with awe-inspiring designs and structures. The pleasant Dubai weather in November adds a fresh aroma to the garden, making it a paradise for nature lovers. We also offer a Dubai desert tour with Miracle Garden, it's a combo package. This man-made marvel, an island shaped like a palm tree, is a testament to human ingenuity. The cooler November weather makes it perfect for beach activities, luxurious stays at Atlantis The Palm, and even a monorail ride with scenic views of the coastline and the city.
4. Dubai Aquarium and Underwater Zoo Located inside The Dubai Mall, this is one of the largest suspended aquariums globally. It's home to thousands of aquatic animals, including the impressive King Crocodile. It's an ideal indoor activity, offering both entertainment and education, making it one of the top things to do in Dubai in November with families.
5. Dubai Shopping Festival Starting in late November, this month-long festival turns the city into a massive shopping extravaganza. With live concerts, fashion shows, and unbeatable discounts, it's a shopper's paradise. If shopping is on your mind, there's no better time for a Dubai vacation package in November. This illuminating festival brightens up the city with art installations, projections, and interactive shows. November's pleasant evenings set the stage for a mesmerizing dance of lights, echoing the city's vibrant soul. A multicultural festival park that opens its gates in November, offering a melange of cultures from around the world. From shopping stalls and dining outlets representing different countries to thrilling rides and live performances, it's an around-the-world trip without ever leaving Dubai.
Ultimate Guide to Dubai's Top Places to Visit in November
Place
Timing
Key Features
Why Visit
Price Range
Burj Khalifa
8:30 AM – 11:00 PM
World's tallest building, observation decks
Panoramic city views, architectural marvel
AED 150 – AED 370
Dubai Miracle Garden
9:00 AM – 9:00 PM (Weekdays)
9:00 AM – 11:00 PM (Weekends)
150 million blooming flowers, themed gardens
Nature's artistry, perfect photo ops
AED 40 – AED 50
Palm Jumeirah
Open 24/7 (public areas)
Man-made island, luxury resorts, monorail
Beach activities, scenic views, luxury dining
Varies by activity/resort
Dubai Aquarium and Underwater Zoo
10:00 AM – 12:00 AM
Large suspended aquarium, diverse marine life
Unique marine experience, family-friendly
AED 55 – AED 230
Dubai Shopping Festival
Varies by venue
Massive discounts, live events, fashion shows
Ultimate shopping experience, entertainment
Free entry (purchases vary)
Dubai Light Festival
Evenings, specific times vary
Art installations, light shows, projections
Celebration of art and light, immersive experience
Mostly free (some shows might charge)
Global Village
4:00 PM – 12:00 AM (Sat – Wed)
4:00 PM – 1:00 AM (Thu – Fri)
Multicultural stalls, performances, rides
Cultural exploration, family entertainment
AED 15 entry (rides/activities extra)
Seven Must-Do Activities in Dubai this November
1. An Oasis of Adventures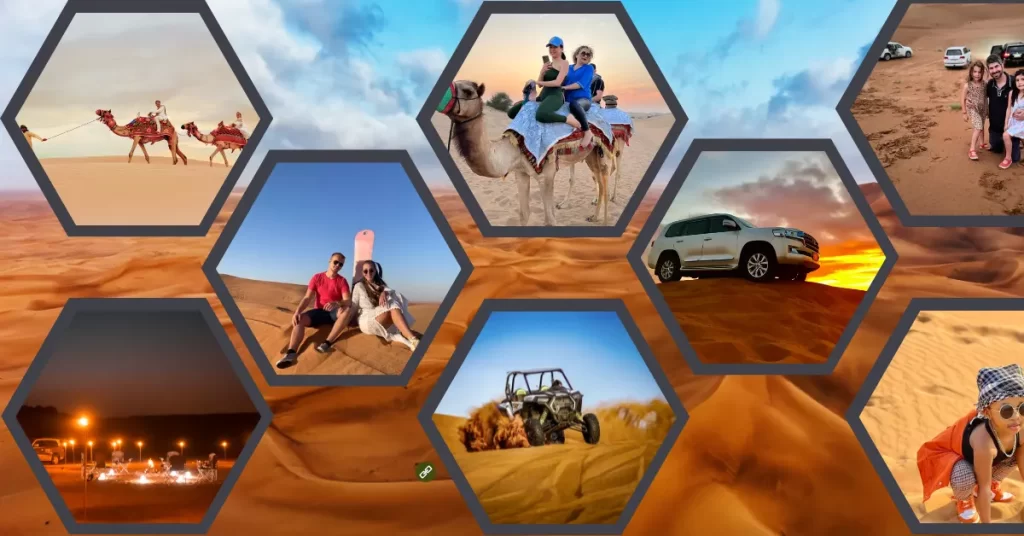 Dubai and its surrounding desert offer an adventure like no other. The milder weather of November ensures a comfortable and exhilarating desert experience. Engage in dune bashing, and camel rides, and end your day with a delightful barbeque under the stars. The cooler evenings also bring traditional performances to life in the heart of the desert. If luxury dining is on your mind, there's no better place than the Burj Al Arab, especially during Dubai's temperate November. Enjoy sumptuous dishes prepared by world-class chefs while soaking in the view of the sprawling city below.
3. Stroll Along Jumeirah Beach With the sun milder and the sea perfectly tepid, November is your best bet for beach activities. Whether it's a quiet walk on the sandy shores, trying your hand at water sports, or just lounging on the beach, Jumeirah Beach is the place to be.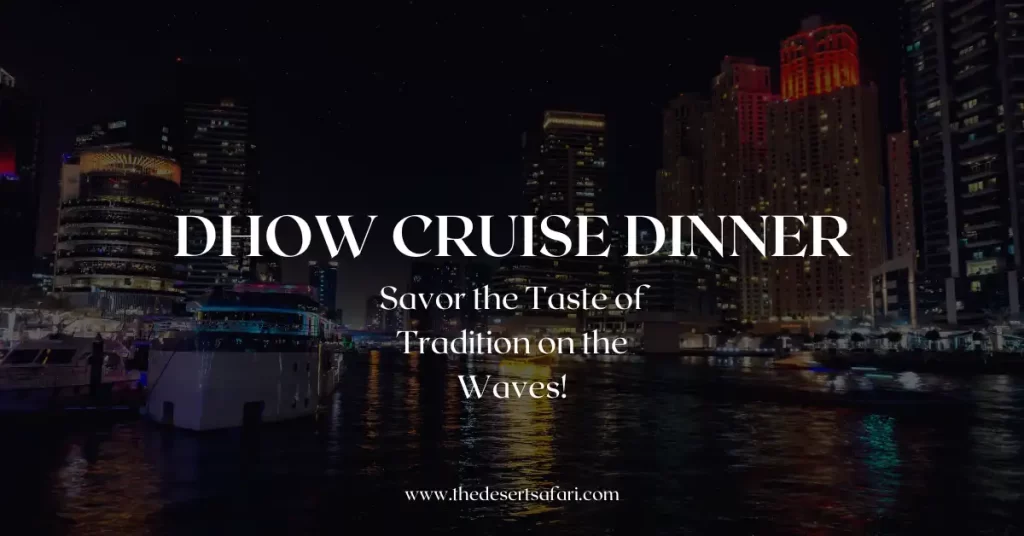 The Dubai Canal, illuminated under the November night sky, is a sight to behold. Embark on a dhow or luxury yacht cruise and enjoy the city's skyline from a unique water-bound perspective. The gentle November breeze adds to the experience, making it a must-do activity. You can check our tour evening safari with dhow cruise and morning safari with dhow cruise.
5. Night Shopping at Gold Souk November is the start of the festive season, and what better place to shop for treasures than the Gold Souk. Under the cool night sky, wander through alleys lined with gold, precious stones, and other wonders, immersing yourself in a world of opulence.
6. Attend the Dubai International Film Festival For film enthusiasts, the Dubai International Film Festival held in November is a not-to-miss event. Rub shoulders with celebrities, watch premiere screenings, and enjoy a celebration of global cinema in the heart of Dubai.
7. Skydiving Over the Palm Jumeirah For the adrenaline junkies, skydiving over the iconic Palm Jumeirah is a dream come true. November's clear skies and favorable winds provide perfect conditions for this thrilling dive, offering unparalleled views of Dubai's architectural marvels.
Seven Unmissable November Activities in Dubai with Essential Details
| Activity | Timing | Key Features | Why You Must Visit | Price Range (AED) |
| --- | --- | --- | --- | --- |
| Desert Safari Adventure | 3:00 PM – 9:00 PM | Dune bashing, camel rides, barbeque, traditional performances | Experience authentic desert life and captivating cultural performances. | 150 – 600 |
| Dine Atop the Burj Al Arab | 7:00 PM – 11:30 PM | Luxury dining, panoramic views, world-class chefs | Relish gourmet meals while soaking in breathtaking views from Dubai's iconic hotel. | 500 – 2500 |
| Stroll Along Jumeirah Beach | Open 24 hours | Sandy shores, water sports, beach lounges | Relax and rejuvenate on a pristine beach with the backdrop of Dubai's skyline. | Free – 200 (for rentals) |
| Dubai Canal Cruise | 6:00 PM – 10:00 PM | Dhow/yacht cruises, illuminated skyline, onboard entertainment | Experience Dubai's beauty from its serene waters in a captivating evening setting. | 200 – 800 |
| Night Shopping at Gold Souk | 4:00 PM – 10:00 PM | Gold jewelry, precious stones, traditional designs | Shop for exquisite jewelry and experience the grandeur of Middle Eastern gold craftsmanship. | Varies by purchase |
| Attend the Dubai International Film Festival | Varies by schedule | Premiere screenings, celebrity meet-ups, global cinema celebration | Immerse yourself in a world of cinema and meet film enthusiasts from across the globe. | 50 – 500 (based on events) |
| Skydiving Over the Palm Jumeirah | 8:00 AM – 12:00 PM | Tandem skydiving, aerial views, certified instructors | Experience a rush of adrenaline and capture stunning views of Dubai's wonders from the sky. | 1800 – 3000 |
Major Events in Dubai in November
For those with a keen eye for aesthetics and creativity, Dubai Design Week is a must-attend. Set against the modern backdrop of the city, this event showcases innovative designs in architecture, interiors, and even tech gadgets. With installations from local and international designers, the whole city turns into a canvas, celebrating the confluence of culture and creativity.
Dubai International Film Festival
Cinephiles, this one's for you! The Dubai International Film Festival in November is a celebration of cinema from around the globe. From Hollywood blockbusters to indie gems from the Middle East, there's a film for everyone. Besides the screenings, panel discussions with filmmakers, celebrity appearances, and workshops make it a holistic experience for film enthusiasts.
If there's one thing that competes with Dubai's skyscrapers in terms of diversity, it's its culinary scene. Taste of Dubai in November is a delightful journey of flavors, with the city's top restaurants offering their signature dishes. Live cooking demonstrations, food-tasting sessions, and interactions with celebrity chefs make it a mouth-watering experience for all food lovers.
Dubai Challenge Endurance Race
For the adrenaline junkies, November brings the Dubai Challenge Endurance Race. A testament to human will and endurance, participants from all over the world compete in various challenging terrains across the city. From sand dunes to the architectural wonders, it's a thrilling event that tests and celebrates human spirit and endurance.
What to Pack for Dubai in November
Essentials for the Perfect Trip
Comfort Meets Style:

 November's weather is inviting, so pack breathable fabrics. Think cotton dresses, lightweight shirts, and airy trousers.

Footwear:

 Whether you're exploring sand dunes or strolling in shopping malls, comfortable footwear is crucial. Sandals for the beach, sneakers for city walks, and perhaps a dressier option for fine dining or events.

Protection:

 The sun still makes its presence felt. Sunglasses, a wide-brimmed hat, and sunscreen with good SPF are non-negotiables.

A Light Jacket:

 For those cooler evenings or a sudden gust of desert wind.
What to Wear in Dubai in November
Blend of Modern and Respectful
Day Attire:

 While Dubai is modern, it's essential to respect local customs. For daytime, opt for knee-length or longer dresses, skirts, and trousers. Shoulder-covering tops and t-shirts are ideal.

Evening Glam:

 As the city's nightlife sparks up, feel free to dress up. Women can don elegant dresses, while men can opt for smart casual or semi-formal attire, especially if dining in upscale places.

Beachwear:

 At the beach or hotel pool, regular swimwear is acceptable. However, do drape a cover-up or kaftan when you're not in the water.
Choosing the Perfect Abode - Where to Stay in Dubai in November
Stay Amidst Luxury and Comfort
Burj Al Arab:

 Often dubbed the world's only seven-star hotel, it promises opulence in every corner. From its iconic sail shape to unmatched service, it's an epitome of luxury.

Atlantis The Palm:

 Located on the iconic Palm Jumeirah, it's not just a hotel but an experience. With an in-house water park and an aquarium, the oceanic theme runs deep.

The Ritz-Carlton, Dubai:

 Experience traditional Middle Eastern style blended with modern luxury. Nestled in the heart of the city, it offers proximity to major attractions.

The Jumeirah Beach Hotel:

 A beachfront luxury that offers a blend of relaxation and recreation. Its wave-like design is a nod to Dubai's maritime heritage.
Navigating the City: Getting Around Dubai in November
Smooth Transits and Rides
By Taxi:

 Convenient and plentiful. Taxis are metered, offering fair pricing. Opt for the traditional cabs or the more luxurious Lexus ones.

By Metro:

 Dubai's metro system is modern and efficient. With two main lines covering major attractions, it's a hassle-free way to navigate the city.

By Bus:

 A comprehensive network connects even the nooks and crannies of the city. And with air-conditioned stops, waiting for a bus is comfortable.

By Water Taxi:

 Explore Dubai via its waterways. Water taxis, or abras, offer picturesque views of the city's skyline.
Tips for Planning Your Trip to Dubai in November
Smart Choices for a Memorable Vacation
Book in Advance:

With the plethora of events and festivals in November, Dubai becomes a magnet for travelers. Secure your flight tickets and accommodation well in advance, especially if your visit coincides with the Dubai Shopping Festival or Dubai Light Festival.

Visa Requirements:

While Dubai offers visa on arrival for many nationalities, it's wise to check and process any visa requirements beforehand to ensure a smooth entry.

Travel Insurance:

It's always better to be safe than sorry. Opt for comprehensive travel insurance that covers potential medical needs, trip cancellations, or lost belongings.

Itinerary Planning:

There's so much to explore! From skyscrapers to desert landscapes, souks to modern malls, chart out your must-visits. Consider booking city tours or desert safaris in advance for a hassle-free experience.
Why Dubai in November is Unmissable
November transforms Dubai into a playground of experiences. The weather is at its finest, making every outdoor activity delightful. And it's not just about the climate. Festivals paint the town in colors of joy, shopping becomes an event, and the city's pulse seems to beat a tad faster.
From the dizzying heights of the Burj Khalifa to the serenity of a desert night, every moment in Dubai in November promises to be a memory. Whether you're a foodie diving into the Dubai Food Festival or a shopaholic grabbing deals at the Dubai Shopping Festival, there's a story waiting to be lived.
So, as the golden sunsets of November beckon, Dubai opens its arms wider. It's not just a destination; it's an emotion, a spectacle, a tale waiting to be told. And who better to live this tale than you?