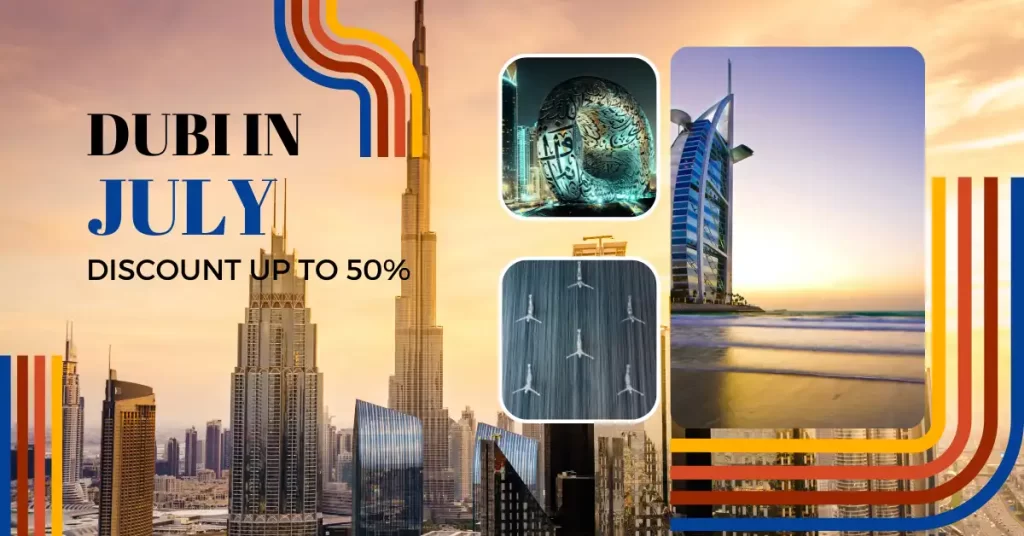 Dubai, the glittering gem of the United Arab Emirates, offers an unparalleled blend of traditional Arabic culture and futuristic innovation. But what does it feel like in the sweltering heat of July? While many people are hesitant about visiting during this time, Dubai in July presents a unique city perspective.
Some may wonder, why July? Isn't it incredibly hot? Yes, it is. But that's not necessarily a bad thing. The heat of July means fewer tourists, leading to less crowded attractions and better deals on accommodation and flights.
In July, Dubai experiences its peak summer with average high temperatures reaching 41°C (105.8°F). Even at night, the temperature hardly falls below 30°C (86°F). The humidity is relatively high too, ranging from 50% to 60%.
Sunrise typically occurs around 5:30 AM, while sunset is around 7 PM. That gives you plenty of daylight to explore Dubai.
What to Wear in Dubai in July
When packing for Dubai in July, consider lightweight, loose-fitting clothing. But remember, despite the heat, Dubai is still a Muslim country, and it's essential to respect local customs and dress modestly, especially in public areas.
Things to do in Dubai in July
When the heat gets too intense, head inside to The Dubai Mall. With more than 1,200 stores, it's a shopper's paradise.
2. Explore Dubai Aquarium & Underwater Zoo
Inside the Dubai Mall is also one of the largest suspended aquariums in the world. Here, you can marvel at over 140 species of aquatic animals.
While it might be hot, the Dubai Miracle Garden, with its breathtaking floral installations, is still worth the trip. Remember to go early in the morning or later in the evening to avoid the hottest parts of the day.
Don't miss out on the quintessential Dubai experience of a desert safari. Riding in a 4×4 over sand dunes, enjoying a traditional Bedouin dinner, and watching a mesmerizing belly dance under the stars is an unforgettable experience.
Festivals and Events in July
Dubai Summer Surprises, the city's annual summer festival, is held in July. This event features a range of activities, including concerts, sales, and family-oriented events.
Travel Tips for Visiting Dubai in July
Make sure to stay hydrated, use sunscreen, and wear a hat when out in the sun. And remember, air-conditioning is ubiquitous in Dubai's buildings and vehicles.