Diwali Celebration In Dubai Desert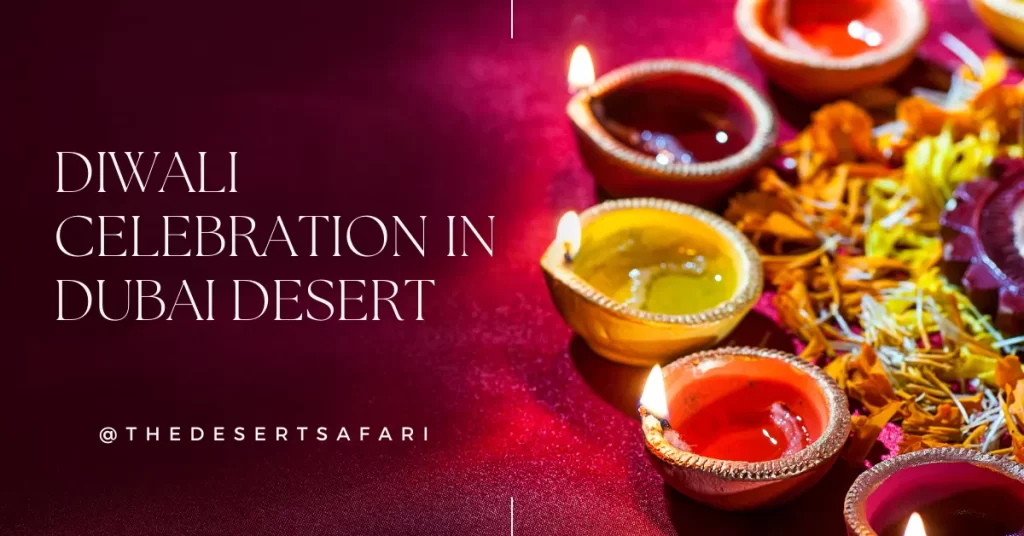 Diwali is the "Festival of Lights" loved by many people. Now, think about celebrating it in Dubai's big desert. Picture this: the quiet desert, brightened by the light of Diwali lamps and colourful fireworks. That's the beauty of a Diwali celebration in Dubai desert.
Dubai's Mix of Old and New
Dubai is a modern city, but it loves old traditions like Diwali. The city mixes the old ways of celebrating with new fun twists. And, even though Dubai has tall buildings and busy roads, there's something special about enjoying Diwali in the calm desert.
Our Desert Party for Diwali
If you want a different Diwali party, come to our desert camp. As evening comes, our camp lights up with Diwali fun. There's dancing, tasty food, and a cosy bonfire. It's a Diwali party that feels familiar and new, all thanks to the Dubai desert setting.
Celebrate Diwali with Us in the Desert
As Diwali gets closer, we invite you to leave the city noise behind. Please celebrate with us in the desert. Enjoy Diwali under the stars, surrounded by peaceful dunes. It's not just a party; it's a special memory waiting to happen.
Diwali 2023 Date in Dubai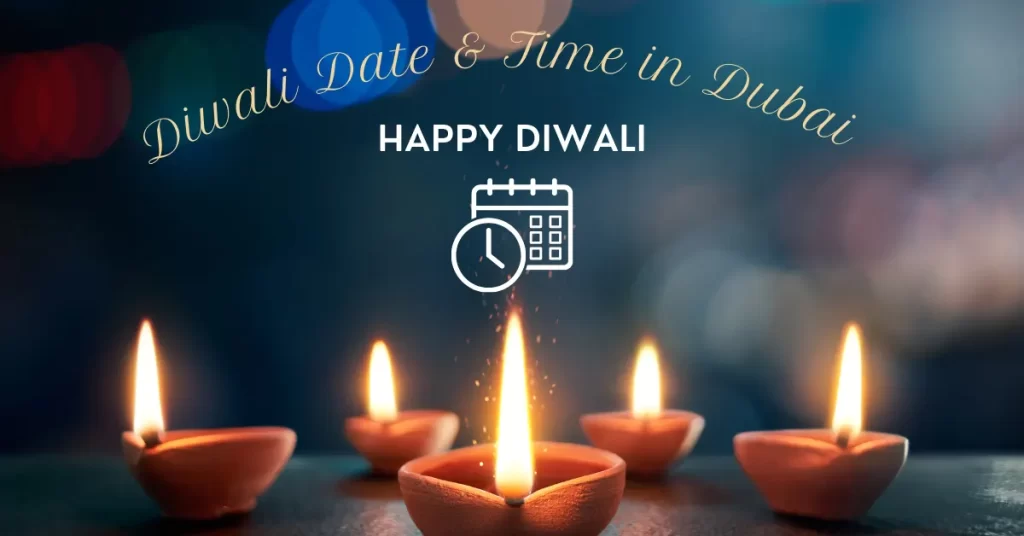 Wondering when Diwali will be celebrated in Dubai in 2023? Diwali, as per the Hindu calendar, falls on the Amavasya (new moon day) of the Kartik month each year. This day is significant for the Deepavali Puja, where devotees honor Goddess Lakshmi and Lord Ganesha.
Mark your calendars because this year, Diwali is set for November 12. For those planning the Lakshmi Puja, the ideal time or 'Muhurat' is between 06:11 PM and 08:15 PM.
A quick note on the Amavasya timing: it starts at 02:44 PM on November 12 and concludes at 02:56 PM on November 13, 2023.
Experience Diwali at Our Desert Camp
Have you ever thought about celebrating Diwali away from the city lights? Our desert camp offers just that. Imagine the quiet of the desert, broken only by the sound of Diwali music and laughter. That's the heart of our Diwali celebration in Dubai desert.
At our desert safari camp, Diwali is full of fun. There's dancing to lively tunes, and you can even learn some traditional steps if you like. Hungry? We've got a feast ready! Taste special Diwali dishes that remind you of home, but with a Dubai twist. And don't forget the sweets! After all, what's Diwali without some sweet treats?
The desert might be dark, but our camp is bright and shining. We've got lamps, colourful lights, and even a bonfire to keep things cosy. It's like a sea of lights in the middle of the desert, making our Diwali celebration in Dubai desert truly special.
If you're looking for a unique way to enjoy Diwali, our Dubai desert safari camp is the place to be. It's a mix of old traditions and new experiences. So, put on your festive clothes and come join us. Let's make this Diwali in the Dubai desert a memory you'll cherish forever.
The Many Facets of Diwali in Dubai
Dubai might be known for its modern skyscrapers and shopping malls, but the city's heart beats to a traditional rhythm when Diwali comes around. And it's not just in homes and temples. From the bustling streets to the quiet corners of the desert, the spirit of Diwali celebration in Dubai desert and the city is felt everywhere.
But what makes Diwali in Dubai so special? For starters, there are events all over the city. Families gather for festive feasts, kids enjoy firework shows, and markets come alive with shoppers looking for the perfect Diwali gift. And for those who love a good show, there are dance performances and music events that capture the essence of the festival.
Dubai's Diwali is a mix of the old and the new. Traditional lamps light up balconies, while modern light shows dazzle the eyes. People dress in classic Diwali outfits, but they also bring in new styles and trends. So, while you'll see the age-old rituals being followed, there's always a touch of Dubai's modern flair. It's this blend that makes the Diwali celebration in Dubai desert and the city so unique.
The best part? Diwali in Dubai is for everyone. It doesn't matter where you're from or what your background is. In this city, everyone comes together to celebrate. And that's the true beauty of it. Whether you're a local, a tourist, or someone just passing through, Dubai invites you to be a part of its grand Diwali festivities.
When you think of Diwali, the first image that often comes to mind is a sky filled with fireworks. And in Dubai, this vision takes on a whole new level of beauty. The vast desert backdrop provides a perfect canvas for bright and colourful fireworks. As they burst into the sky, they light up the night and the hearts of those watching. This is the essence of a Diwali celebration in Dubai desert.
City Lights and Desert Glow
But the visuals aren't just limited to the fireworks. All around the city, buildings are adorned with twinkling lights, creating a skyline that dazzles. And in the markets, lanterns and diyas (traditional oil lamps) create a warm and inviting glow. So, whether you're in the heart of the city or out in the desert, the lights of Diwali are sure to captivate you.
Decorations That Mesmerize
Every corner of Dubai gets a festive makeover during Diwali. Streets, homes, and even cars are decorated with colorful rangoli (artistic designs made with colored powders) and bright flowers. And the shops? They go all out with window displays that tell tales of Diwali legends and traditions. Everywhere you look, there's a visual treat waiting for you.
Diwali isn't just a feast for the eyes; it's a true celebration for the taste buds too. And in Dubai, the flavors of Diwali take on a delightful twist. From traditional Indian sweets to fusion dishes that blend the best of East and West, the Diwali celebration in Dubai desert offers a culinary journey like no other.
At the heart of any Diwali celebration are the traditional dishes that have been passed down through generations. Think of soft, sweet gulab jamuns dripping in syrup, or the rich and creamy taste of kheer. And then there are savory delights like samosas and pakoras that are perfect for sharing with loved ones. These dishes are the soul of Diwali, and they're made with extra love and care during this festive season.
But this is Dubai, and the city knows how to add its own special touch to everything. So, alongside the traditional dishes, you'll find innovative creations that blend Indian flavors with local ingredients. Imagine a saffron-infused baklava or a date and pistachio burfi. These fusion dishes are a testament to Dubai's cosmopolitan spirit and its love for culinary experimentation.
Celebrating Five Days of Diwali in Dubai
Day 1: Dhanteras - A Day of Prosperity
Kicking off the Diwali festivities in Dubai is Dhanteras. On this day, it's a tradition to buy something made of brass, silver, or gold. Dubai's markets come alive with eager shoppers looking for decorations, everyday items, and, of course, sweets. And it's not just about personal purchases. Gifts, from delicious treats to shiny jewelry, are chosen for loved ones. If you're wondering where to shop, here are some top spots:
The Dubai Mall

Wafi Mall

Deira City Centre

Mall of the Emirates

Bur Dubai Souk
Day 2: Choti Diwali - Preparations in Full Swing
The day before the main event, Choti Diwali is all about getting ready. Homes are filled with the aroma of homemade sweets, and visits to close family and friends become the order of the day. As night falls, buildings and homes sparkle with lights, diyas, and candles, setting the mood for the grand celebration.
Day 3: Diwali - The Festival of Lights
The highlight of the five days, Diwali sees everyone donning their finest traditional outfits. Families come together to worship Laxmi and Ganesh, deities symbolizing wealth and protection. The evening is filled with laughter, games like cards, and the joy of dance and song. And while individual fireworks might be restricted, the Dubai sky dazzles with displays courtesy of the Emirates.
Day 4: Goverdhan Pooja - A Feast for All
Following Diwali, the city witnesses the spirit of community. Hindus prepare lavish vegetarian dishes, offering them in gratitude to Lord Krishna. Across Dubai, communal meals or 'Langars' are organized, with delicious home-cooked food being served. Plus, many Indian restaurants in the city offer special menus, adding to the festive flavor.
Day 5: Bhai Dooj - Celebrating Sibling Bonds
Concluding the Diwali celebrations is Bhai Dooj, a day dedicated to the bond between siblings. Sisters lovingly offer sweets to their brothers, and in return, brothers present gifts, promising to always stand by their sisters.
The Diwali Shopping Spree & Planning Ahead
As Diwali approaches, Dubai transforms into a shopper's dream. The city, already famous for its grand malls and traditional souks, buzzes with festive energy. And whether you're looking for the perfect Diwali outfit, gifts for loved ones, or decorations to brighten up your space, Dubai has it all. This Diwali celebration in Dubai desert isn't just about the lights and food; it's also about the joy of finding the perfect festive goodies.
While modern fashion trends dominate many store displays, there's a beautiful blend of tradition too. From intricate ethnic wear to contemporary fusion outfits, the choices are endless. And for those who love jewelry, the gold souks shimmer with special Diwali collections. But shopping isn't just about clothes and jewelry. There are also pop-up markets and stalls offering handcrafted decorations, Diwali lanterns, and so much more.
Planning Your Diwali Shopping
With so much to see and buy, it's essential to plan your shopping spree. Start early to avoid the last-minute rush and make a list of everything you need. And if you're a tourist visiting Dubai, remember to check the timings of the major shopping areas. Because during Diwali, many places have extended hours, offering more time to explore and shop.
As you dive into the shopping and festivities, don't forget about safety. Dubai ensures a secure shopping experience, but it's always good to be cautious. Stick to well-lit areas, be aware of your surroundings, and keep your belongings close. And with the ongoing health precautions, remember to follow guidelines, wear masks, and maintain social distancing.
Top Diwali Destinations in Dubai
1. Fireworks at Dubai Creek
Dubai Creek becomes the city's epicenter of Diwali celebrations. It's the exclusive spot where the city permits fireworks during the festival. Families and friends gather in droves, all eager to witness the sky burst into a myriad of colors.
2. A Week at Bollywood Parks
This Bollywood-inspired park turns into a hub of Diwali festivities that span an entire week. From live performances by Bollywood bigwigs to concerts featuring renowned singers, the park offers it all. And for the film buffs? The park's theater screens beloved Bollywood classics. But that's not all – a street food festival ensures everyone gets a taste of authentic Indian dishes.
3. Al Seef's Diwali Extravaganza
For those yearning for a Diwali experience reminiscent of celebrations in India, Al Seef is the destination. The area comes alive with a Diya lighting ceremony, symbolizing the triumph of light over darkness. A Diwali market, or 'Mela', showcases stalls brimming with handmade diyas, ornate jewelry, traditional attire, and decorative items. Visitors can indulge in henna art, craft vibrant rangolis, and sway to the rhythm of Bollywood tunes during live performances.
4. Artistic Displays at the Dubai Mall's Waterfront Promenade
The Waterfront Promenade at the Dubai Mall offers a visual treat during Diwali. Boats glide on the water, their surfaces transformed into canvases that depict mesmerizing art scenes. It's a sight that blends tradition with modern artistry.
Diwali in Dubai isn't just confined to the city. The desert too beckons with its unique celebrations. As the sun sets, the desert becomes a venue for festive gatherings, traditional dances, and a night under the stars, making the Diwali experience truly unforgettable.
Where to celebrate Diwali in the Dubai desert?
There are many places to celebrate Diwali in the Dubai desert, including:
Bab Al Shams Desert Resort & Spa

Arabian Nights Village

Platinum Heritage

Platinum Tours

Desert Safari Dubai
These resorts and tour operators offer a variety of Diwali packages that include evening desert safaris, camping, traditional Indian meals, and cultural performances.
When to celebrate Diwali in the Dubai desert?
Diwali is celebrated on the darkest night of the Hindu lunar month Kartika, which usually falls in October or November. In 2023, Diwali will be celebrated on November 12.
What to wear to a Diwali celebration in the desert?
Diwali is a festive occasion, so it is customary to dress in traditional Indian clothing. For men, this could include a kurta and pajama or a dhoti. For women, this could include a sari, lehenga, or salwar kameez.
If you do not have traditional Indian clothing, you can still dress appropriately for a Diwali celebration by wearing comfortable and festive clothing. Avoid wearing revealing or too casual clothing.
What to bring to a Diwali celebration in the desert?
Here are some things you may want to bring to a Diwali celebration in the desert:
Sunscreen

Hat

Sunglasses

Shawl 

Camera

Cash (for tips and souvenirs)
Activities and events at a Diwali celebration in the desert
Diwali celebrations in the desert typically include a variety of activities and events, such as:
Camping

Traditional Indian meals

Fireworks displays
Some resorts and tour operators also offer special Diwali activities for children, such as face painting, henna tattoos, and rangoli making.
Food and drink at a Diwali celebration in the desert
Diwali is a time for feasting, so you can expect to enjoy a variety of delicious Indian food at a Diwali celebration in the desert. Some of the most popular Diwali dishes include:
Samosas

Pakoras

Biryani

Gulab jamun

Jalebi
We "The Desert Safari" also offer a variety of drinks, including water, juice, soda, tea, and alcoholic beverages.
As the lights glow and the festivities reach their peak, one thing becomes clear: Diwali in Dubai is truly a unique experience. The city, with its blend of modern marvels and age-old traditions, offers a Diwali celebration that stands out. Every moment is special, from the bustling markets filled with shoppers to the serene Diwali celebration in Dubai desert.