The Ultimate Guide to Experiencing Liquid Adventure in the UAE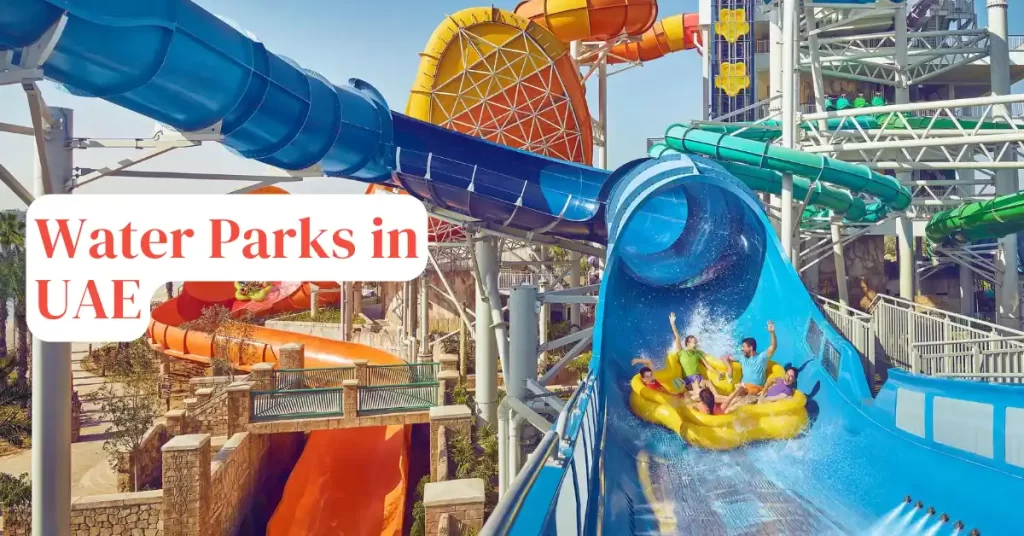 Welcome to the world of fun and excitement in the United Arab Emirates (UAE)! The UAE is known for its excellent buildings, shopping places, and hot deserts, but it's also home to some of the most fabulous water parks around! These water parks are a big hit for people who live here and travelers looking to beat the heat. We will explore some of the best water parks in places like Dubai, Abu Dhabi, and Sharjah. We'll discuss popular ones like Wild Wadi Waterpark, Aquaventure Waterpark, Yas Waterworld, Laguna Waterpark, Dreamland Aqua Park, IMG Worlds of Adventure, and Legoland Water Park. These parks are full of exciting rides and attractions, and there's something fun for everyone!
Exploration of the Popularity of Water Parks in the UAE
Water parks in the UAE are pretty unique. They draw people from all over the world looking for a splash and a thrill. They are packed with many fun things to do, from fast slides to lazy rivers where you can relax. And it's not all about the rides; these parks are places where families and friends can make lasting memories and share lots of laughs. Plus, these parks care about keeping everyone safe and protecting the environment. So visitors can have fun without any worries.
In this guide, we'll dive into the magic of these water wonderlands. We'll share interesting facts, what makes each park unique, and useful tips to help you plan your visit to the water parks in the UAE. So, whether you're a thrill-seeker, a family looking for a fun day out, or a traveler wanting to experience the best of the UAE, come along as we explore the wonderful world of parks in the UAE!
Why Water Parks in the UAE are a Splash Hit!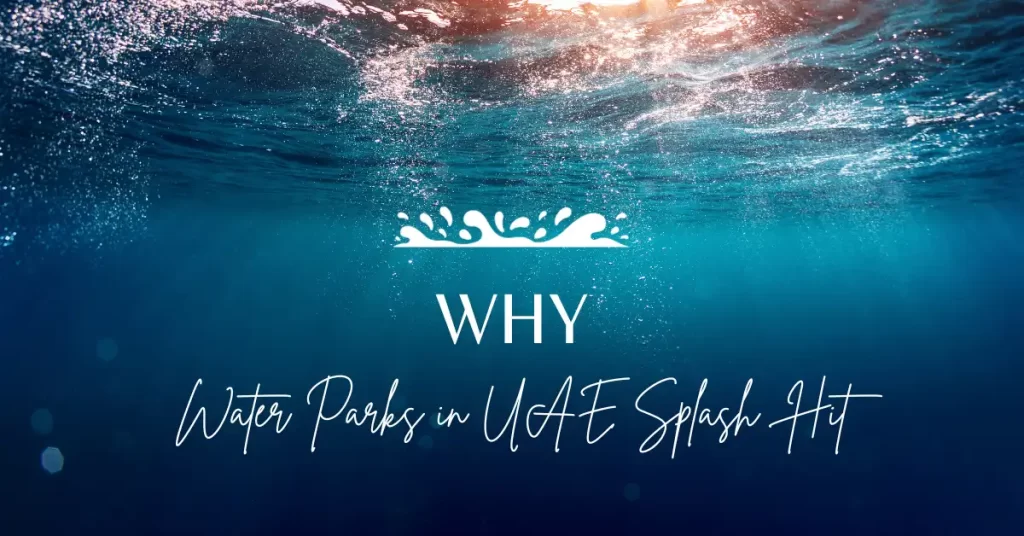 The United Arab Emirates, a place bursting with skyscrapers, deserts, and luxurious lifestyles, is also the land of some of the most thrilling and fun-filled water parks. These parks are top spots for people looking for an exciting way to cool down, especially during hot days.
The Allure of Water Parks in the UAE
Water parks in the UAE, like Aquaventure Waterpark in Dubai and Yas Waterworld in Abu Dhabi, have become enormous favorites for locals and tourists. Why? Well, think about it! It's hot outside, and what could be better than splashing around in cool water filled with exciting rides and attractions?
Whether you're a thrill-seeker looking for your next adrenaline rush or a family wanting to spend quality time together, the water parks in Dubai, Abu Dhabi, and Sharjah offer something for everyone. Places like Wild Wadi Waterpark and Laguna Waterpark have rides that can make anyone's heart race. They also have calm and relaxing spots for those who prefer to take it easy.
Water parks are not just about the slides and pools but about creating lasting memories. The laughter, the screams of joy, and the shared experiences at parks like Dreamland Aqua Park and IMG Worlds of Adventure help build bonds and make special days unforgettable.
Eco-friendly Entertainment
The best water parks in the UAE are also mindful of our planet. Many have implemented eco-friendly practices and green initiatives, ensuring visitors enjoy themselves without harming the environment. It's about having fun while also caring for our world.
Safety is a top priority in water parks in the UAE. The parks follow strict safety rules and have lifeguards everywhere to ensure safety. So, whether you're at Legoland Water Park or any other park in the UAE, you can feel secure while having fun.
In-Depth Overview of Premier Water Parks
In this section, we will delve into a detailed exploration of the premier water parks in the UAE, shedding light on what makes each one a notable destination for both locals and tourists seeking respite from the heat and a dose of adrenaline-filled enjoyment.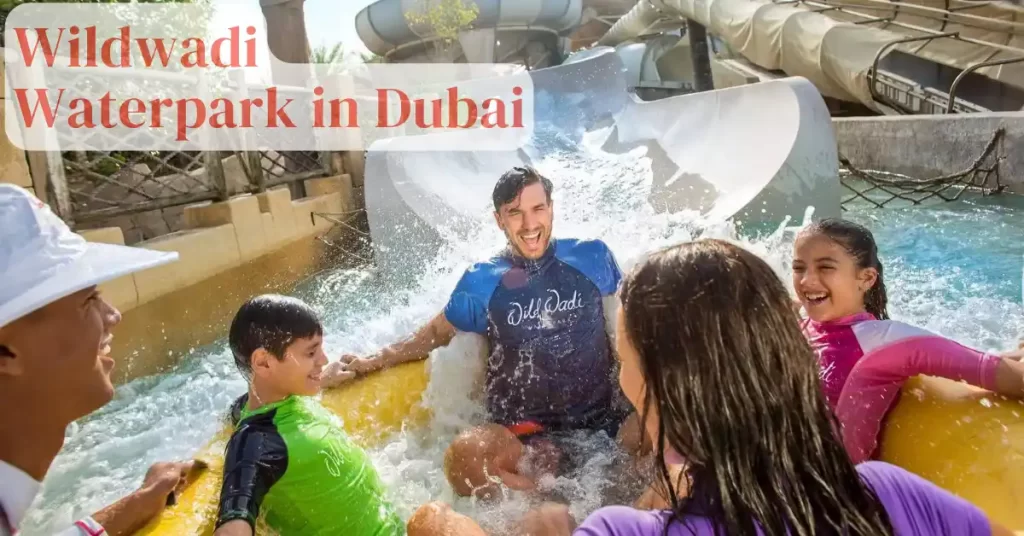 Wild Wadi Waterpark is right in the middle of Dubai, in Jumeirah. It's got over 30 fun rides, including the super-fast and tall Jumeirah Sceirah slide. It's a top pick for anyone wanting a rush of excitement and is a must-visit spot in Dubai!
Location: Jumeirah, Dubai 
Timings: Generally opens at 10 am and closes by 6 pm, but timings may vary. Check the official website for the most accurate details. 
Ticket Prices: The average price is around AED 300, but promotions and discounts are often available online. 
Visitor Experience: Many visitors commend the thrilling rides like Jumeirah Sceirah and the family-friendly atmosphere. The park's cleanliness and the helpful staff also receive high praise.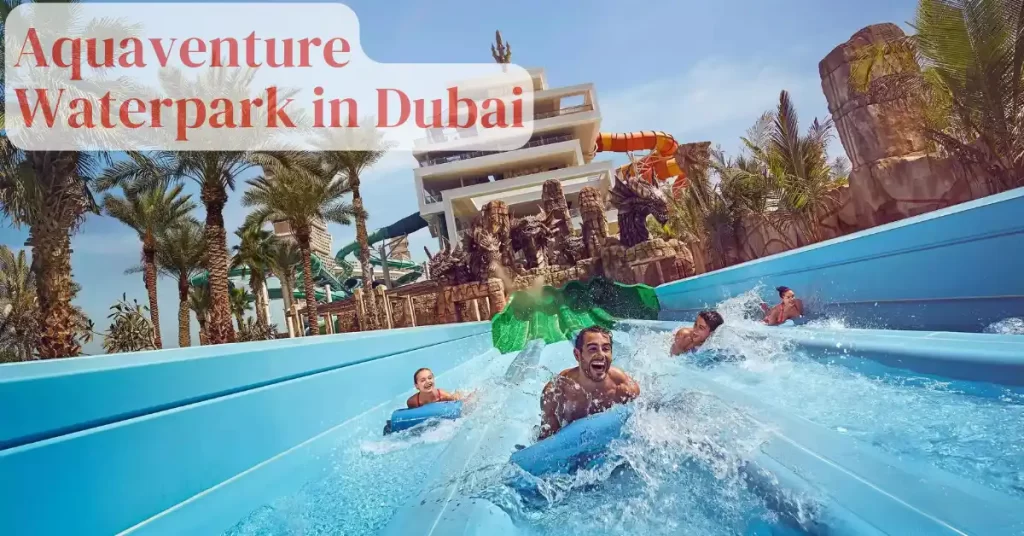 At Atlantis, The Palm, in Dubai, you'll find Aquaventure Waterpark. It's got more than 100 cool slides, including the world's longest one, the Aquaconda! If you want lots of different things to do, this is the place in Dubai and Abu Dhabi.
Location: Atlantis, The Palm, Dubai
Timings: Operating hours are usually from 10 am to sunset. Confirm precise timings from their official website.
Ticket Prices: On average, tickets cost about AED 350, but booking online can secure some discounts.
Visitor Experience: Reviews often highlight the variety of slides, friendly staff, and well-maintained facilities. The Leap of Faith slide is a consistent favorite among thrill-seekers.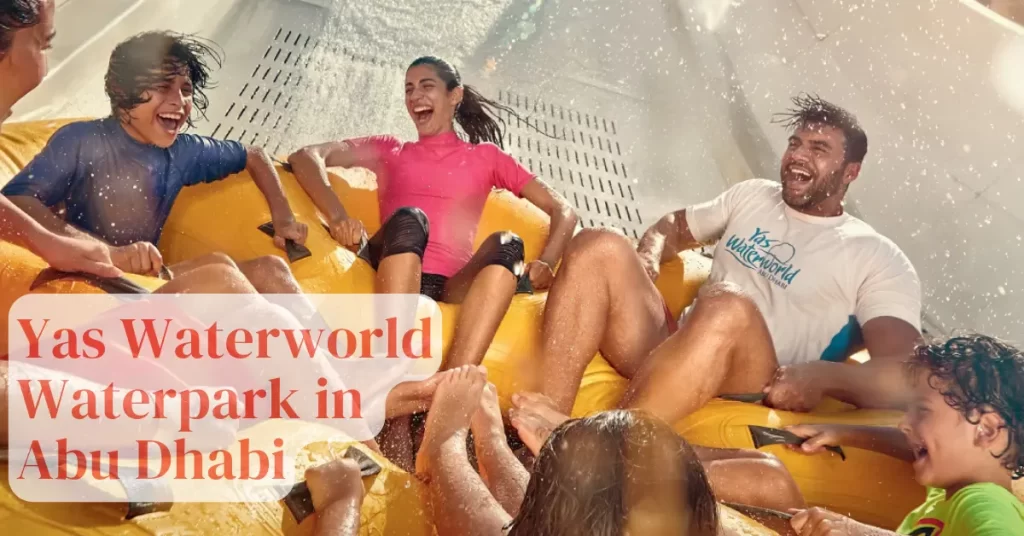 Over in Abu Dhabi on Yas Island is Yas Waterworld. It has over 40 cool rides, including the world's first water roller coaster, the Bandit Bomber! It's another fun spot in Abu Dhabi if you're looking for water-filled excitement.
Location: Yas Island, Abu Dhabi 
Timings: Typically open from 10 am to 7 pm. Check official sources for any changes in timings. 
Ticket Prices: Standard ticket prices are around AED 250, with discounts available for online purchases. 
Visitor Experience: The Bandit Bomber is a crowd-pleaser, and the park's diverse attractions receive appreciation from families and solo travelers alike. Visitors value the cleanliness and the variety of dining options available.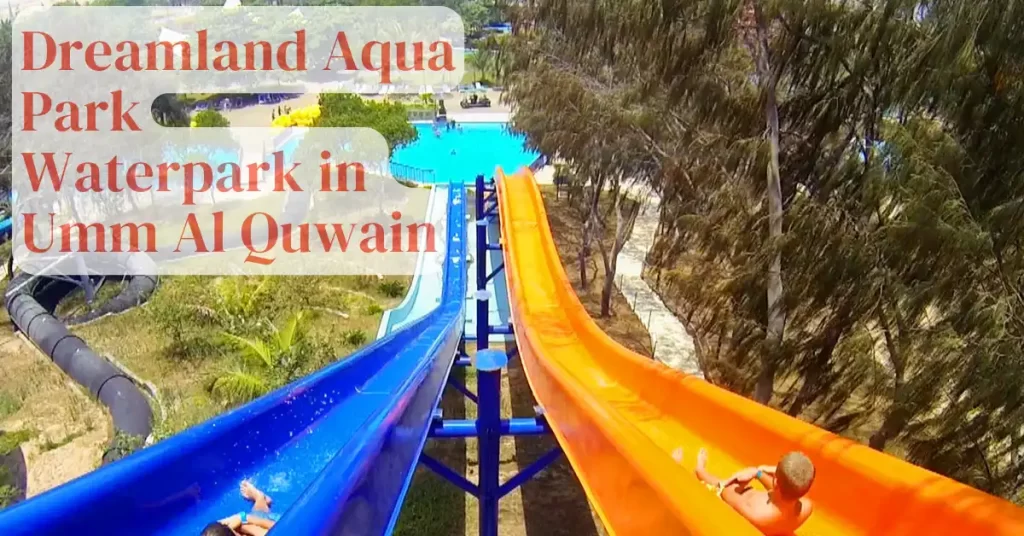 In La Mer, Dubai, Laguna Waterpark has a mix of over 70 relaxed and thrilling rides. It even has a Splash Pad area just for little kids. This park is super welcoming for families!
Location: This water park is located in Umm Al Quwain
Timings: The usual operating hours are from 10 am to 6 pm.
Ticket Prices: Entry prices start around AED 160, and checking online for any ongoing discounts or special offers is prudent.
Experience: Visitors frequently enjoy the wide array of rides available, with the Tornado being a standout. The lush green surroundings and ample shaded areas are also appreciated.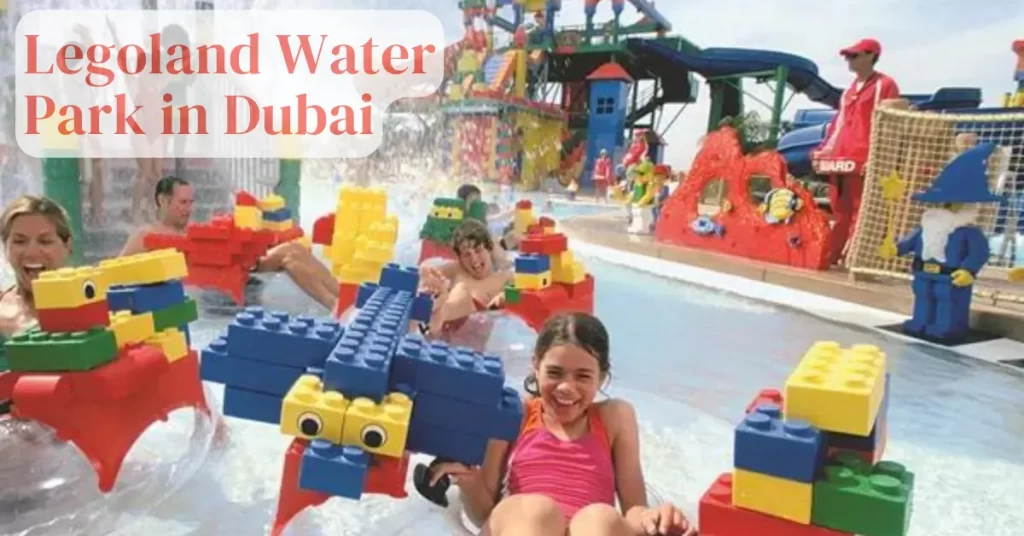 At Dubai Parks and Resorts, Legoland Water Park has over 20 interactive rides and attractions, including a Build-A-Raft River where kids can build their own rafts. It's a great spot for learning and playing in the UAE!
Location: Located in Dubai Parks and Resorts, Dubai
Timings: The regular hours are from 10 am to 6 pm
Ticket Prices: Standard admission starts at AED 245, with possible online discounts.
Experience: The Build-A-Raft River is a unique attraction, allowing kids to create rafts. The environment is very family-friendly and secure.
| Water Park | Location | Highlight | Number of Rides |
| --- | --- | --- | --- |
| Wild Wadi Waterpark | Dubai | Jumeirah Sceirah | Over 30 |
| Aquaventure Waterpark | Dubai | Aquaconda | Over 100 |
| Yas Waterworld | Abu Dhabi | Bandit Bomber | Over 40 |
| Dreamland Aqua Park | Umm Al Quwain | Tornado | Over 30 |
| Legoland Water Park | Dubai | Build-A-Raft River | Over 20 |
Comprehensive Evaluation and Safety Standards
Visiting a water park in the UAE, like Aquaventure Waterpark in Dubai or Yas Waterworld in Abu Dhabi, can be an exciting way to spend your day. However, knowing the safety standards and tips is crucial to ensure a fun and secure experience.
Evaluation of Water Parks
When choosing which water park to visit, consider the variety of rides and attractions each offers, such as those at Legoland Water Park and Wild Wadi Waterpark. Look at reviews and ratings from other visitors to get an idea of what to expect. Many parks in Dubai, Abu Dhabi, and other parts of the UAE, like IMG Worlds of Adventure and Laguna Waterpark, have received high praise for their quality and variety of attractions.
Safety is paramount at any water park in the UAE. These parks adhere to international safety standards to ensure the well-being of their visitors. For instance, Lifeguards are stationed at every ride and pool in parks like Dreamland Aqua Park and Aquaventure Waterpark and are well-trained to handle emergencies.
When visiting water parks in Sharjah, Dubai, or Abu Dhabi, following some basic safety tips is essential. Always listen to the lifeguards and follow the rules and guidelines the park provides. For example, if you're at Yas Waterworld or any other water park in the UAE, wear appropriate swimwear and sunscreen to protect against the sun. Stay hydrated by drinking plenty of water throughout the day, especially since the UAE can get hot.
To avoid crowds and enjoy shorter ride waiting times, consider visiting water parks in the UAE during weekdays or non-peak hours. The best times to visit places like Wild Wadi Waterpark or Legoland Water Park are usually early in the morning or later in the afternoon during weekdays. Also, visiting during the year's cooler months, typically between October and April, can make your experience more enjoyable.
Keeping It Green - Fun and Care at Water Parks
Sustainability, or keeping things green, is becoming increasingly important in the UAE, and many parks are working to be more eco-friendly.
Doing Things the Eco-Friendly Way
Many water parks in Dubai and Abu Dhabi, like Aquaventure Waterpark and Laguna Waterpark, are working hard to use less water and energy. They use materials that are good for the Earth and try to make less waste. This way, they help to keep the environment clean and safe.
Fun without Harming the Planet
All Water parks, including Dreamland Aqua Park and Legoland Water Park, are about having fun without hurting nature. They want to give you a great time while also looking after the world around us. They care a lot about keeping nature healthy and saving plants and animals.
Working for a Greener Planet
Parks like IMG Worlds of Adventure and other water parks in the UAE are also doing their bit. They are using lights that save energy and systems that use water again. This doesn't only help the environment, but it also makes the visit better for everyone. It's all about responsibly having fun.
Supporting Parks That Care
When we choose to visit parks that care about the planet, like the ones in Dubai and Abu Dhabi, we show that we like responsible tourism. This helps places like Yas Waterworld and Wild Wadi Waterpark continue to give exciting experiences and, at the same time, care for the planet.
Handy Tips and Insights for Planning Your Visit
Here, we'll provide valuable tips and insights to make your visit smooth and enjoyable.
1. Picking the Right Time
UAE is known for its sunny weather, so picking the right time to visit water parks like Wild Wadi Waterpark and Laguna Waterpark is crucial. It's best to visit during the cooler months, between October and March. This way, you can avoid the intense heat and enjoy the attractions comfortably. Check the park's operational hours before your visit, as they might vary depending on the season.
2. Getting the Best Deals
Everyone loves a good deal! Look out for discounts and promotional offers to make the most of your visit to the best water parks in Dubai, Abu Dhabi, or Sharjah, like Dreamland Aqua Park or Legoland Park. Many parks offer seasonal packages, group bookings, and combo tickets, which can help you save some bucks.
3. Packing the Essentials
While packing for your trip to water parks in the UAE, remember to carry essentials like sunscreen, swimsuits, flip-flops, and a hat. Many parks, including IMG Worlds of Adventure, have specific rules regarding swimwear, so it's wise to check in advance.
UAE Water Parks on the Global Map
Regarding benchmarking excellence, water parks in UAE, like Wild Wadi Waterpark and Aquaventure Waterpark, certainly set a high standard. Let's explore how these water parks compare to others globally and what makes them stand out.
Global Standards and Innovations
The best water parks in Dubai and other emirates are committed to maintaining high global standards and continually embracing innovations. The water parks, including Legoland Water Park and Dreamland Aqua Park, are well-maintained, showcasing impeccable cleanliness and safety standards.
Unforgettable Experiences
The water parks in Sharjah, Abu Dhabi, and Dubai go beyond just providing rides; they offer unforgettable experiences. The water parks host a variety of events, shows, and themed nights, catering to all age groups. Whether it's enjoying a family day out at IMG Worlds of Adventure or experiencing the thrill of the Jumeirah Sceirah at Wild Wadi Waterpark, every moment is crafted to be memorable.
Comparing globally, water parks in the UAE distinctly shine for their unique attractions, maintained global standards, and unforgettable experiences. The exceptional features, attention to detail, and commitment to innovation make these parks a global benchmark in the water park industry.
Desert Safari and Water Park Adventure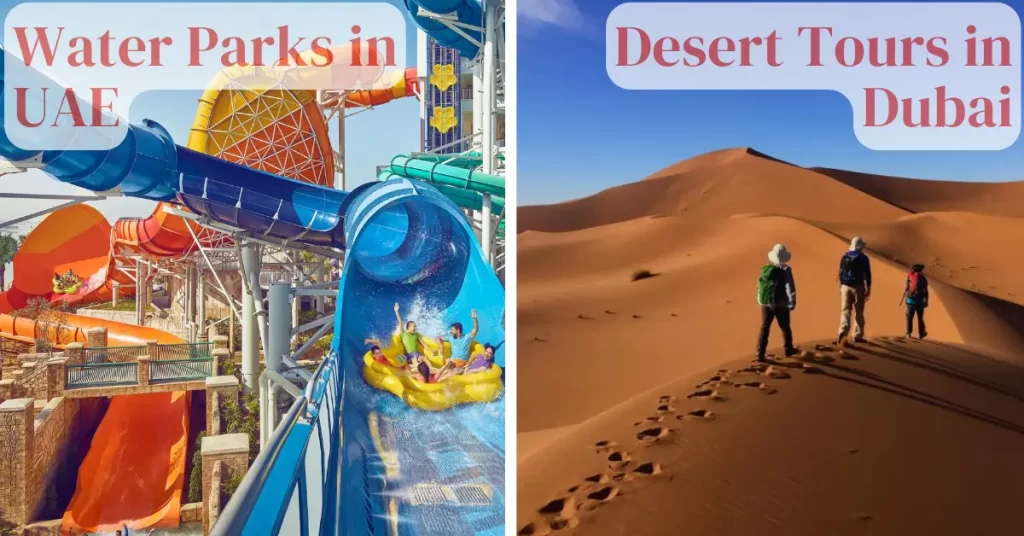 For those looking to experience the eclectic mix of the UAE's natural desert landscapes and thrilling water rides, a desert safari tour and a visit to one of the prominent water parks in UAE is the ideal choice. This combination offers a diverse range of experiences and provides a comprehensive glimpse of what the UAE has to offer.
Desert Safari and Water Park Adventure Combo Package
Visitors can revel in the contrasting experiences by embarking on a thrilling desert safari, exploring the vast, serene desert landscapes, experiencing traditional Bedouin culture, and enjoying activities like dune bashing, camel riding, and sandboarding. After the rustic and raw adventures in the desert, visitors can cool off and unwind in the refreshing environs of a world-class water park, indulging in exhilarating rides and relaxing amenities.
Morning Desert Safari and Aquaventure Waterpark

 Start your day with a morning desert safari, experiencing the golden sands of the Dubai desert. Afterward, refresh and rejuvenate at Aquaventure Waterpark in Atlantis, The Palm, enjoying thrilling slides and relaxing pools.

Evening Desert Safari and Yas Waterworld

 Opt for an evening desert safari, which concludes with a captivating cultural performance and a traditional BBQ dinner under the stars. The following day, delve into the unique and thrilling experiences at Yas Waterworld in Abu Dhabi.
Visiting water parks in the UAE is a thrilling experience that anyone looking to enjoy. The combination of excitement, relaxation, and fun should be noticed.
Whether it is the adventurous rides of Aquaventure Waterpark or the family-friendly environments of Legoland Water Park and Laguna Waterpark, there is something for everyone in the UAE.
This guide provides practical insights and tips to help you plan your visit to some of the best water parks in Dubai, Abu Dhabi, and the surrounding regions. We've covered detailed overviews of premier water parks, emphasizing the unique attractions, safety standards, and sustainability measures in place.
We also touched on the innovative approach of combining water park visits with desert safari tours, offering a multifaceted experience of the diverse landscapes and activities available in the UAE. This combo contrasts the serene and rustic ambiance of the desert with the refreshing and exhilarating environment of the parks.