Dubai Desert Safari During Ramadan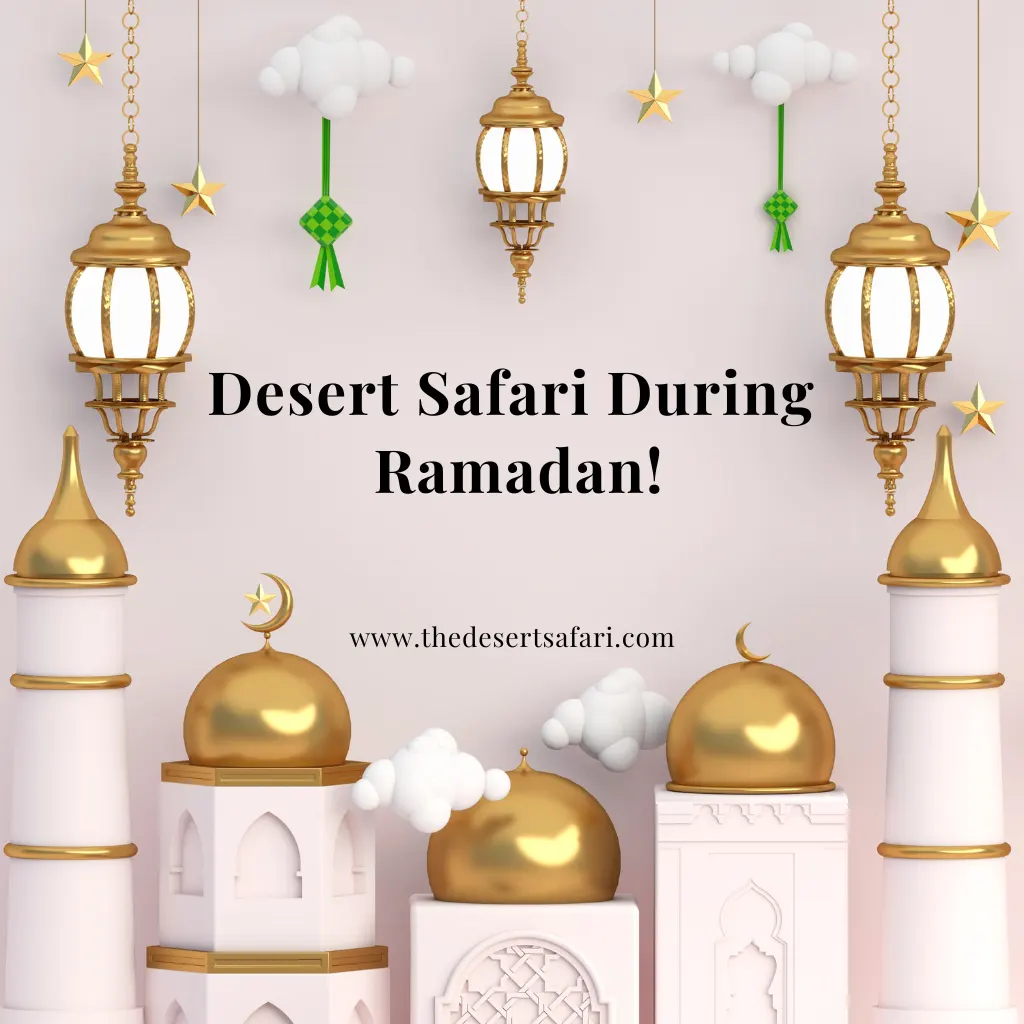 Travellers are curious to know about the desert safari during Ramadan. They are interested in experiencing a desert safari during the holy month of Ramadan. They ask if this tour is happening during this holy month. We are pleased to confirm that we do organize desert tours during Ramadan.
What to Expect During Ramadan - Limitations on Desert Activities
However, it is important to note that there are some limitations to the activities we offer during Ramadan. In respect to the holy month. We do not have belly dancers performing at our desert campsite, and the mini bar is also closed.
Nevertheless, we still offer a range of exciting activities, such as dune bashing, camel riding, and sandboarding, providing a memorable and enjoyable experience for our guests. In entertainment, Our tanoura dancer will perform along with the fire show.
Our company "The Desert Safari" prides itself on providing top-notch service and ensuring guests have a safe and enjoyable experience. We are happy to answer any questions you may have about our desert safari during Ramadan and look forward to welcoming you to the desert.
Pick up & Drop Off from your location

30 minutes of Dune Bashing.

Traditional Desert Camp with many activities.

Free Sand Boarding.

Free Camel Ride Dubai "Short Tip Maximum 2-3 Minutes".

Tanura Dance Show.

Fire Show.

Arabic costumes are available to wear & take pictures.

Small Tattoo of Henna.

Falcon to take pictures.

Unlimited Hot & Cold Drinks.

Shisha Smoking Free in a beautiful open lounge. "

After Fasting

"

Vegetarian and Non-Vegetarian Dinner with BBQ Items. "

After Fasting

"

Friendly Staff to help.
The Significance of Ramadan in The UAE
Ramadan is a significant event for Muslims worldwide, significantly affecting daily life in the (UAE). During the holy month, which lasts 29 or 30 days, Muslims observe fasting from dawn to sunset. This means they refrain from eating, drinking, smoking, and other physical needs from sunrise to sunset. However, fasting is not the only aspect of Ramadan that affects daily life in the UAE.
One of the most noticeable changes during Ramadan is the shift in working hours. Most companies and government offices adjust their schedules to accommodate the fasting period. This means that working hours are typically shortened, with some offices closing early, around 2 pm. Moreover, some companies might allow employees to work from home during Ramadan, ensuring they have time to rest and break their fast.
Another significant impact of Ramadan on daily life in the UAE is traffic. During the month, traffic tends to be lighter during the day, as many people are fasting and staying indoors. However, traffic gets busier during the evenings, particularly after sunset when families and friends gather for Iftar, the evening meal that breaks the fast.
Social gatherings are also a significant aspect of Ramadan in the UAE, but they differ slightly from the usual social gatherings outside of Ramadan. The month is a time for reflection, prayer, and charity, and Muslims are encouraged to spend more time with their families, friends, and communities. 
FAQs About Desert Tour in Ramadan