Pick & Drop in Land cruiser or similar vehicle from anywhere in Dubai and Sharjah.
25-30 minutes of Dune Bashing in Lehbab Or Al Awir,.
30 minutes of Camel Ride.
Free Sand Boarding
Shisha Smoking Free in a beautiful open lounge.
Two Belly Dance Show
Tanura Dance Show
Fire Show
Vegetarian and Non-Vegetarian Dinner and BBQ Items.
Pick & Drop in Land cruiser anywhere in Dubai and Sharjah.
30-45 Dune Bashing in Lehbab, Red Sand Desert.
30 minutes Camel Ride.
Free Sand Boarding.
Unlimited Water.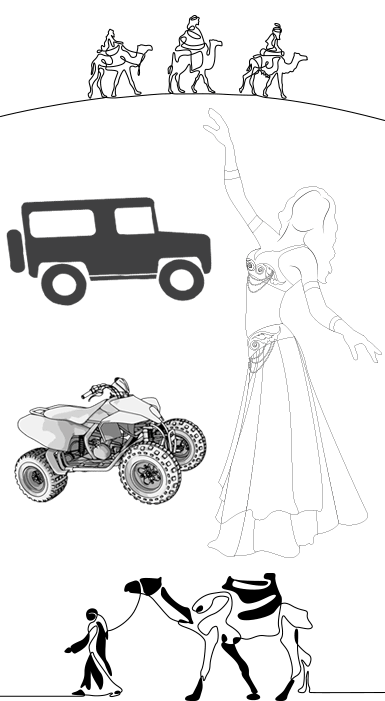 SAFETY
Our all vehicles are fully fitted with safety equipment and are fully insured with passengers.
Our staff is trained in first aid and seat belts are fitted on every seat. Everyone must wear seat belts for their own safety.
Million Dollars Insurance Policy to secure our Clients.
We have DTCM Approved and trained drivers for the Dubai desert safari.
Not Included in Camel Ride Tour.
Quad Biking "Optional" You have to pay an extra 150 AED for 20 minutes.
Horse riding "Optional" You have to pay an extra 100 AED for 20 minutes.
Alcoholic beverages
Pick & Drop Time of Camel Ride in Evening
Pickup Time : 3:00 PM To 3:30 PM.
Drop Off : 8:00 PM To 8:30 PM.
Total Duration : 5 – 6 hours.
Pick & Drop Time of Camel Ride in Morning
Pickup Time : You can select any time from 5:00 AM to 10 AM.
Drop Off : Depends on the pick time.
Total Duration : 3 – 4 hours.
WHAT YOU MUST DO
A camera is a must when going to a "the desert safari dubai" as the views are breath taking and worth cherishing.
Wear comfortable causal clothes.
Wear flip-flop or sandals.
WHAT YOU MUST AVOID
Elderly people and infants are not recommend for thrilling dune bashing activity, but they can enjoy the camel ride.
Pregnant women's are not allowed for the dune bashing & as well as for camel ride. They can enjoy the evening desert safari Dubai without dune bashing.
Flexible Payment Options
You can pay cash to the driver, on the day of the tour.
You can pay online in our PayPal account.
You can transfer to our company bank account.
You can pay by credit card on the day of the trip. "In this case, you have to pay some fees also."
You can pay with Cryptocurrency Also, We Accept Bitcoin, Ethereum & Litecoin.
Detailed Itinerary of Evening Camel Ride
Camel Ride is the spirit of Arabian history. To enrich you, with the core experience of the desert. We have planned the camel ride in Dubai desert to explore the vast desert and enjoy the culture.
Our drivers will pick you up in the afternoon and take you deep in the Dubai desert for desert safari Dubai, where you will start your exciting voyage in the sands.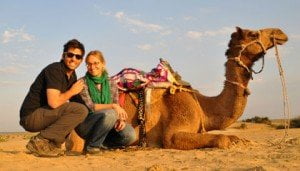 Resting on the humps of our well-trained camels, feel the beat and heat as you ride along unveiling the uneven dunes and the fascinating landscape; very smoothly on the desert ship. After the "Camel Ride" tour, the driver will take you for one more thrilling ride. And then he will drop you at our desert camp at the time of sunset, where the hospitality of our staff wait with the aromatic Gahwa (Arabic Tea) and sweet dates.
You can enjoy the taste of the traditionally prepared and flavored sheesha; the specialty of the Arabic region along-with stalls of henna painting. Arabic costumes are available to wear and take pictures.
The evening ends with spectacular performances by the talented Arabian Belly and Tanura dancers along with BBQ dinner Veg & Non-Veg. By the end of all memorable experiences, our drivers will drop you back at your doorstep in comfortable cars.
Detailed Itinerary of Morning Camel Ride
In the morning desert safari our driver will come and pick you to form your location according to your selected time. He will take you to the desert, which is around 50 minutes drive from downtown Dubai.
Once you reached the desert, he will reduce the tyre pressure, and meanwhile, you get some time to relax.
Now the thrilling ride start called as dune bashing, it's a best part of the desert safari. It will be 30 to 45 minutes ride. After finishing the breathtaking trip, our safari captain will provide you with the sand boards. Don't miss it and do take pictures.
In the end, he will take you to at our camel camp, where camels are ready for you to enjoy the camel ride than safari captain drops you back at your place.
Booking & Cancellation Policy
Full Refund will be issued on cancellations made before 12 hours before the departure time.
50% refund will be issued if evening camel safari cancellations made before 2 hours before the departure time.
If you are eligible for the refund, your amount will return to your account in 7 working days.
No Refund for morning safari tour cancellation.
Desert with Camel Tour Information
In evening tour seating Arrangement is on the first come basis, and you may advise us in advance for any particular seats in any vehicle.
Click on this link to check the evening camel ride dinner menu.
During the month of Ramadan or dry days, no live entertainment & alcohol will be served as per the government guidelines.
Kids under the age of 4 years considered as an infant, and entry for infants are free of cost.
Kid's age in between 4 to 10 years will be considered as a child, and child rate will be applied.
How much does a camel ride in Dubai Cost?
Camel is a UAE national animal. Local people love to have camels at their camel farm. Camels in UAE are too common; you will find them in all parts of the country. There are many breeds of camels in the UAE, but the most beautiful and demanding bread is Arabian camels. People ask about how much camel ride cost in Dubai during the desert tour; here is the list of prices with different options.