Morning Desert Safari Dubai
Raised with the stories of wonders of the deserts. Where when the first beam of the sun touches the land it turns "Dust into Gold." The brilliant fortunes of the Dubai desert which incredibly not covered. You require a journey in the morning light to be found. So what are you sitting for; pack your bags, put on some sun block and have an astounding visit to Morning Desert Safari Dubai.

Normally, the activities of
"Early Morning Desert Safari Dubai
" and
"Morning Safari in Dubai"
are almost same. Pickup time for former is between 4:15 AM and 4:30 AM with a facility of breakfast while the breakfast not provided for the costumers who opt for the latter.
Morning Desert Safari tour in Dubai loaded with adventure. The safari is ideal for people who do not have the evening available or more inspired by adventurous activities than just having dinner and relaxing at the camps. It is best for individuals who love to have ceaseless experience, excitement and fun. The adventurous tour starts early in the morning. The thrill of the journey begins with sensational dune bashing. After which you can have a camel ride, sand boarding, and a noteworthy Quad biking.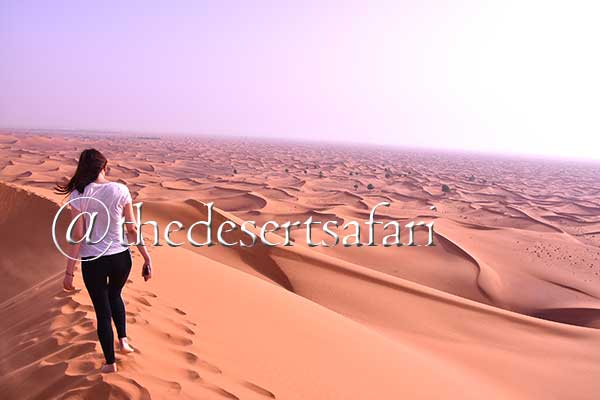 Precautions of Morning Safari:
Morning desert safari Dubai is not recommended for the people. Who having problems with backbone, pregnant ladies, children under three years and senior citizens with heart conditions.
Safety Measures for Dubai Desert Safari:
Expert desert drivers are allowed to drive through Dubai Desert. Furthermore, the conveyance is upscale with all facilities such as A/C, first-aid box, seat belts and roll bars. Guests should fasten seat belts during Dubai Desert Safari.
Morning Desert Safari Dubai Inclusions:
Pick –up and drop back
Dune Bashing in high dunes by a professional driver in 4-wheel drive vehicle (30-40 Minutes)
Sand Boarding (Free)
Camel Safari
Quad Biking (Additional Charges)
Unlimited Hot and Cold Drinks
Pick and Drop:
Typically, the tour operators provide an option of pick and drop from/to anywhere in Dubai and Sharjah according to the easiness of the customer. They have Land Cruisers or similar 4WD vehicles. Seats are not pre-allocated and provided on first come first serve basis.
Dune Bashing:
Dune Bashing is a type of off-roading on sand hills. Large SUVs like Land Cruiser used for Dune bashing. Similar to auto-racing, skilled and experienced driver is required to steer the car properly and prevent accidents.
For entering the desert, it is a crucial step to reduce the tire pressure. Reduction in tire pressure is made to acquire footing by expanding the impression of the tire and, accordingly, diminishing the ground weight of the vehicle on the sand as there is more surface area. For instance, tires with a prescribed pressure of 35 PSI reduced to approximately 12 to 14 PSI.
Sand-Boarding:
Sandboarding is similar to snowboarding and takes place on sand hills instead of snow covered mountains. It includes riding across or down a dune while both of the feet strapped to a board. Some skilled sand-boarders prefer to use the board without ties to have more fun.
The sand-board base is significantly harder than a snowboard and is constructed for the most part out of Formica or Laminex with unique base materials which specially made for this game. It is less prevalent than snowboarding, firstly because it is tough to assemble a mechanised ski lift on a sand hill. Secondly, dunes are usually accessible the whole year while the ski resorts are seasonal.
Camel Safari:
Camel is regarded as the "Ship of the Desert". While the Camel Ride is the spirit of Arabian history. A camel safari is the greatest way to discover desert regions. Desert Safari Dubai can be explored using camels which are the exciting experience one should have in a life time.
Camel Safari is certainly an ideal way to spend time exploring the rustic and Royal Desert Safari. All desserts safari tour operators in Dubai offer 5-10 min camel ride. Resting on the humps of well-trained camels, you ride along revealing the rugged hills and the tempting scenes.
Quad Biking:
Want a memorable experience of Arabian Desert? Then what you want is a Quad Biking Tour. Quad Biking gives you the opportunity through the ups and downs of Lehbab which is the red sand desert near the Rock Fossils.
You get a chance to explore the Bedouin heritage as well as culture simultaneously. No particular skill is required to ride the quad bike. The bike, in general, is entirely automatic with the top of the line specifications is easy and fun to ride.
Don't of Quad Biking:
Avoid race or ride at speeds.
Do not change course demonstrated by the tour guide.
Do not consume alcohol or drugs before driving.
Children under age 12 years and less than 120cm tall not recommended to take a ride.